We were bullish in yesterday's snowfall forecast. How that idea holds up remains to be seen, but it's likely that some areas will bust, with the Denver metro area being at the greatest risk for that today, and higher confidence in snow the farther north you go.
Confidence
This is a generally a low confidence forecast. Not only do we have considerable disagreement in the modeling to how much moisture we'll have to work with, but the banded nature of this event means some areas are liable to see very little snow, with several inches possible just down the road.
Where confidence is low:
Snowfall totals. We think most areas may end up in the Trace to 2" range, but under the heavier bands of snow that set up some swaths of 3 - 7" will be possible. Placement of those heavier bands remains in question.
Where confidence is greatest:
Accumulating snow chances (boom potential) will decrease from south Denver across the Palmer Divide and Colorado Springs. This setup should favor from Denver north to the state line.
Banded snowfall will mean large variations in totals across the region.
COLD is a sure bet, with lows in the single digits tonight.
Looking at the 3km NAM model we can see those bands of heavier snow extending from northwest to southeast across the Front Range and urban corridor this evening, with a sharp cutoff for snow as you move south of Denver and south of I-70 across the Plains: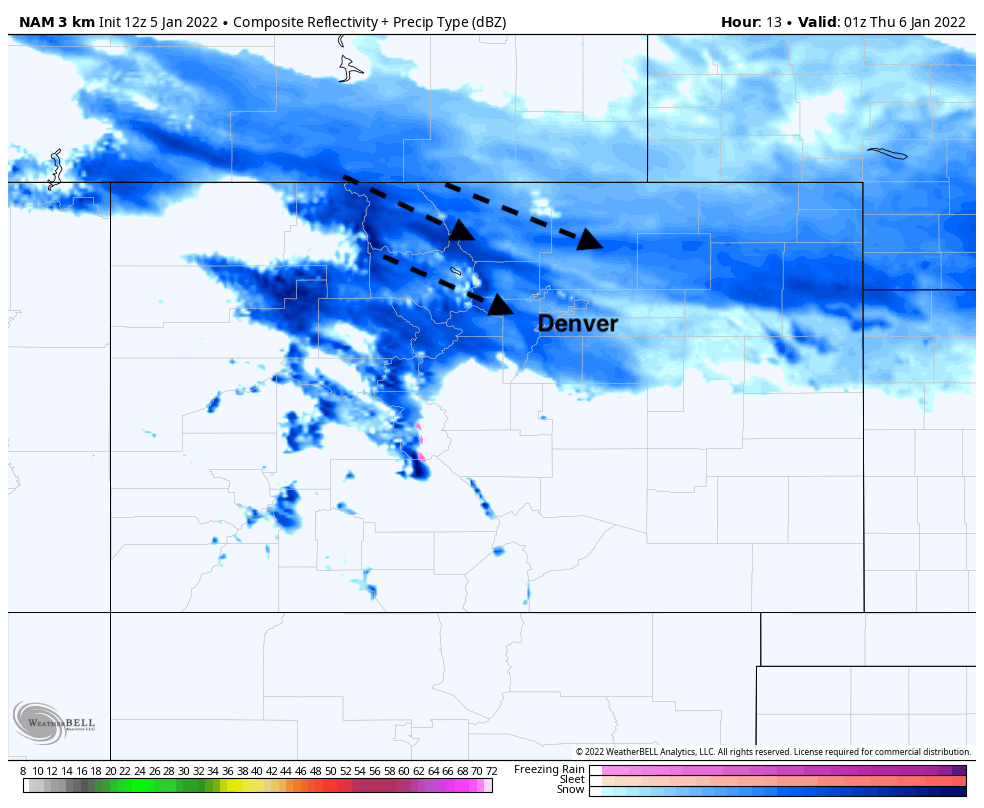 This particular model continues to only generate modest snowfall totals, where even factoring in higher snowfall/liquid ratios than the 10:1 in this map, 3 and 4" snowfall totals will be the exception, not the norm.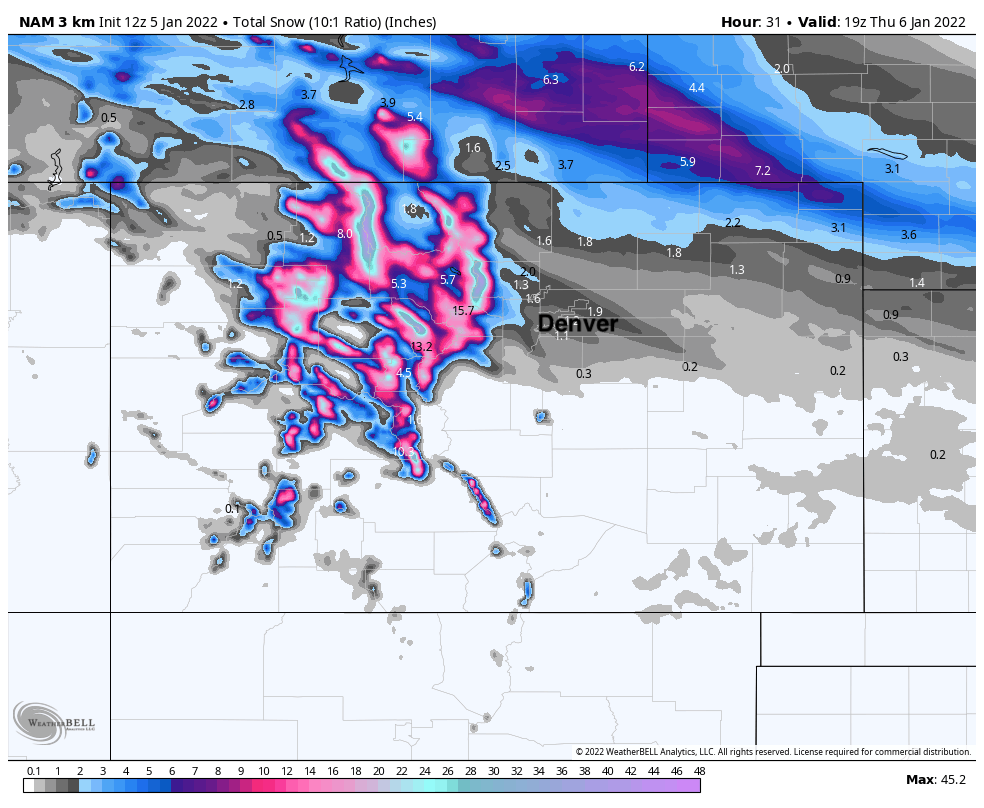 The HRRR, another short term high-resolution model (which did very poorly with last week's event, by the way) has been pretty closely aligned with the NAM above until its most recent runs where we've seen it increase snowfall further south.
The 12z run from this morning showed just 1 - 2" across the Denver area and heaviest snow bands well north: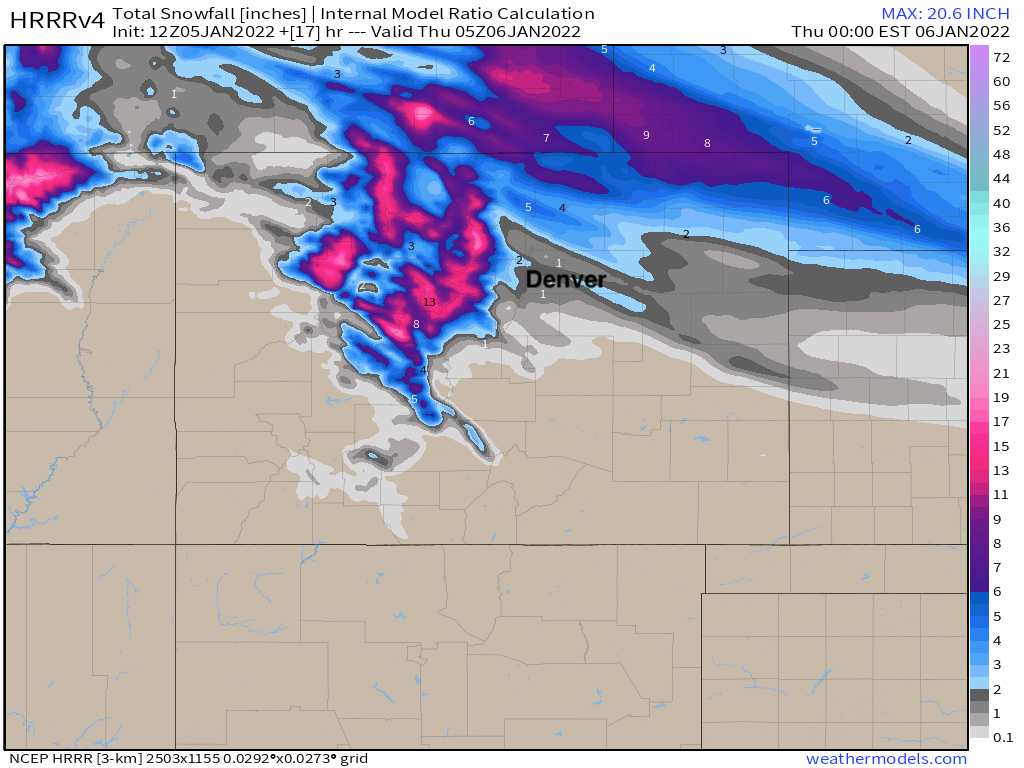 While its most recent run has greater coverage of the heavier snow, and further south, with 2 - 4" across the Denver area. This run sits better with us.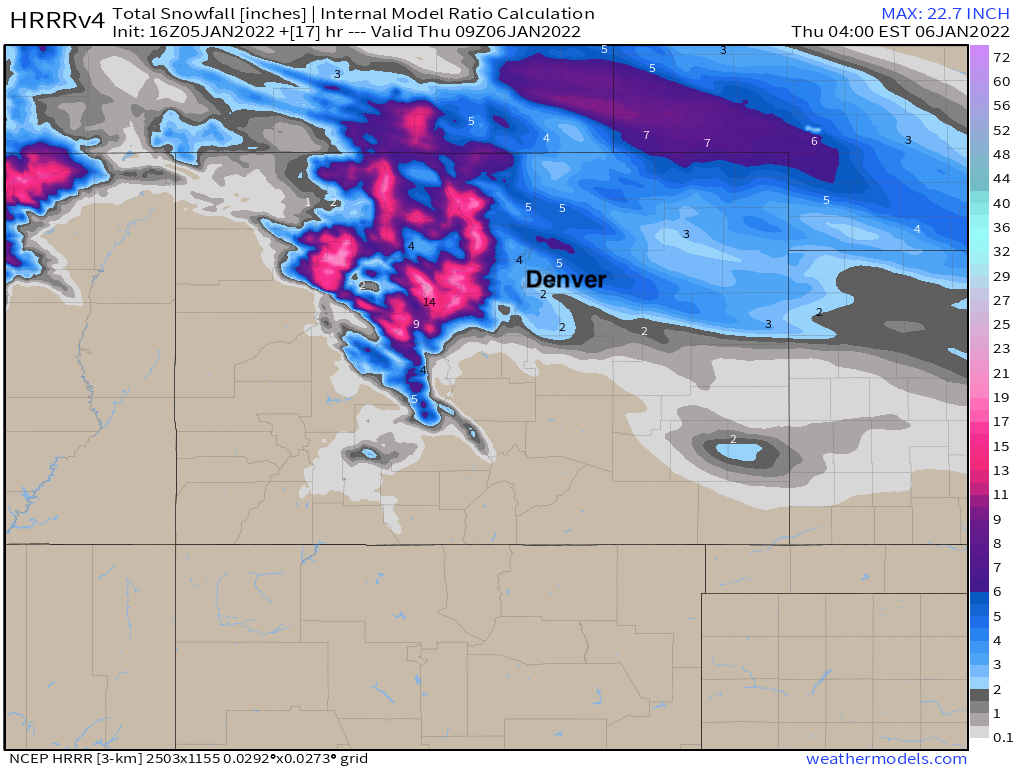 The global models remain more bullish. The latest European snowfall forecast shows a high-end event possible for much of the urban corridor, with good bands of snow setting up across northwest Denver, Boulder, Loveland and the state line. It has been quite consistent in this solution over recent days.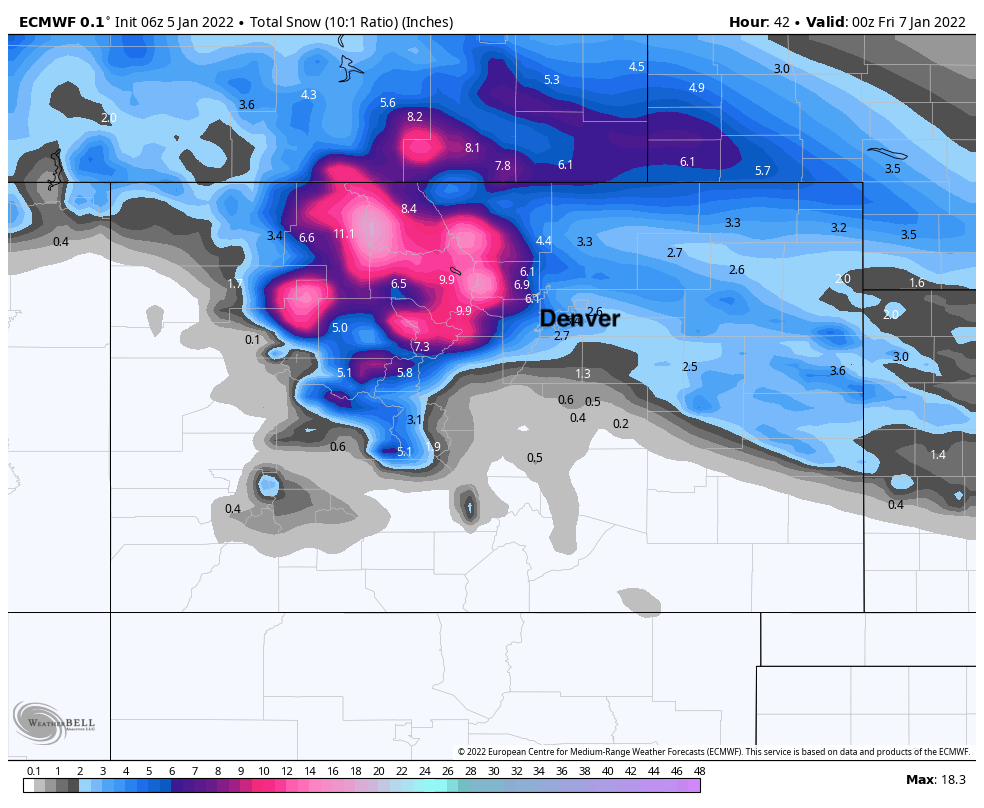 Snowfall probabilities from the European ensemble back up this idea, with odds of 3" of snow or more in the 60 to 90% range for areas north and northwest of Denver. This means you're more likely to see 3" across Broomfield and Westminster today than in Parker. The cutoff for the higher probabilities drops off quickly as you move east of I-25 and south of I-70.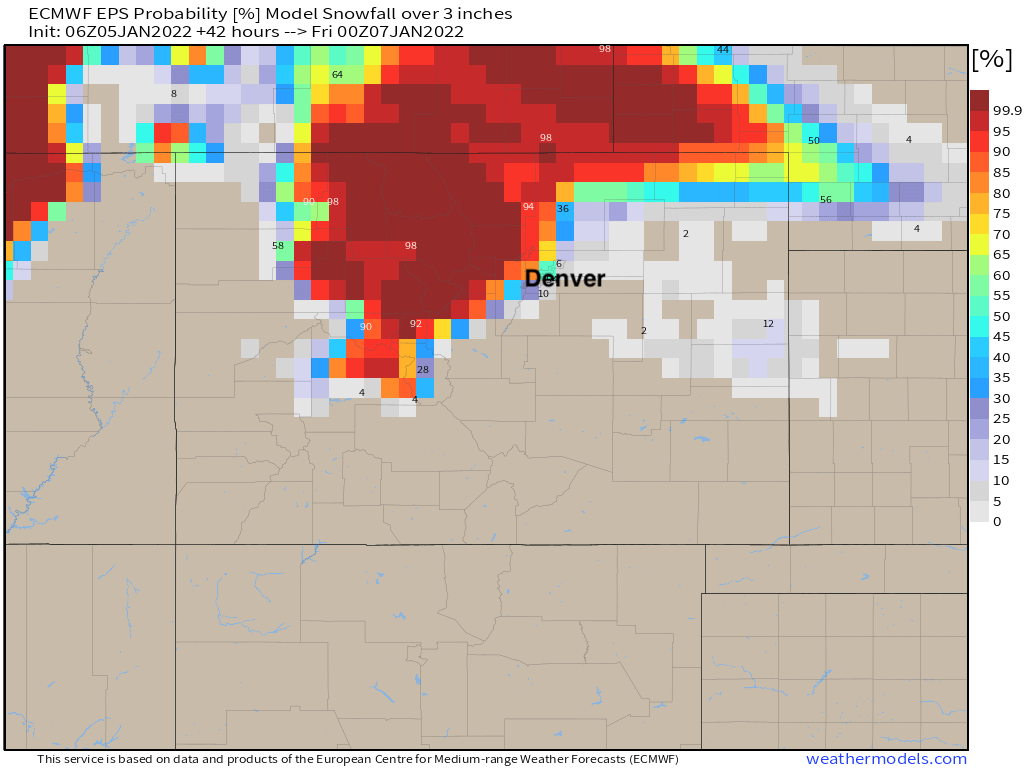 Similarly our snowfall gamblers favor Fort Collins and Boulder vs basically any other city. Odds from our gamblers would suggest Denver's high-end is in the 1 - 2" range, so we'll have to get lucky in the city to see a boom snow event.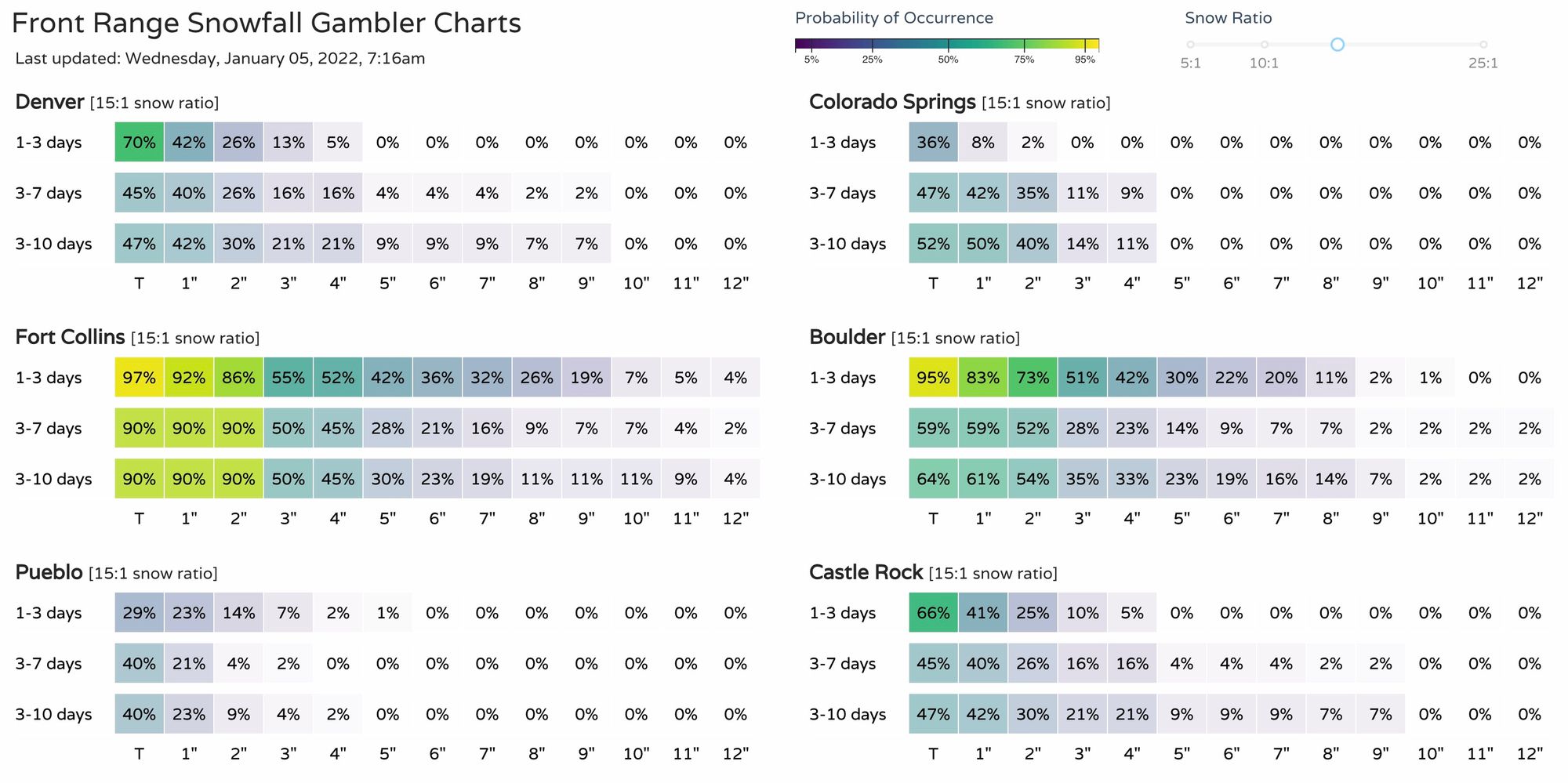 Given the above, here's our latest snowfall forecast with a few small tweaks from yesterday. While generalized, we think there will be considerable variations in totals within these ranges. Good chance we see a few boom snowfall totals, but plenty of busts to even things out.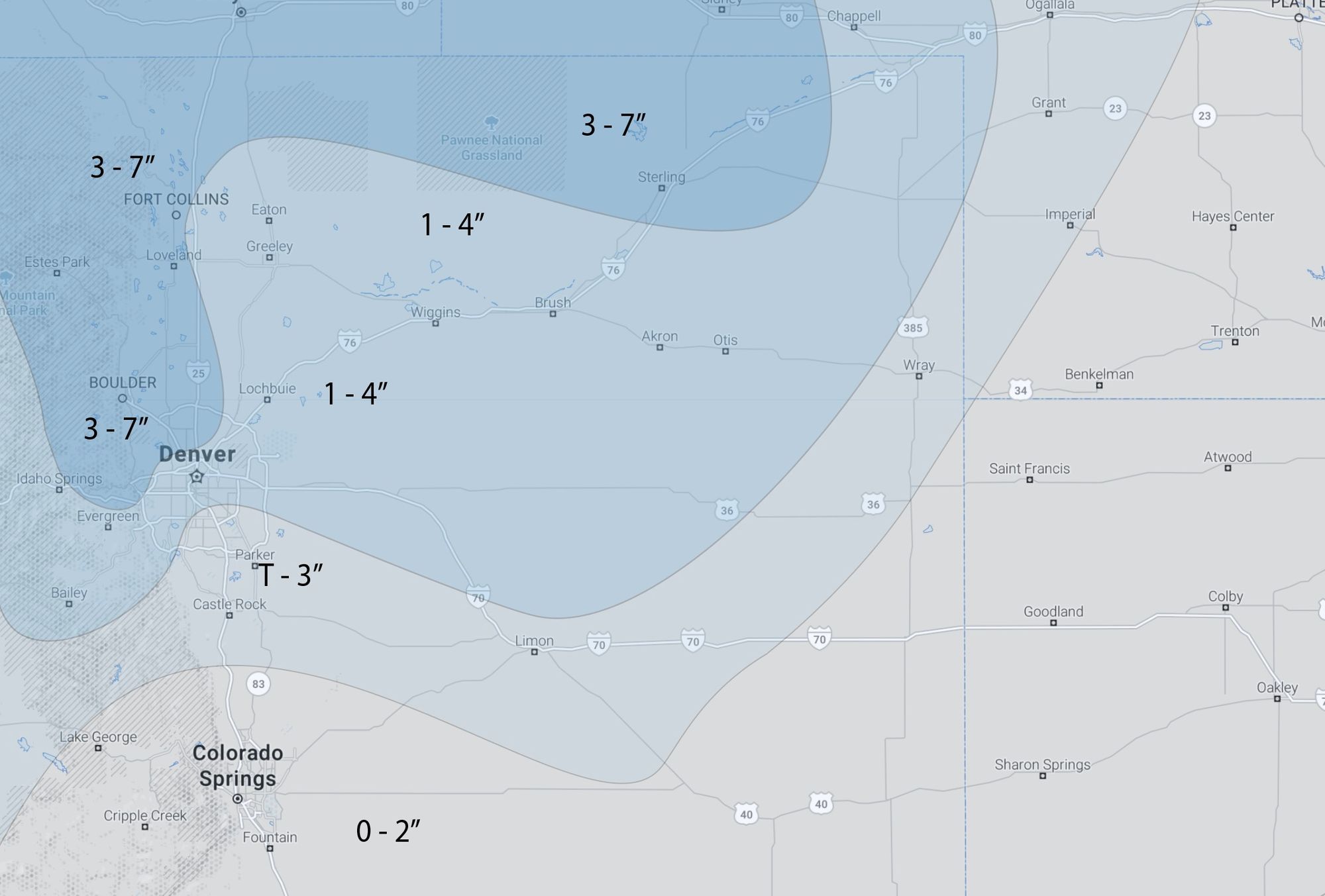 As for timing... snow will be on the increase through midday across the northern mountains and ultimately the northeast plains. Greatest snow chances for the Denver metro area ramps up around the evening rush hour, with probabilities dropping off after midnight. For those that do see the snow, and in particular the heavier snow bands, you could be dealing with both a slow and snowy commute tonight, but also an icy morning commute. Give yourself extra time and space on the roadways.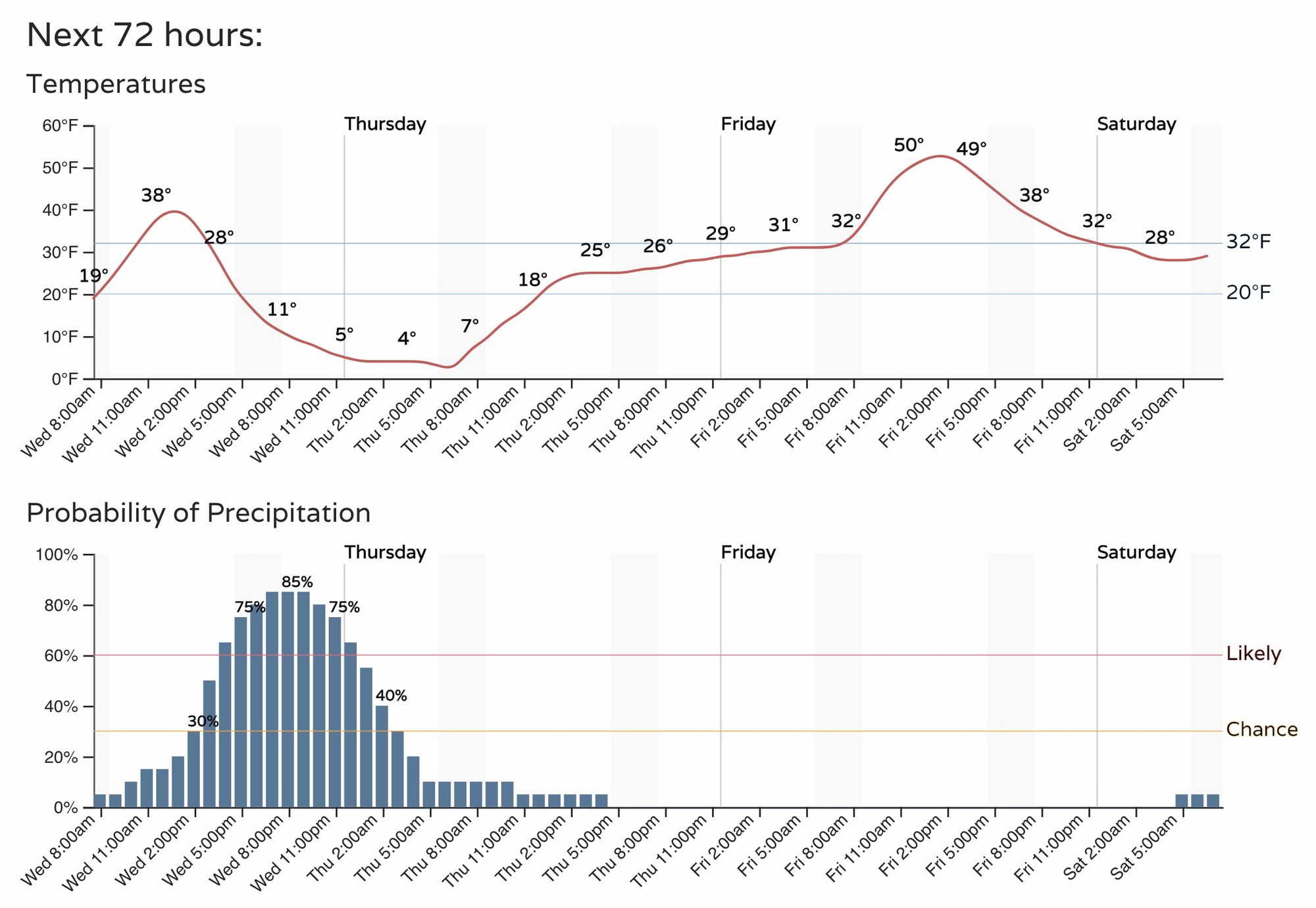 Temperatures overnight will be frigid whether you see snow or not... so plan on lows in the single digits, and likely staying below freezing on Thursday. Milder temperatures are back in the forecast for Friday!