Jet-induced banding has kicked off a fairly long-duration snow event today, with an easterly upslope starting to pick up steam as we get into the later hours. We'll have a window of better moisture to work with tonight before things become rather spotty by tomorrow morning. In fact, you may not see any snow falling at all when you wake up – but things will fill in a bit again by the afternoon.
This evening's model runs have trended towards giving the upslope a little more of a northerly component – this means Fort Collins may struggle to get into the upper end of its forecast range, while areas near the Palmer Divide could do a little better, including the south Denver metro area.
Ignoring recent fluctuations in high resolution modeling, the National Blend of Models has held fairly steady and remains generally in line with the forecast: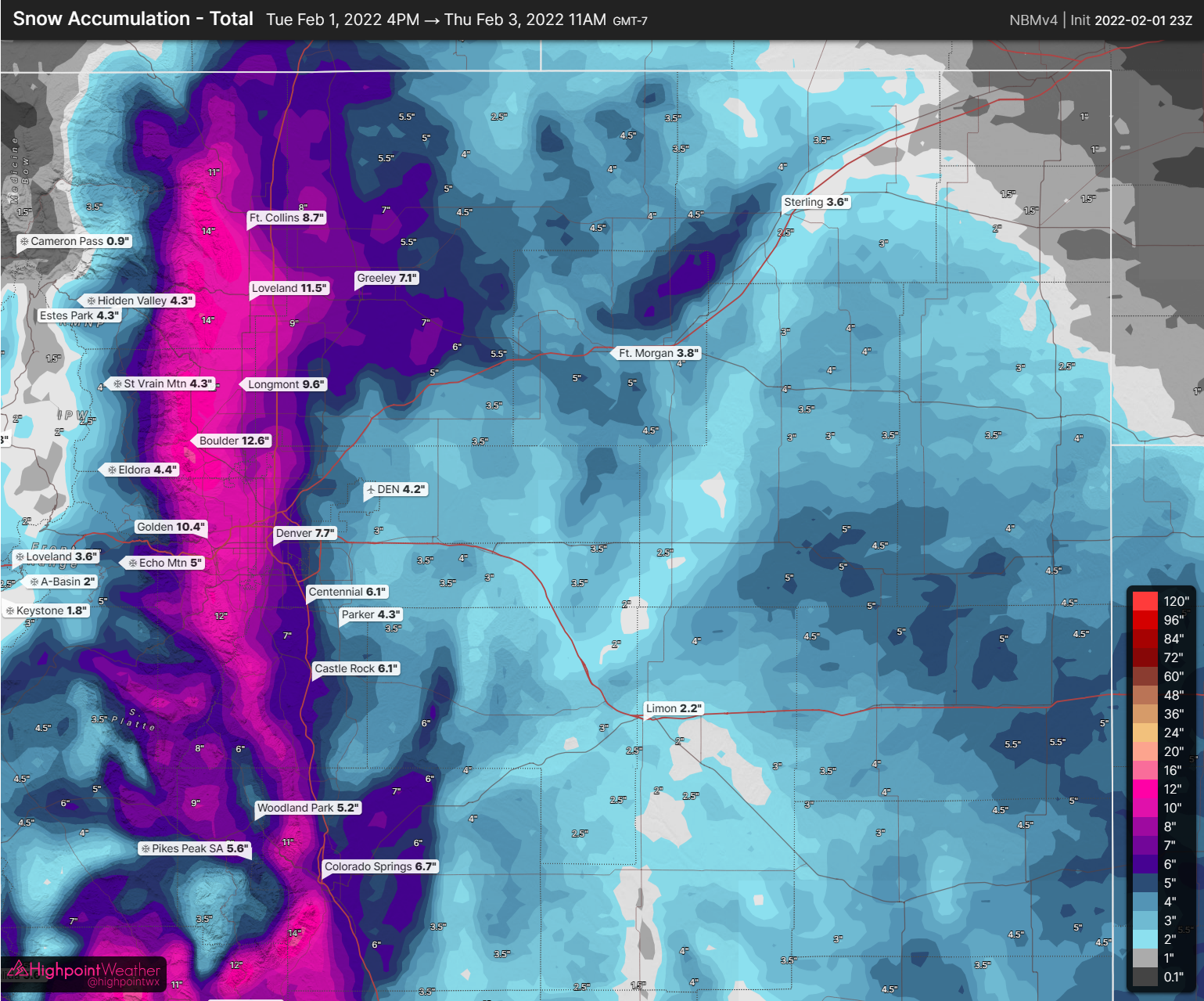 You'll notice the best totals are more at the base of the foothills as opposed to in the foothills themselves. This looks like what may end up panning out; in fact, there's some evidence to suggest the best totals may actually reside squarely between I-25 and the base of the foothills. More on that in a second.
Either way, tomorrow morning won't really tell the full story as there will still be many hours of light to moderate snow to come. With the cold air and high snow-liquid ratios, any areas under more consistent snow will see some fairly substantial snow totals. That's the "fun" thing about these long-duration events: it doesn't have to snow that hard over 30 hours for 6" of accumulation!
Over the course of the day, we've been discussing the potential appearance of the Denver Cyclone tonight after it started showing up on high-resolution weather model runs. We'll tell you a little bit about what it is and how it forms before we get into how it may impact the forecast for this system.
The Denver Cyclone is a special weather pattern unique to Northeastern Colorado. This phenomenon most frequently develops during the spring and summer months, and is responsible for many severe weather events, including tornadoes, across the Front Range Urban Corridor. Coupled with the terrain blocking effect between the Front Range and Palmer Divide, this meso-beta scale gyre develops over the greater Denver area with a combination of southeasterly low-level flow and westerly flow aloft.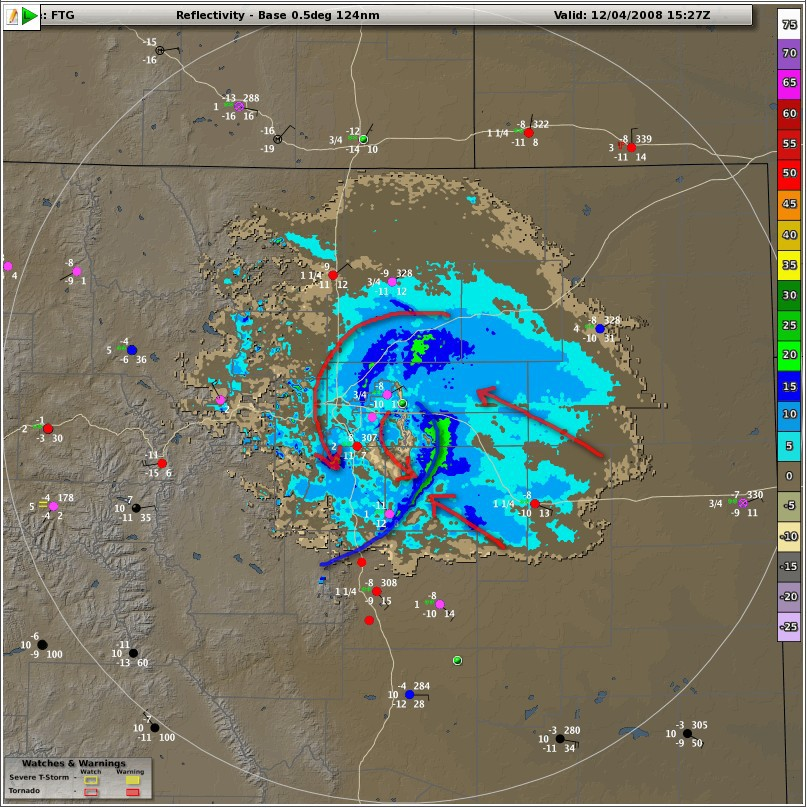 The cyclonic (counterclockwise) surface wind field can span across the high plains from Weld to Douglas County, with the center of rotation typically located between Parker and Strasburg. A healthy Denver Cyclone will develop a surface boundary where southeasterly winds meet northwesterly return flow in a region known as the Denver Convergence-Vorticity Zone, or the DCVZ. This feature is notorious for producing fantastic rope-like tornadoes (these special tornadoes are sometimes called land spouts), ranging in intensity from EF0 to EF2, at and around Denver International Airport. It is important to note that this surface boundary can and will develop in the absence of a Denver Cyclone, and merely enhances nearby pre-existing storms (instead of causing them).
Although the Denver Cyclone primarily develops during the warm months, this phenomenon can also occur during winter. On Feb 25th, 2021, a narrow swath of the metro area from southwest Lakewood to Denver International Airport received an abrupt 12 to 15 inches of snow during what was forecast to be a mild Front Range winter system. To the surprise of many local meteorologists, a Denver Cyclone quickly established over the Front Range, providing a robust source of lift. Only a few hours after its development, this Denver Cyclone produced a surface convergence boundary at the DCVZ, which was responsible for over 1 inch of snow accumulation per hour across the Denver area.
Will that happen tonight? All we know is that our gut says 'maybe.' We've certainly seen a surface boundary develop...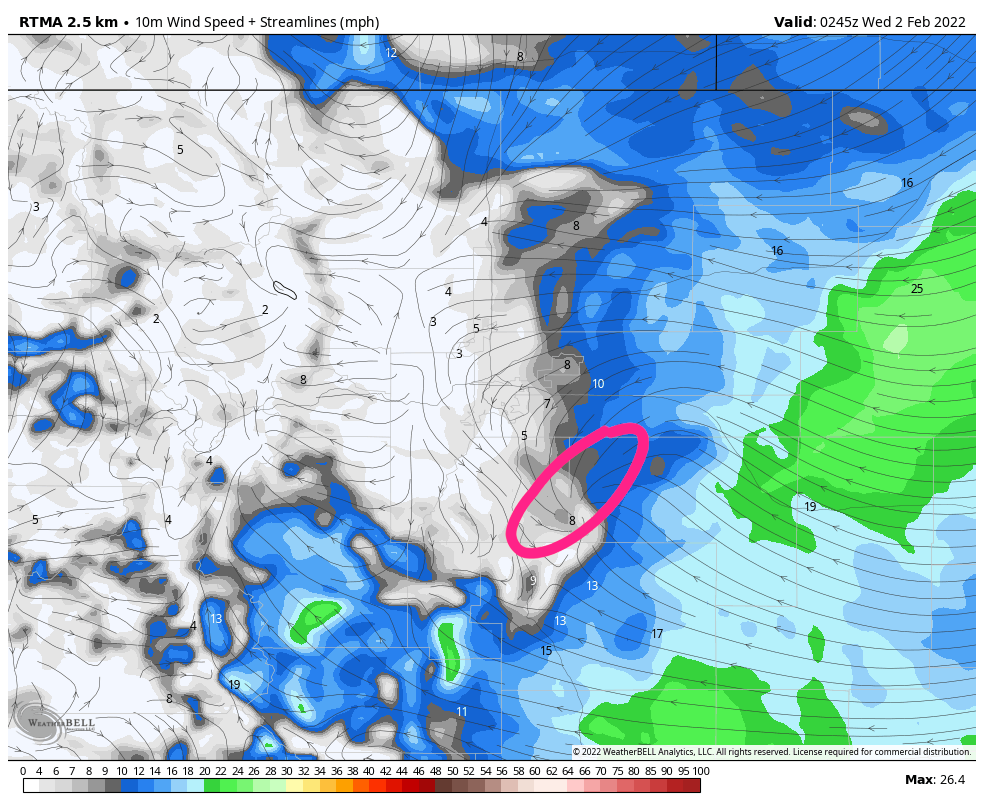 ...which is associated with a heavy band of snow southeast of the Parker area. This band has dropped 4-8" of snow in a few hours.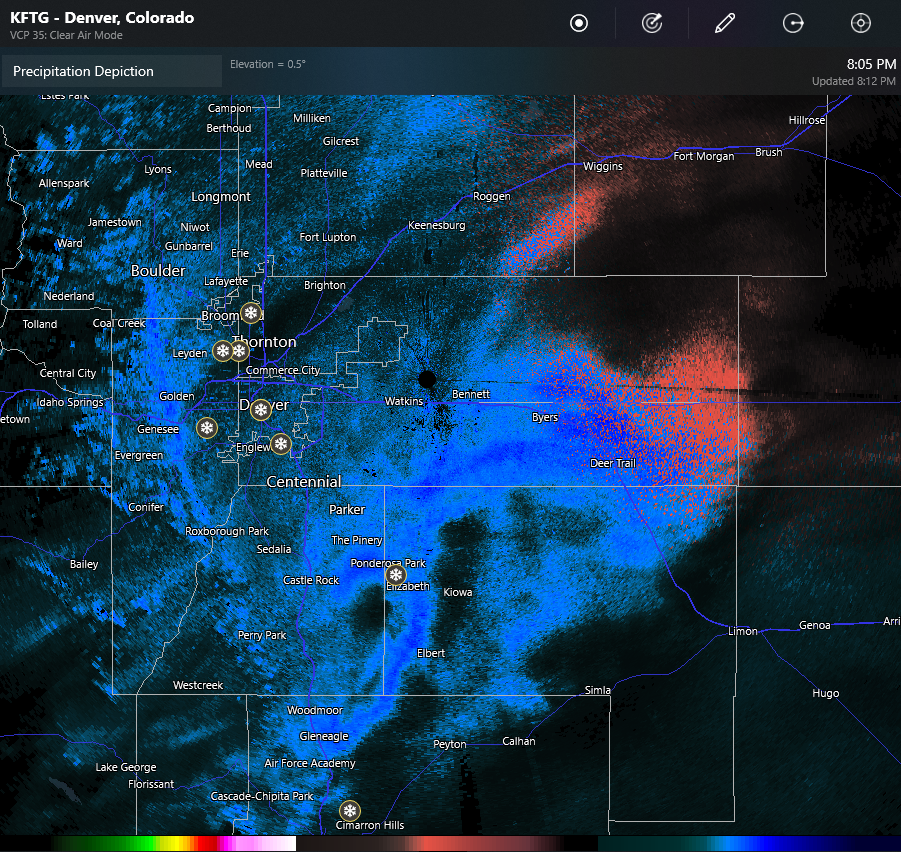 This is generally in line with the HRRR model's expectations. Its guidance is that this boundary eventually evolves into a Denver Cyclone, the center of which tracks northwest more over Denver proper after midnight: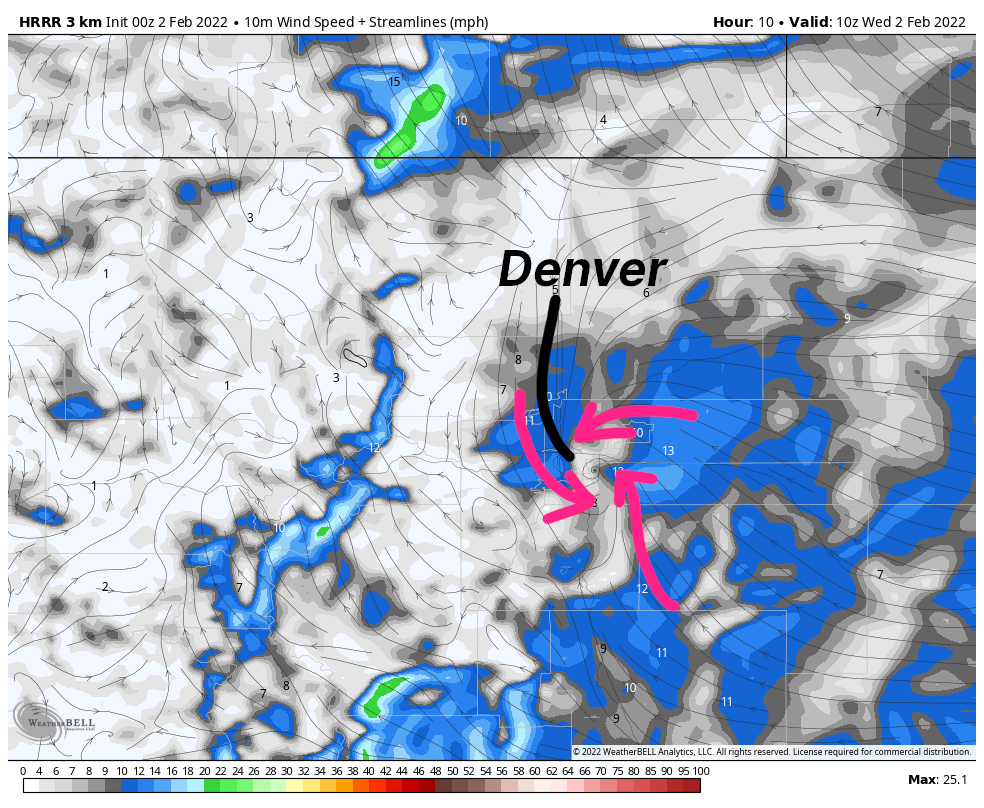 That seems to be unfolding at this very moment!
The Denver Cyclone could overcome upsloping for some time, putting the focal point of the heaviest snow on Denver itself (though perhaps not the center of the city) while robbing some moisture from the foothills.
It's hard to ignore just how strong this development looks on the latest HRRR runs.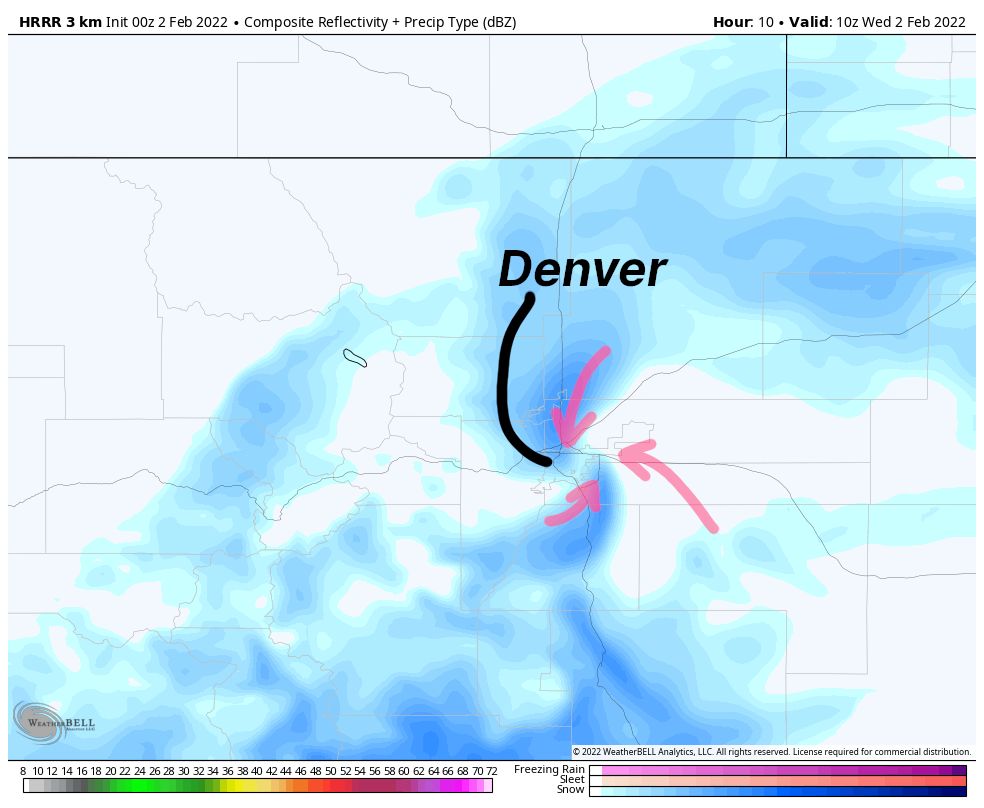 The HRRR's snow forecast has subsequently shifted the best accumulations much closer to I-25 and fairly substantially east of the foothills.
With this feature in place and warmer air aloft could, we could see an environment for enhanced snow development. This would mean very fluffy snow-liquid ratios – 30:1 ratios are not unheard of with these sorts of events, but many things would have to come together in just the right way for this to happen.
Cross-sections do look juicy, but it's hard to get hyped with the mediocre amount of moisture available. This is the kind of setup that does have the potential to overproduce – sometimes by A LOT (again...February 2021) – but with limited support from other models, this is only something we'll keep an eye on for now. Regardless, you should see some really nice snow crystals in the metro area if this feature does make an appearance.
With that in mind, we're now looking at parts of the Denver metro area for a potential "boom," and areas towards the foothills for a bit of a bust? There's still 18-24 hours left to find out!
Here's the forecast map from our previous post. While the potential "booms" and "busts" are shifting, this still seems like a reasonable forecast for the region and we see no reason to change it this evening.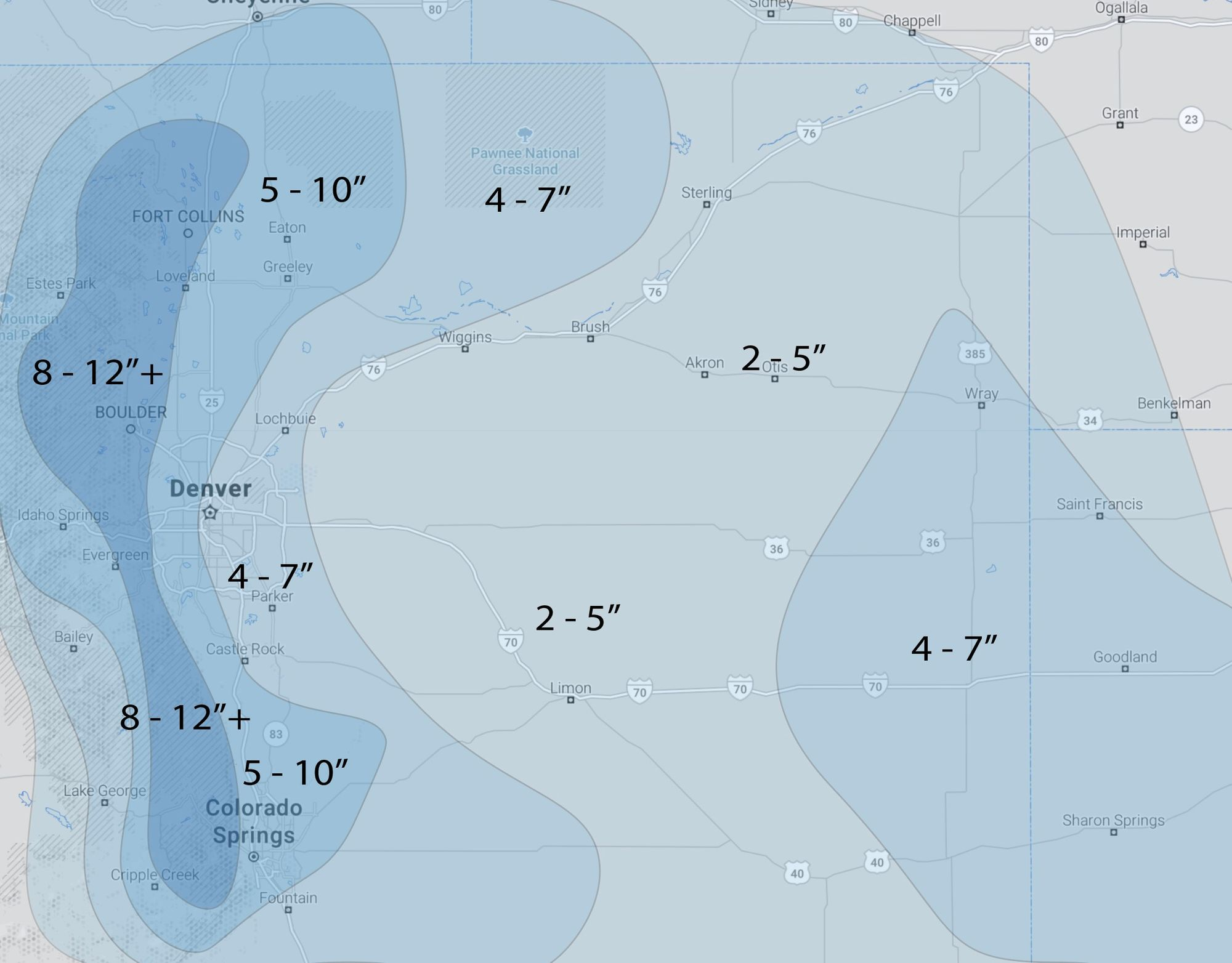 Let's take a deep breath and wait for light to moderate snow to continue to slowly stack up – and don't forget about the frigid air that's on the way! We're certainly enjoying all of the frozen stuff falling from the sky... how are things in your neck of the woods?