We continue to track the next round of wet weather on the way to Colorado tomorrow and Thursday. Models remain pretty bullish on precipitation totals, but details in where exactly the heaviest precipitation will fall, and how much falls as rain vs snow remain difficult to pin down.
A look at global ensemble models show a couple of things. The GEFS, below, shows good agreement now between the 30 ensemble members that we will see a period of precipitation (likely heavy at times) across the greater Denver area Wednesday PM through Thursday AM. The darker greens/blues represent greater precipitation totals for a 6 hour period.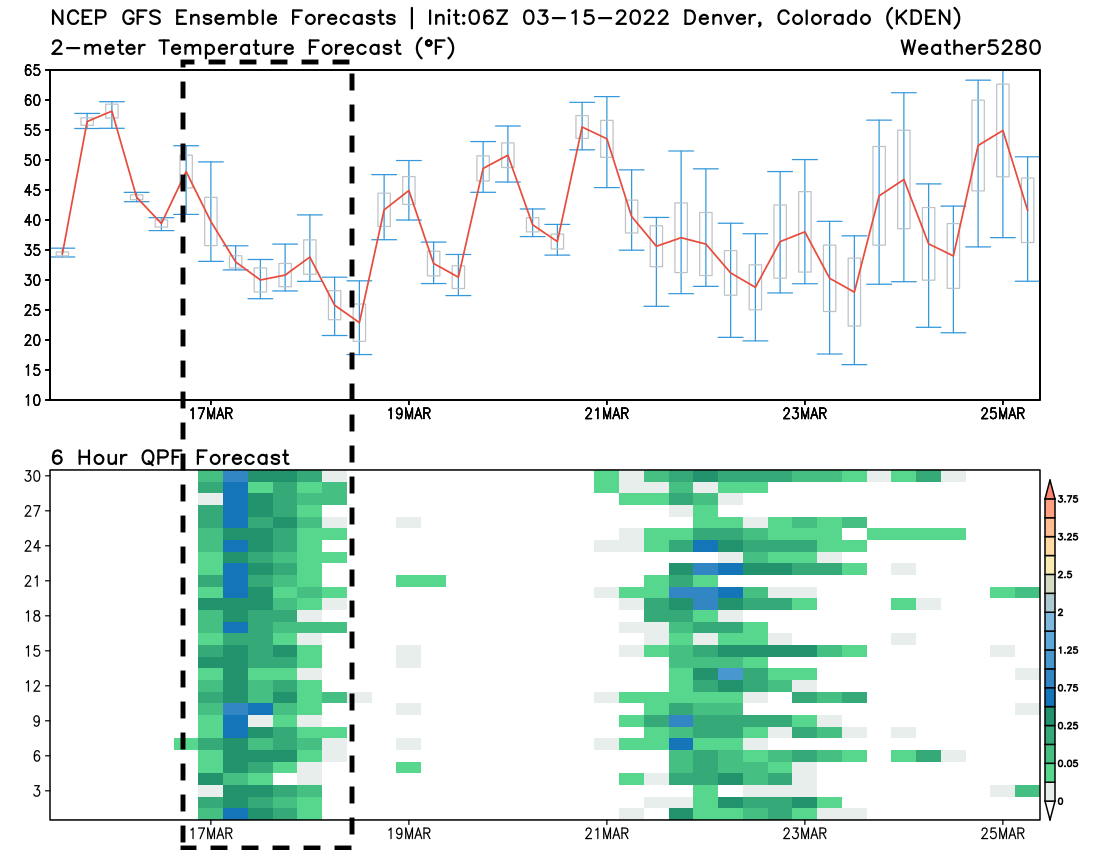 The European ensemble mean shows this equating to roughly 0.5 to 0.8" of liquid across the city, with totals nearing 1.0" in the foothills west/southwest of Denver and across the far western Palmer Divide. You'll note that precipitation totals drop off north of Denver, with the greatest totals showing up from roughly Denver/Boulder and south: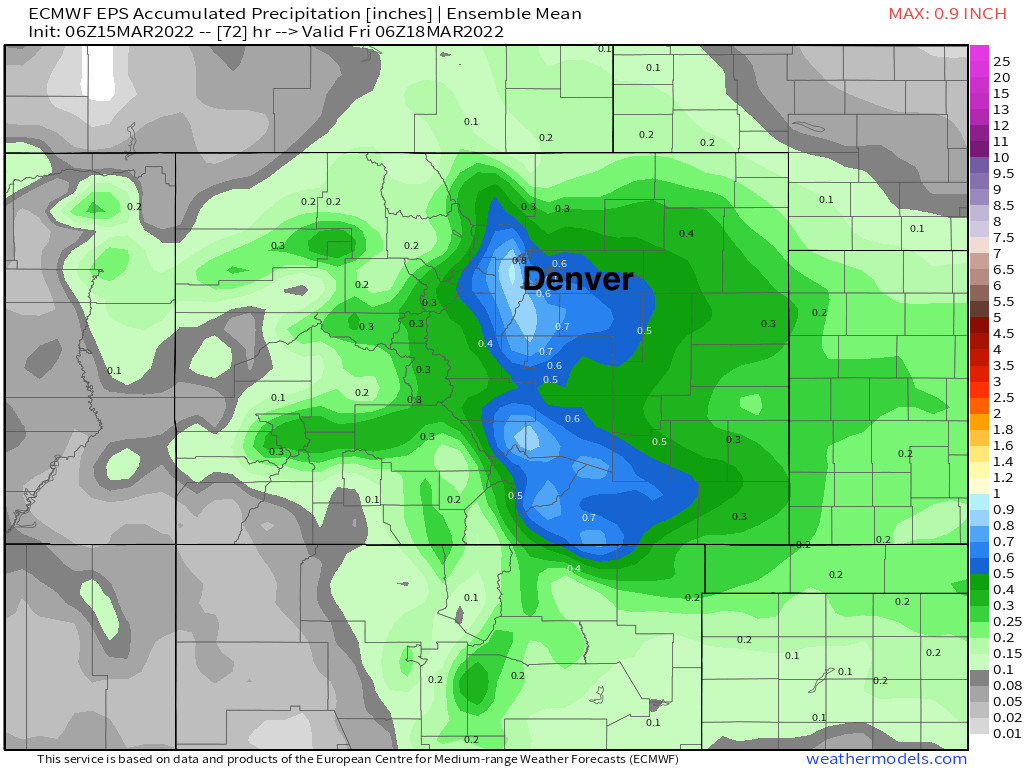 Despite seemingly good agreement in the ensemble models we have questions.
Nailing down the snow vs rain is going to be one challenge, but first may be the storm track and how much liquid models continue to insist on – is this even feasible?
The main energy with tomorrow's system will track pretty far south Wednesday night, and remains an open, progressive trough vs a closed low in most ensemble data. From a mid-level look, and with the main surface low tracking across north-central New Mexico and into central Texas Thursday morning.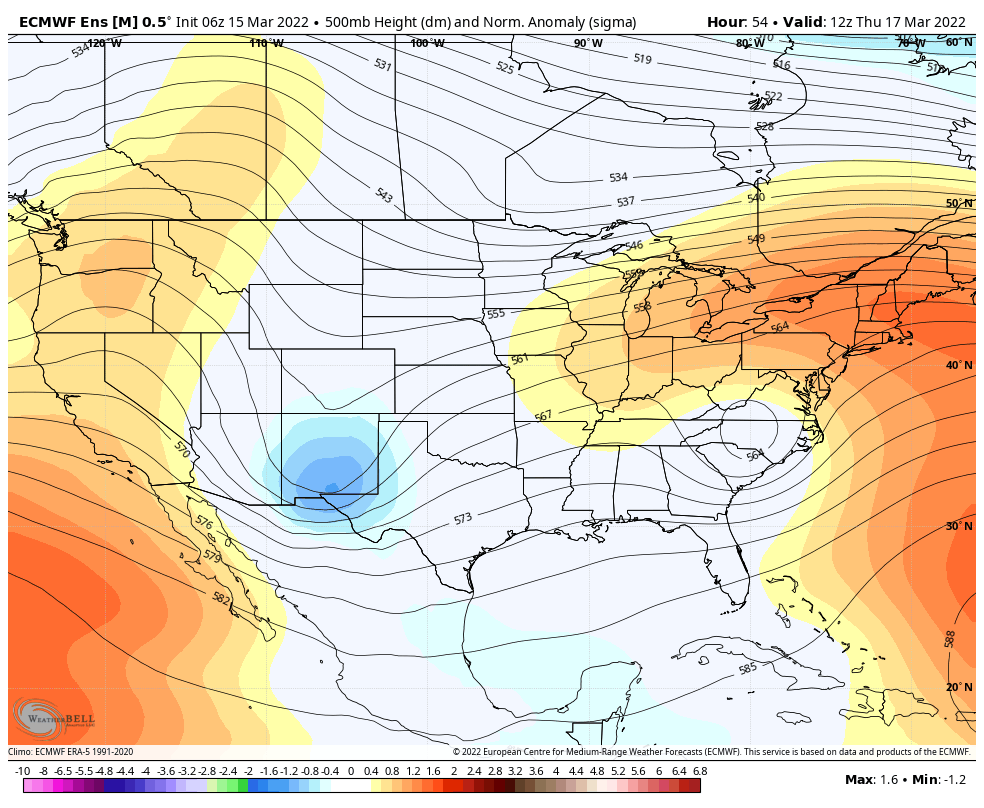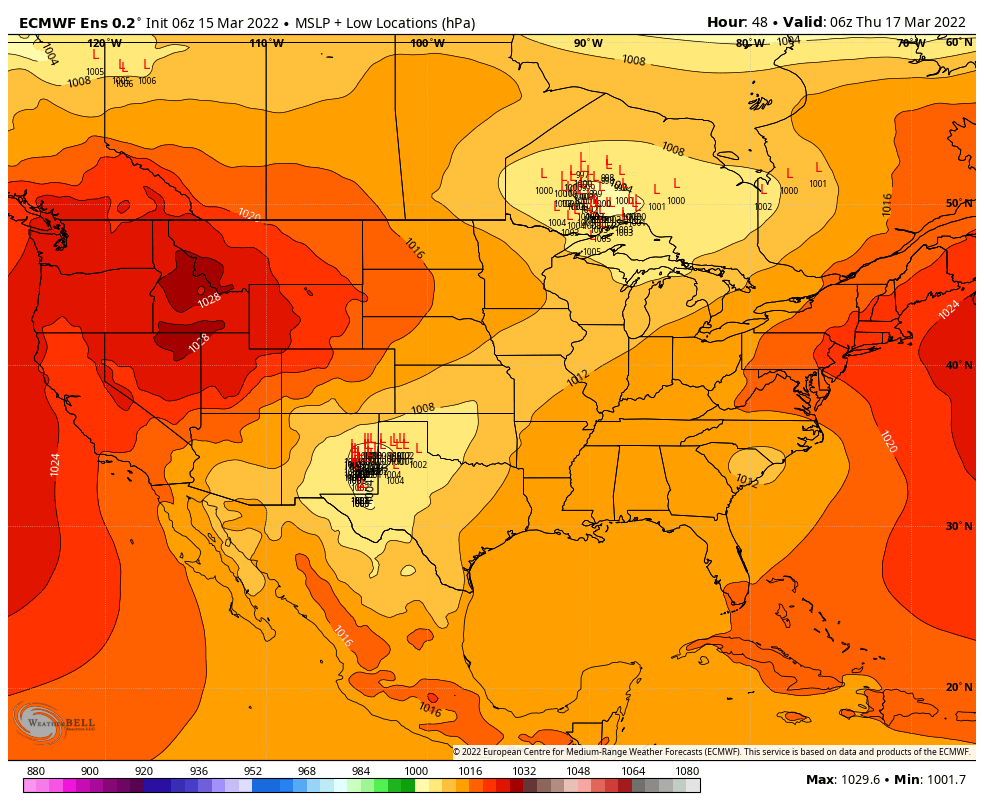 Even as this isn't an classic look for a system to deliver heavy rain/snow to the area (particularly north of the Palmer Divide), models insist as the low shifts east of the Rockies Wednesday night we'll see this combine with a secondary cold front dropping south across the Plains to deliver ample upslope and a period of good rain and snow for the urban corridor.
The GFS, for its part, shows a very saturated column Wednesday night, with good northeasterly upslope in place for the Denver area to receive a 6 to 12 hour period of precipitation: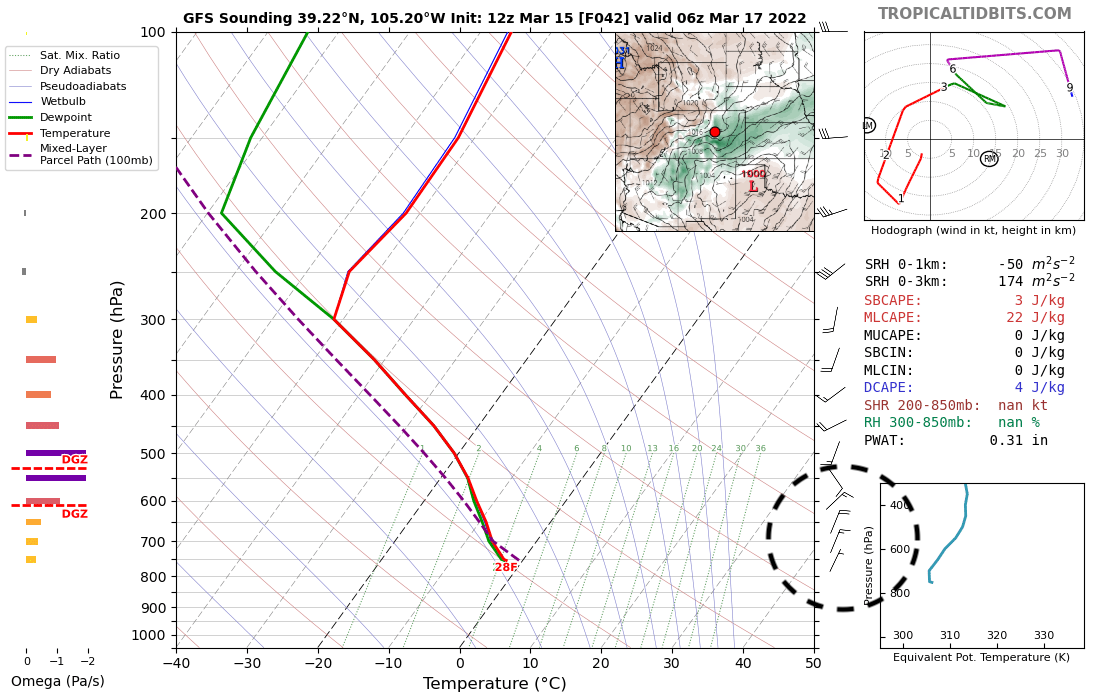 Whether or not the QPF (precipitation) depicted in the models is overdone remains to be seen. We keep expecting models to back off on precipitation totals (at least for Denver and north), but they continue to remain bullish.
The other tricky bit will be the rain/snow changeover. It looks like most of the lower elevations will begin as all rain then transition to snow Wednesday evening/overnight.
Looking at the hourly forecast for Denver, we see precipitation chances on the increase by midday Wednesday, with the greatest chance coming Wednesday evening into early Thursday morning.
Morning data suggests the changeover to snow may may occur around 9 pm, but it could occur quicker (this is often the case) or even a bit later depending on the arrival of the secondary cold front and eventual storm track. For higher terrain west of Denver, southwest, and across the Palmer Divide, the changeover will come first, before eventually changing over in the city proper.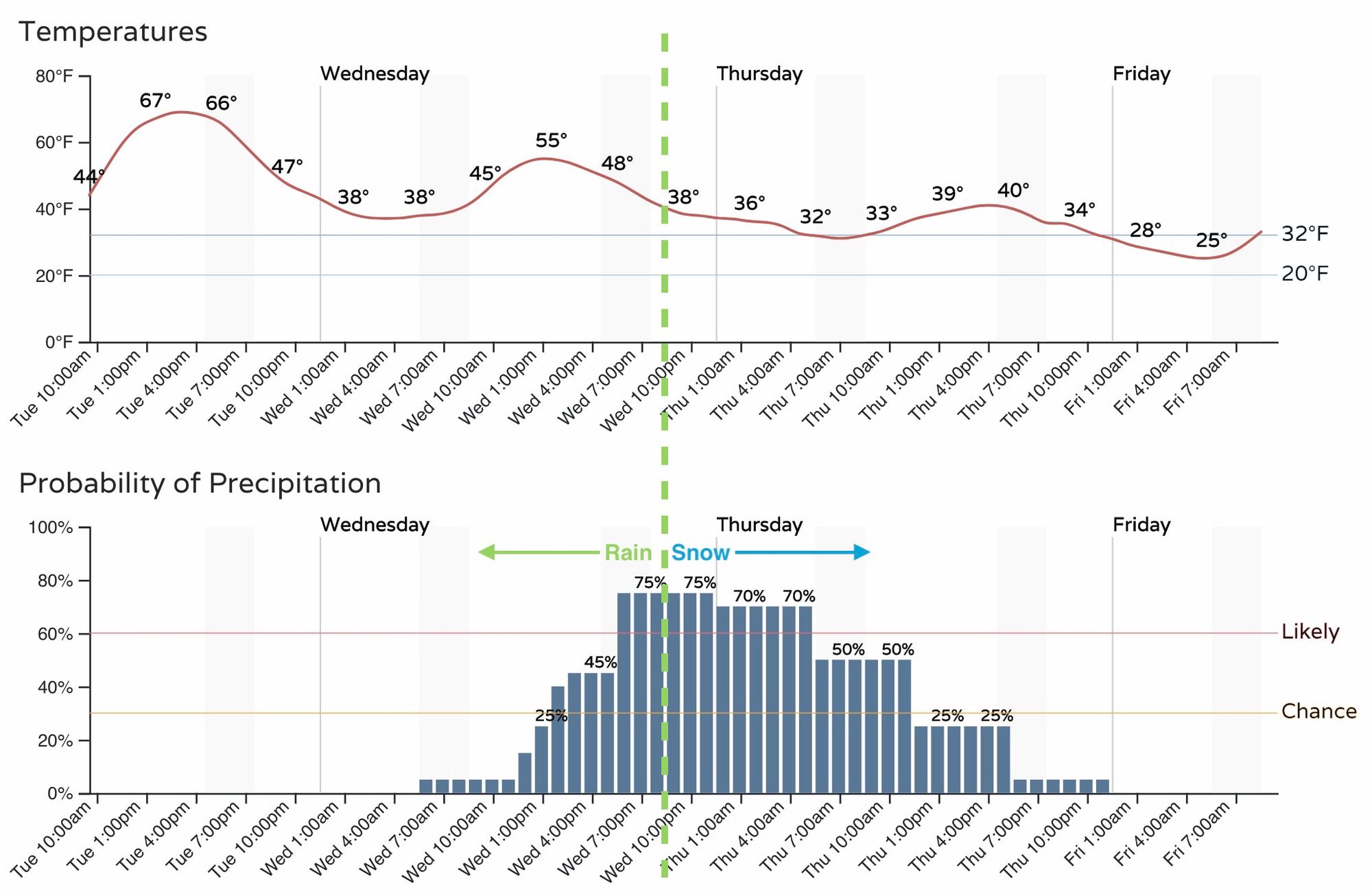 So, while we see the latest blend of models largely matched the Euro ensemble mean precipitation forecast above – roughly 0.5" for Denver, greatest totals south and west, the snow map is less convincing for lower elevations.
NBM precipitation forecast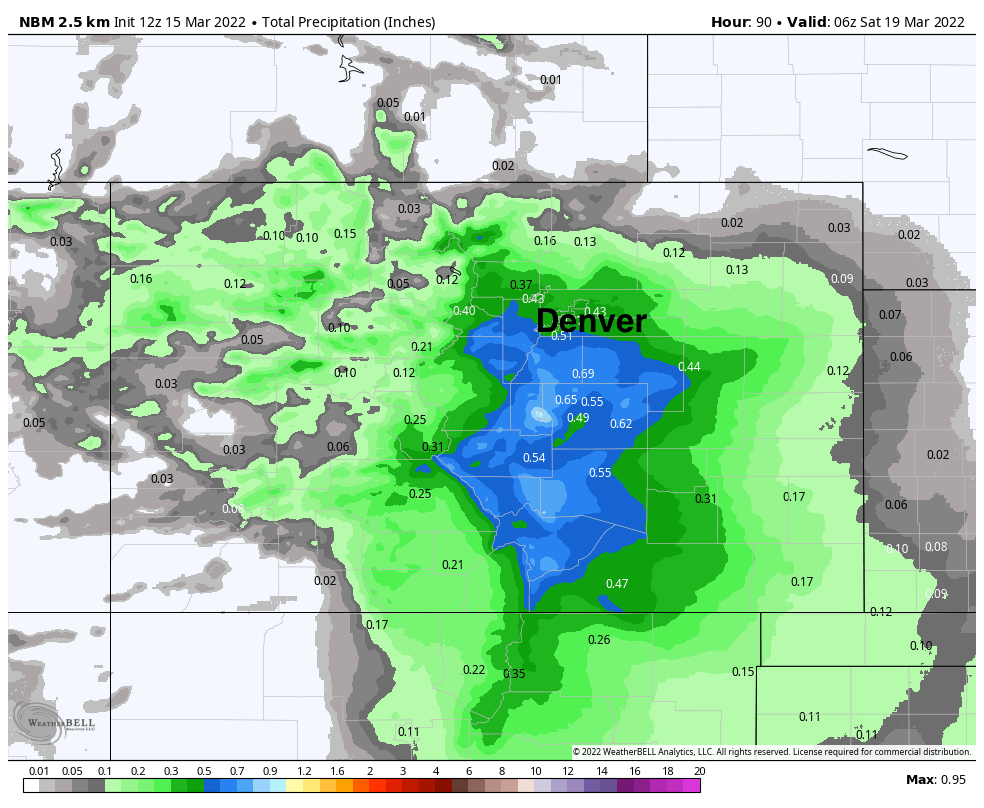 NBM snowfall forecast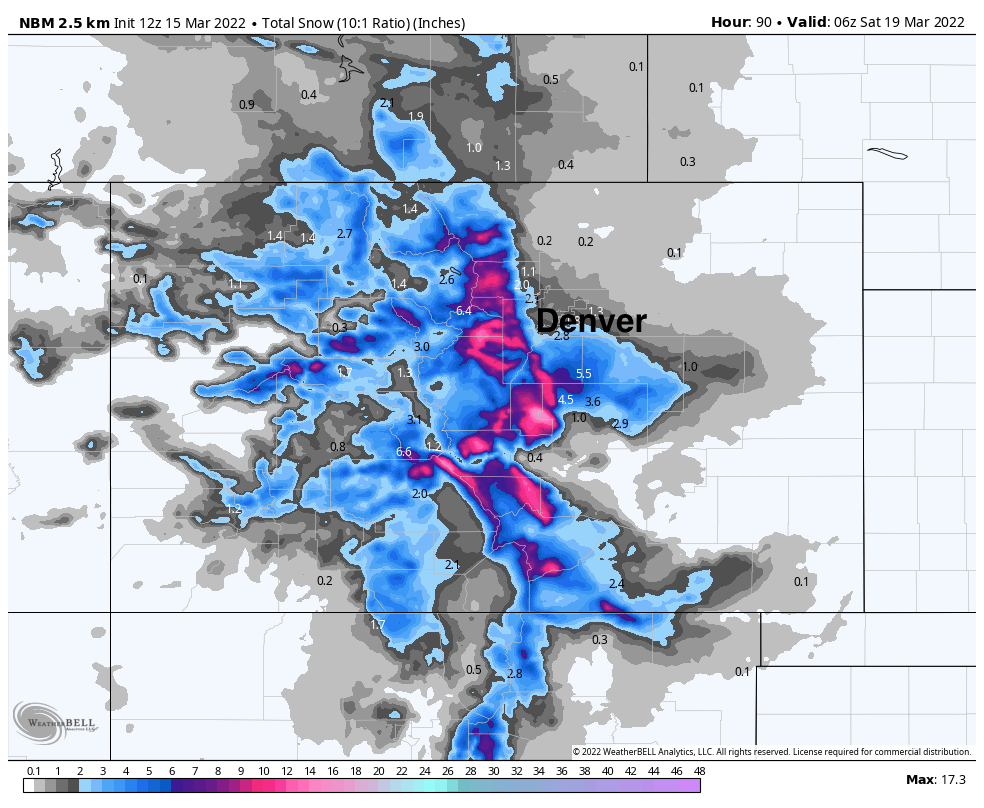 This indicates heavy accumulating snow for the foothills and across the Palmer, but only has 1 - 2" of slushy snow for Denver from this system. Colorado Springs could be in a more favorable position to receive several inches of snow from this system vs Denver, particularly for downtown Denver and north.
The operational Euro snow output shows the challenge of this forecast nicely. It's got roughly 1.5" for DIA, but upwards of 6" for west/southwest Denver, the immediate foothills and the Palmer Divide. Colorado Springs could see several inches as well according to this model, especially the northern and western reaches of the city. It's hard not to like this idea.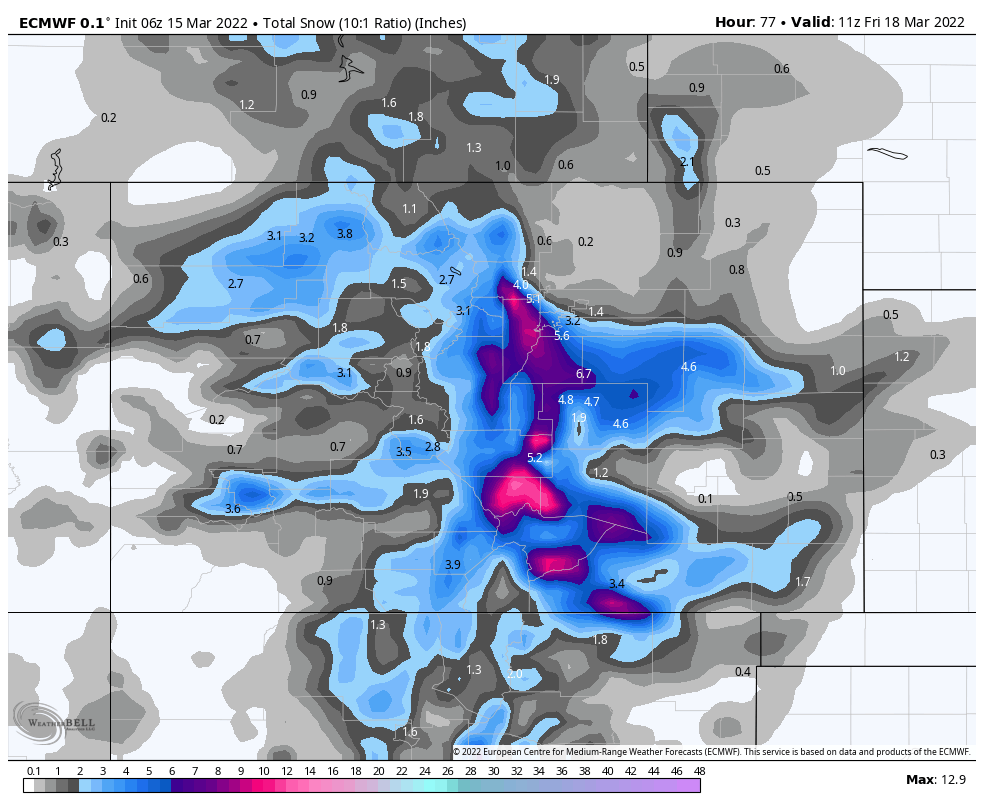 Rough idea for snow totals
We'd like to see another round of data before finalizing these numbers, but here's the idea as of this morning:
Fort Collins/Loveland: 0 - 2"
Boulder/Broomfield: 2 - 6"
Denver: 2 - 5"
Highlands Ranch/Centennial: 3 - 7"
Foothills/Palmer Divide: 6 - 10"+
Colorado Springs: 4 - 6"
Planning
There's still some work to do to sort through a good snowfall forecast for this system, as you can see. As we await more data today and tonight, here's what you should plan for:
Cooler weather arrives Wednesday. Highs will be near 70°F today, but only in the 50s Wednesday, with temperatures dropping through the afternoon.
Precipitation will move from north to south, developing across northwest Colorado early Wednesday, then eventually extending east/southeast across the Plains Wednesday afternoon and night.
Precipitation will begin as rain at lower elevations, transitioning to snow Wednesday evening and overnight.
Foothill locations west/southwest of Denver are most likely to see the heaviest snow with this system, with totals in excess of 8.0" possible for areas like Evergreen, Conifer, and Monument.
No Winter Weather highlights are issued at this time, but this may change, especially for the higher terrain surrounding the cities.
Thursday morning's rush is at the greatest risk for being slow and icy/slushy, but higher terrain travelers surrounding the cities may run into issues as early as Wednesday evening.
Snow comes to an end Thursday morning in most locations, with temperatures moderating for the weekend and a drying trend for the state.