We expected to have better confidence in the forecast after another couple rounds of model runs since our update this morning, but this one remains highly uncertain.
Since this morning, there have been some developments worth touching on this evening.
A Winter Storm Watch has been posted for the western and southern metro areas, including the immediate Front Range foothills west of Denver and the Palmer Divide. No highlights are in place for Denver proper at this time. Watch is shaded in blue below: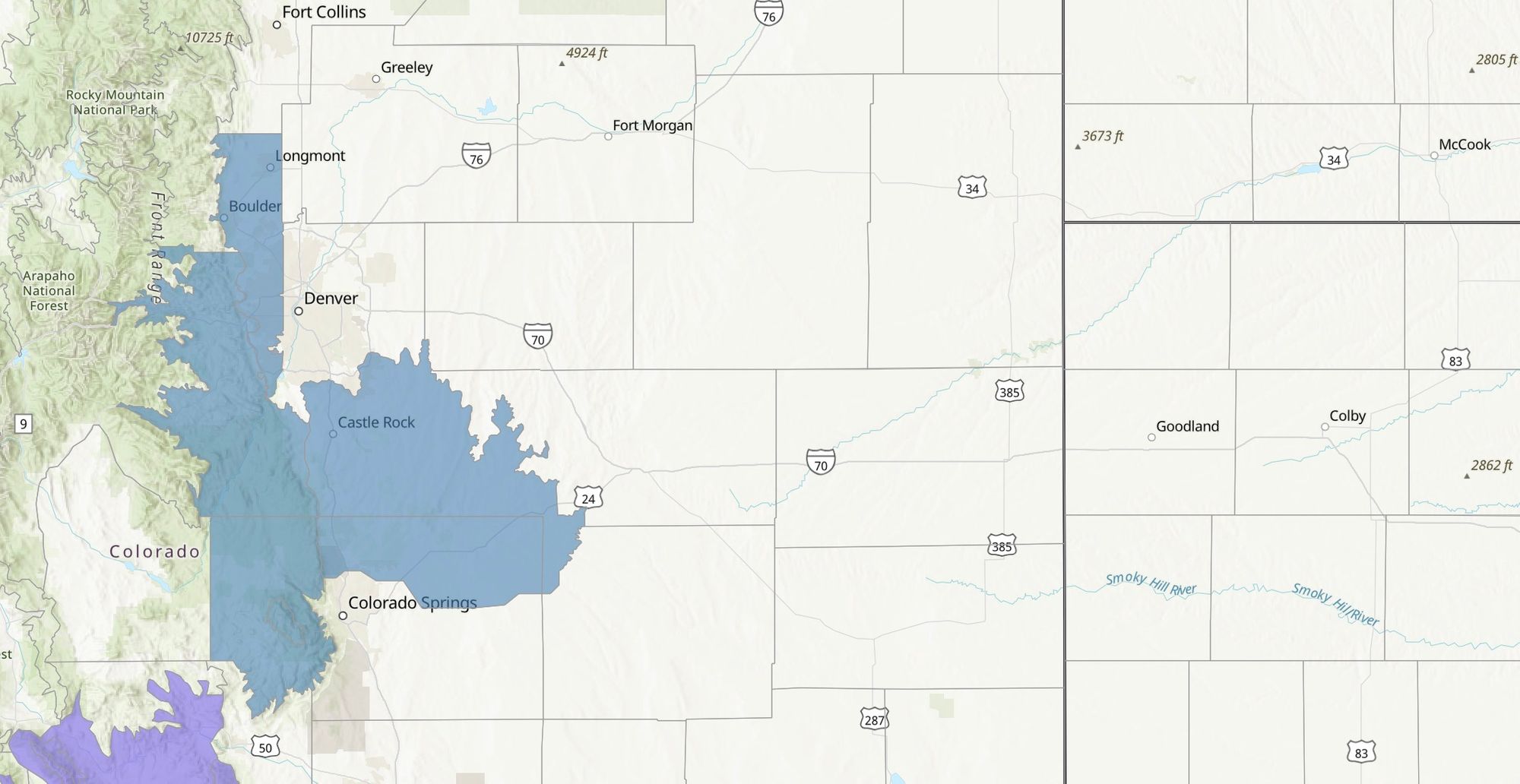 Most guidance remains bullish with precipitation totals from this system, even as the ultimate storm track may prove otherwise. A slight northerly trend was present in some of the modeling today.
Overall odds for accumulating, wet, slushy snow in Denver look higher this evening than they did 24 hours ago, but plenty of uncertainty remains.
Looking through analogs for this system we see there is some support for what guidance continues to produce in terms of snowfall, but most systems end up really favoring the foothills and Palmer Divide vs the city of Denver proper, and certainly nothing further north.
The latest from CIPS Analogs shows the 4" median snow line for similar setups cutting through Denver, with less than 4" east/northeast of downtown, and greater totals west and across the Palmer: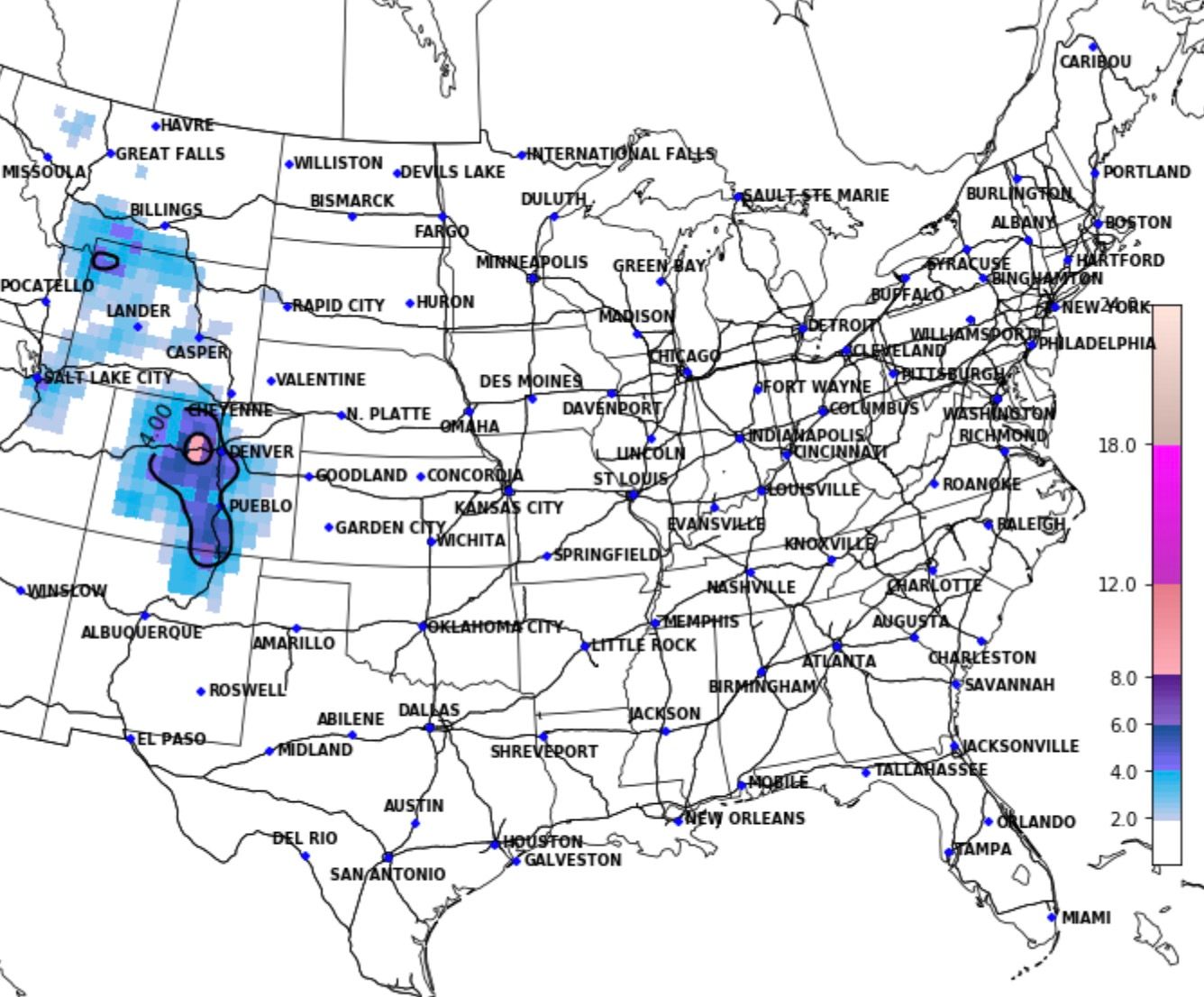 The analog in the top spot, from April, 2008, shows mostly 1 - 3" snowfall totals for Denver and north along the I-25 urban corridor, with 5 - 10" for the southwest foothills and a line extending east from Perry Park/Larkspur through Limon. Some of the heaviest totals were found west of Colorado Springs and Pueblo, with a clear southerly bias. Looking through the surface and upper level maps from this system, there's plenty of similarities to the upcoming forecast to pull out...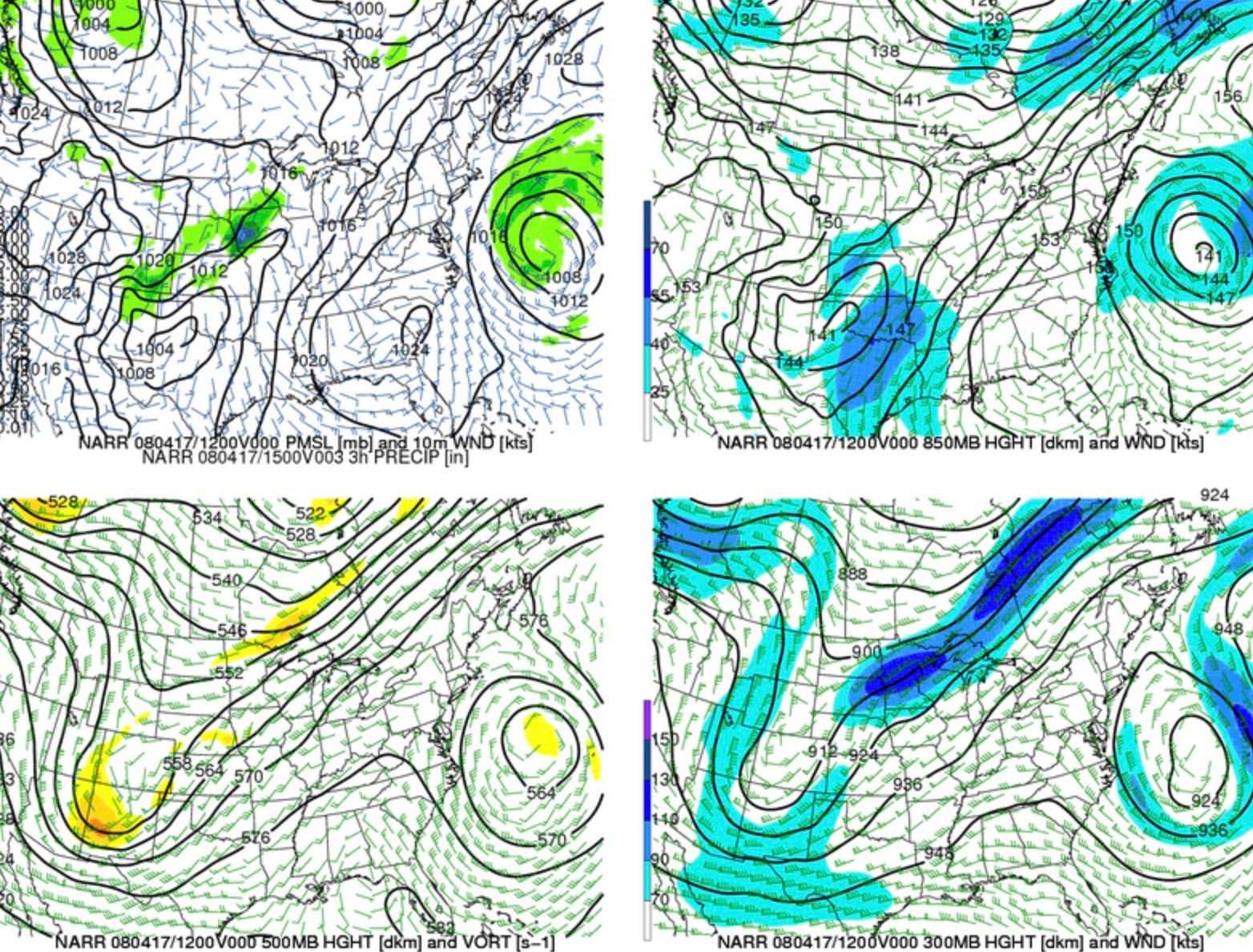 Looking through ensemble probabilities we see the same areas are favored... west/south Denver suburbs, Palmer Divide, and the northern/western reaches of Colorado Springs.
The European ensemble snowfall probability shows pretty good odds for Denver to pick up 3" of snow or more, with odds dropping quickly north of I-70: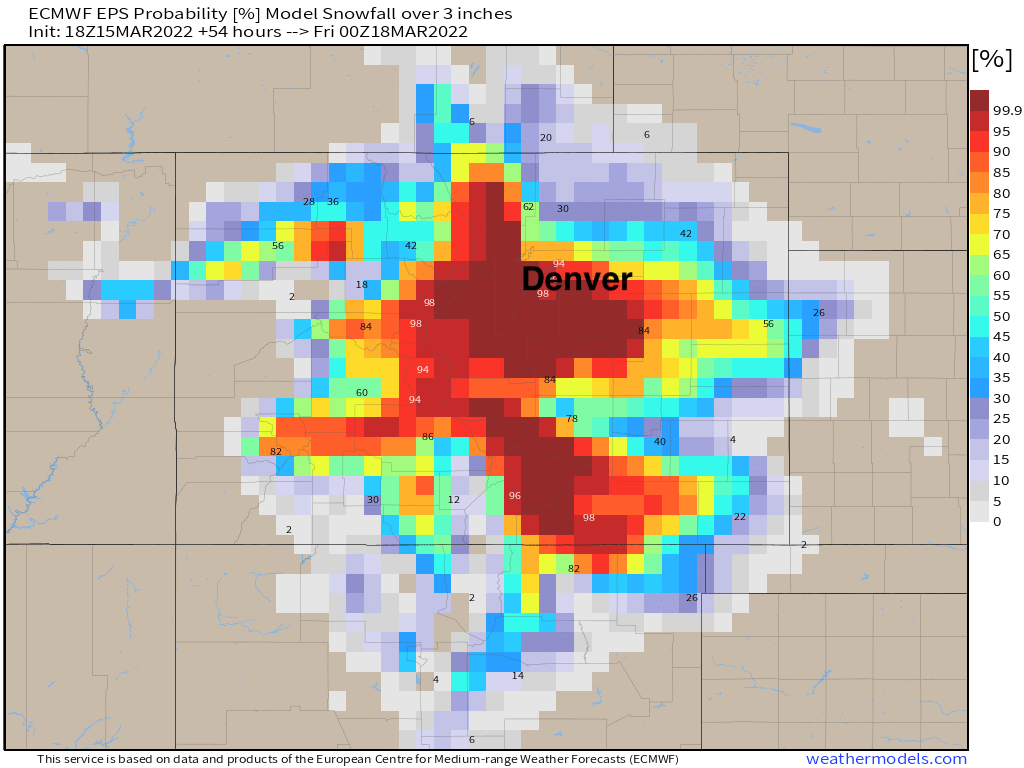 Totals of 6.0" or more really favor the higher terrain, but still upwards of 80% if you live in Lakewood, Highlands Ranch, Castle Rock, etc.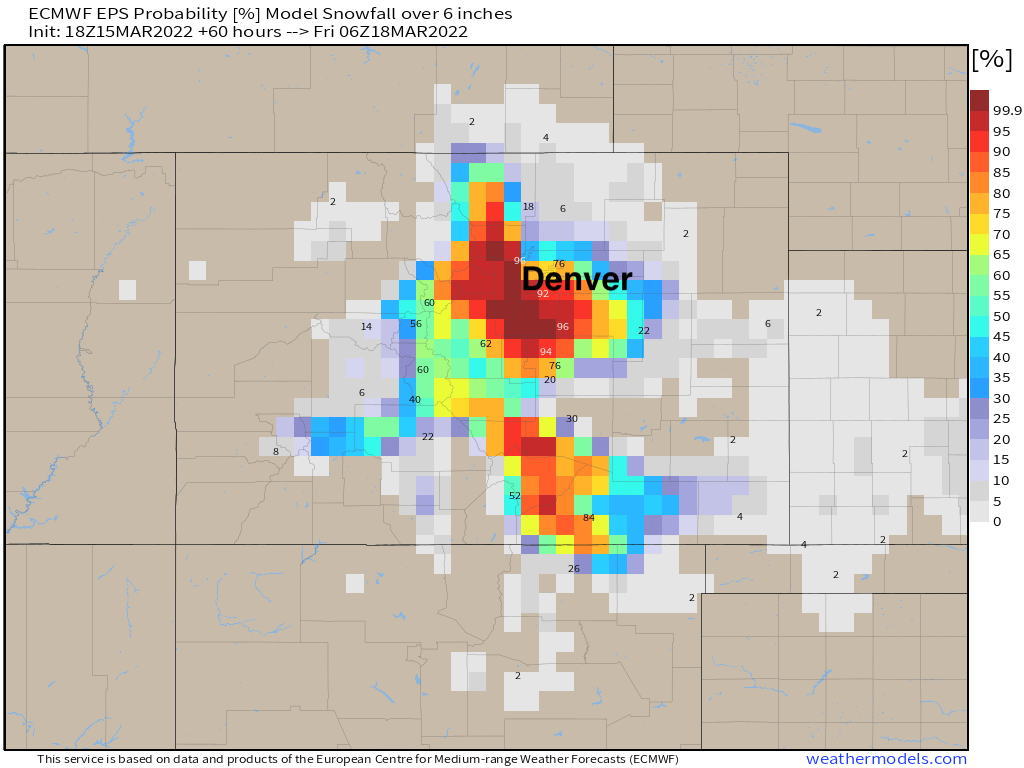 This seems like a good place to be right now. Some models continue to produce 6 - 12" for Denver proper, but with melting and a healthy degree of skepticism in the modeled precipitation for this event (not to mention the lack of any really cold air), it's hard to jump on board with those totals tonight.
Snowfall forecast
This will no doubt be a game of what falls vs what sticks... but some wet, slushy accumulation will be possible if not likely with this system, especially away from the city core warmth. We think 2 - 6" is in play for Denver with 5 - 10" (and perhaps a bit more) for the higher terrain to our west and south. Timing of the heaviest precipitation (snow) looks more and more likely to come after sundown which will also help support greater totals.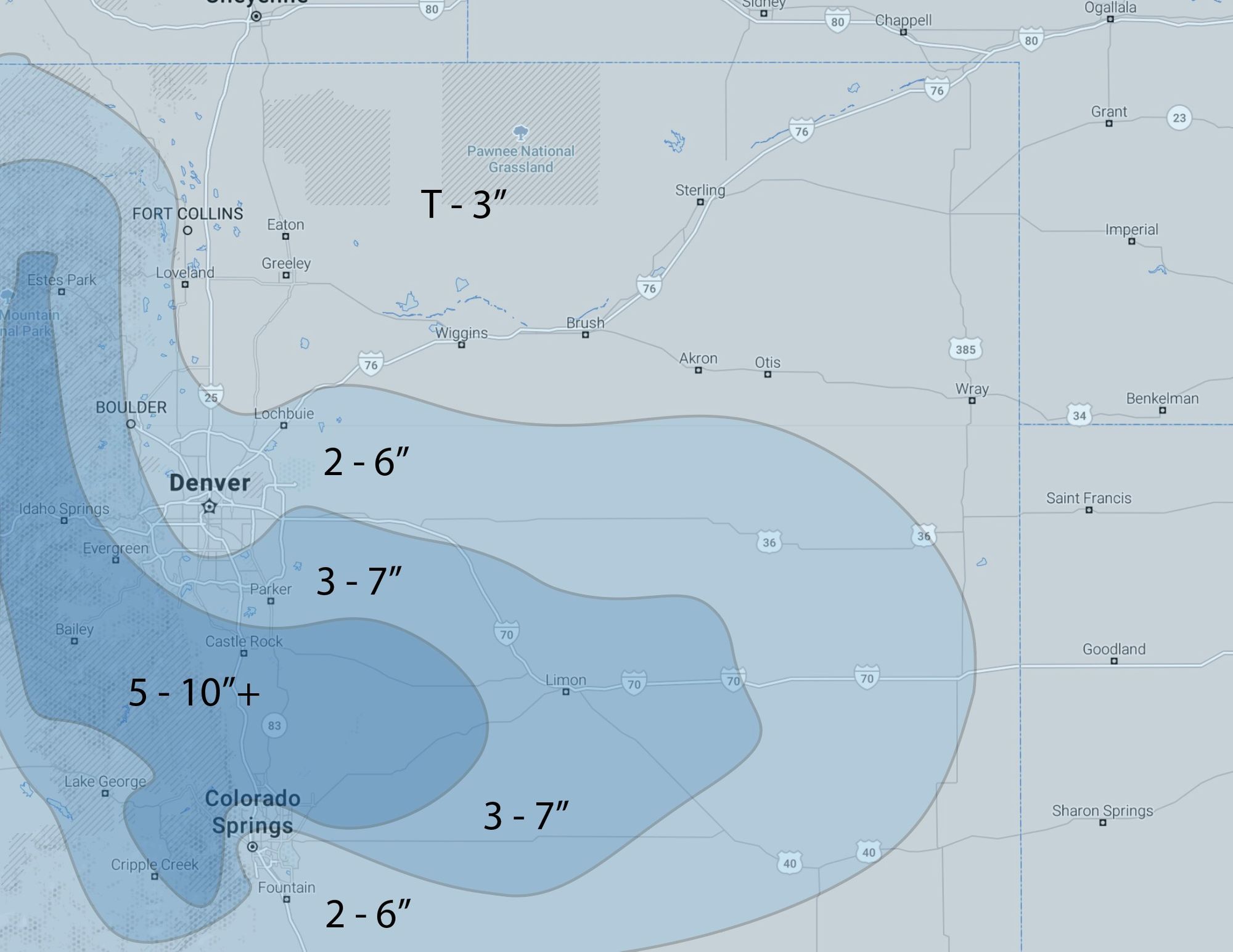 Timing and impacts
Temperatures Wednesday will be about where they should be for this time of year before a secondary cold front arrives late in the day and we drop into the 30s and 40s across Northeast Colorado.
Precipitation chances will be on the increase through the early afternoon, with a good chance many areas will be seeing rain and snow for the evening commute. Again, higher terrain outside of the city core will see the best chance of snow messing up the Wednesday PM commute, with lower elevations most likely staying rain or mixed until after the commute.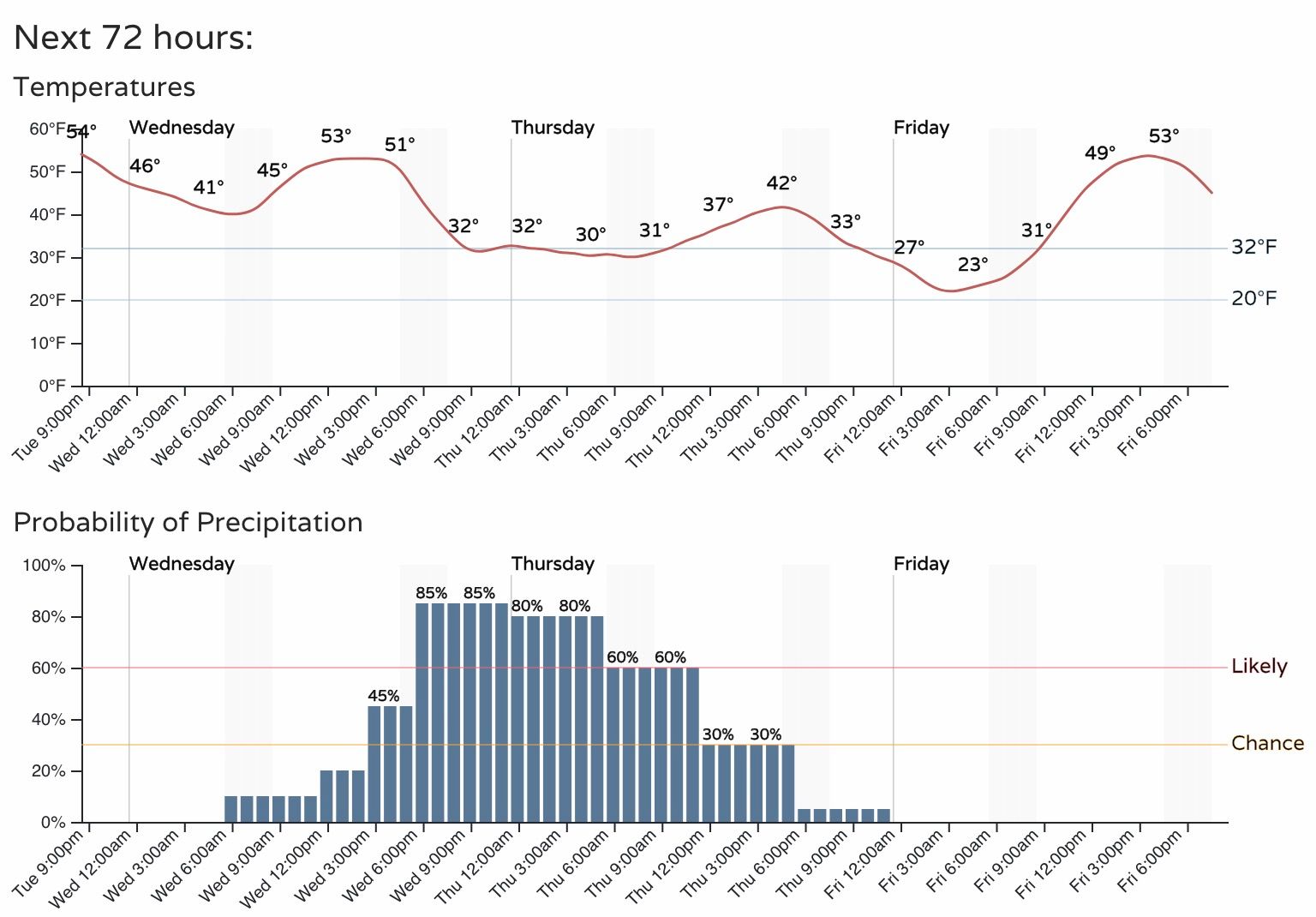 Temperatures drop to near freezing Wednesday night with snow across the region, and only climbing into the low 40s for highs on Thursday with the snow clearing. By Friday we are back in to the 50s with dry conditions on tap.