If it feels like it's been an exceptionally snowy start to the calendar year, you aren't wrong. By our count, this latest round of snow marks 12 consecutive weeks with snowfall in Denver since the last week of December, 2021. All days with a Trace or more of snow in Denver since the start of the year are highlighted below – busy!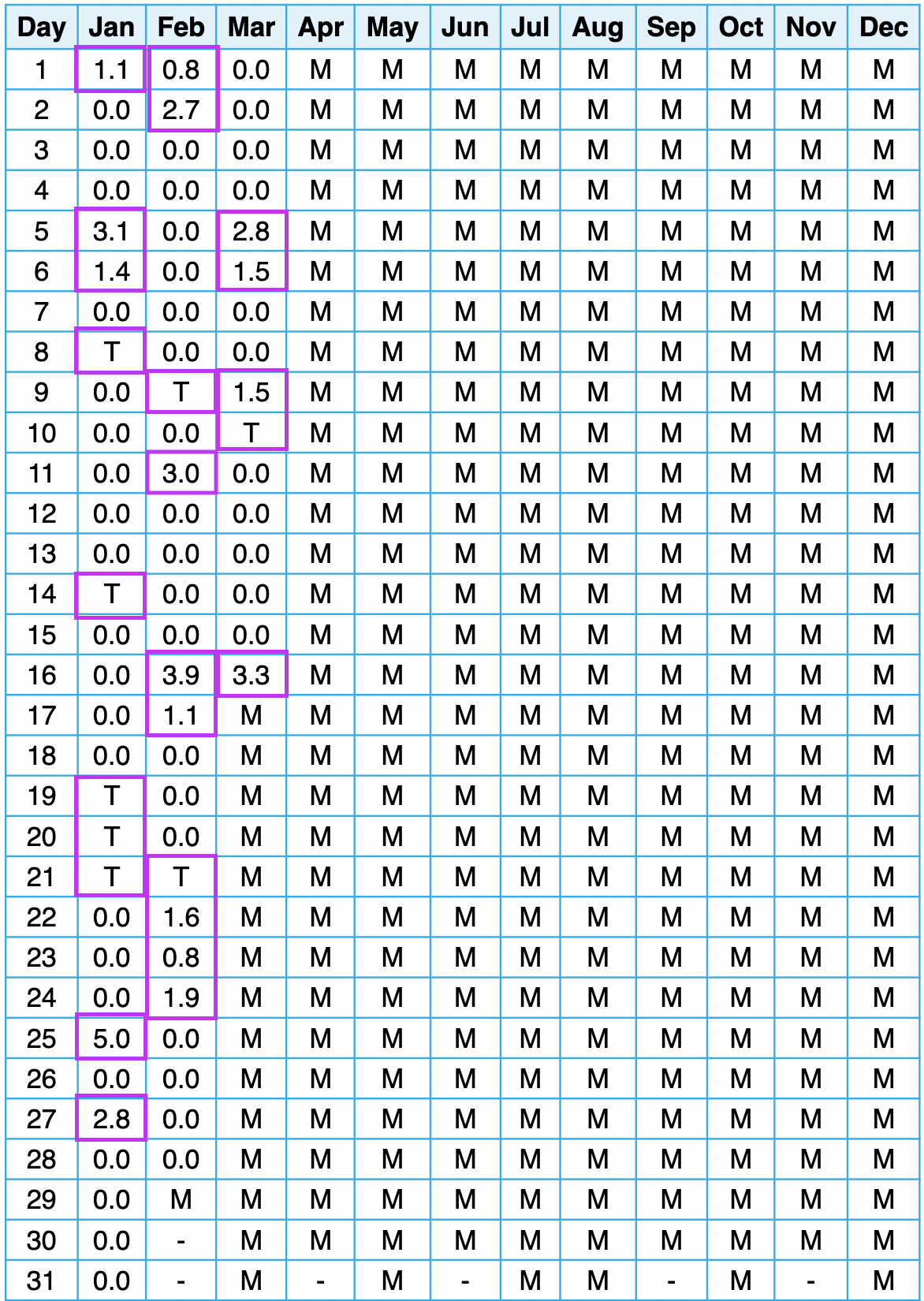 With 4.6" of snow reported at Denver International Airport as of 6am this morning the season-to-date total is now 44.4" (and we're likely to add to that total when final numbers are in from this storm). Through the end of March the city averages 46.4" of snow for the season at DIA, and we have half a month to go!
Looking at accumulated snowfall since January 1, 2022 we again see just how active this year has started. The blue line is 2021, which we were well ahead of until last week as last week marked the 1 year anniversary of Denver's 4th largest snow on record, which catapulted 2021 ahead of 2022. The least snowy Jan 1 - Mar 17th on record was in 1905, when just 5.3" (red line) was measured in Denver.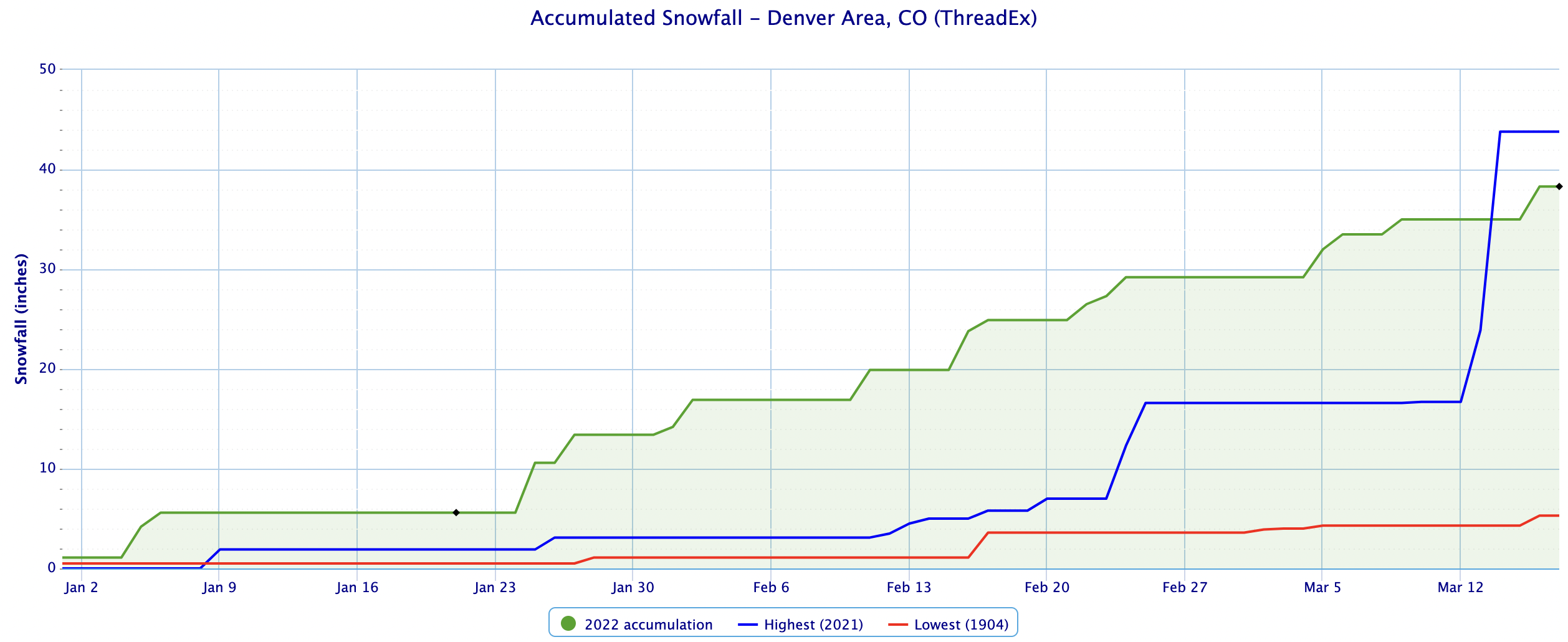 Snowfall totals through 7am were right in line with our forecast, across the board. We can (and in many cases will) add a couple inches to all of these totals today and remain okay from a forecast standpoint.
Our station, on Denver's west side picked up 3.5" (forecast 3 - 7") of snow through 8am, with snow continuing. DIA had picked up 4.6" as of the morning report (forecast 2 - 6"/3 - 7" line). The greatest storm totals were across the foothills west and southwest of Denver and the Palmer Divide, where 8 - 12" of snow have been common, with more to come today.
Here are additional snowfall totals from across the region:  
And maybe most importantly, precipitation totals from across the region as of early this morning. Totals from 0.5" to 1.3" have been common in and around Denver, with eastern and southeastern Colorado seeing the bulk of their precipitation from this event this morning and afternoon.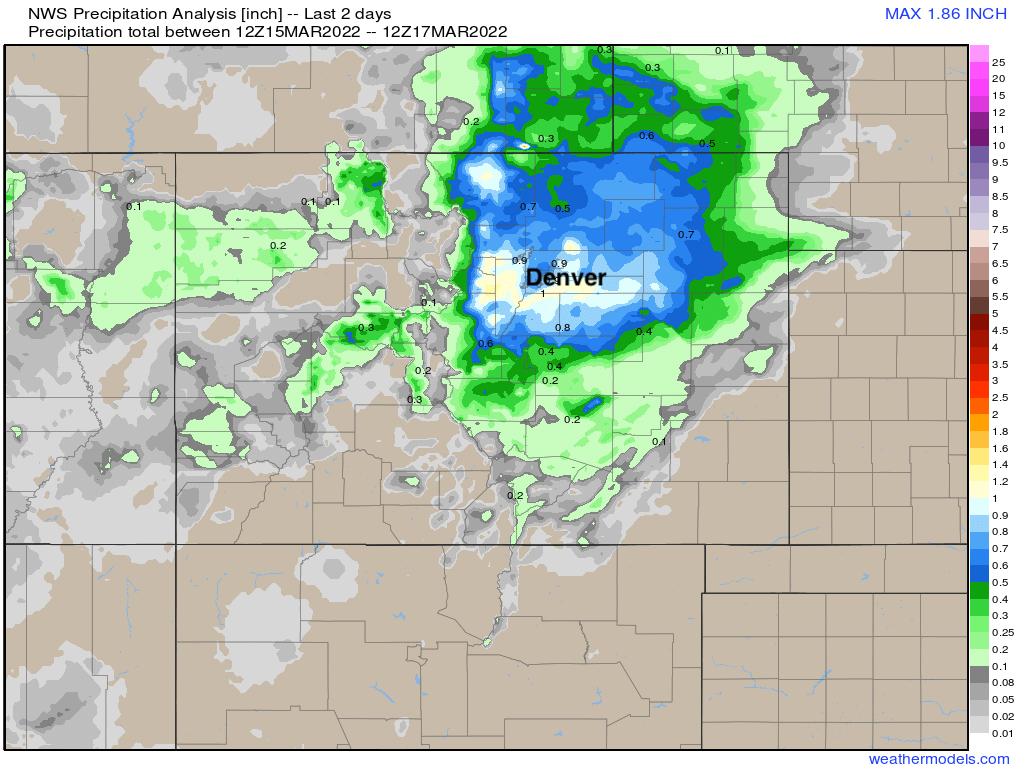 Our snowy pattern over the last 60 days has been the exception, not the rule regionally. Looking at precipitation anomalies (in inches) we see Northeast Colorado/Front Range of Colorado has been quite wet, but the majority of surrounding areas and states have been drier than average!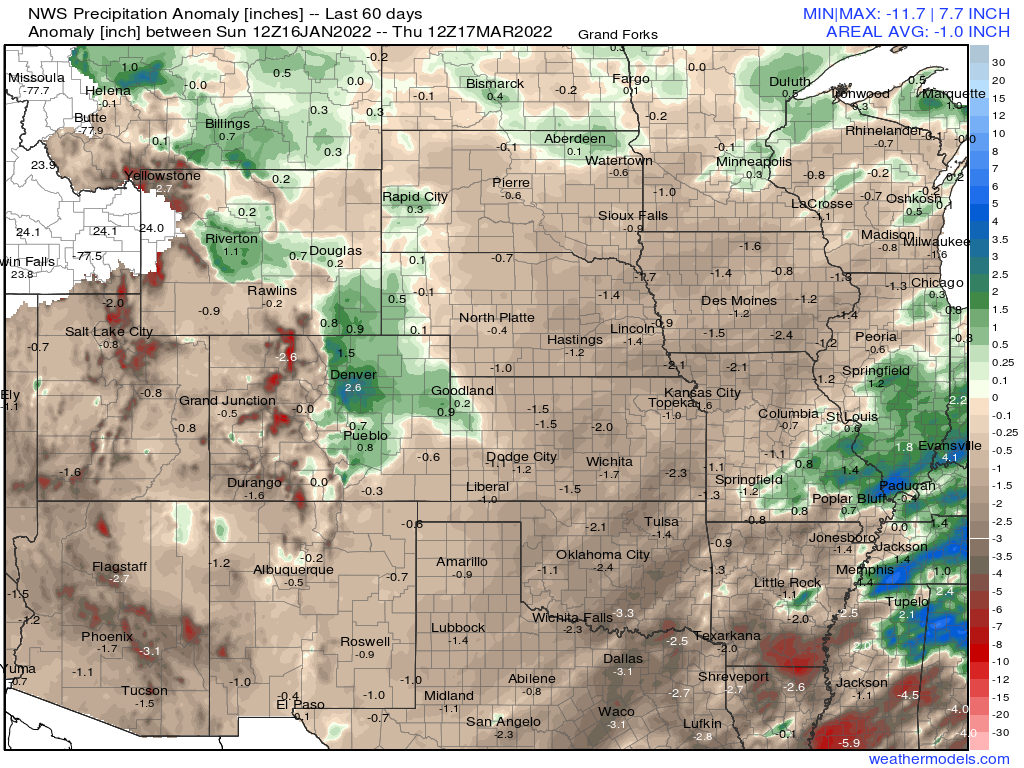 For this system, the bulk of the heaviest accumulating snow is behind us for the Denver area, Palmer Divide, and Colorado Springs. Still, some additional accumulation of a T - 3" will be possible today, with the far eastern plains seeing their snow now, and lingering snow in the foothills as well.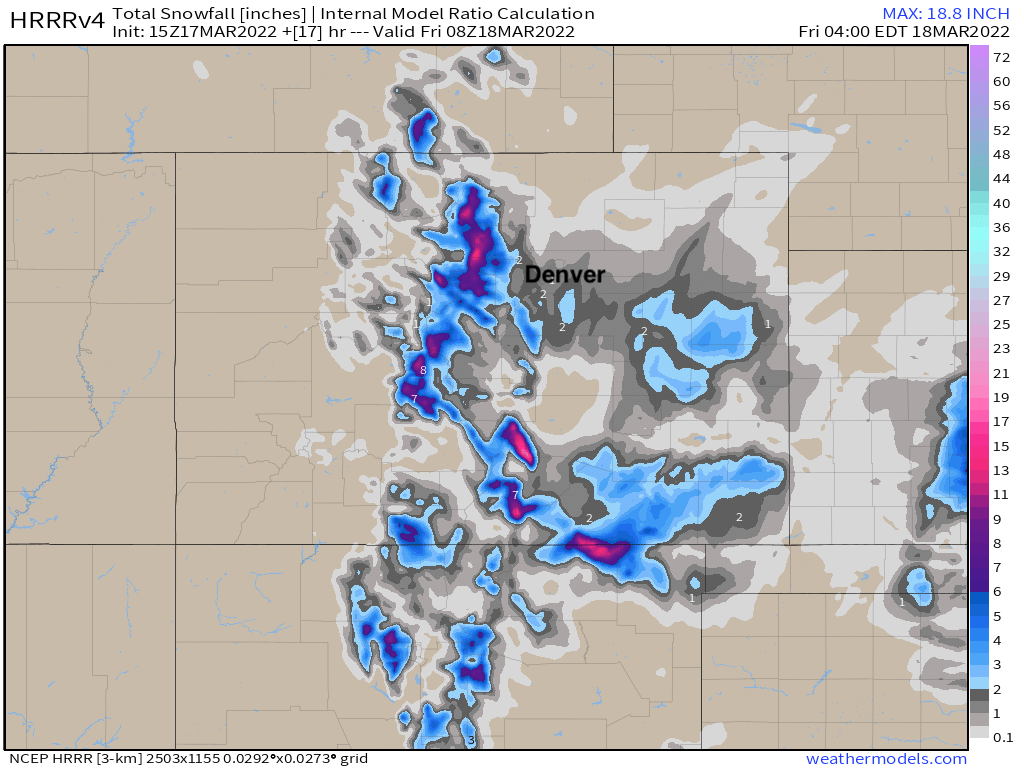 With that, we see precipitation (snow) chances decrease through the day, with drier and warmer conditions on the way to end the week and start the weekend.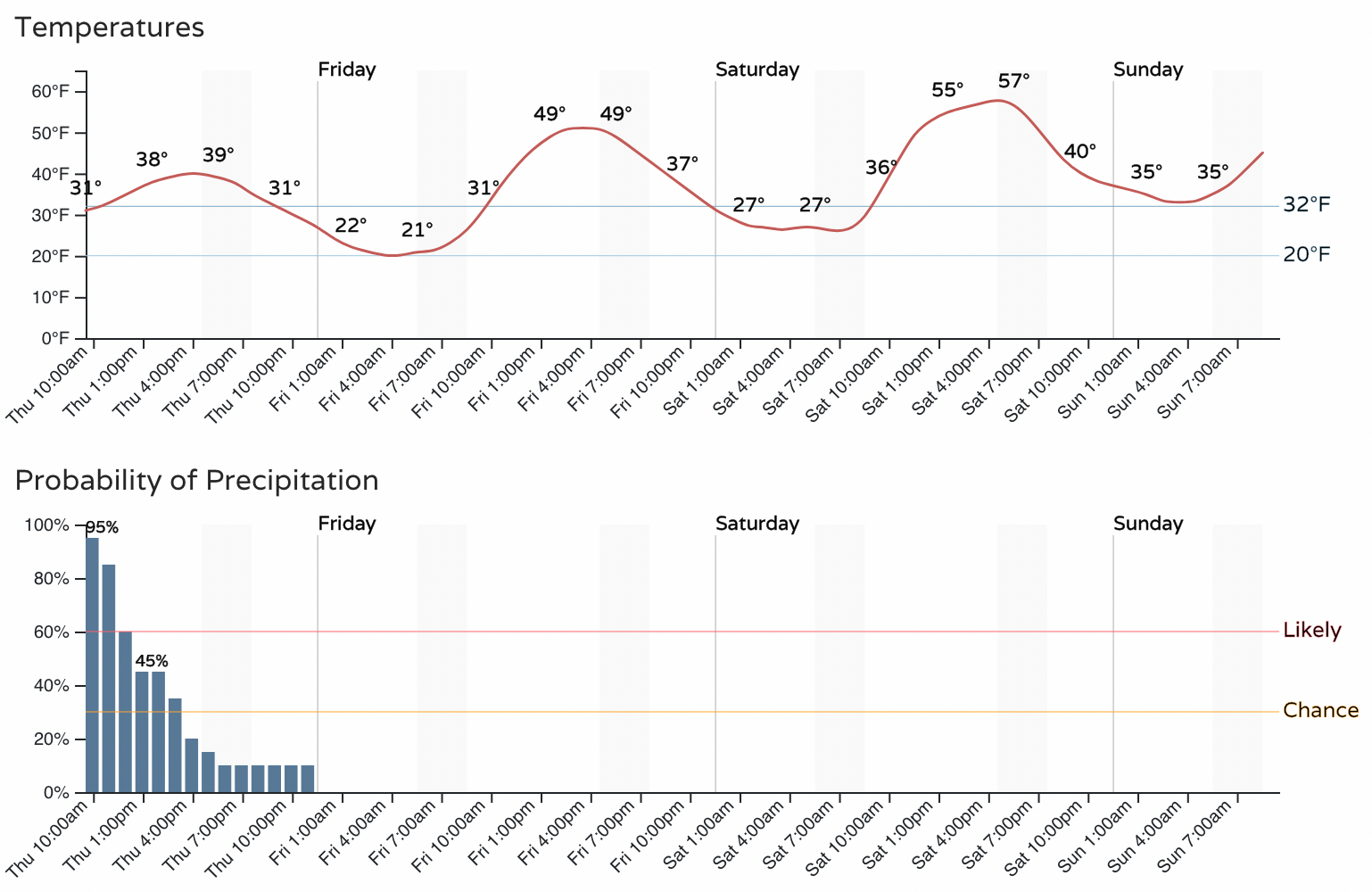 Attention after today shifts toward late weekend and early next week when another system is set to move through and bring perhaps more heavy snow to the region. We'll have more on this in the next update.