One final update today on what will hit the record books as Denver's fourth biggest snowfall. Denver International Airport ended up with 27.1" of snow when it finally called it quits last night, making it not only the fourth biggest snowfall on record for the city, but also our one "boom" snow of the event that we can find! (DIA was in our 12 - 24" forecast range).
Here's an updated list of totals this morning from across our forecast area. Did we miss any? A few of these are from a bit earlier in the day Sunday, so some of these totals could end up a bit higher than shown. Still, what-a-storm, and all but DIA right in line with our forecast.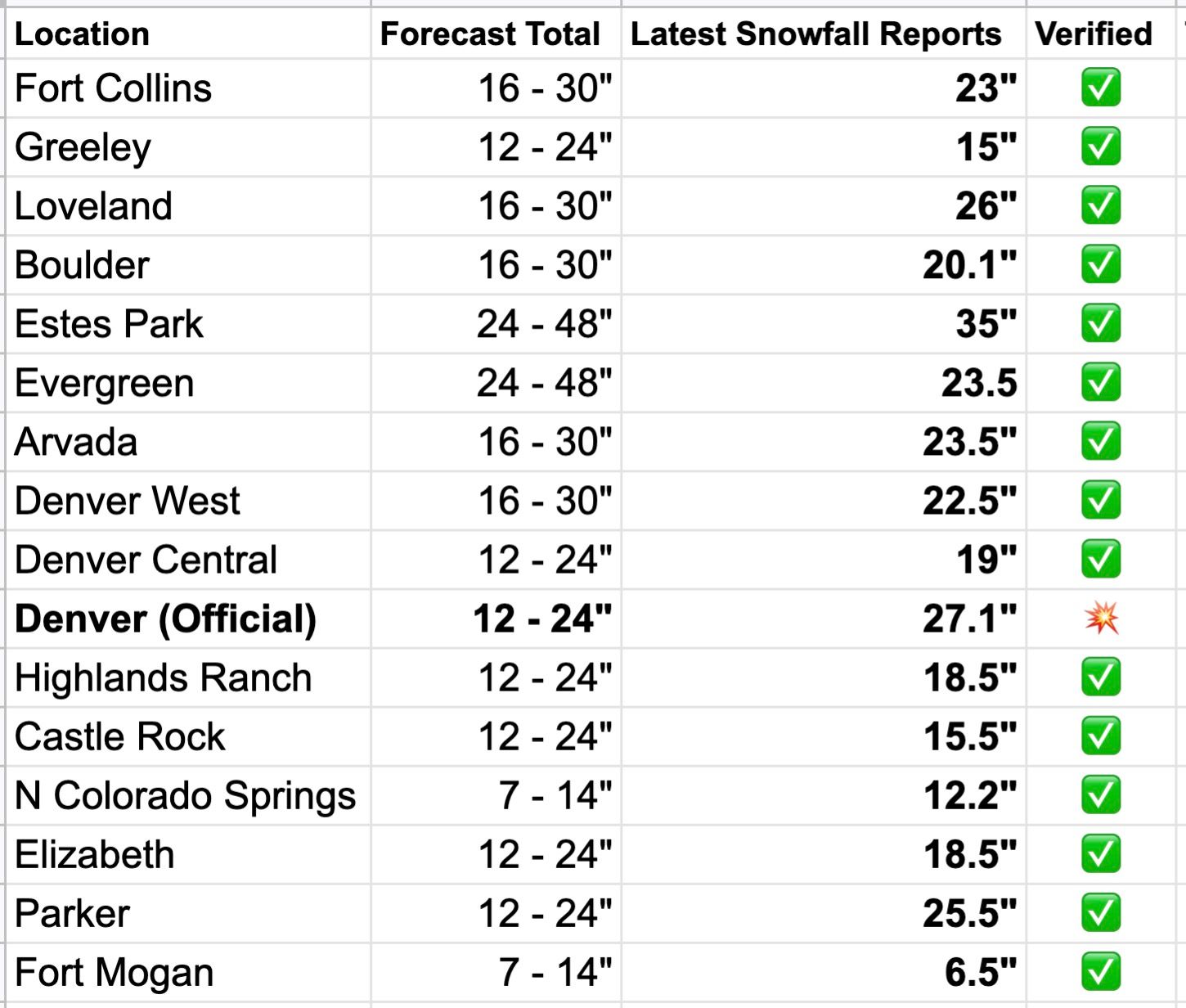 Graphically here are area totals with our forecast map overlaid. The Limon number is incorrect, and Fort Morgan is almost certainly higher, but I have yet to see updated totals from out east.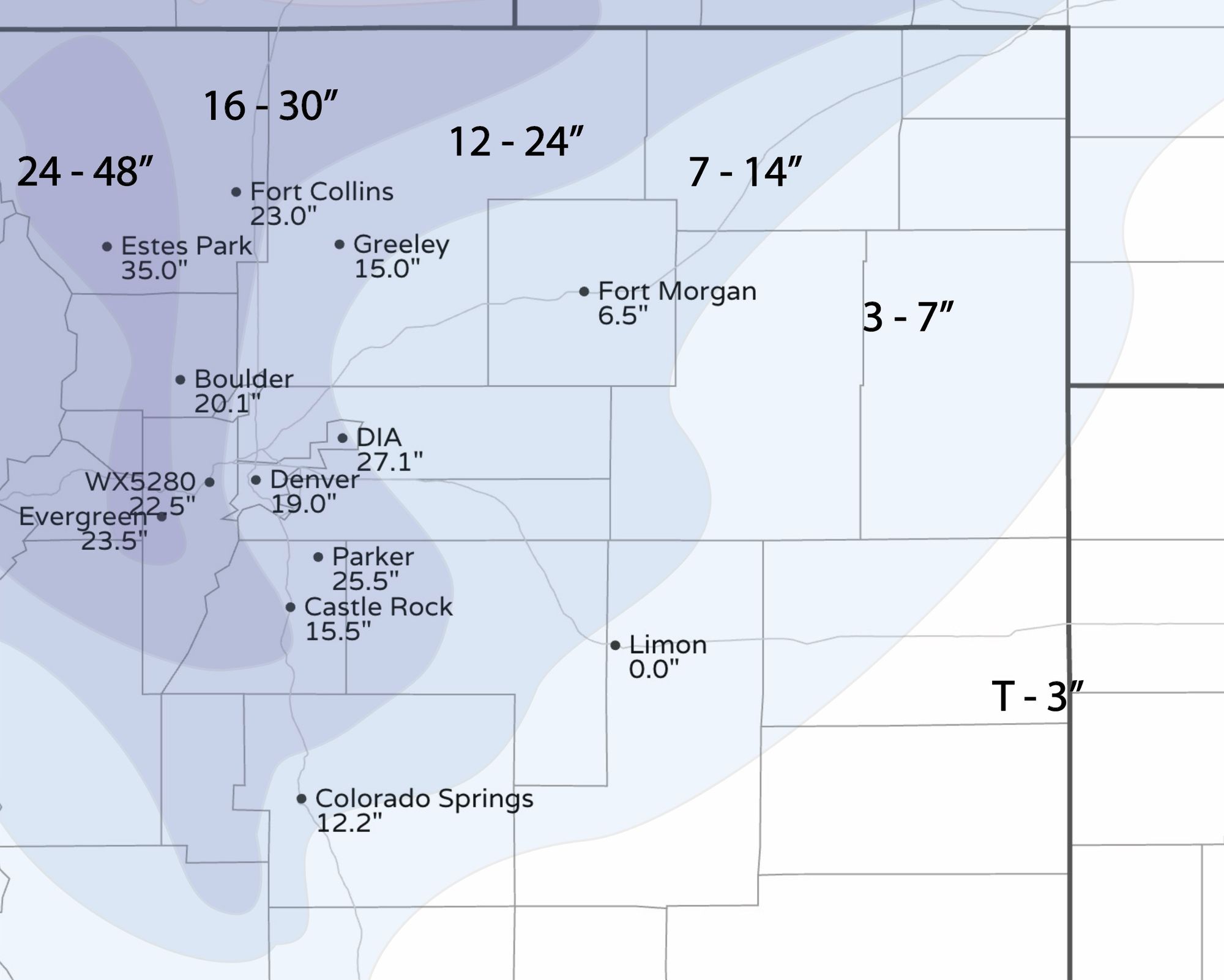 And here is a map of 3 day snowfall totals from NOAA. Clearly just a massive storm not only for Denver but across the entire region.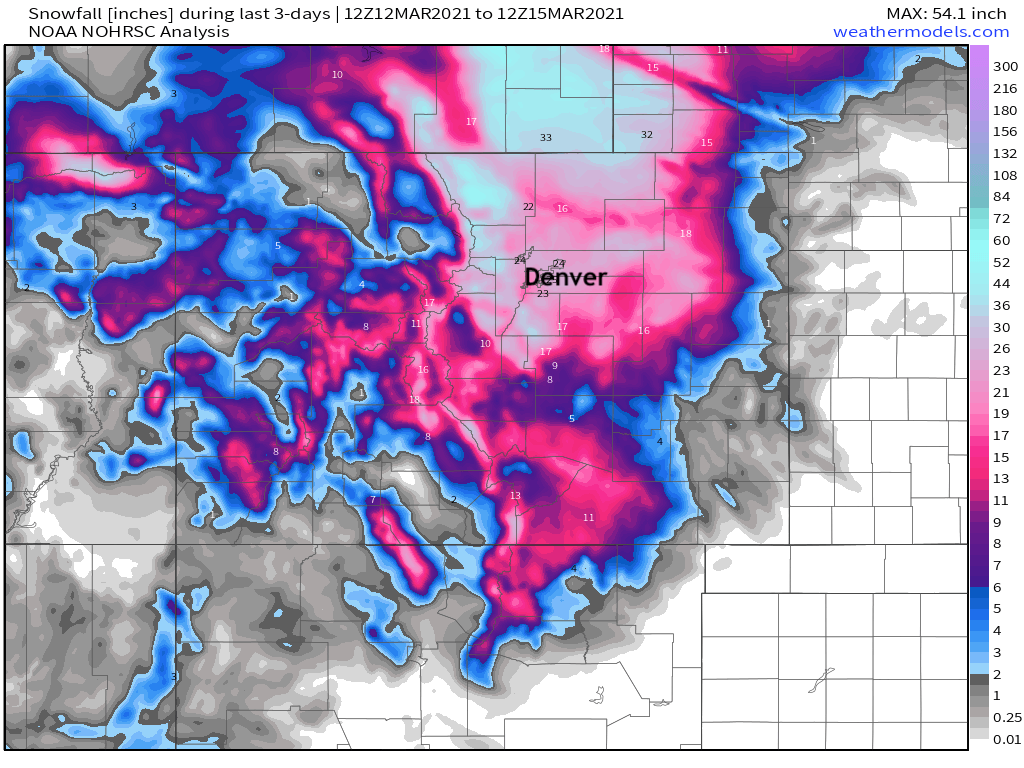 Record setter
As noted above, this storm moves into #4 on the list of biggest snowstorms on record for Denver. Somewhat ironically, had the station been in central Denver it may have not made the top 10 list, but would have been close. DIA picked up several more inches than most of the reports that came out of the city-center with this event.
Still, officially this will be the new top 10 list. All 10 now with 20" of snow or more, and two of the top 5 coming in the month of March during the last 20 years.
45.7 | Dec 1-5, 1913
31.8 | Mar 17-19, 2003
30.4 | Nov 2-4, 1946
27.1 | March 13-14, 2021
23.8 | Dec 24, 1982
23.0 |Apr 23, 1885
22.7 | Oct 20-23, 1906
21.9 | Oct 24-25, 1997
21.5 | Nov 26-27, 1983
20.7 | Dec 20-21, 2006
A lot of water!
Most of northeast Colorado picked up between 2 and 3" of precipitation from this event. That's a lot of water! If we look at a national image of precipitation over the last two days we see copious amounts from our weekend system, with the heaviest precipitation recorded across portions of Nebraska.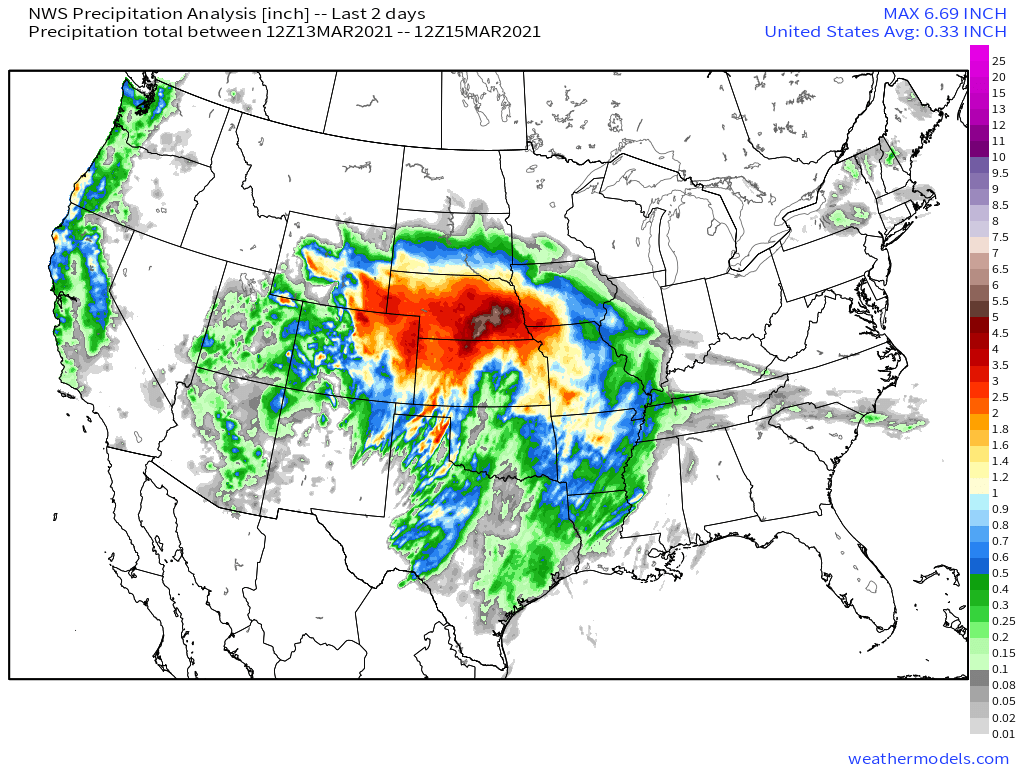 Closer to home we see virtually all of Northeast Colorado with 2" of liquid or more, and even some areas of appreciable moisture for drought-stricken Southeast and East-Central Colorado. Southern Colorado will see more rain and snow tomorrow.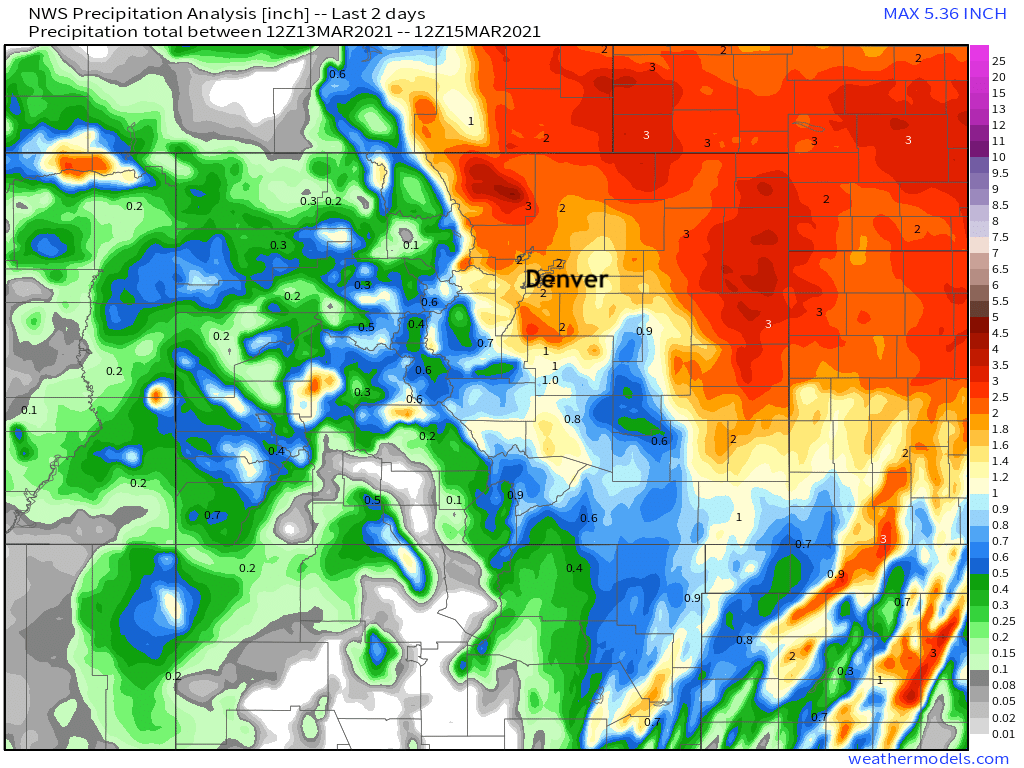 We'll check in on how this impacted drought numbers later this week.
Dusty snow?
One tidbit several folks on here asked about is what appeared to be a layer of reddish dirt in the snow they were shoveling this weekend.
According to the National Weather Service in NM your eyes did not deceive you! The satellite image below shows a plume of dust that was pulled north out of Mexico by our storm (the hot pink!) and carried all the way into Colorado on Saturday.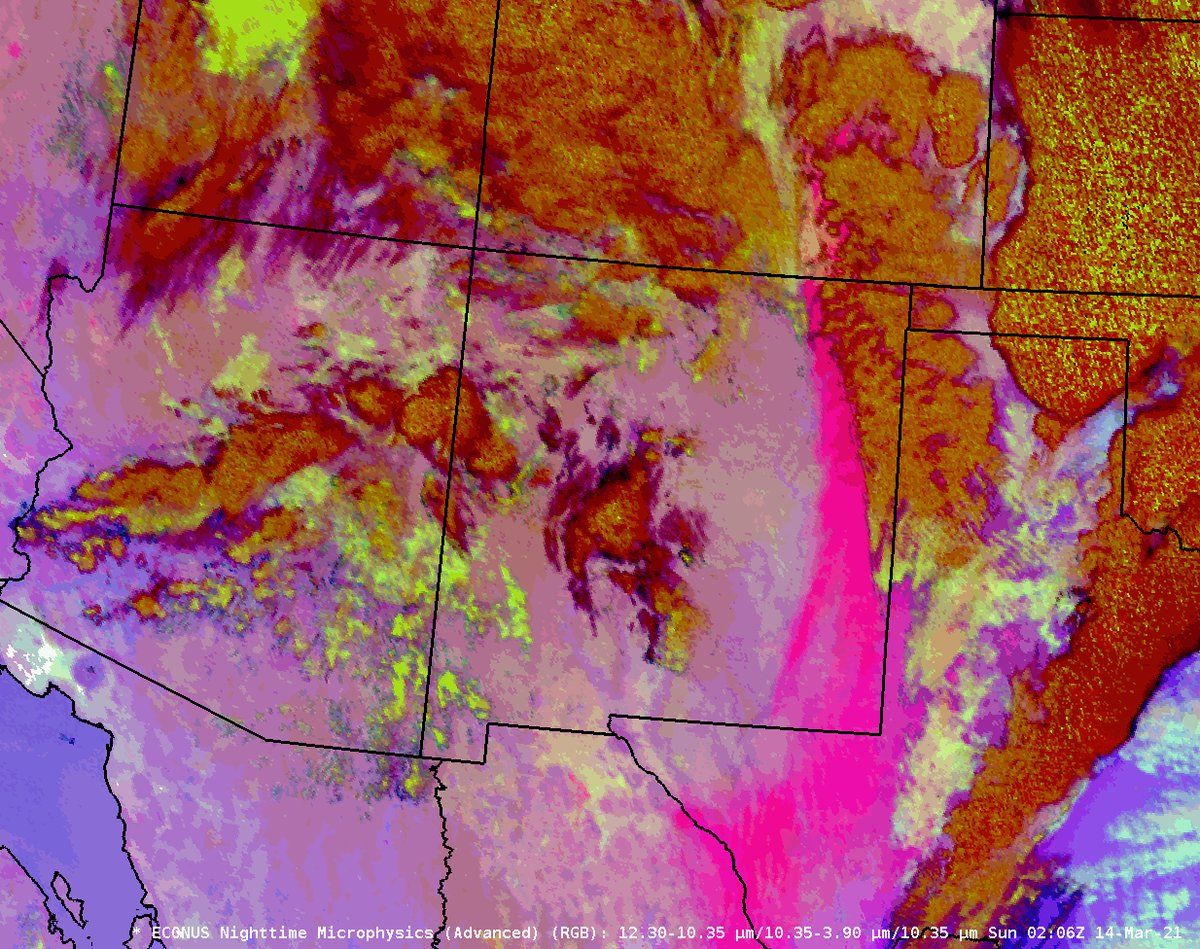 The NWS in Boulder shared this image over the dust layer in our snowpack yesterday. Pretty cool we say.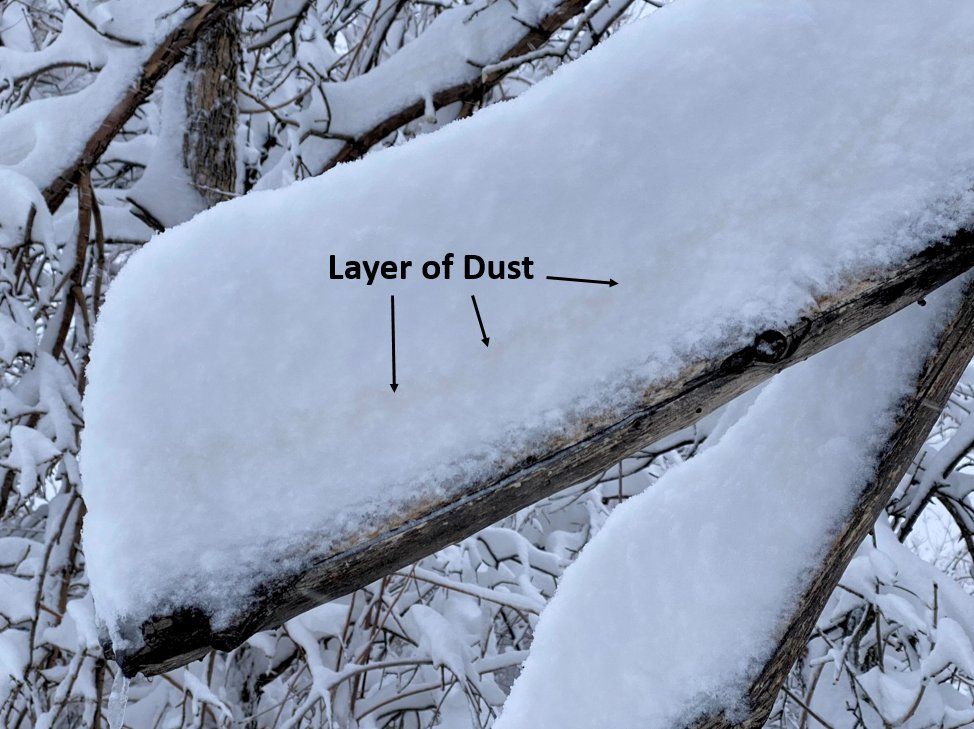 Goodbye GFS
You'll recall last Friday night we shared how much snow every model was forecasting on the eve of the event. Most were in pretty good agreement, the current operational GFS however had trended toward a very warm solution for lower elevations and didn't want to kick that idea. At times in the lead up to this event it showed only 2 - 3" of snow for eastern Denver including DIA!
The image below shows the snowfall forecast for the current operational GFS (bottom left) as of Friday, and the new GFS (bottom right) set to come online this week and replace it. Score a big time win for the new GFS, let's hope it's a trend of things to come. The new version of the GFS is set to become operational on March 17th barring any unforeseen issues.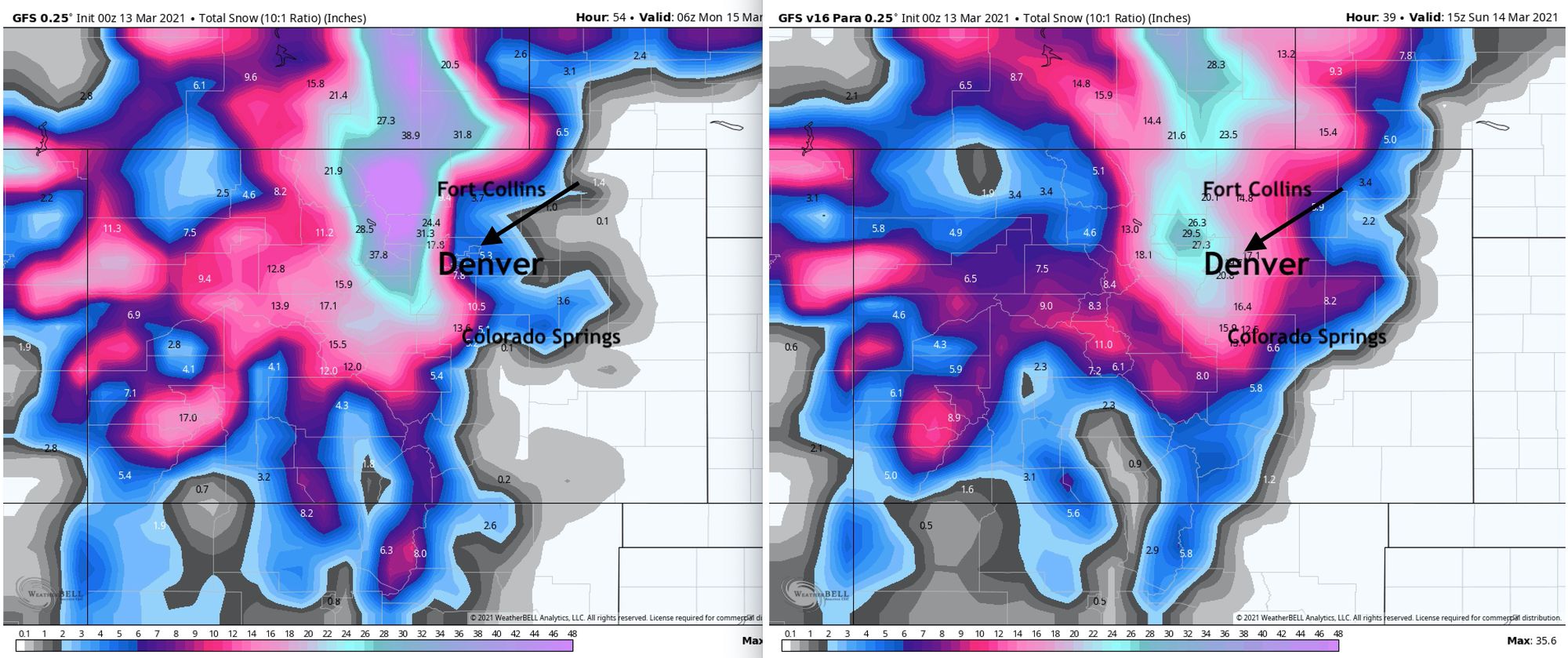 The perfect storm
It takes a lot to fully realize the potential of a enormous snow event around here, and this one did. All the right ingredients came together at just the right time to make it happen, and that's not easy to do.
We will no doubt be reflecting on this setup for a long time to come, but for now let's take one last look at our system as it stalled out over southeast Colorado on Sunday, virtually not moving for hours. The heavy snow, with rates of 2 to 3" and hour at times, is what's possible on an ideal upslope setup like we saw this weekend.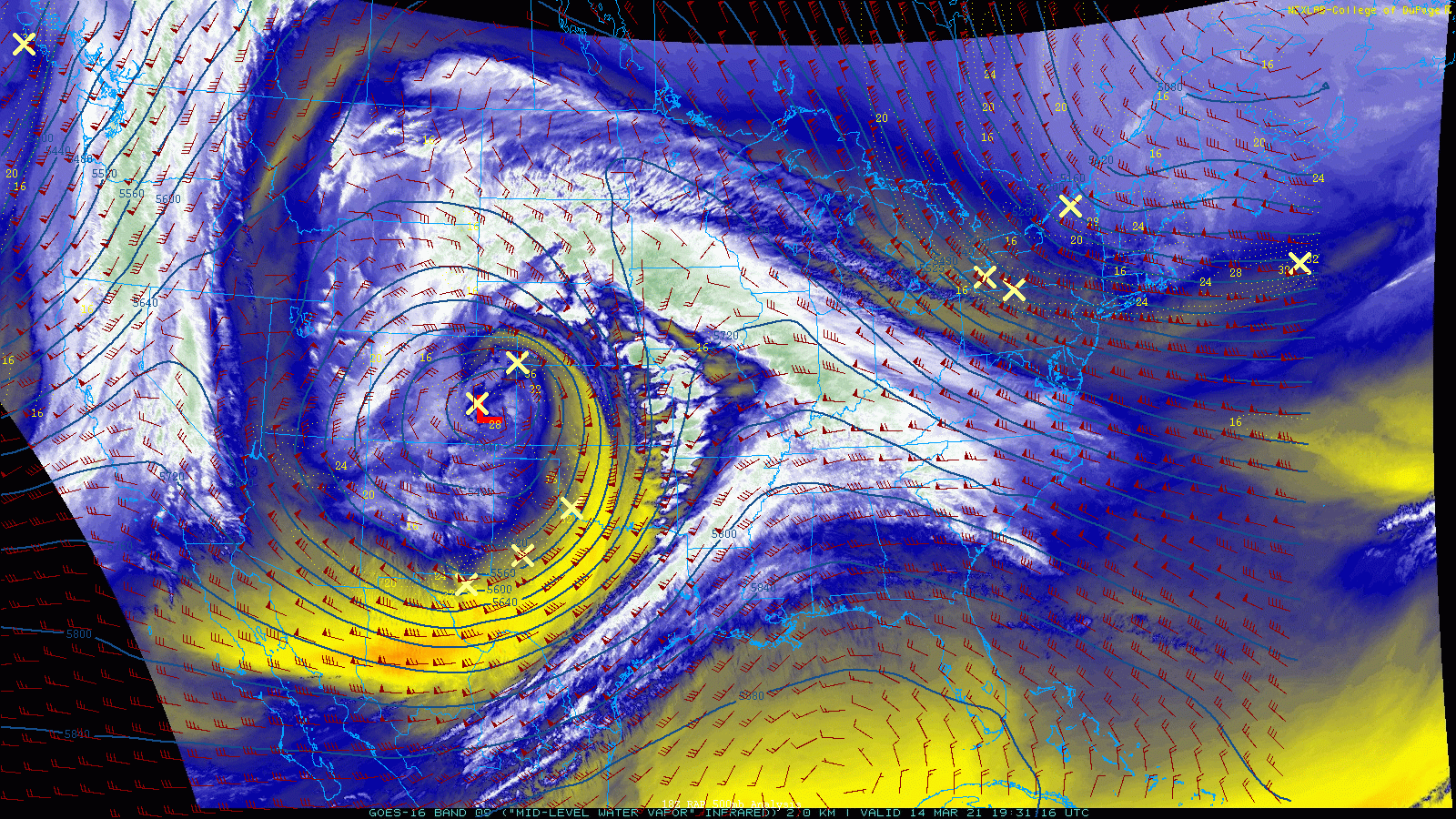 It was truly a pleasure sharing the week with all of you, and we want to thank everyone here for sticking with us and our forecast even when much of Denver seemed to bail on the idea of this storm working out! The discussions, interactions, questions, storm reports, and images in the comments this week have been a lot of fun, and really kept us going after many long days.
See you for the next one, and remember to subscribe to Weather5280! https://www.weather5280.com/subscribe