A dangerous combination of elements has come together today to give much of region extreme fire danger conditions should one be ignited.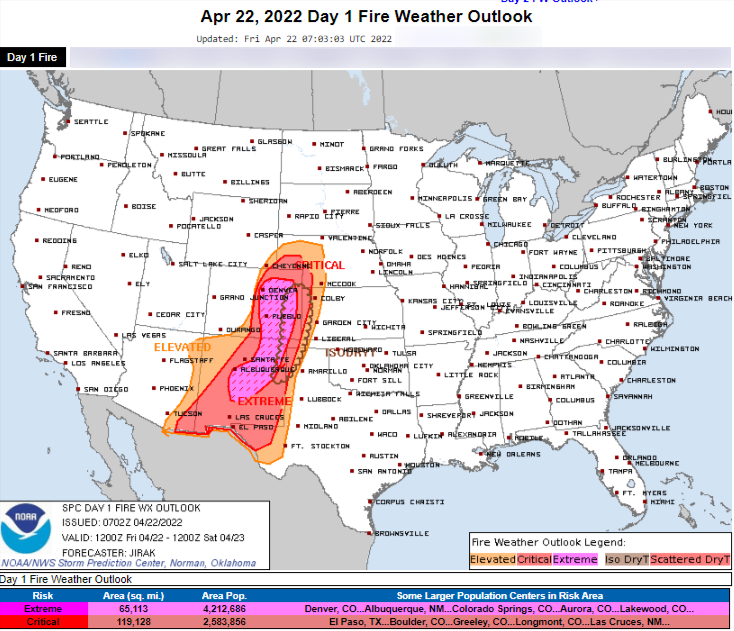 The map above is a product issued by the Storm Prediction Center as a general guidance tool. More specific information and alert issuance is done at the local level, and this is the Friday morning briefing provided by the NWS office in Boulder.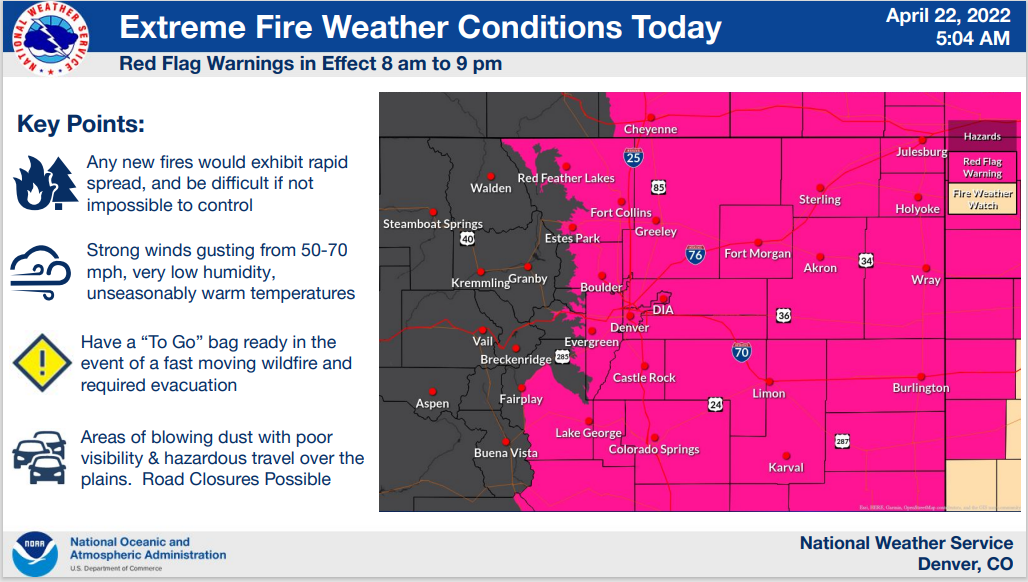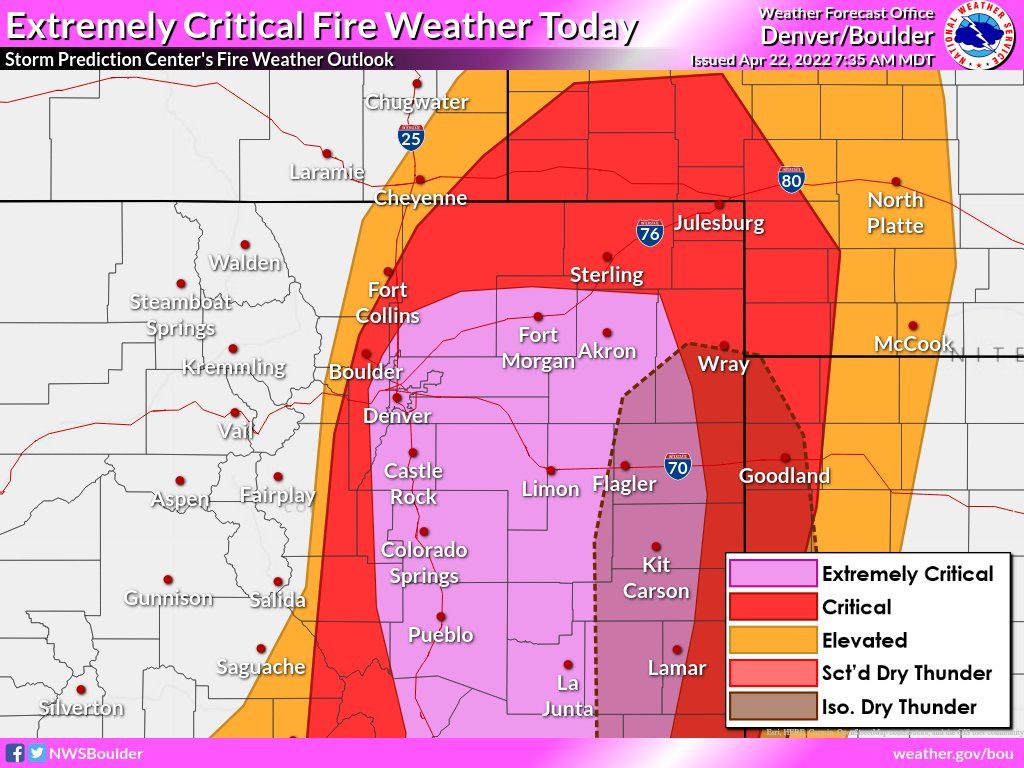 There is a lot going on today, beyond and yet related in ways to the fire danger. The alerts issued stretch from Wyoming to the Pike's Peak region cover snow to fire impacts.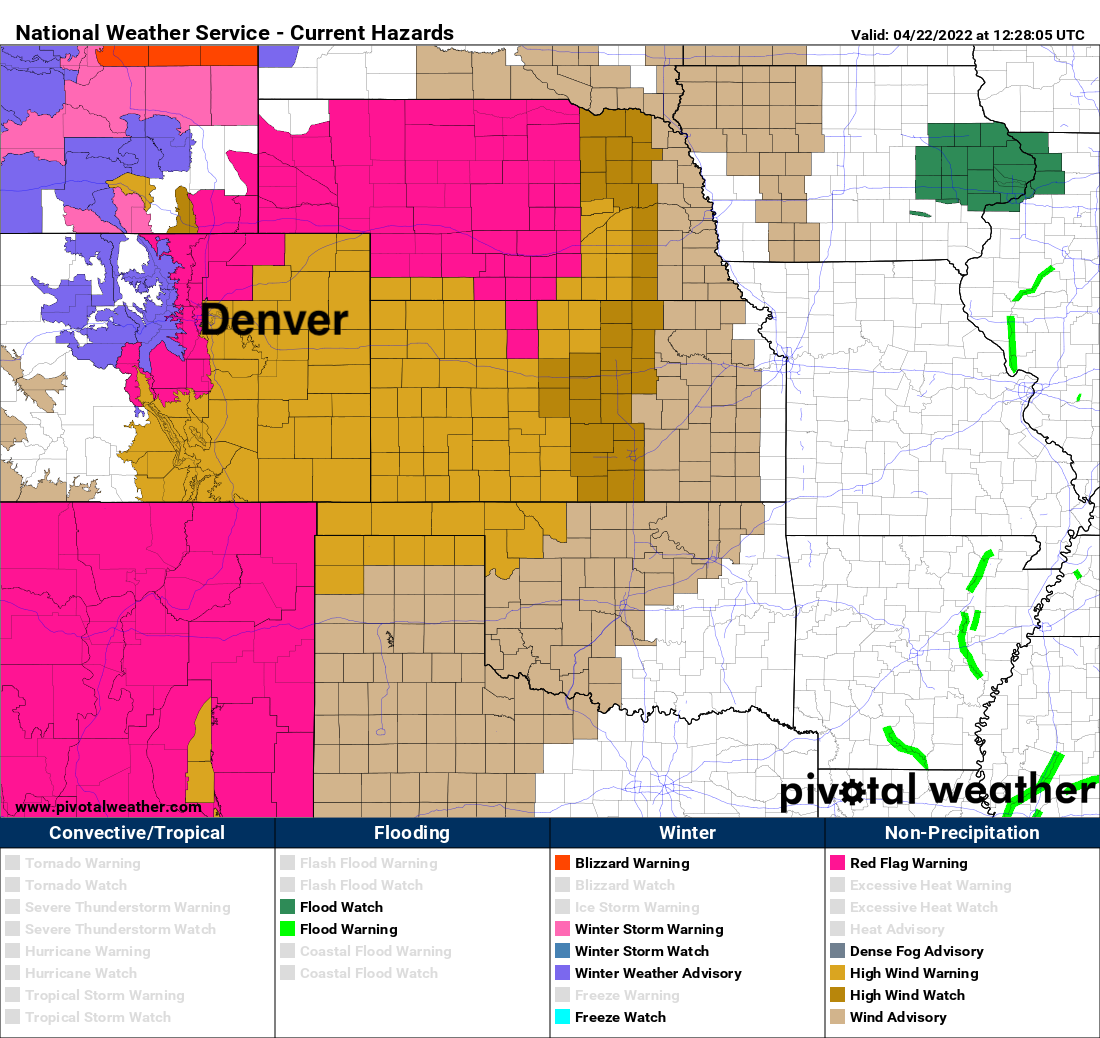 When it comes to the wind, here is an animation showing wind gusts for today and tomorrow. Notice how warm those colors become as the wind gusts ramp up dramatically later today and last at times overnight through Saturday.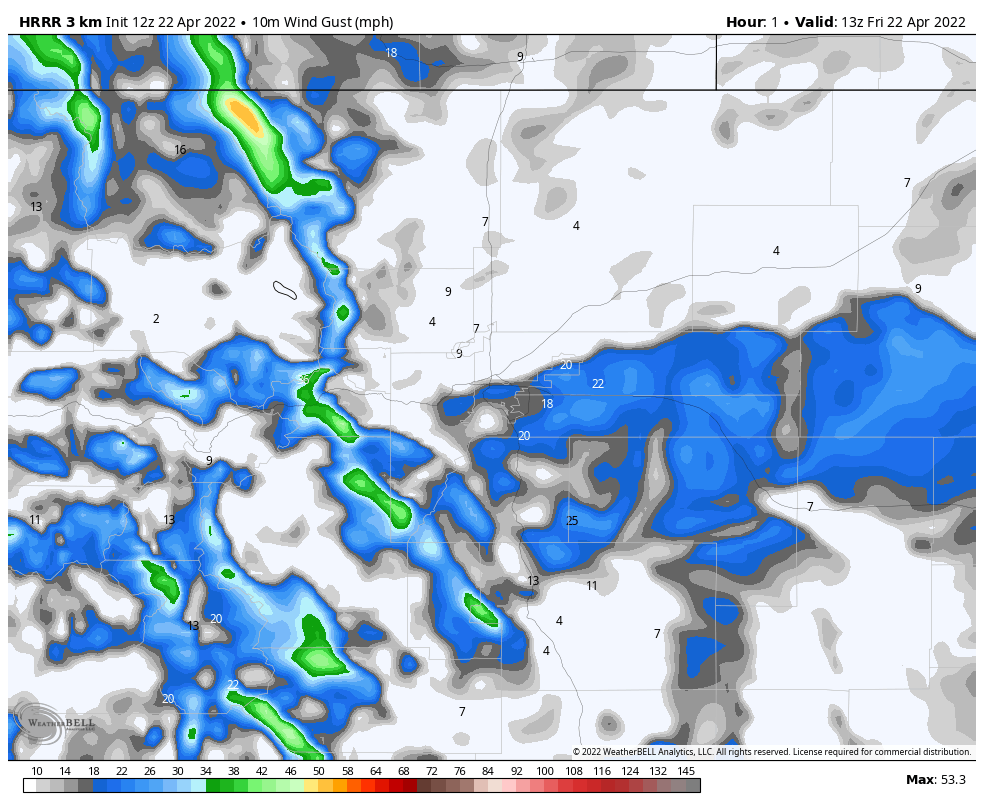 That is one critical factor in the spread of fire danger for today. Another, the humidity.
Shown here is the relative humidity projection at 4 pm Friday. Those values are 5 to 10% relative humidity! Many fire related issues start at the 35% threshold, so to have values as low as today is extreme.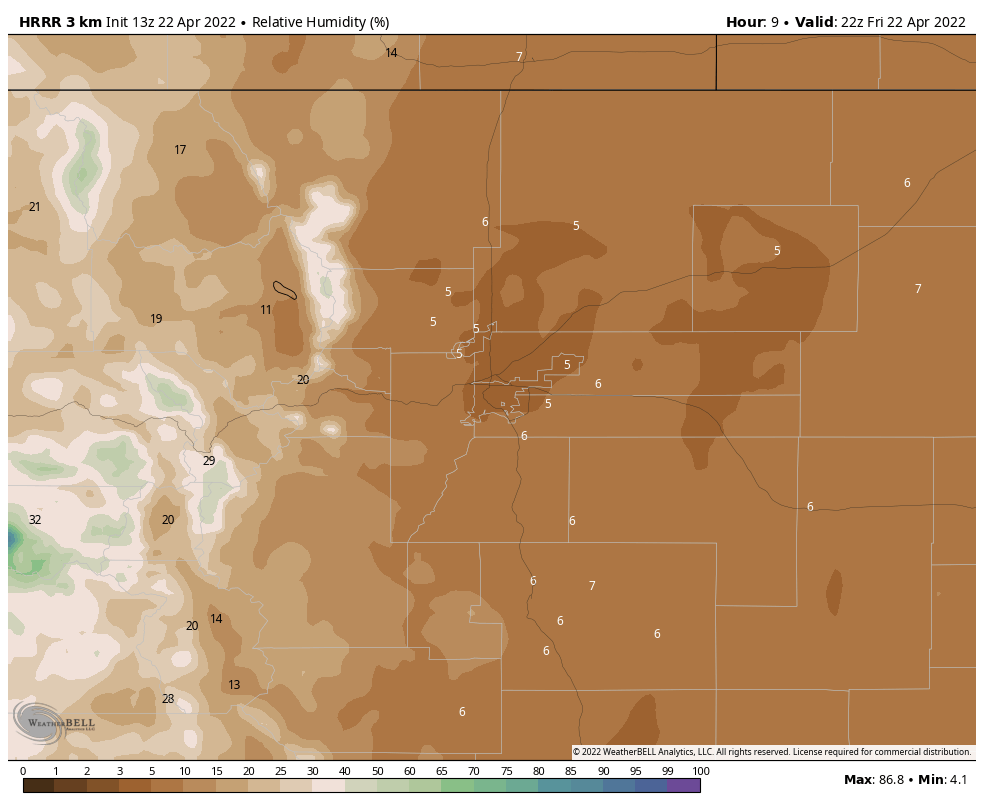 As far as finding precipitation, there will be some arriving in the high country but the timing is late in the day. And, we could see a thunderstorm form from the mountains to the plains, which from a lightning standpoint would be a problem.
Today's general guidance on thunderstorm activity includes chances of thunderstorms across much of Colorado (the lightest green colors), with the strongest storms (carrying hail and possible tornadoes) over far eastern Colorado onto the High Plains across the region.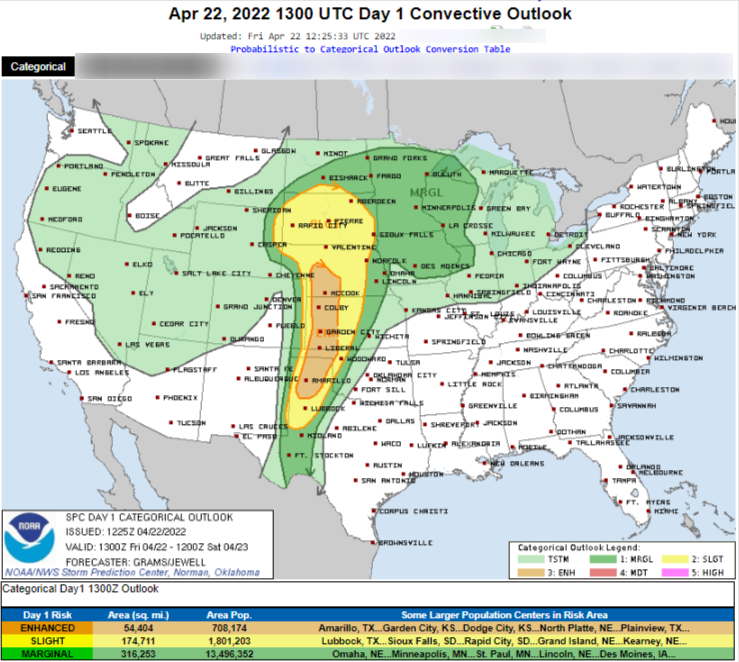 Any thunderstorm that develops over the metro areas or plains is not likely to produce much precipitation.
Zooming back into the local area, from this evening through Saturday morning, there will be moisture, not likely at all for the metro locations, as estimated here.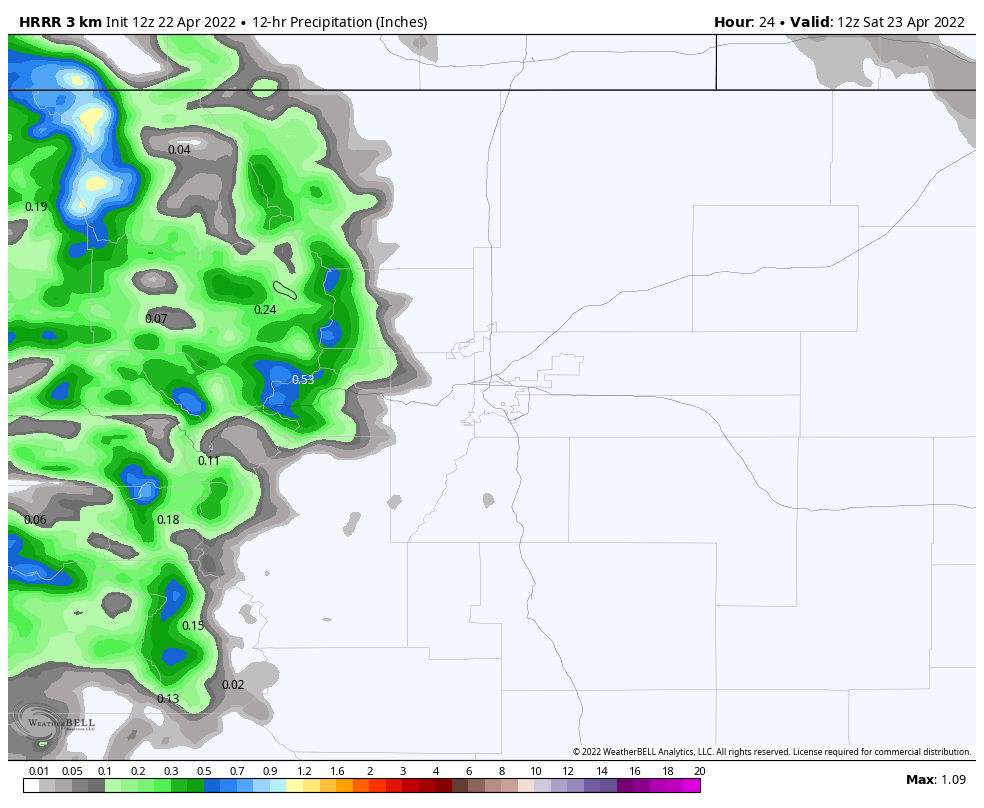 Or in terms of snowfall: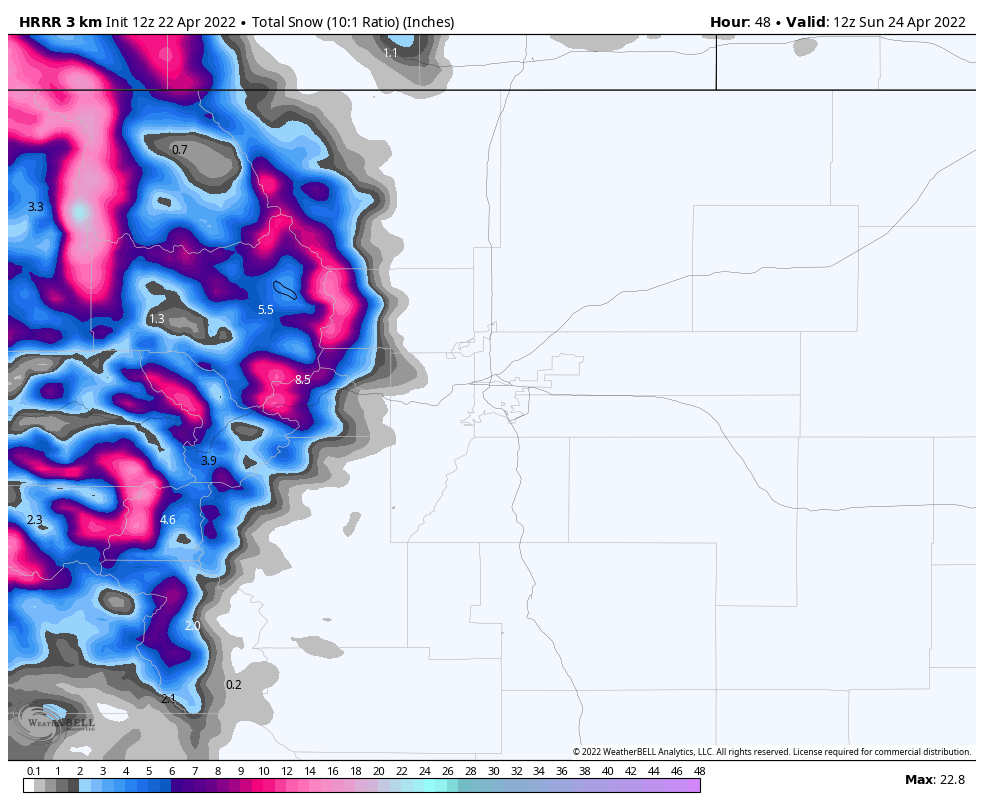 The mountains will continue to receive precipitation throughout this weekend, but we largely miss out on it for the Front Range until, perhaps, Sunday evening into Monday. You may recall my comment in this week's SOTA about how the moisture looked at that time but we may see it dry up on its way...well, that is largely true.
Let's watch an animation of where precipitation may fall through Monday. You'll see the mountains heavily favored. Occasionally we may see some rain fall over the Front Range, but that will be more likely later Sunday through Monday morning.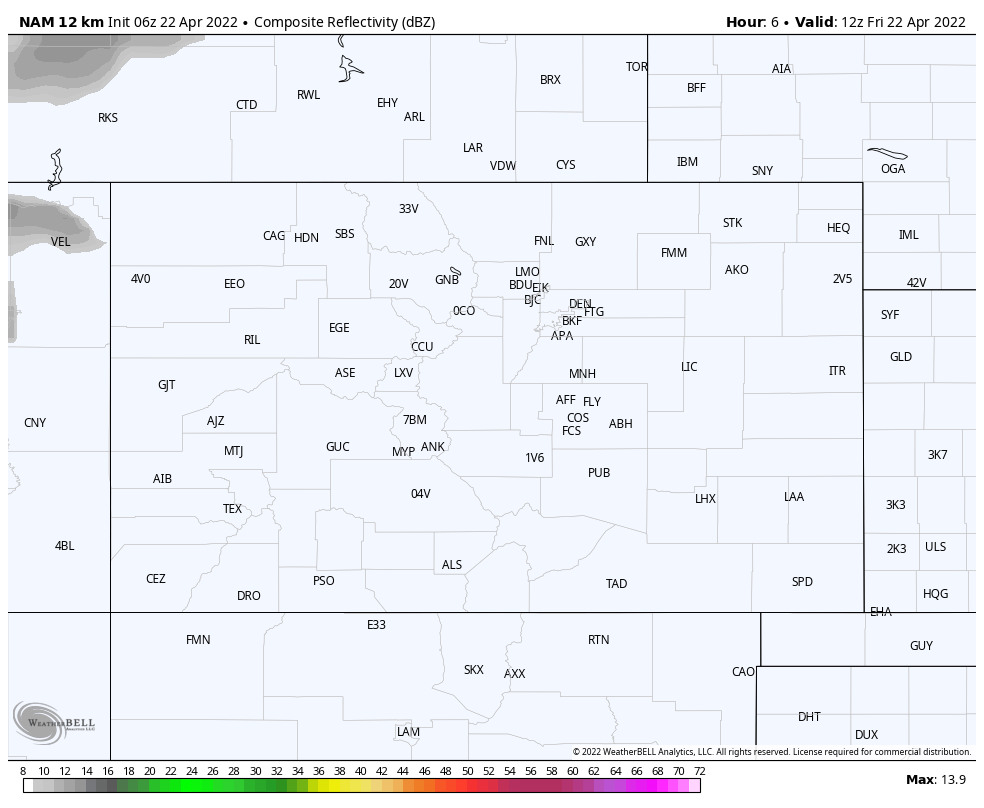 Should the precipitation pan out for late this weekend into Monday, we could see the following totals.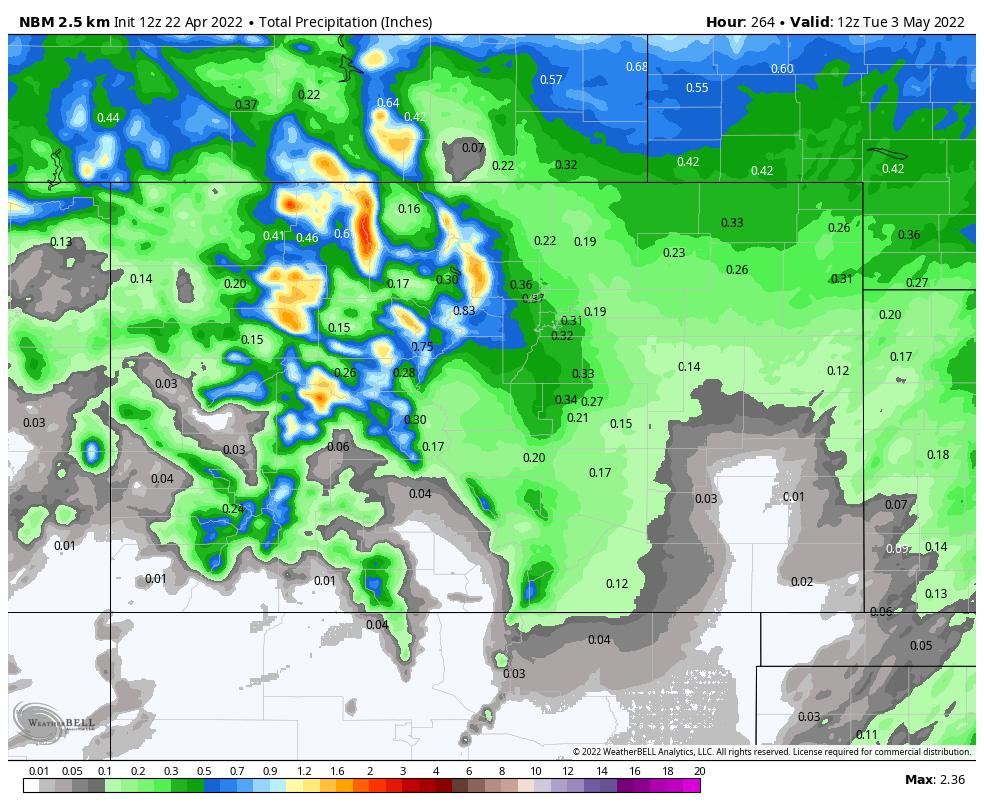 That's up to a quarter of an inch or so for parts of the metro area, not a lot but we will take it and need this to pan out.
Some areas could see this fall as snow into early Monday morning, and that would amount to just a slushy bit mostly on the Palmer Divide south of Denver and in the foothills to the west of the city.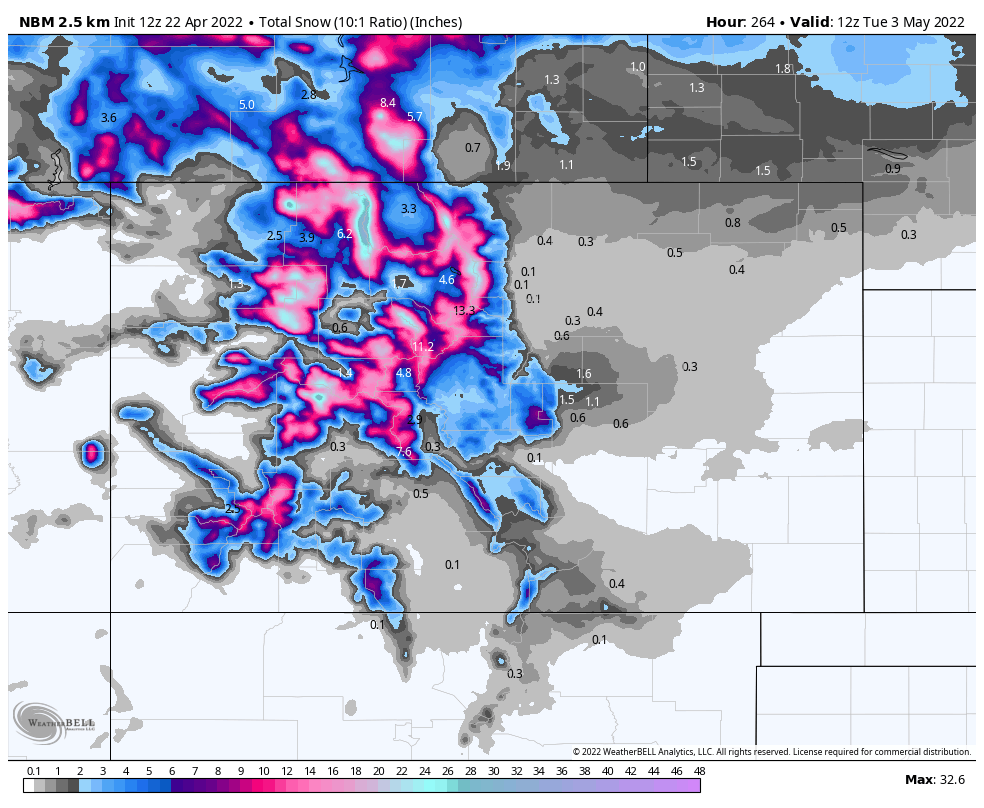 We can get more specific about this in the weekend SOTA, for now we are primarily concerned with the conditions of today. In the SOTA, we will also give your more information about the cooler temperatures that you'll feel this weekend into early next week. I'll leave you with the hourly planner for Denver, and please – no fire of any kind today!