We had an update earlier today which went in some depth on the upcoming changes to our weather on the way, but wanted to offer another one tonight to share a quick update on the snowfall forecast, and reiterate the high fire danger on Thursday.
Thursday will see gusty winds to 40 mph, high temperatures, and low humidity. A Red Flag Warning is in effect for much of the state beginning Thursday morning and extending through Thursday evening.
Many recent damaging fires we've experienced have come on days like tomorrow – transitional days ahead of a big change to our weather, one that can't come soon enough. So please, NO OUTDOOR BURNING on Thursday!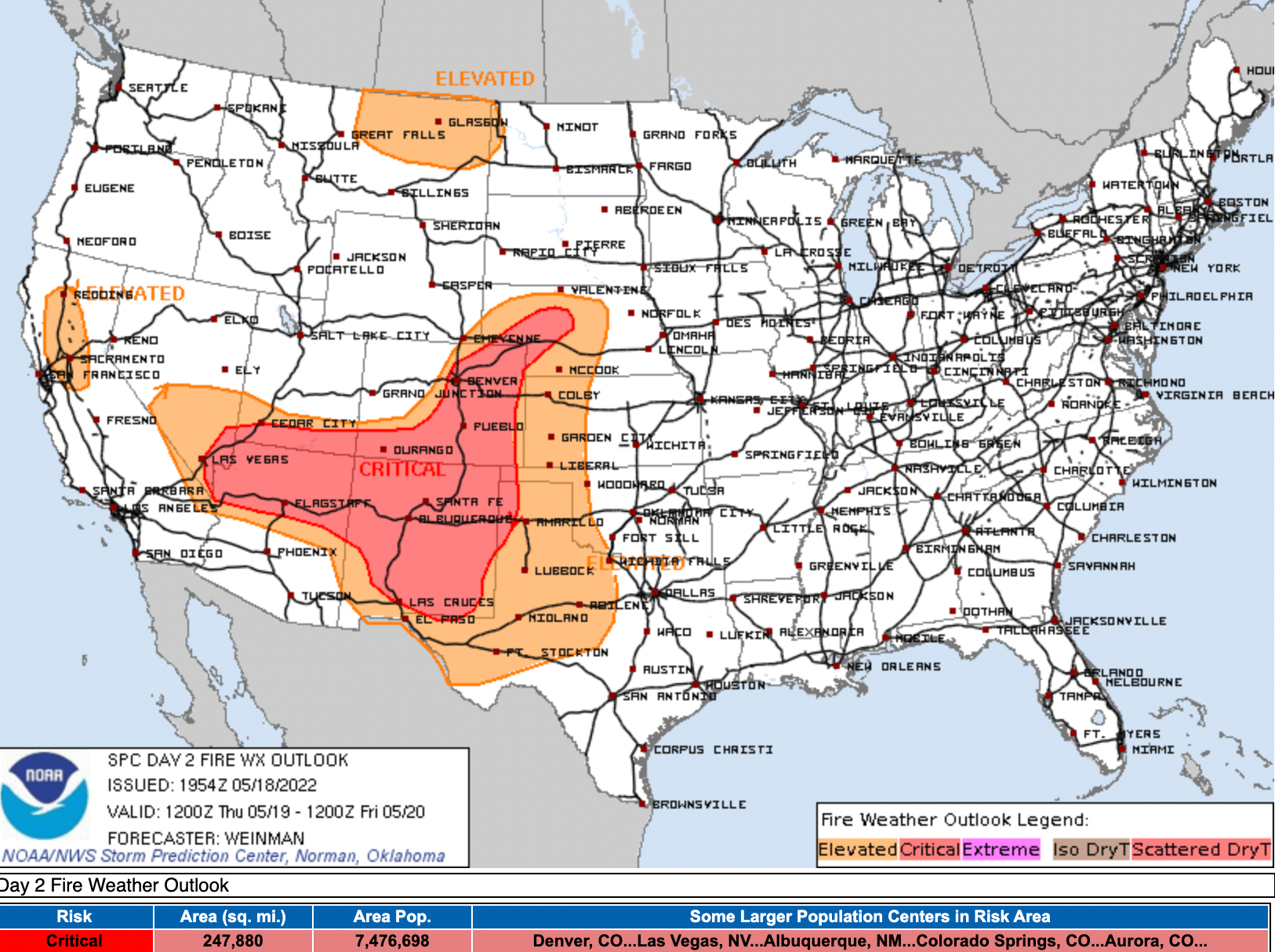 Fast forward to Friday and many of us will be in full-blown winter. Rain and snow will move into the state Thursday night and stick with us into Saturday. The precipitation will be greatly beneficial, while the snow may be greatly damaging to all the leafed trees across the region.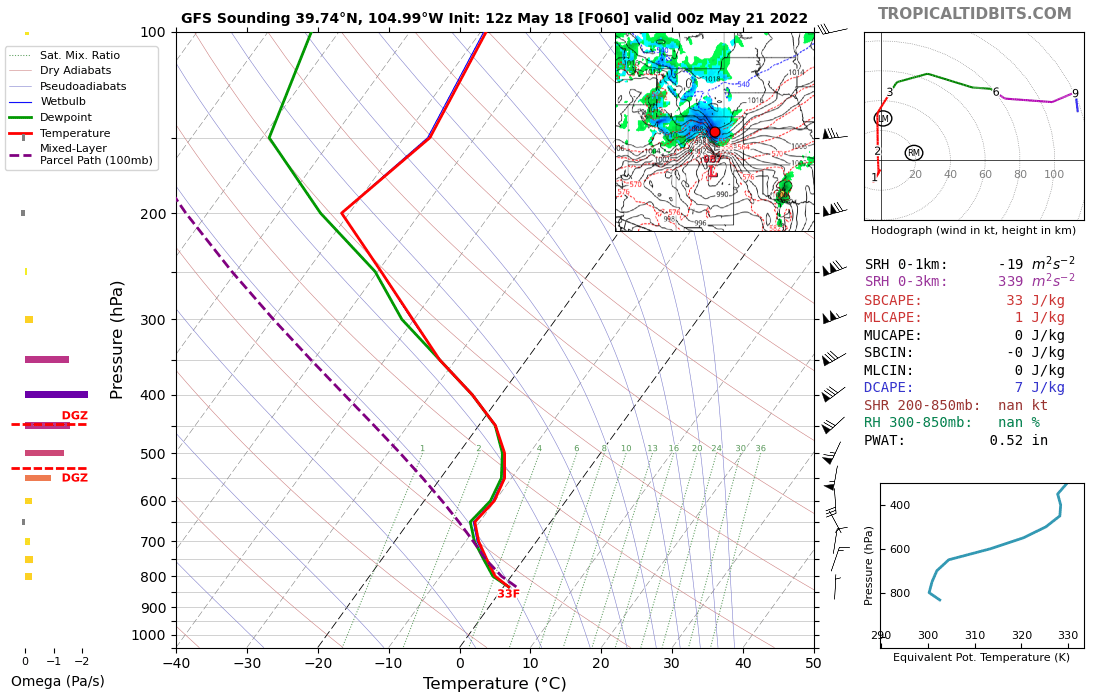 The Winter Storm Watch issued by the NWS has expanded to include the greater Denver area and much of the urban corridor. While there's still a great deal of uncertainty as to how much snow will accumulate at lower elevations (air and surface temperatures will limit accumulation, even if it technically falls from the sky), timing could be such that several inches will add up even in the cities, especially on raised surfaces. This will be a classic example of what falls vs what sticks when it comes to snow accumulation, so view all snow forecasts through that lens!
The heaviest snow, and greatest accumulation is still expected across the higher terrain west of Denver and Boulder. Foothill communities may well see totals in excess of 1 foot, with some 20"+ totals not out of the question.
For Denver we'll go with 1 - 5". A ridiculous range? Perhaps. But so is accumulating snow in late May! The truth is, it's a huge uncertainty as to how much will accumulate in the city – but whether 2" or 7", the leafed trees will take a beating.
In between we'll do 4 - 10" with both boom and bust potential. This includes the cities of Castle Rock, Golden, and Boulder.
Timing and impacts
Timing and impacts haven't changed much since our update earlier. Tomorrow will be hot and dry, with big changes on the way Friday.
Highs Friday will top out in the 40s, then fall into the 30s Friday evening with rain and rain changing to snow along the urban corridor.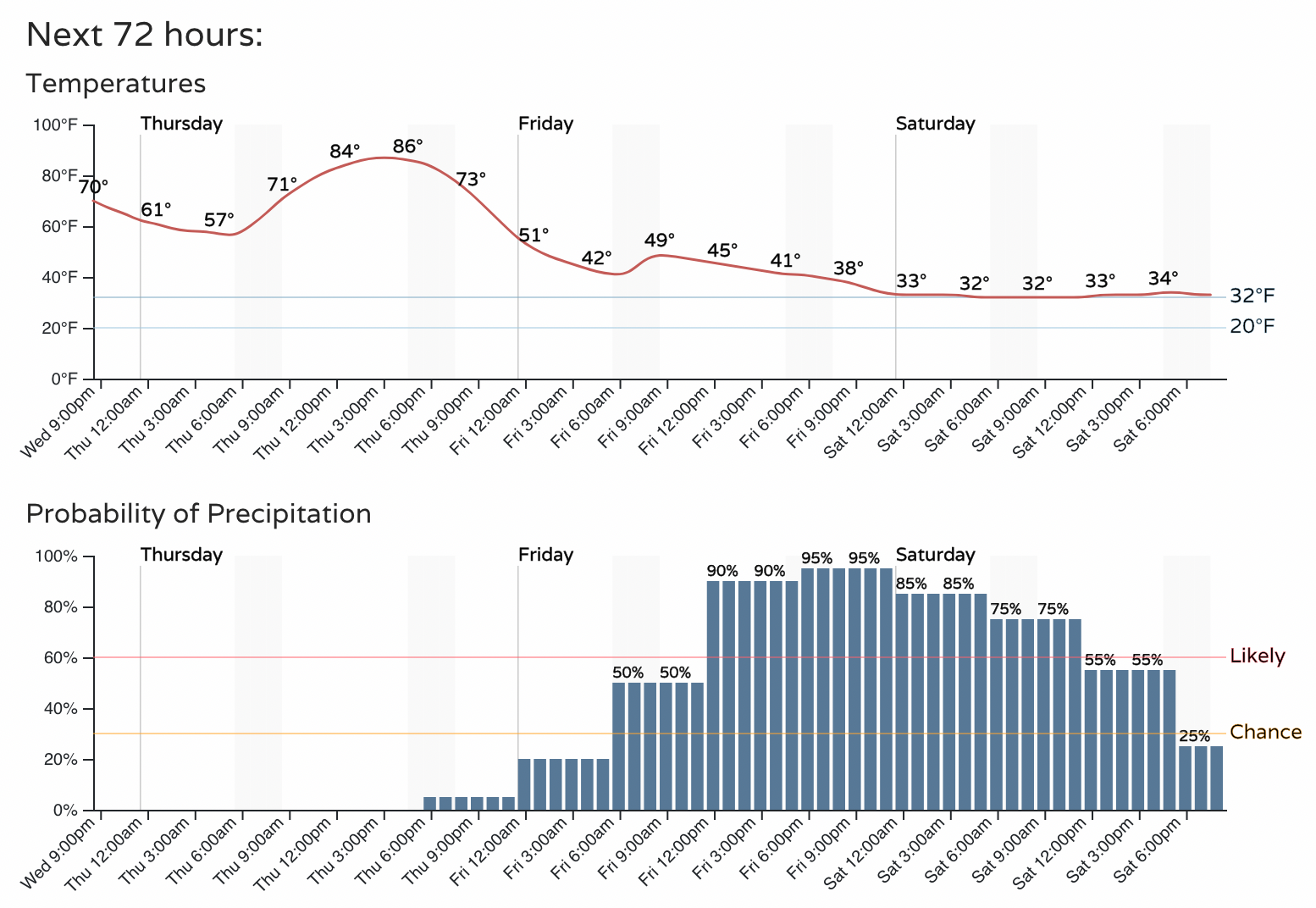 The roads for many of us will probably hold up okay. In the cities we are most concerned about any tree damage we are likely to see if snow manages to accumulate. Some icing Friday night will be possible, especially for overpasses, but one can hope the recent heat will keep most of the city streets more wet than white.
For the foothills, this could be a different story Friday evening and overnight. Travel is likely to be quite challenging during this period, and delaying those travel plans until later in the weekend is encouraged!
Temperatures will be near or below freezing Friday night and Saturday night for many locations, including along the urban corridor. Protect your plants as possible, and drain/protect any exposed pipes!
We'll be watching all the latest data roll in tonight and Thursday and offer another update tomorrow. We wanted to get a snow forecast map out this evening, and reiterate again the changes ahead. Plan accordingly!