Buckle up! Today's near-record heat across Northeast Colorado will be followed by significant changes to our weather on Friday, with rain, snow and everything in between on the way!
Latest data continues to point to a significant late-season snowstorm across the region, with totals in excess of 2 feet possible for some Front Range mountain locations, and several inches of wet, heavy snow possible along the urban corridor Friday PM into Saturday.
While we are well past the date of our average last snow of the season, May snowfall is not unheard of, including some significant snowfall in during the latter half of the month. Remarkably, the largest snowstorm on record for Denver during the month of May came during the latter half of the month when 9.3" of snow was recorded on May 25th, 1950:
Today and tonight
We've been beating this drum for several days now, but today is all about the high fire danger across the region. Do not burn anything today!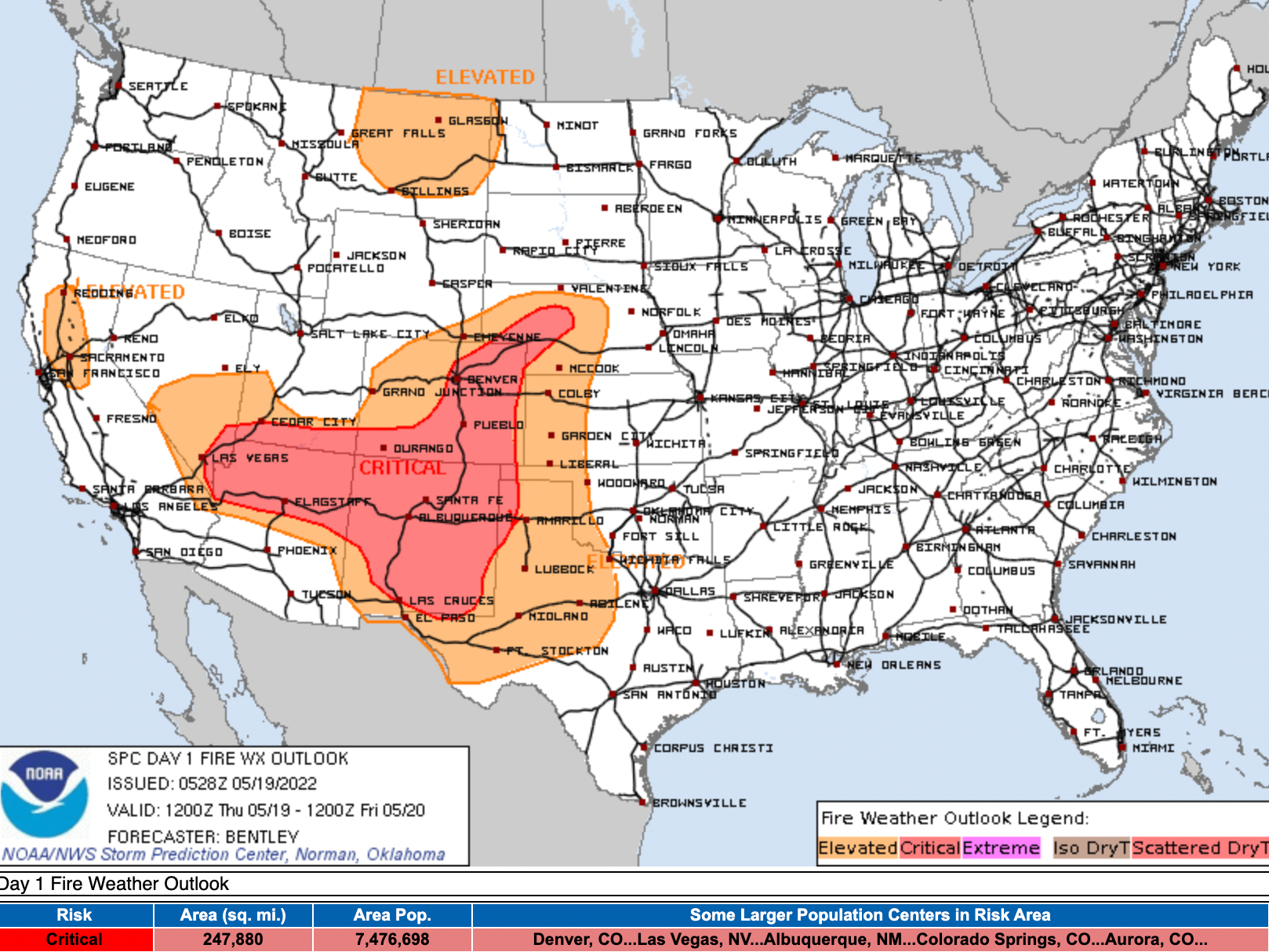 Temperatures will be quite warm. Highs in Denver will push 90°F (record is 92°F) with very low humidity value across the state and winds to 50 mph at times.
Regionally we see incredible heat across the southern plains – well into triple digit heat across a large swath of Texas, and approaching 100°F across extreme southeast Colorado: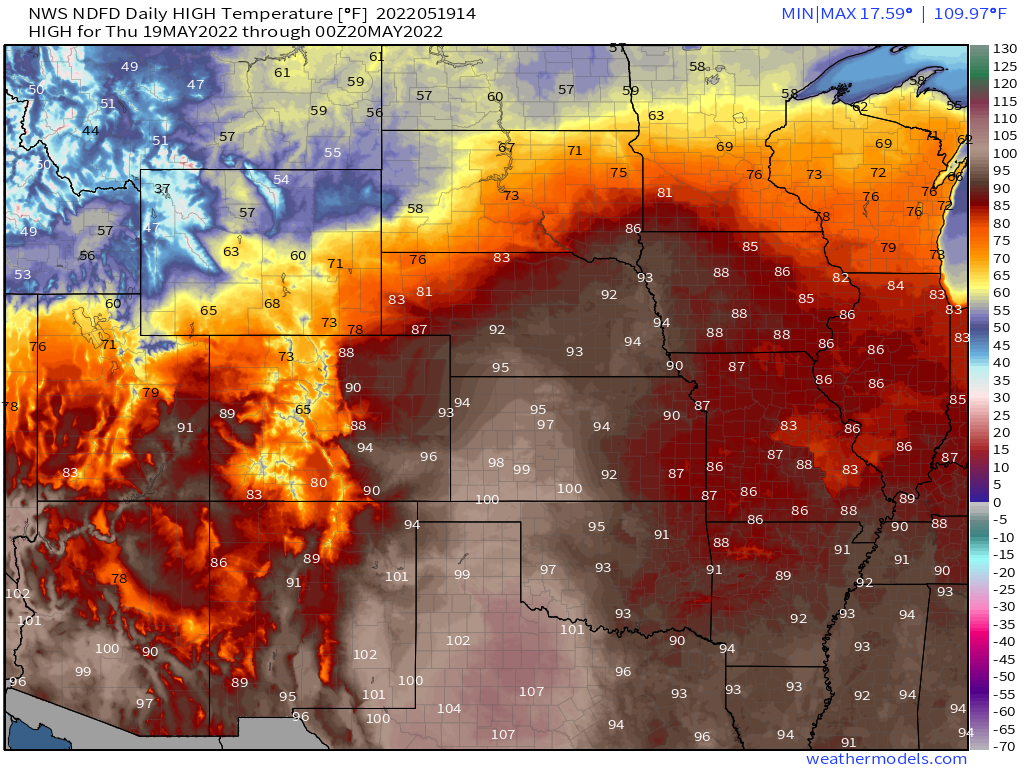 Mild temperatures look to stick with us well into the evening hours tonight, with the initial push of cooler air arriving after 7pm to northeast Colorado. Here is where the latest HRRR has that cold front at 8pm tonight: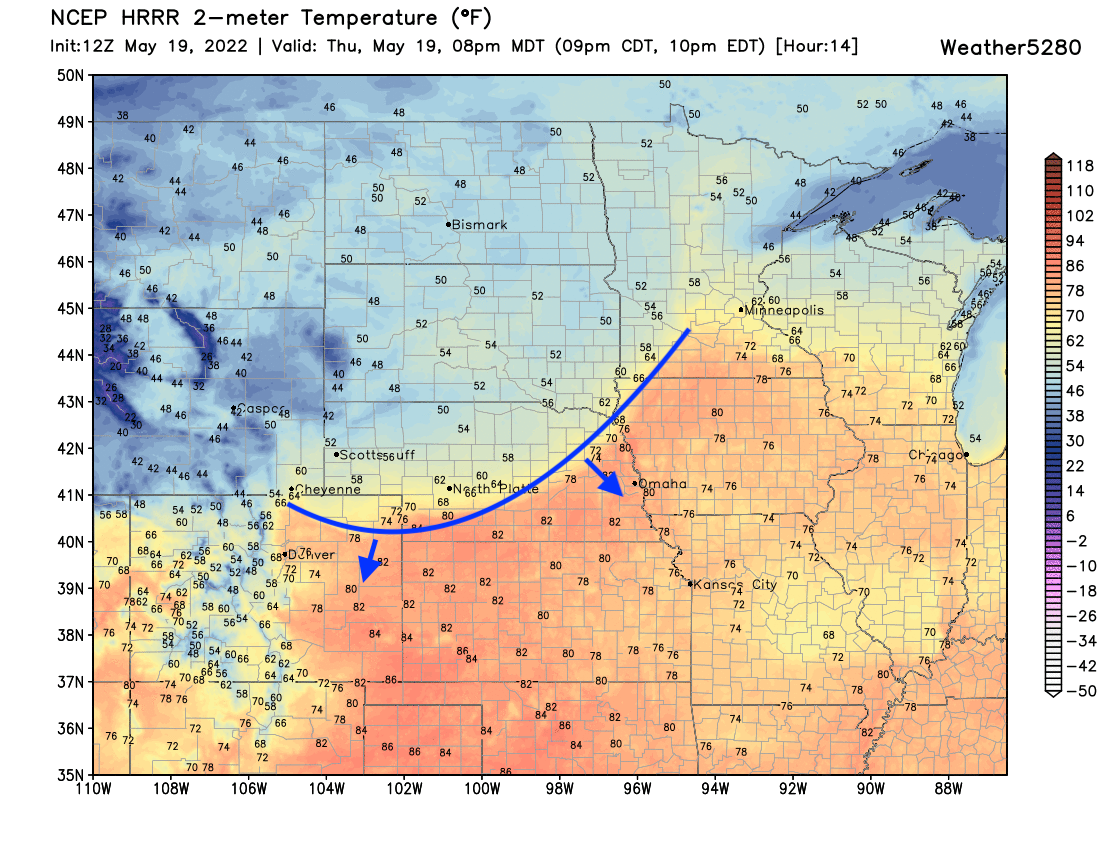 Friday and Friday night
Highs Friday will be much, much cooler across Northeast Colorado with the passage of the cold front and our system moving in overhead. Highs will be in the 30s and 40s across Northern Colorado, with southern Colorado still warming nicely – at least early in the day – before changes arrive there.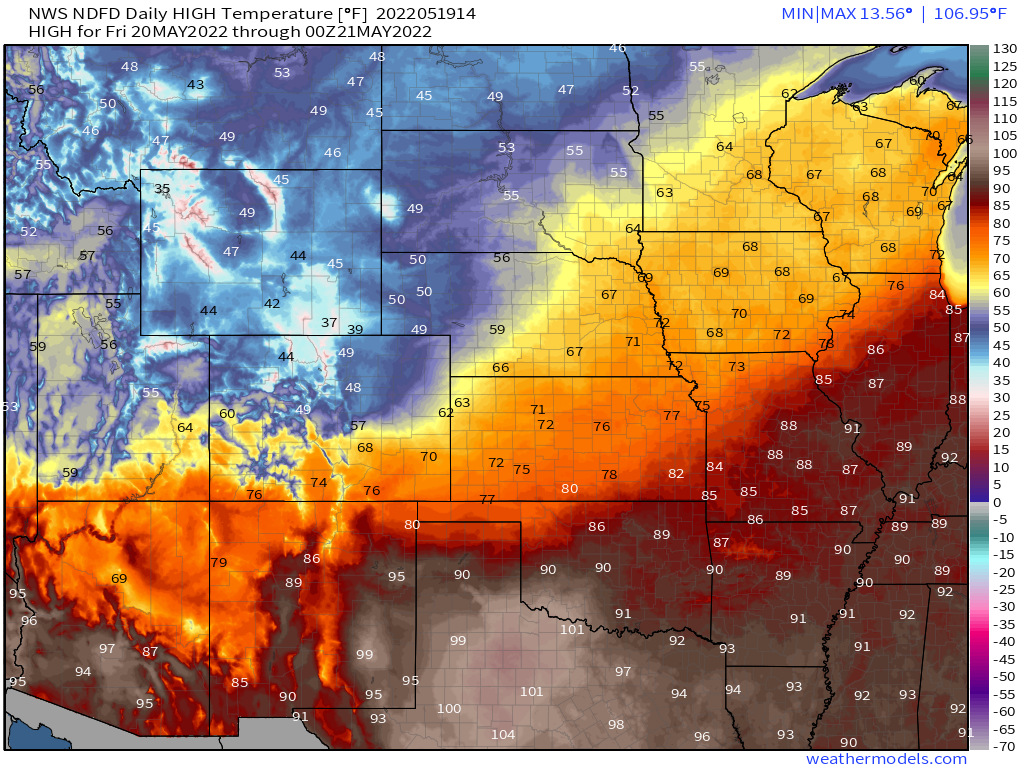 Looking at the hourly planner, we see highs peak early in the day Friday, and will gradually fall into the 30s as we head toward Friday night. Lows will be tricky to pin down at lower elevations, somewhere near freezing by Saturday morning but will that be 34°F, 33°F, 32°F ... ??? ... time will tell, and of course will have implications on how significant the storm will be at lower elevations.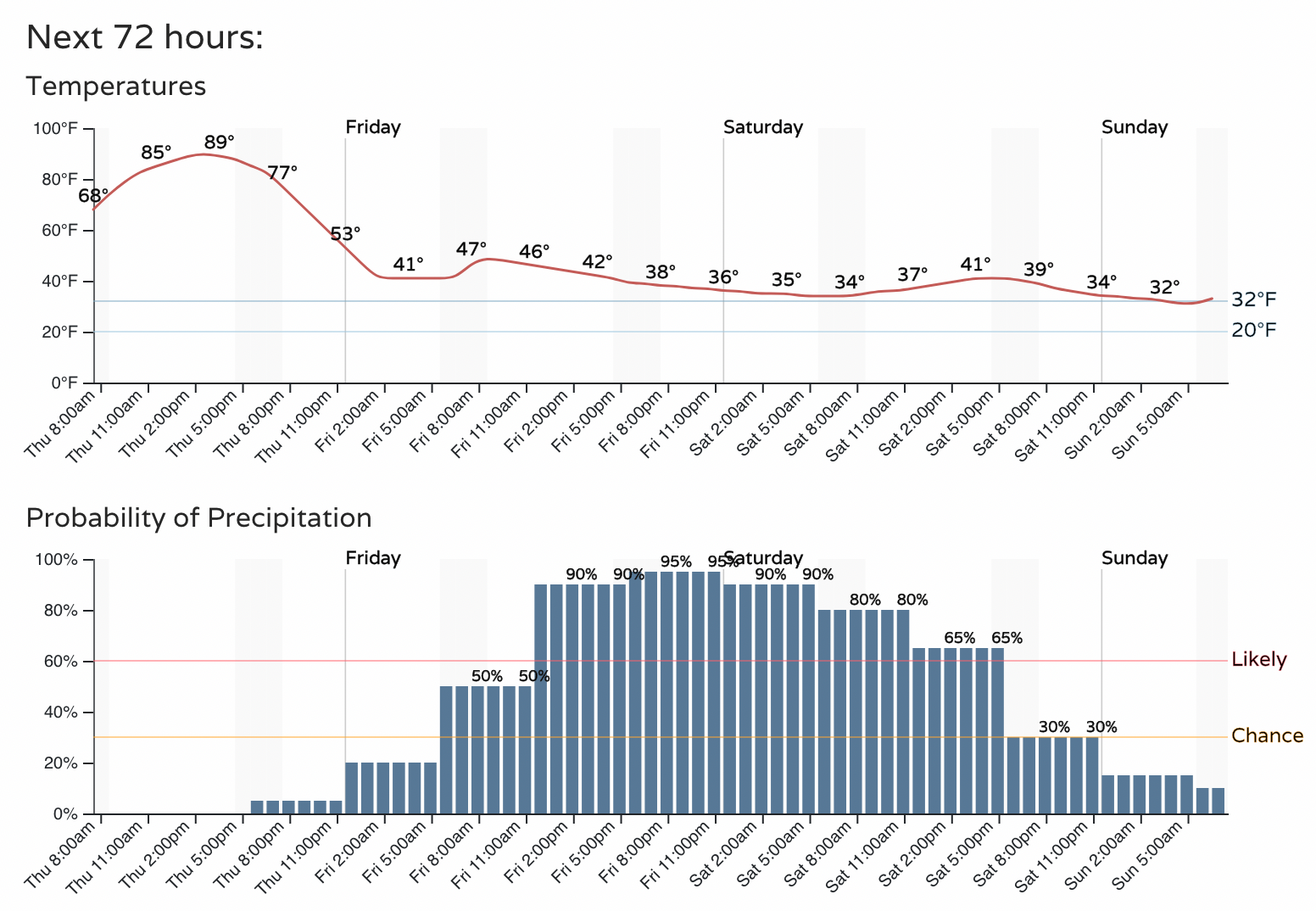 Travel will become quite challenging by Friday afternoon in the foothills west of town, with conditions gradually deteriorating into lower elevations Friday evening and overnight.
Still a lot of uncertainty as to how much snow will fall in the cities, but recent warmth coupled with marginal temperatures should keep most roadways in the city more wet than white. Still, some icing on overpasses and slushy accumulation will be possible – as well has poor visibility at times and likely downed tree limbs across the region, so plan on tough travel conditions for all areas Friday night into Saturday.
The following WSSI impact map captures this nicely, with moderate to major winter storm impacts across the Northern Front Range foothills and mountains and over the Palmer Divide, with some of those impacts being felt in the cities at lower elevations as well: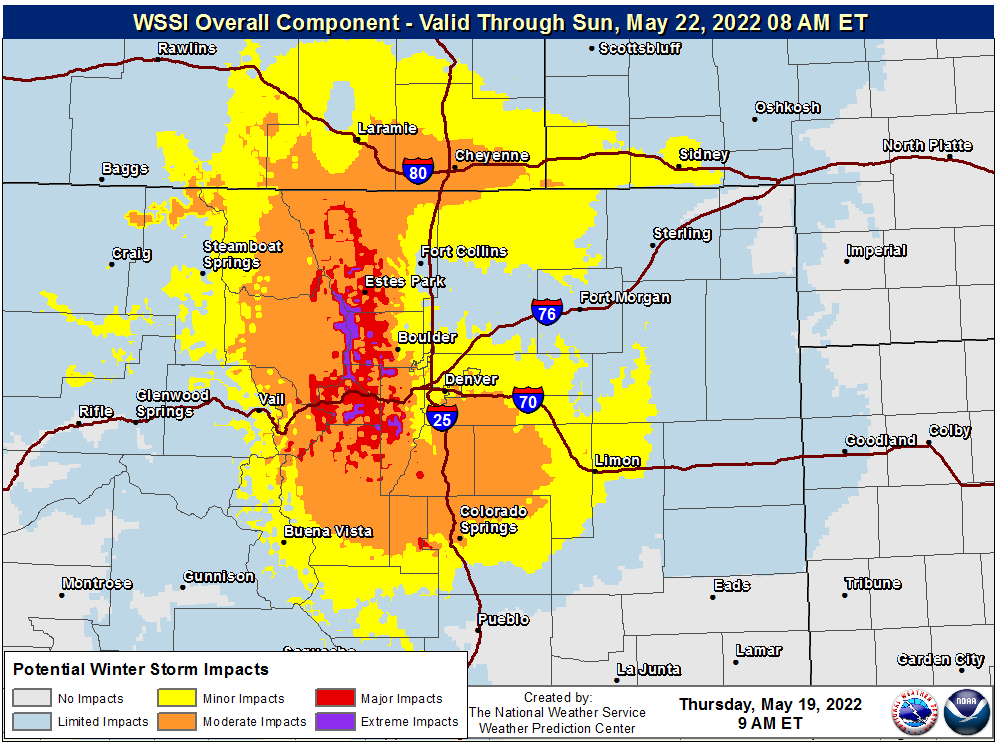 Snowfall totals
We have updated the map we shared last night a bit to shift totals a bit higher. Still a tremendous amount of uncertainty as to snow potential in Denver proper, but areas outside of town look increasingly likely to see some significant snowfall Friday and into Saturday.
Again, and we can't stress this enough, what falls vs what sticks will make a mess of these forecasts. Snow will be melting from below with very warm surface temperatures at play, compaction will be great, and air temperatures will be marginal. As you head up in elevation snow will accumulate more efficiently, but unfortunately for lower elevations raised surfaces such as grass and TREES will see the bulk of the accumulating snow. Tree damage is likely to be extensive.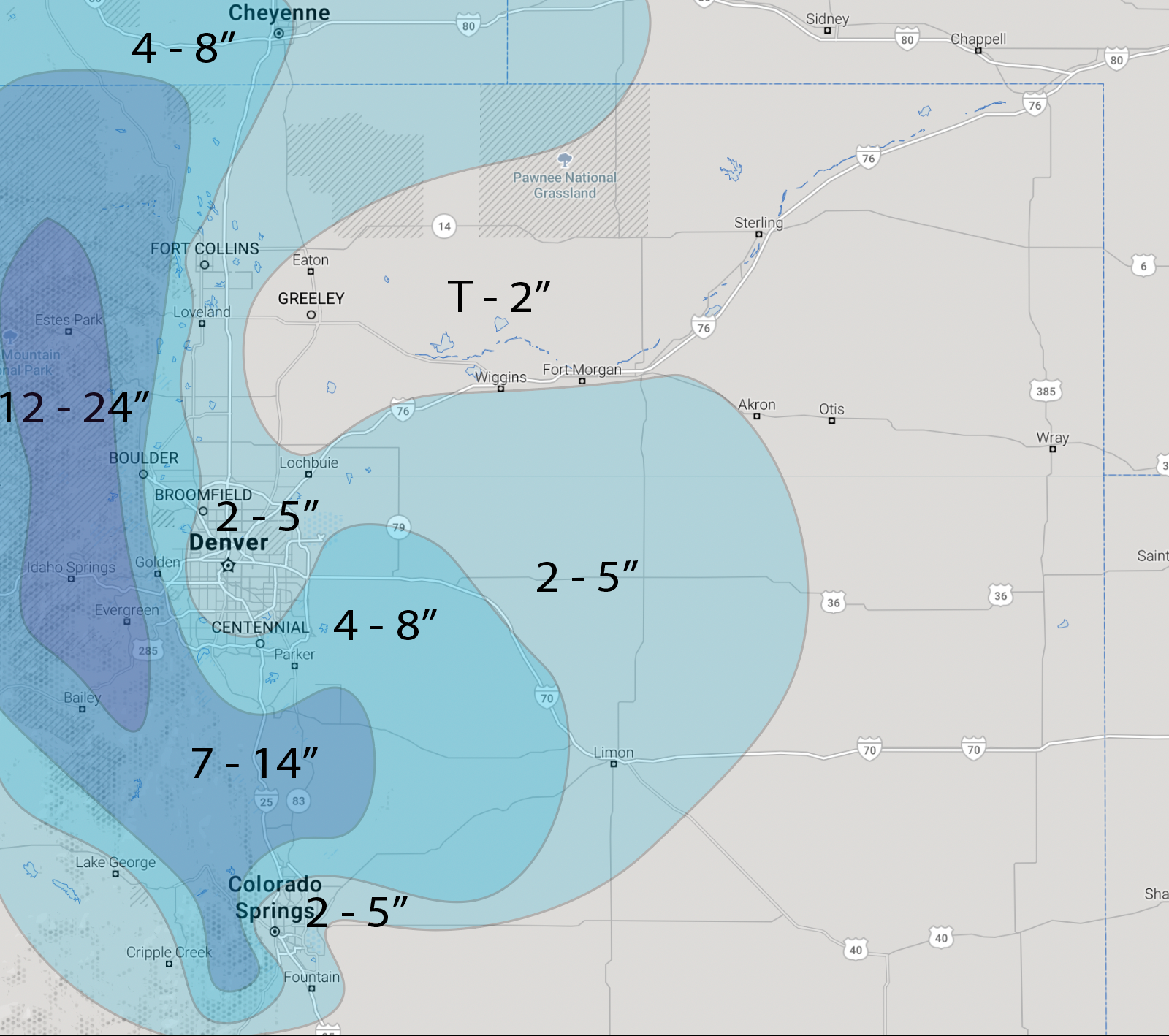 Our latest gamblers show the following for probabilities:
Boulder:
1" of snow or more: 97%
4" of snow or more: 79%
8" of snow or more: 54%
Denver:
1" of snow or more: 88%
4" of snow or more: 51%
8" of snow or more: 7%
Castle Rock:
1" of snow or more: 94%
4" of snow or more: 67%
8" of snow or more: 10%
Colorado Springs:
1" of snow or more: 85%
4" of snow or more: 42%
8" of snow or more: 10%
And finally the blend of models from our friends at High Point Weather: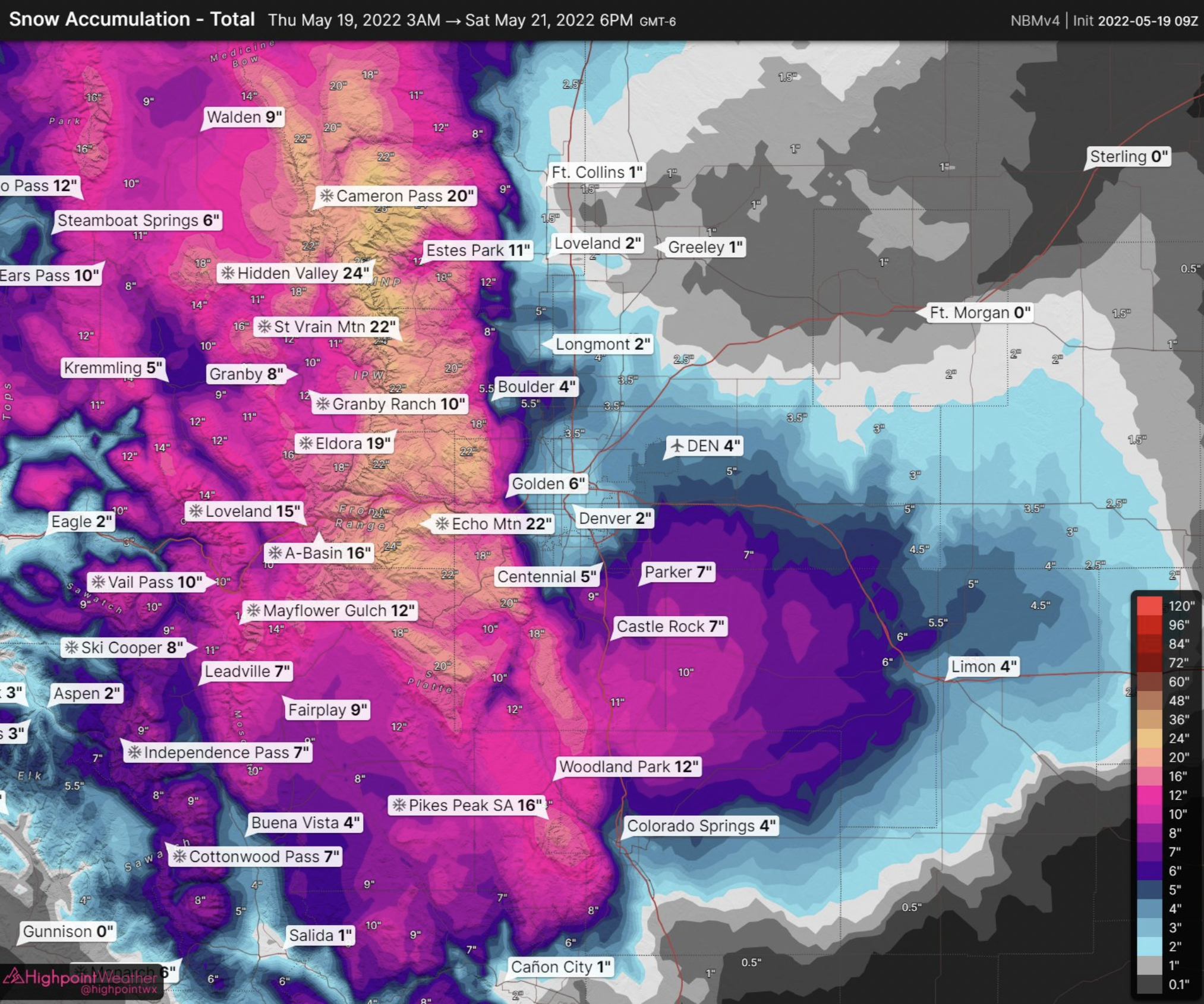 We'll be watching things today and offer updates as needed. I think the messaging here's been pretty clear and consistent, big big big changes on the way, high uncertainty for snow potential in town, but a significant summer-winter-storm on the way for the greater region, and some MUCH NEEDED MOISTURE!