The weather for this week will be relatively calm as compared to last week's moisture and what is currently happening across the Southern U.S.
For Colorado, the state picked up valuable moisture last week - as we discussed in a previous post related to the latest drought monitor.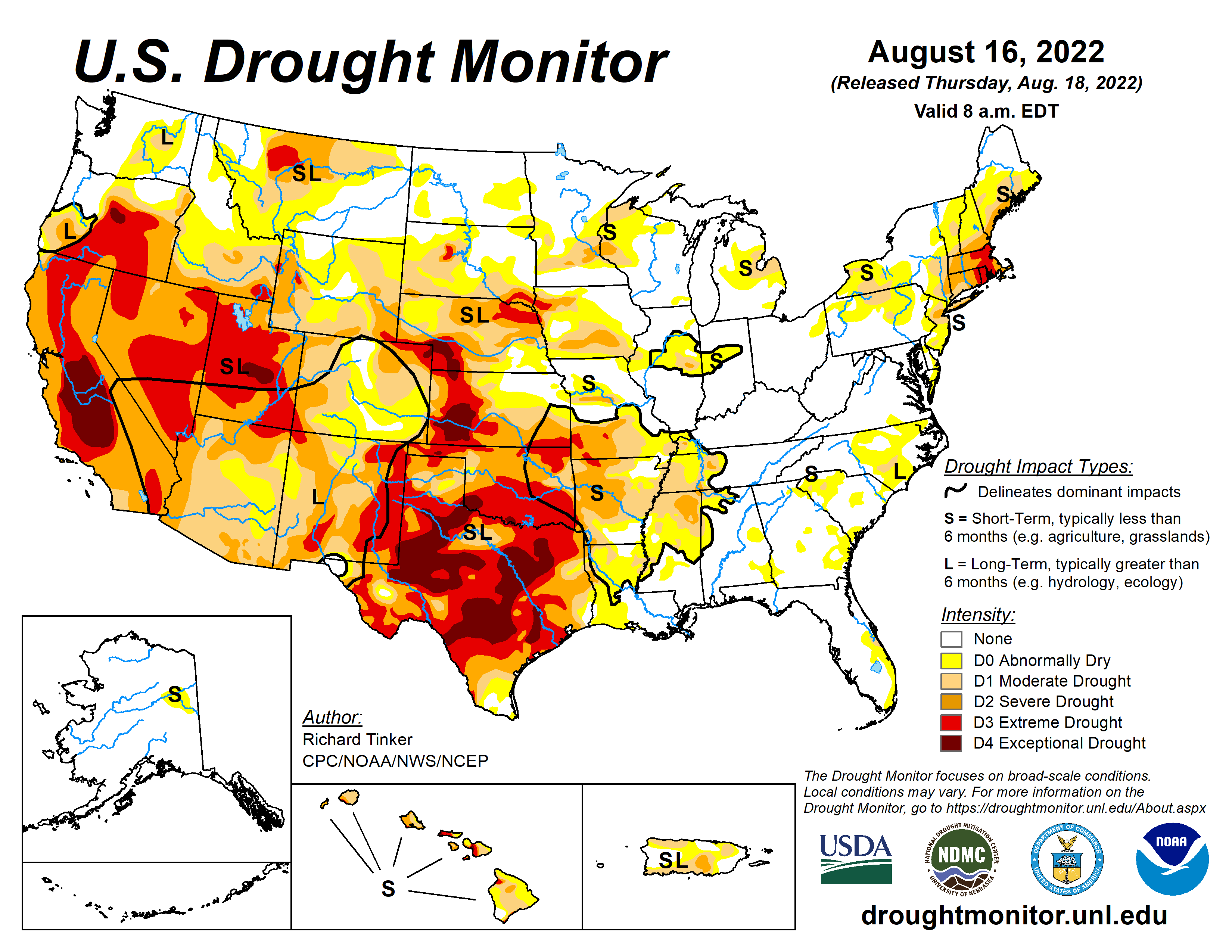 On social media we have discussed the drought in a broader sense, particularly areas of the Plains and, namely, Texas.
Why do I bring up Texas? Well, if you haven't heard the news out of Dallas there are areas experiencing a lot of flooding.
And, just like that, the Dallas-Fort Worth area may very well go from driest August on record to the wettest. The problem here is that the soil isn't absorbing much of that water, largely why there are the flooding problems.
This heavy rainfall event is driven by an upper trough that will push the heavy rain slowly to the east toward the lower Mississippi Valley over the next couple of days.  Additional rainfall of 3 to 6" with isolated pockets of 7"+ are possible over the next five days from central Texas to central Mississippi.  The healthy rainfall will be beneficial and welcome due to the effects of an ongoing drought, but the potential still exists for isolated instances of flash flooding from too much rainfall and drought-stricken soils.
Here is the estimated precipitation to fall during the week.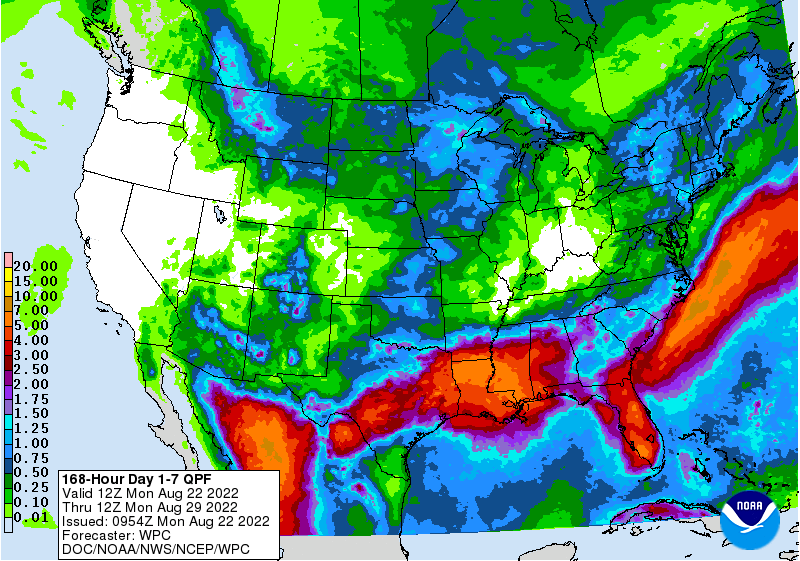 Those warm colors representing the heaviest rainfall stretch from Mexico to the Southern U.S. and from Florida across the Eastern Seaboard.
For the west, we see scattered pockets of moisture in Arizona, New Mexico, Colorado and Wyoming, but mostly focused on Montana for the week.
Let's zoom into Colorado, and here's an estimated total for the week ahead.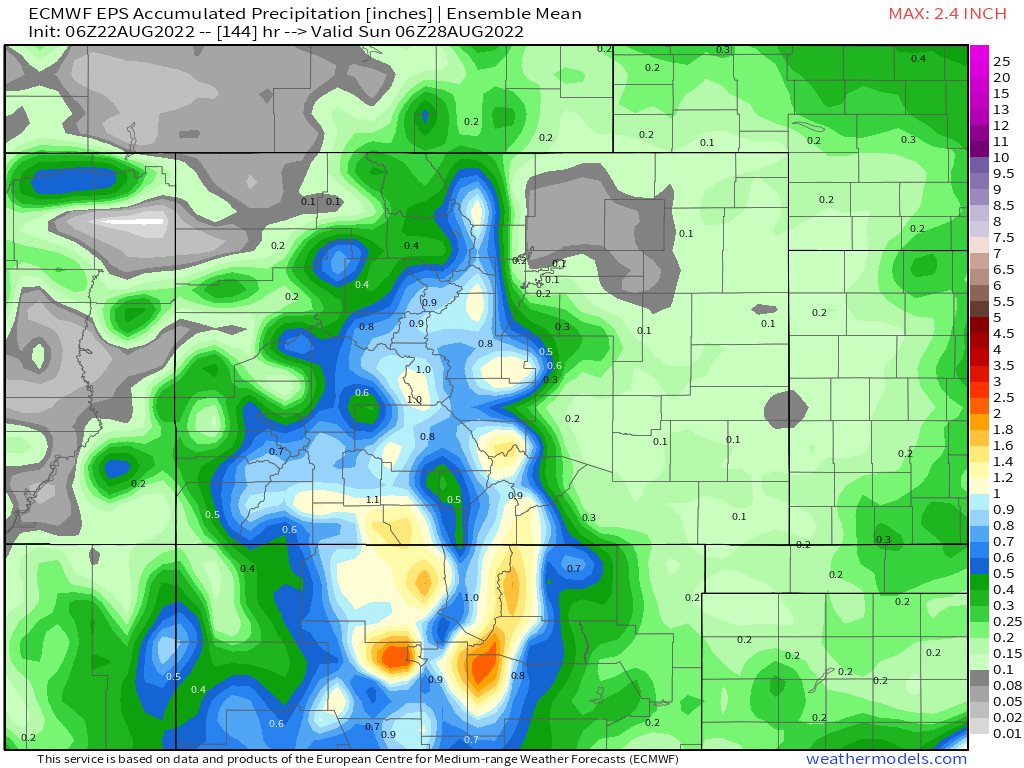 Moisture, yes, but also some drier areas as this week's rainfall will mostly be driven by the mountain terrain. For Denver, the next three days worth of hourly precipitation chances looks like the following.

So, pretty low-end chances there for the next few days.
Does this mean it'll be a hot week since the rain chances are low?

Not what I would call hot, in fact, temperatures staying relatively close to the average highs.
Here's the week's daily high and low for the city.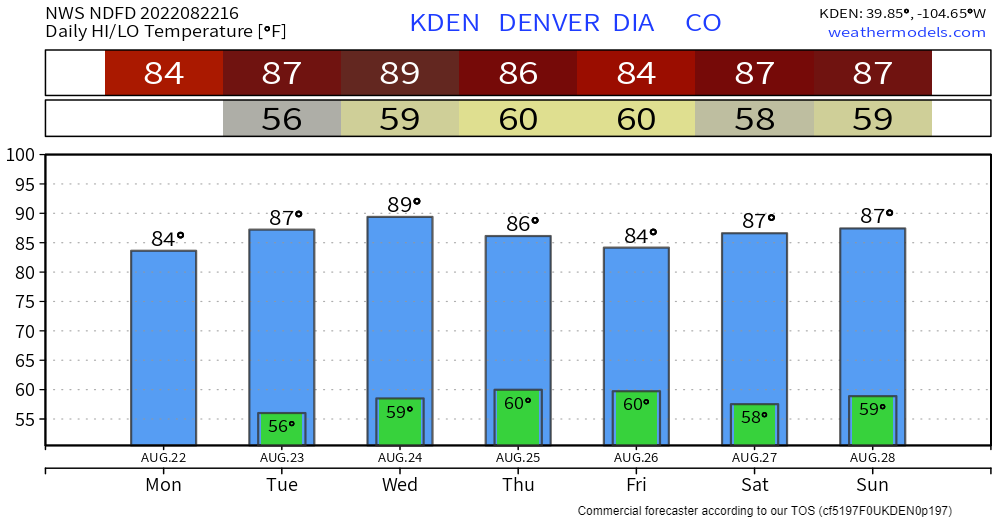 That bit of a dip in temperatures for the late week is part of a trough that will develop over us. However, this trough looks weak for now and won't last long.
The final week of August - I can't believe I'm writing that already - will likely see a strong ridge back in place across the American West. For Colorado, that likely means "hot" and mostly dry.