Some welcome moisture over the weekend! Even a bit of snow for the high country which led to some stunning photos of our beautiful state, thank you for sharing!
Here are the precipitation totals over the last 3 days, great to see some healthy totals out west, and even for portions of the Northeast Plains: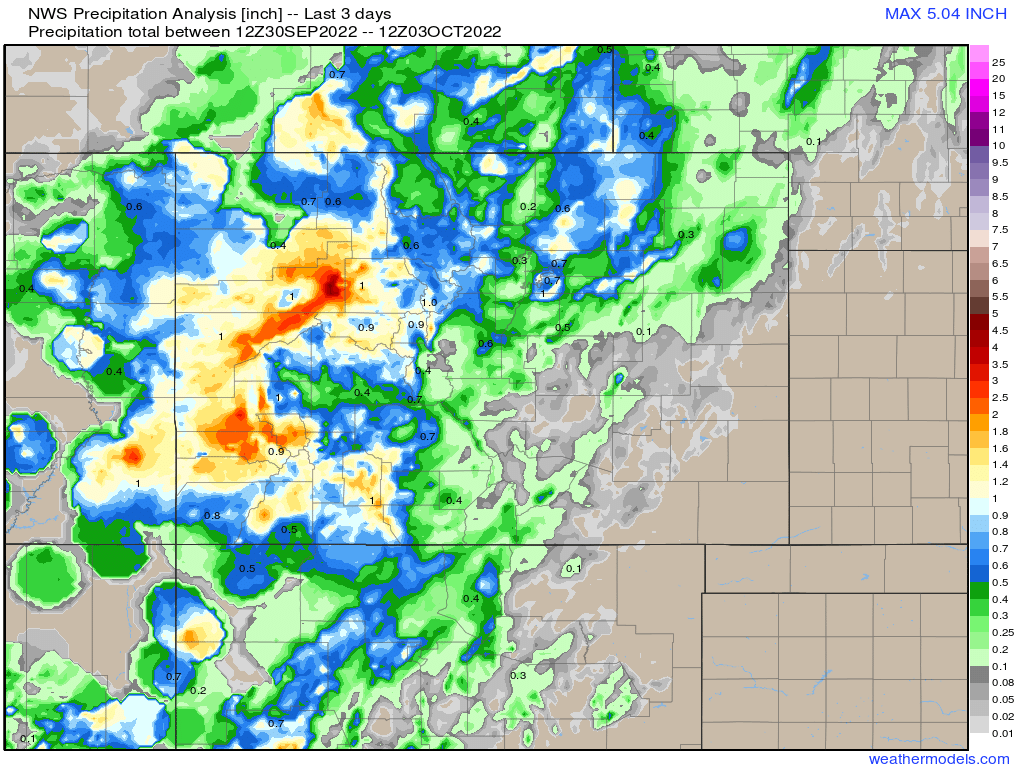 After a particularly warm September, October has started on a cooler, more fall-like note, but still not exactly cold for this time of year either.
Highs in Denver will be around 70°F. We were a bit warmer than that this weekend, with highs in the low to mid 70s, and will jump between the low 70s and upper 60s over the next several days, before perhaps a cooler day arrives Friday.
Overnight lows should be in the low 40s. We've been running much warmer than this even with the cooldown, and won't dip to near average for overnight lows until later in the week.
Here's a quick idea of temperatures over the next 10 days. A couple cold fronts on the horizon, but most afternoons featuring beautiful fall temperatures for the area.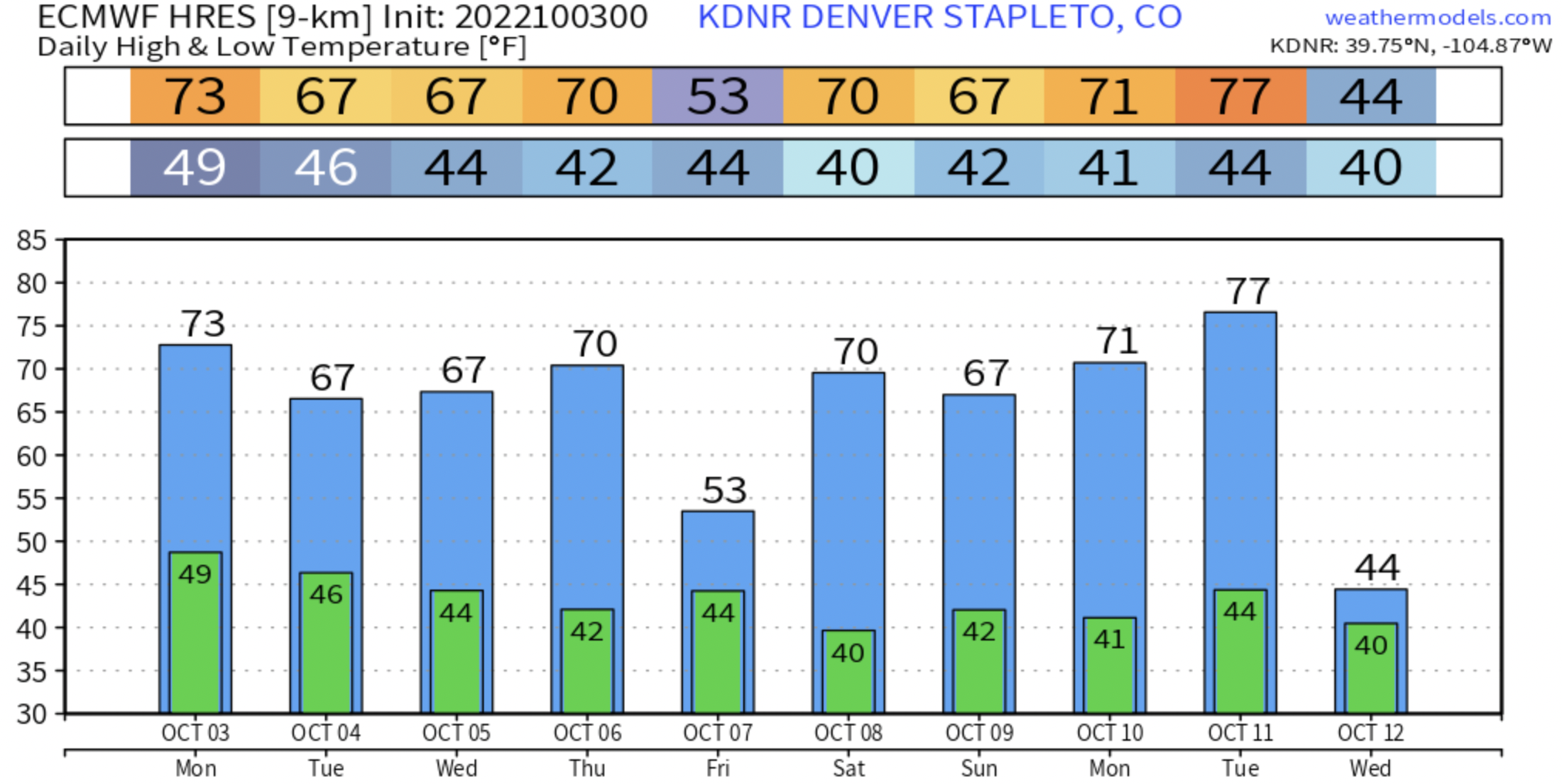 We haven't had our first freeze of the season, but the average date for our first freeze (October 7th) is quickly approaching.
According to the European model (above) we won't see our first freeze this week, and not likely the following week either. Over the last ten years we've seen our first freeze as early as September 8th (2020) and as late as October 28th (2015). Last year the first freeze came on October 13th.
We are also quickly approaching the average first snow of the season for Denver, October 18th. You'll recall that last year we crushed the record for latest first snow on record for the city, with a measly 0.3" of snow falling on December 10th, 2021. The prior latest first snow on record was November 21st, set in 1934.
While we have some time yet before we see another late start to the snow season... there's no snow in the immediate forecast at this time.
The week ahead
Some of us will see a bit more rain today as showers and storms are back in the forecast for Northeast Colorado.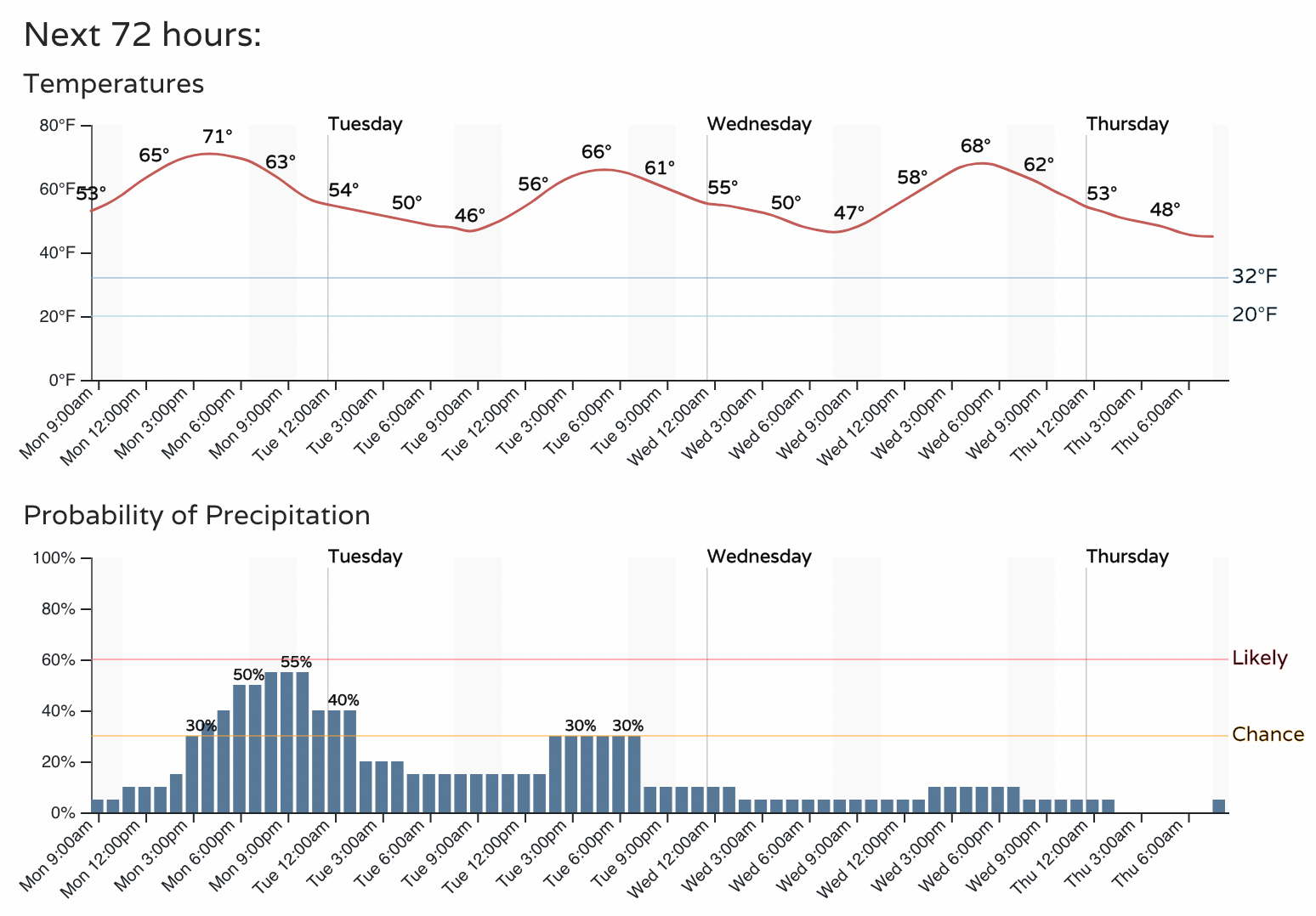 A look at the latest HRRR model shows most of us won't see a lot of rain today, but still some scattered showers around could mean a couple tenths of an inch for those that do see the storms this afternoon.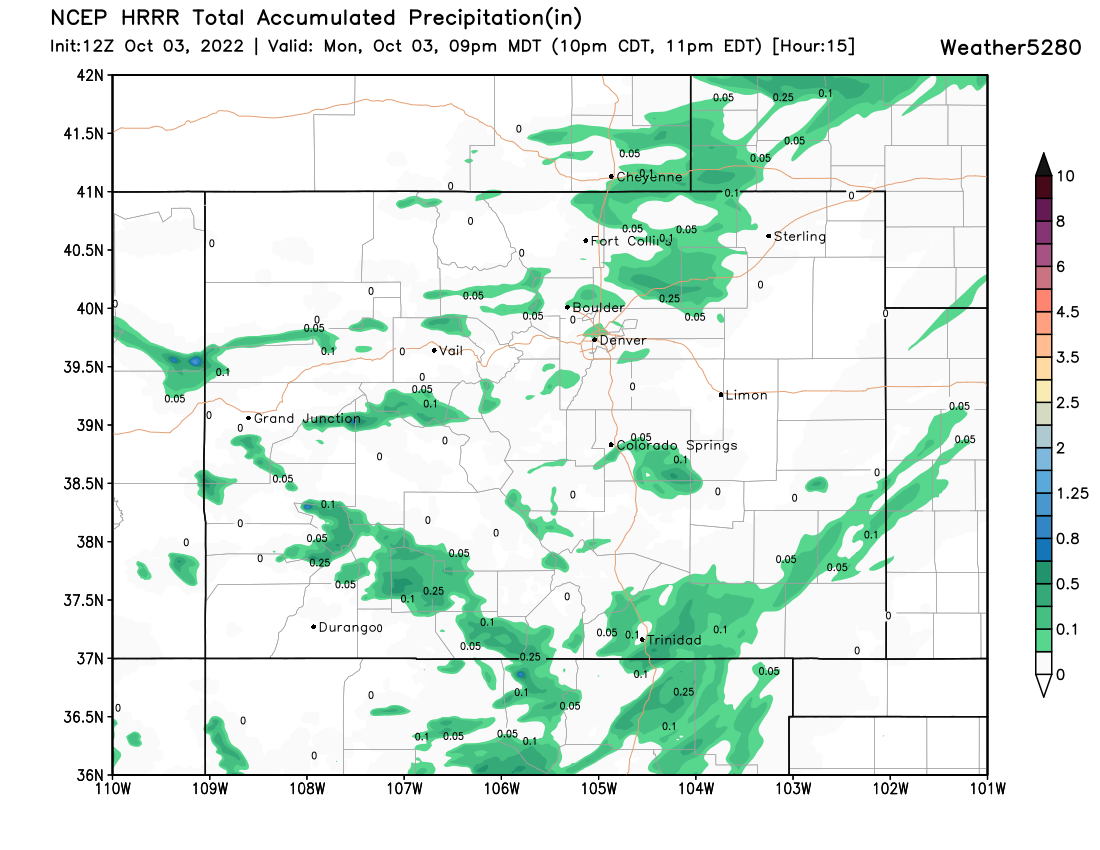 As for snow? Some mountain areas finally picked up a bit of snow this weekend, but only the highest peaks will see another dusting to 2" today: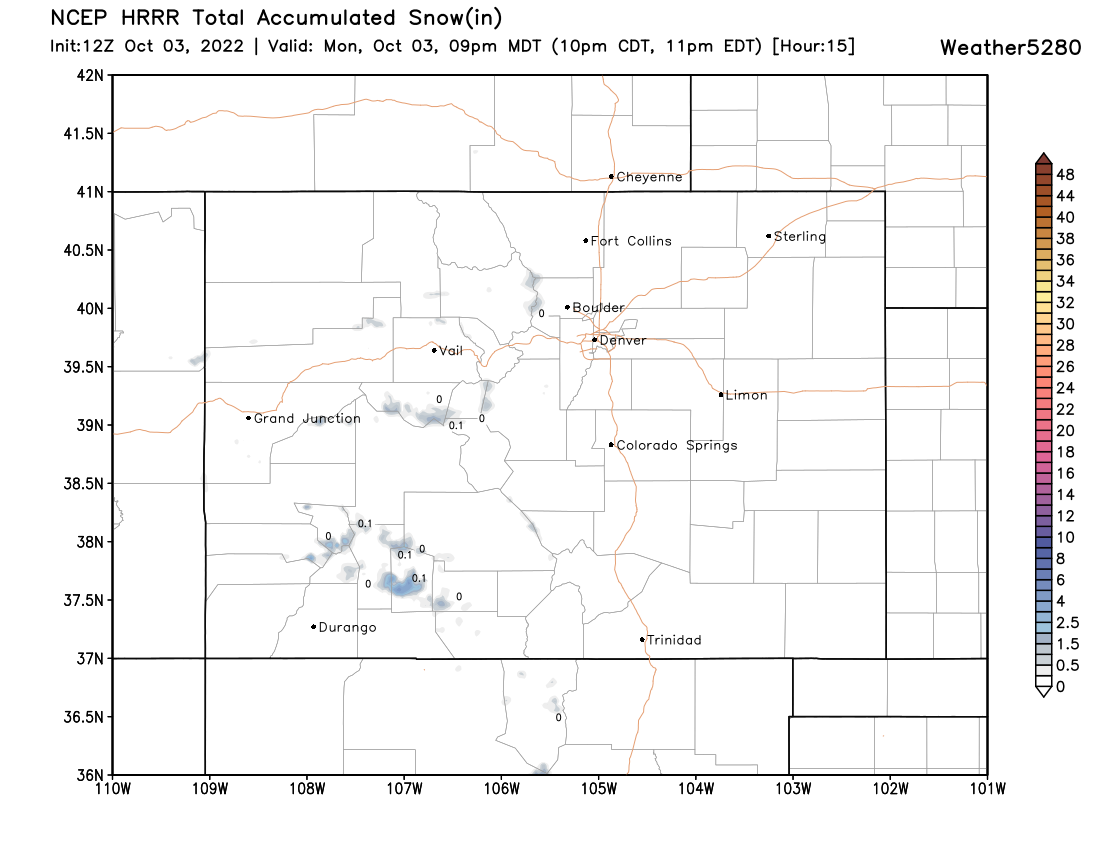 Temperatures dip into the 60s over the next couple of days. We'll see some showers around again on Tuesday, but a lower chance than what we'll see today.
We'll be clipped by a cold front late in the week which should drop temperatures across Eastern Colorado Friday. Not a lot of moisture with this system, but likely some more showers across the state, particularly across the Plains. As you can see below, the cold quickly pushes east after Saturday, and much warmer weather again tries to push in from the west:  
Overall temperatures will be near average this week. A couple days above average, a couple days below, and Friday with the potential to be much cooler than average. The greatest warm anomalies will remain locked up in the northwest through the weekend, with the coolest anomalies found to our south and across the eastern CONUS.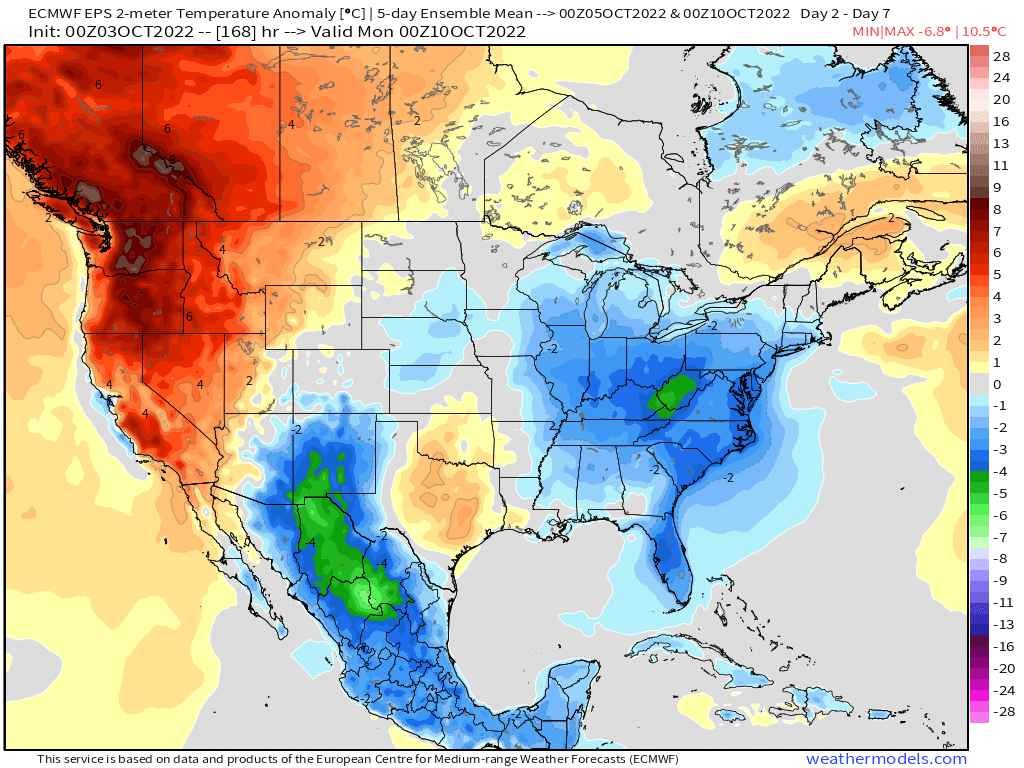 Next week looks generally warmer, though we saw above that it too may end on a cool note. For Denver, perhaps we end the following 5 days near average again, but more warmth across the plains and more of that warmth pushing east.