As we discussed in our update on Friday, we are tracking two systems that will bring rain and snow to the state over the coming days. The first of those systems is moving through the state today, and will bring heavy snow to parts of the high country and at least a chance of rain and snow showers to the plains Sunday later today and this evening.
Planning forecast
For planning, look for heavy mountain snow today to come to and end Sunday evening with those rain and snow showers possible over the plains late in the day.
The hourly planner has about a 3o to 40% chance we'll see showers later today along the urban corridor, so please don't be caught off guard.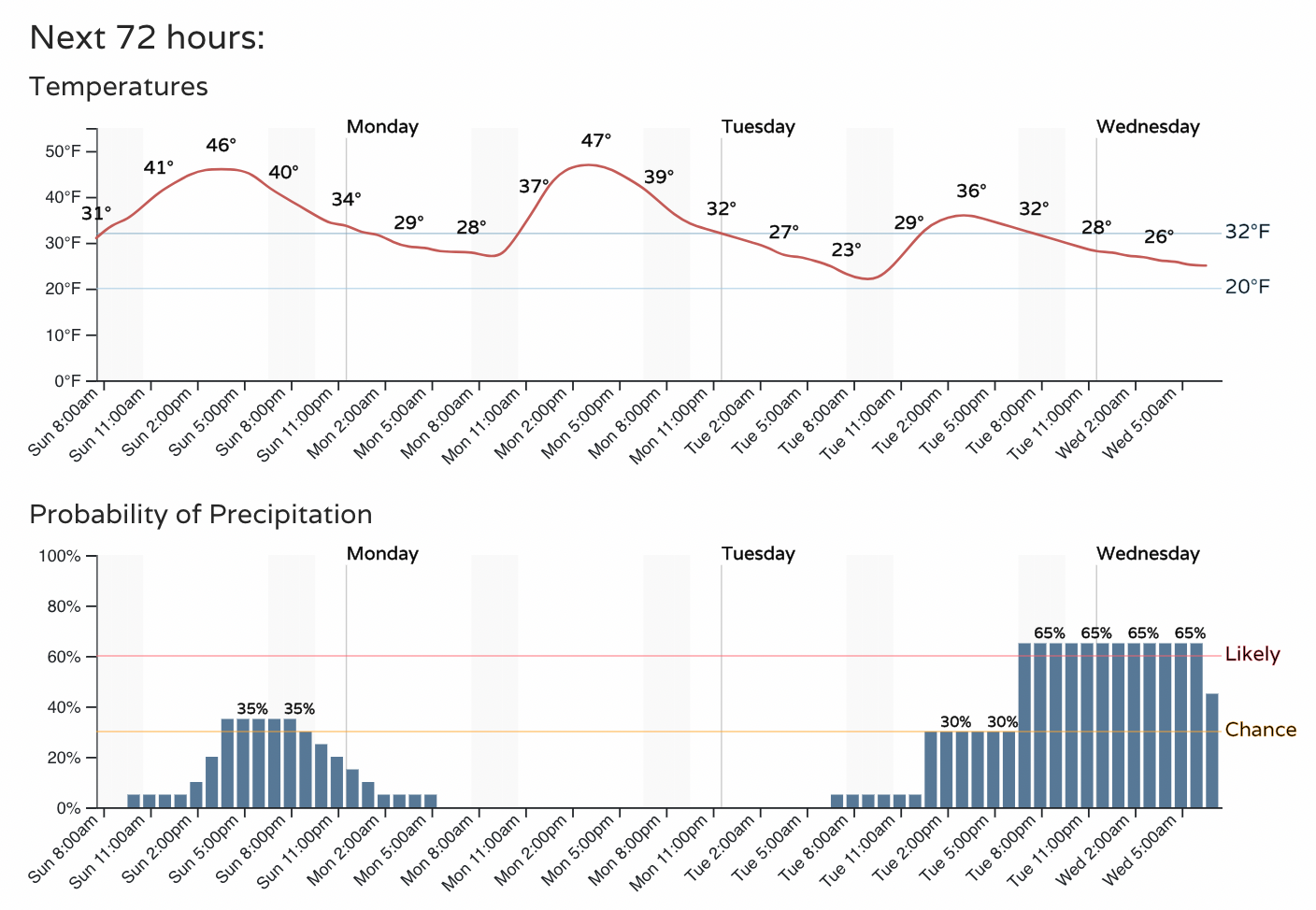 As you can see, Monday is our break between systems before the next one begins to impact our weather on Tuesday. The chance of snow will increase Tuesday afternoon and be greatest Tuesday evening and overnight into Wednesday.
Today's chance of snow
The global models aren't all that enthusiastic around today's snow potential, but some of the high-resolution short term models show some sneaky potential for at least a round of brief, moderate snowfall this evening (think last week's system as it moved over the urban corridor).  
If we look at the latest SREF data, we see not all that much potential for accumulation today, though a quick dusting to 1/2" is perhaps not out of the question, with the latest HRRR showing a few pockets of 1"+ accumulation along the Palmer Divide and southeast Denver metro area.

Bottom line, while not everyone sees rain and snow later today, and certainly not everyone sees any accumulating snow, do not be surprised to find yourself in a brief, heavy snow shower later Sunday as this system moves overhead. Here is the snowfall outlook through Monday morning, most of the snow of significance will be confined to the high country: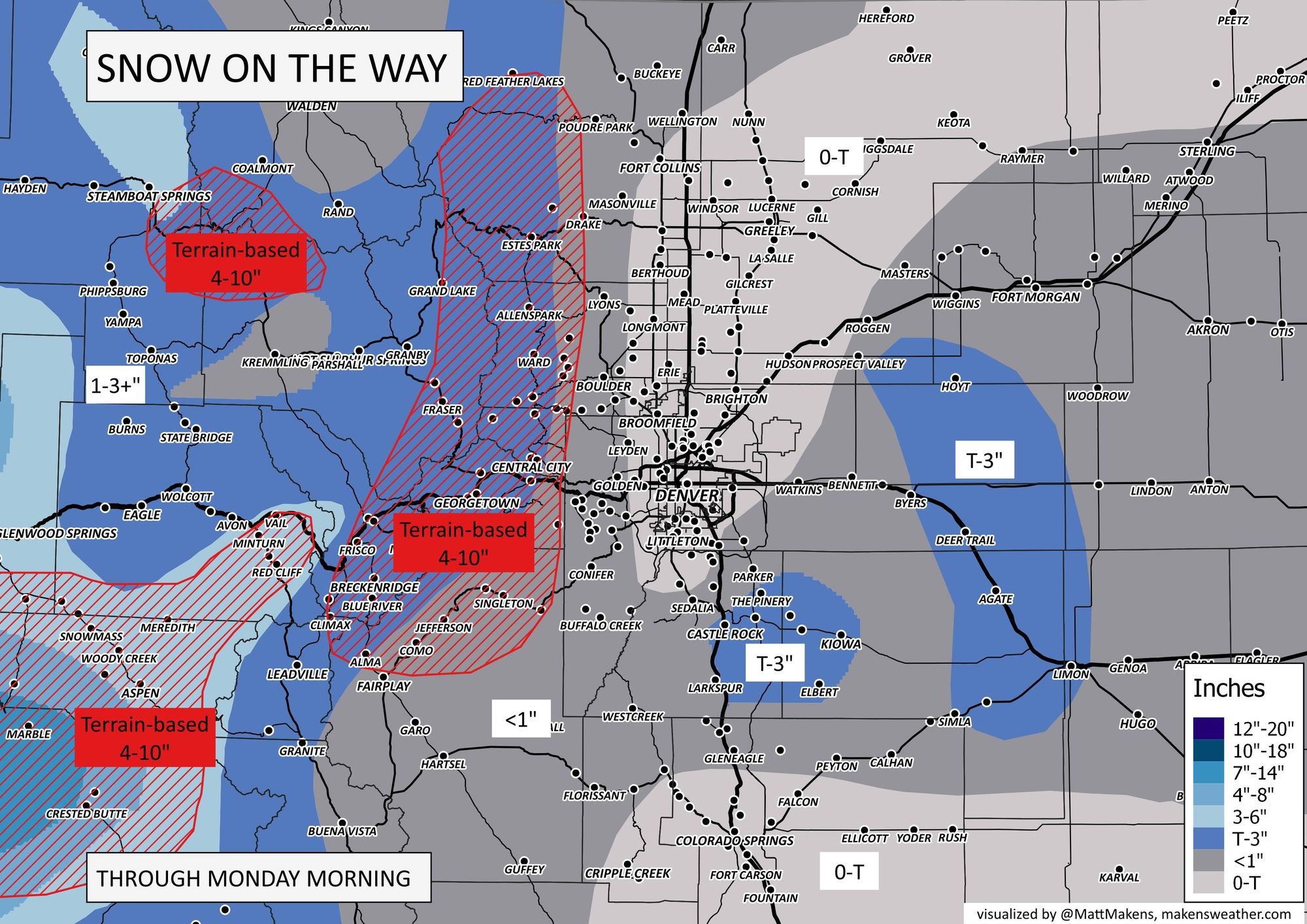 And the travel impacts we'll see across the state today and tonight: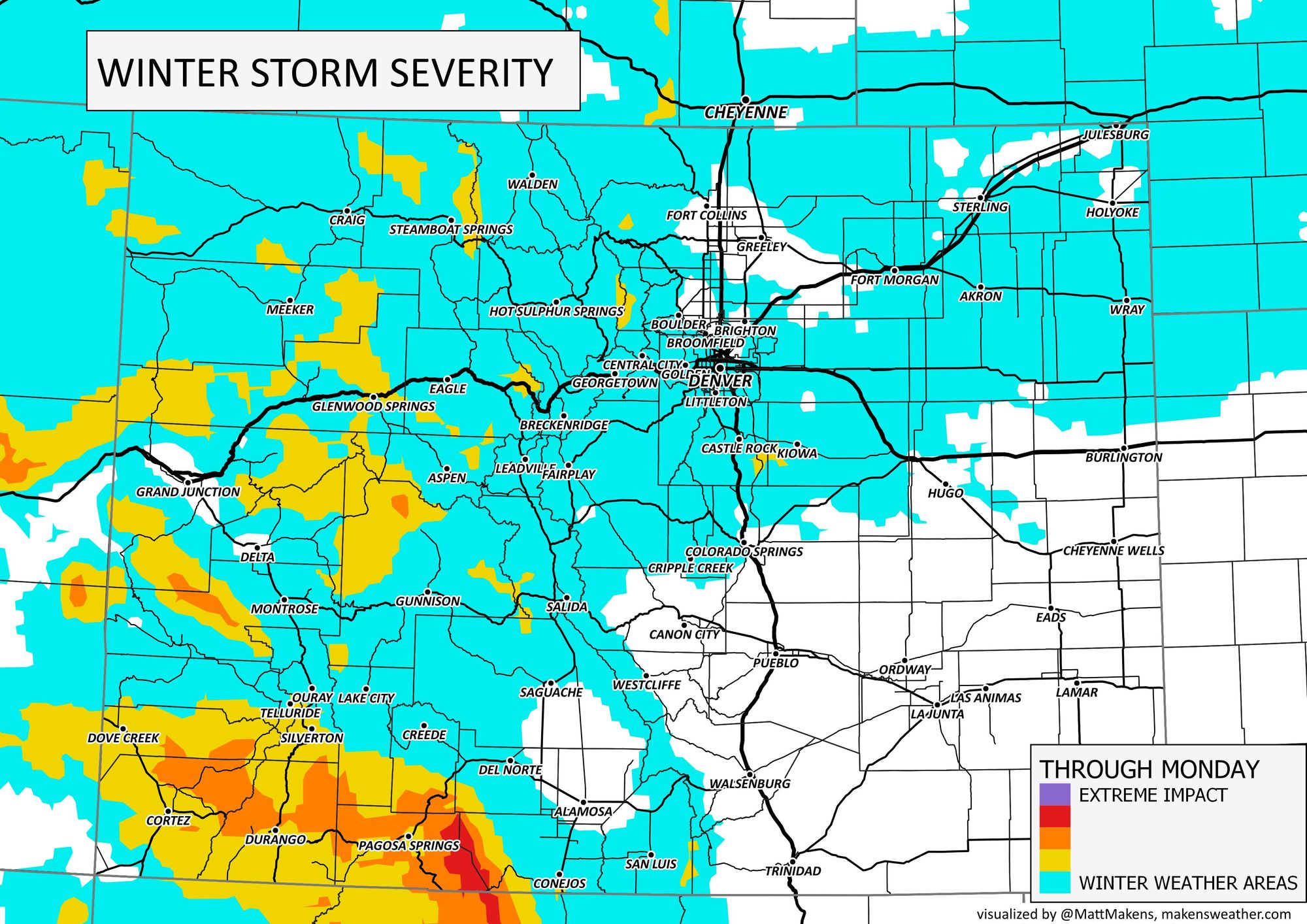 Significant snow on the way?
There's been lots of buzz in recent days about the next system due to arrive Tuesday afternoon and carry through Wednesday.
What we'll say is this: there's potential, yes, but it's far from a done deal particularly for the Denver area specifically. Confidence is higher today than Friday that a good round of snow will setup somewhere over Eastern Colorado Tuesday evening/overnight into Wednesday, but data continues to oscillate on where exactly that will be.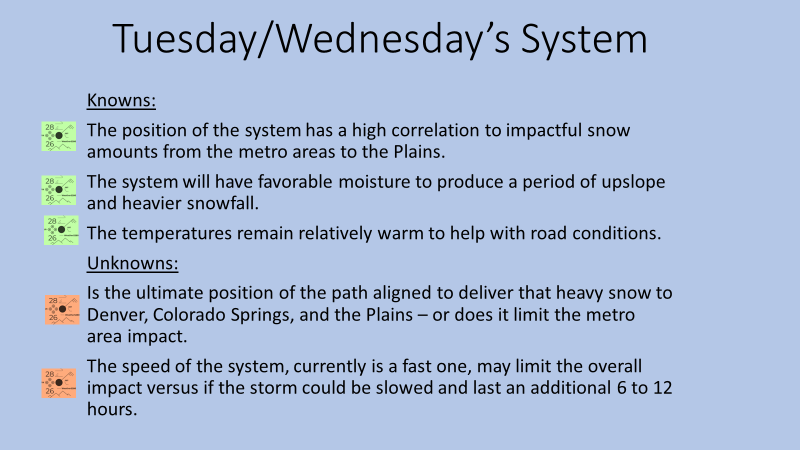 A look at the data
Analog support this morning shows pretty good odds of a swath of 4" of snow or more from the Denver/Colorado Springs area extending northeast into Nebraska: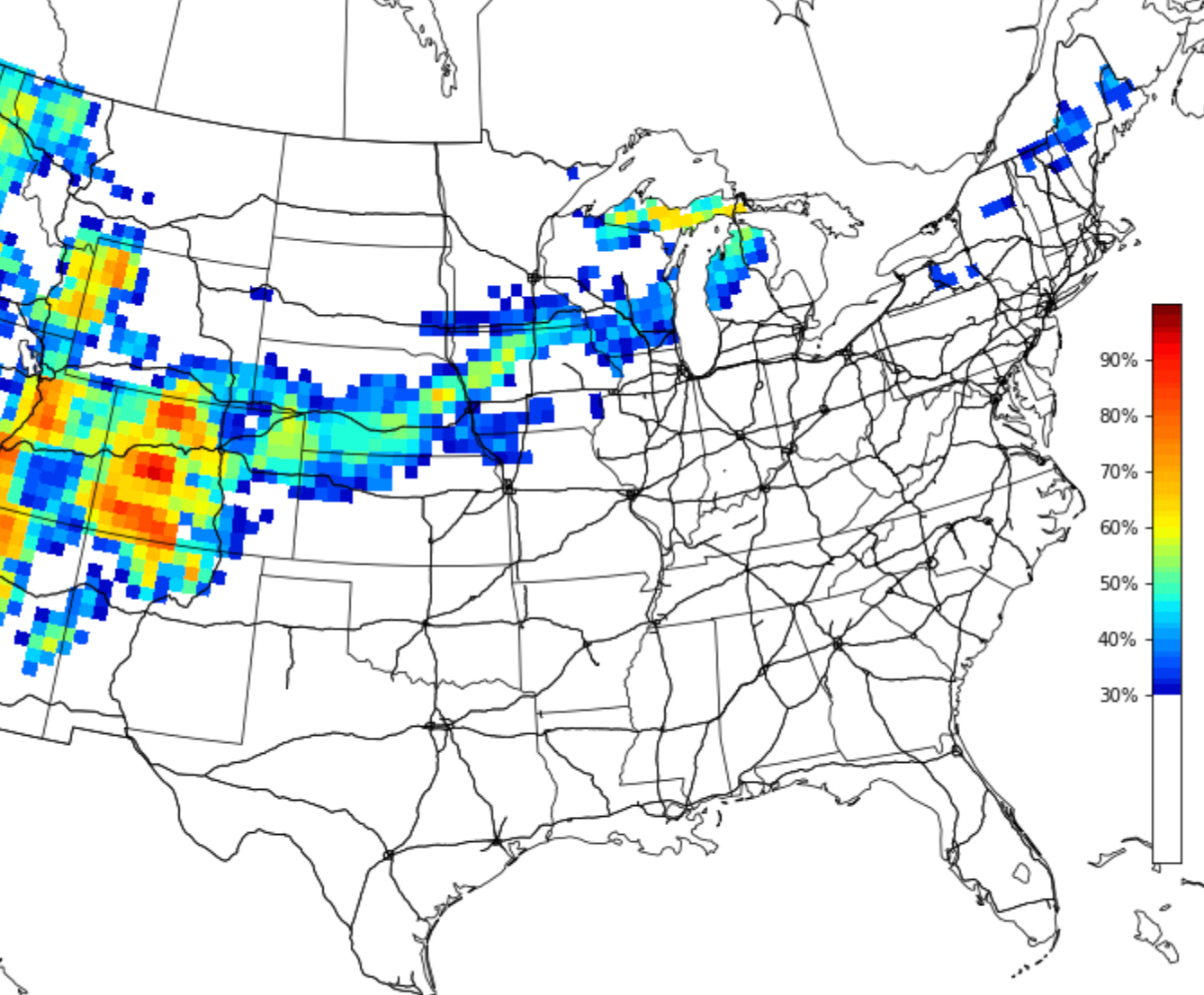 Deterministic modeling has at times agreed with this idea, and at other times... not so much. The main issues that stand between us and a significant snow along the urban corridor look to mostly be with the speed and track of the storm (no surprise here).
The track at times has been much too far south for significant snow for the Denver area. We also lack any significant ridging ahead of this system which means there's not a whole lot to slow it down, so speed could be an issue as well.
With that uncertainty, we continue to see pretty wild swings in the placement of that heavier snow Tuesday night.
Take, for example, the European model which yesterday was trending more northerly with the low and therefore more favorable for snow across east central and northeast Colorado. It had easily 5"+ for the Denver area (this map snow:liquid ratio is likely too low):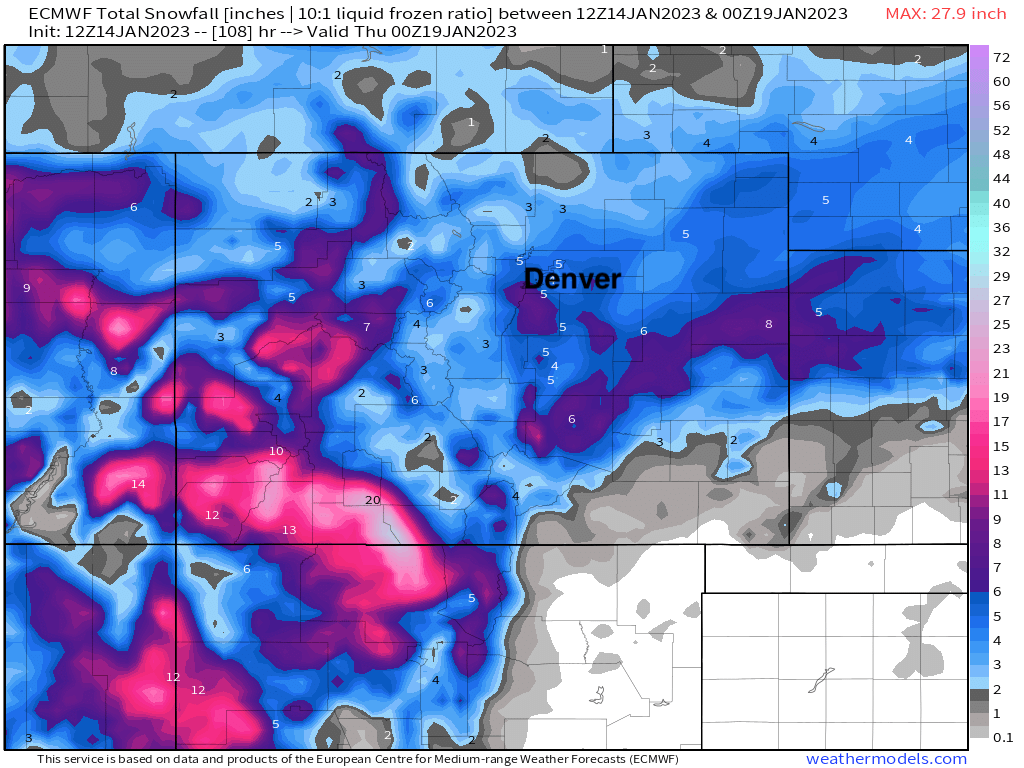 Overnight runs placed that low further south and east, and with that pulled the heaviest snow south and east of our area as well (this scenario would be great news for the drought across southeast Colorado, by the way):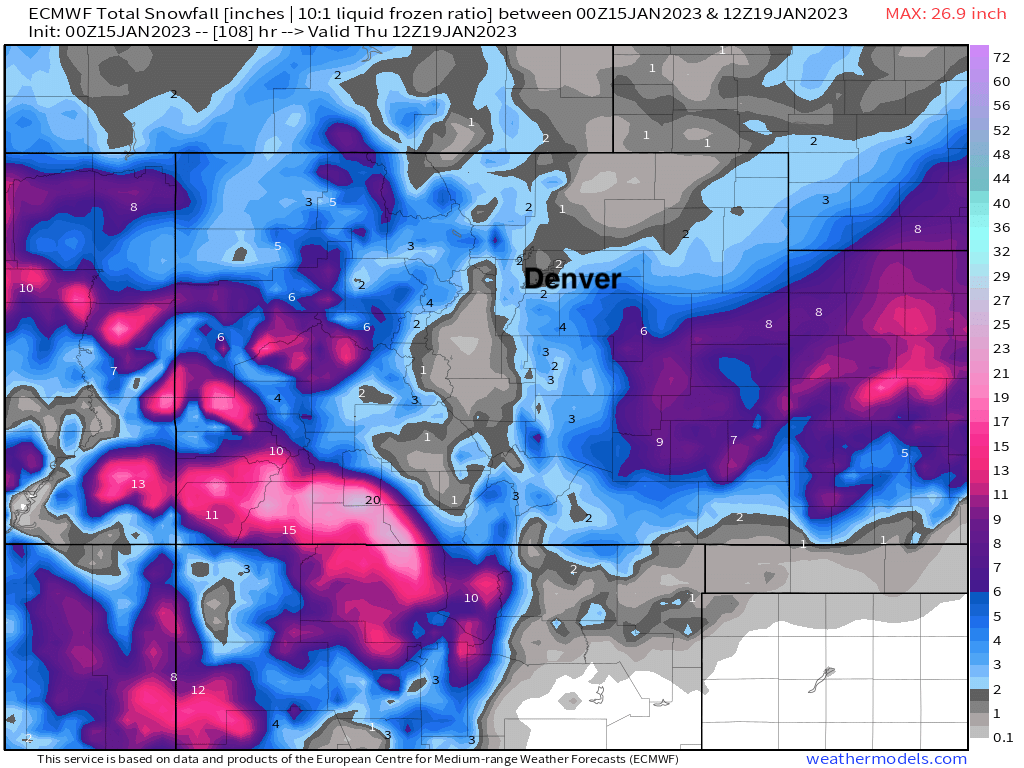 Ensemble modeling has shown similar struggles in where to place the low as it gets east of the Rockies, but consensus for now looks a bit more favorable for a northerly, and more impactful storm for Northeast Colorado, track vs the southerly solution that looked more probable on Friday. This would match the analogs as well.
The GEFS clusters the lows across Southeast Colorado Wednesday morning, with many of those being a pretty good spot for the Denver area to see meaningful snow. The members that track that low quickly into Kansas/Oklahoma overnight would equate to lesser snowfall totals for our area. If you're hoping for snow along the urban corridor, this clustering should lend confidence.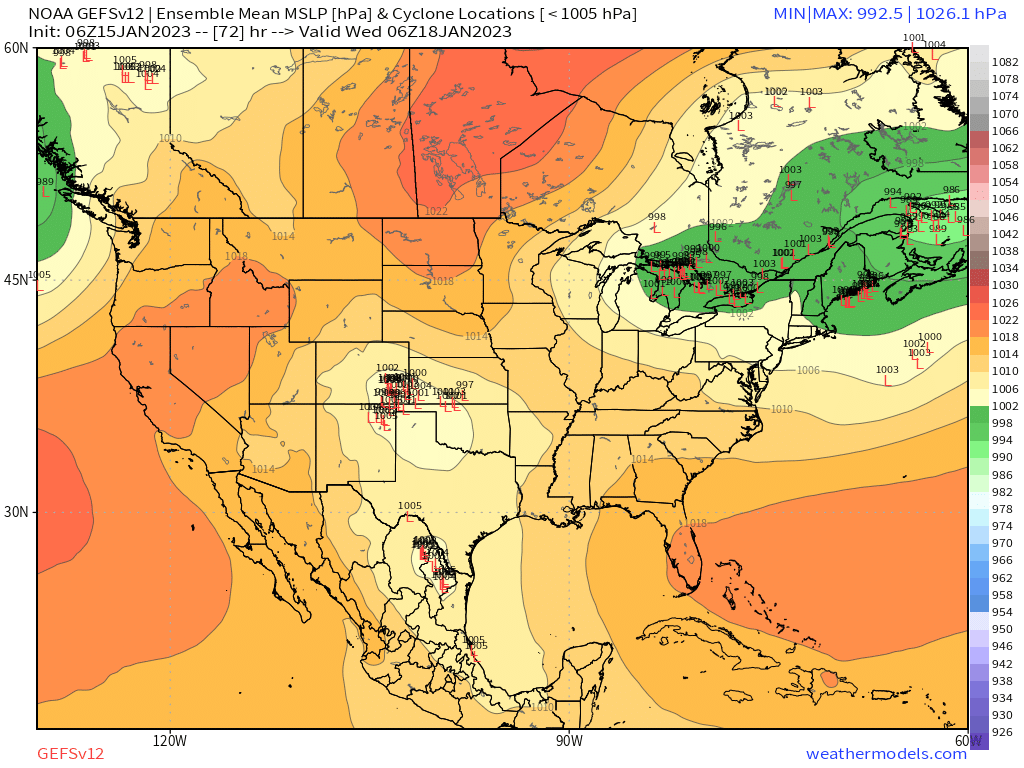 If we look at the corresponding snowfall map from the GEFS, we see it tracks the heaviest snow across central and northern Colorado, with lesser snowfall totals south – which makes sense given the location we see its members clustering the lows above.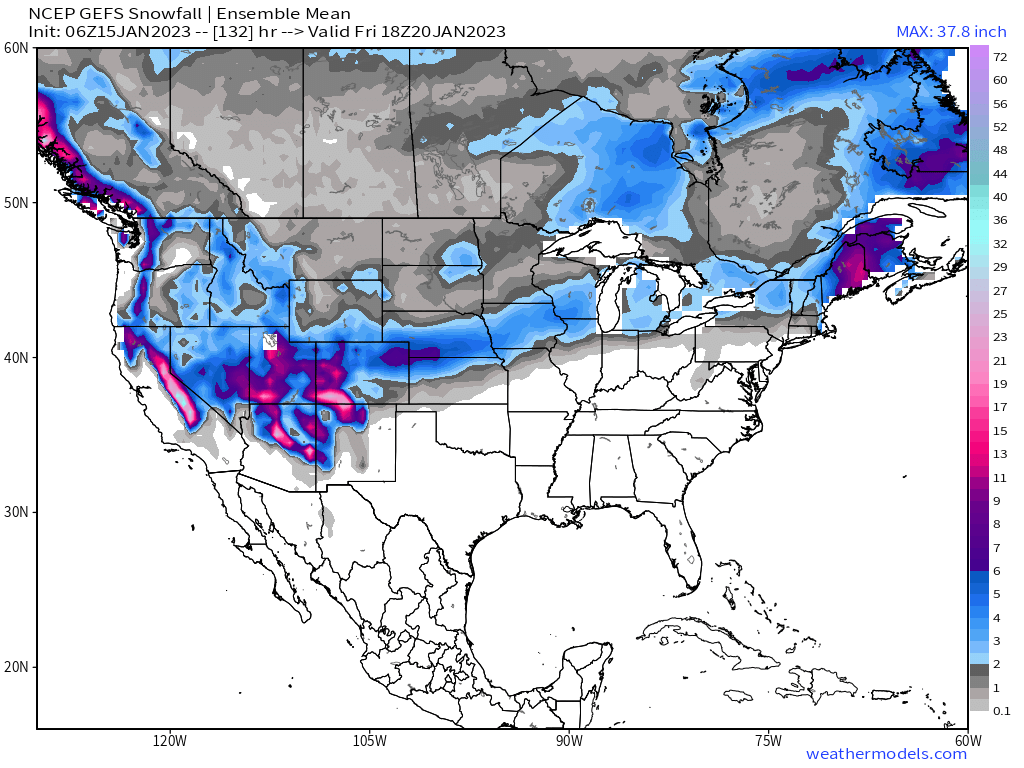 And finally, current odds for 3" of snow or more through Wednesday from the European ensemble model shows a similar idea to the GEFS and analogs above – favoring the Denver area east across central Colorado, then extending northeast into Nebraska as the low ultimately tracks east of our area.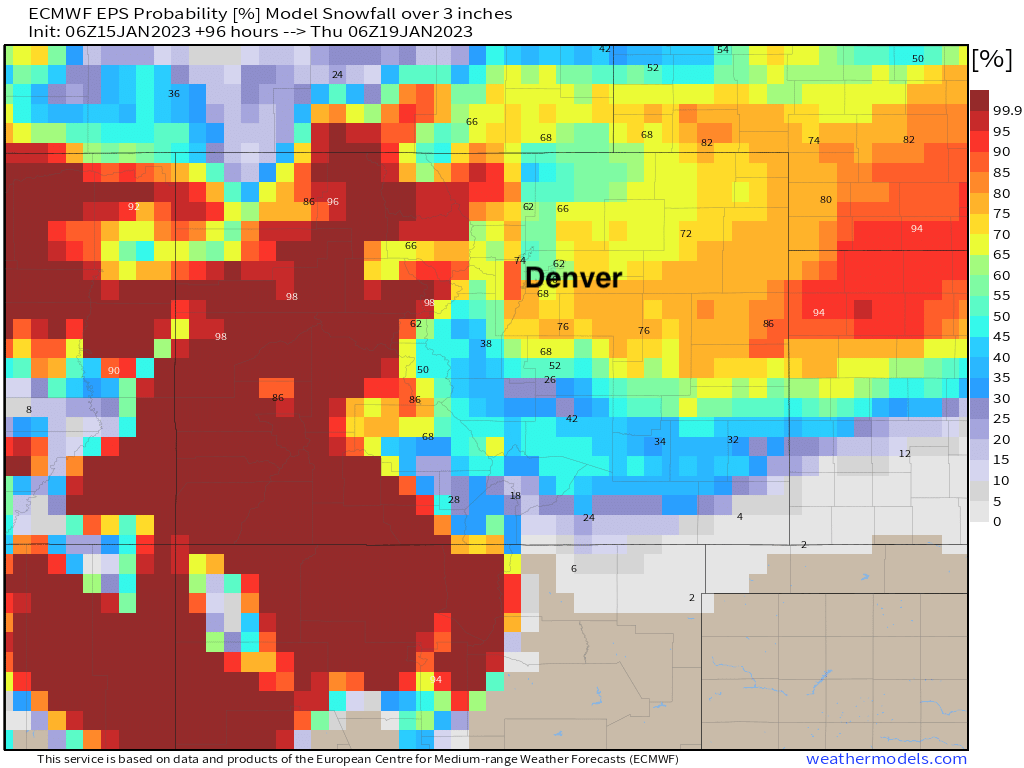 All this to say... the potential is certainly there for a good snowfall event this week, but the devil is in the details and models continue to waffle a bit on where to place that low is it gets east of the hills. While a more northerly, and favorable snow track for Denver looks more probable at this time, let's see where the data leads later today and Monday. As you saw above, it looks like some modeling today is starting to swing back south, so will that be a trend? Or will we see the same shift in the ensemble data later today. Time will tell.
We'll be watching this next system closely and bringing plentiful updates. The takeaway message for today is it'll be a good week to track the weather (and subscribe to Weather5280!), but a big snow is far from a done deal at this time.
How this storm impacts the rest of the West, in today's Daily Shower video: