The storm that we've been talking about for Tuesday into Wednesday remains on track and as such, a Watch has been issued for the northeastern quarter of the state. It goes into effect Tuesday afternoon and extends through Wednesday afternoon.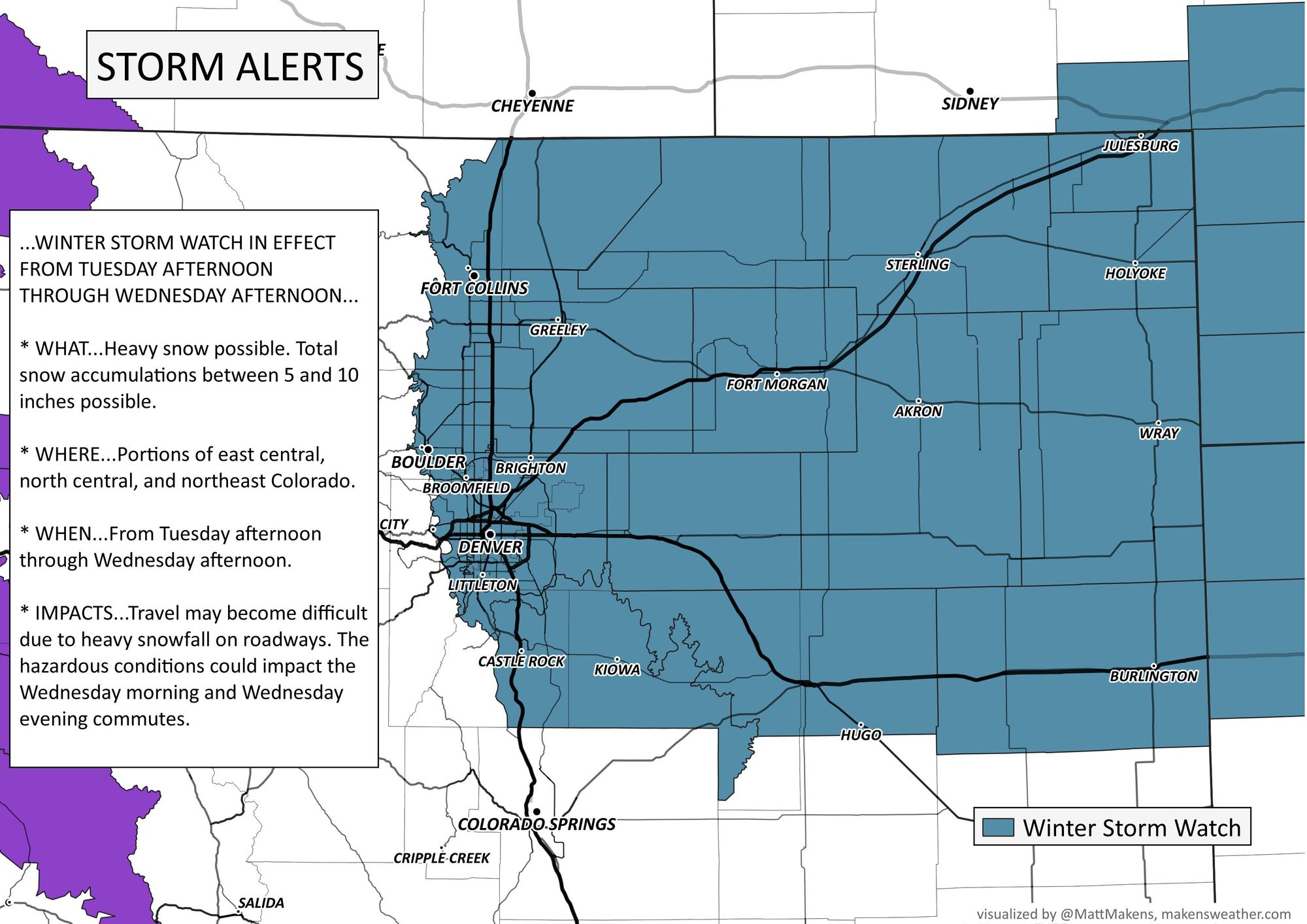 A watch at this point implies that reasonable consistency in data shows an impactful amount of snow is on the way, but there's still time for the storm to change its placement or speed which would raise or lower the exact threats to any given area in the watch.
Speaking of those changes, we really have not seen a notable change in the data today. Modeling remains on track to deliver heavy snowfall east of the mountains for Tuesday night and Wednesday. There are some subtle changes in speed, position, and ultimate totals but nothing that we feel should change the impact of the storm at this time. We remain most curious about the speed of the system, which can bring a significant amount of snow to Denver and the Front Range. That amount will change if the system speeds up.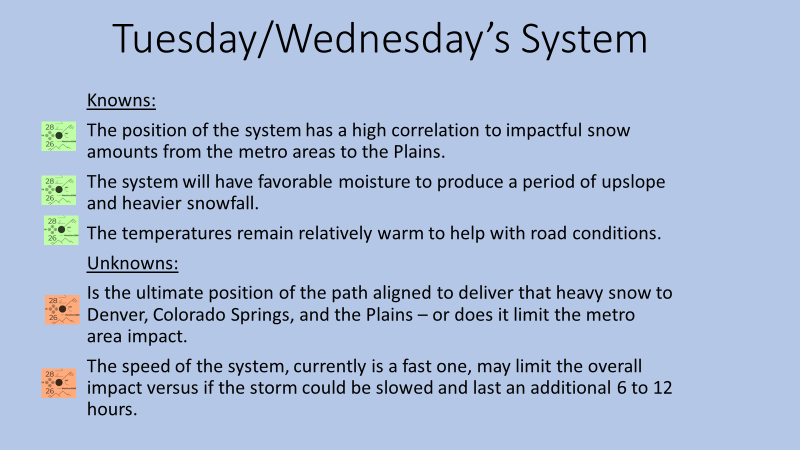 Current timing of that system is shown here. We do have the current chances for showers from the minor system we've already discussed for today (by the way, are you seeing any rain or snow this evening?), but the focus here is Tuesday into Wednesday. You'll note those good probabilities extend well into Wednesday at this time, but a quicker system would mean most of that snow will be done much earlier on Wednesday should that occur.

Let's look at some of the modeling that came in today.
First thing of note is that most of the data that wobbled south with the system last night and early this morning has again corrected north. While change in track and speed is still possible (and likely) consensus around a favorable track for northeastern Colorado is had as we sit this evening. Nearly all data agrees on that.
Looking at the European and American ensemble data this evening also lends confidence to the forecast and support for the Watch issued by the National Weather Service.
Below is a look at the latest ensemble mean forecast from the Euro for Tuesday night, showing good clustering (good agreement) from all its members on where the surface low is likely to track, favoring the far southeastern corner of the state – a pretty good spot for snow along the northern urban corridor and northeast plains.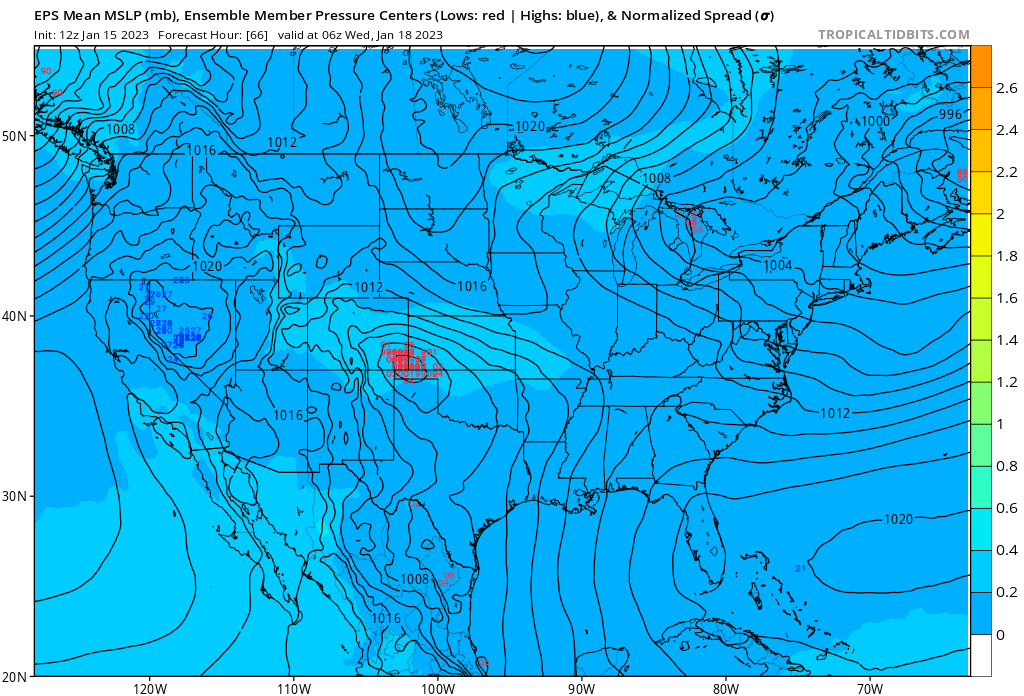 Comparing this to the GEFS, we see pretty good agreement between the two models and really only a couple of outliers at this time. Again, good spot for snow for our area.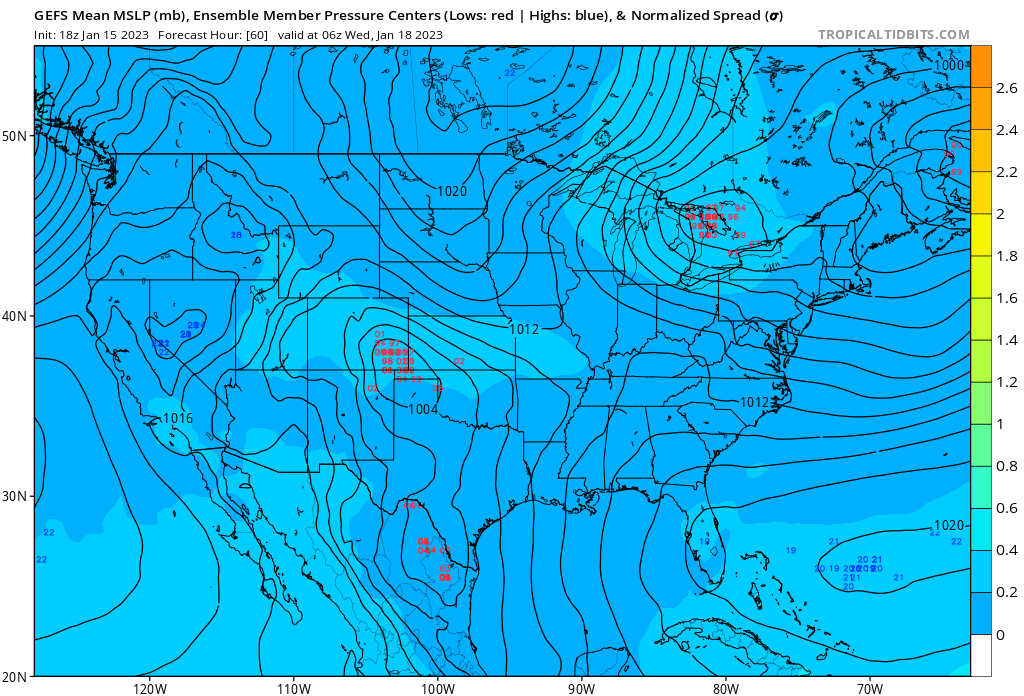 The image below is the GEFS forecast for the same time Tuesday night from two days ago. Note the very large spread in solutions and how much further south it was placing the low, generally speaking. The trend has been north no doubt, and confidence today is much higher in the eventual track, as it should be.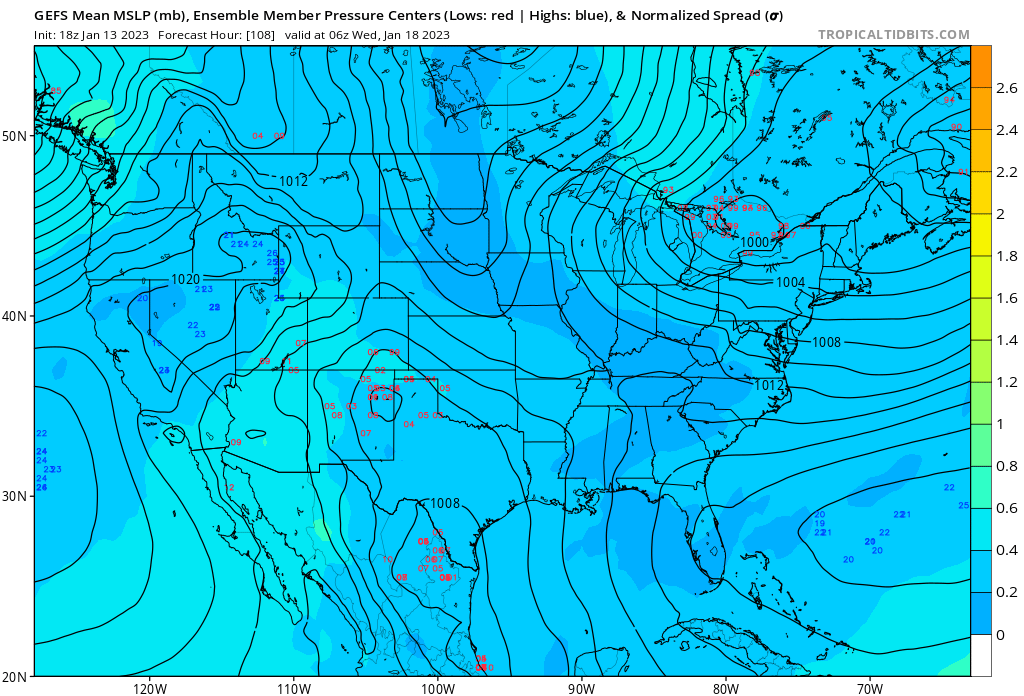 As for how much snow we are likely to see from this event... well, the Watch mentions 5 - 10" across Northeast Colorado which is probably a good starting place. As we get closer tomorrow we can narrow in a bit more on who is likely to see more or less, but generally speaking plan for several inches of snow from this event and plenty of travel impacts from late Tuesday through Wednesday.
The latest European ensemble mean shows from 0.4" to 1.0" of liquid across Northeast Colorado, with the greatest totals from south Denver extending east and northeast across the plains. Barring any big changes to the forecast, this should be a good wet system for many locations.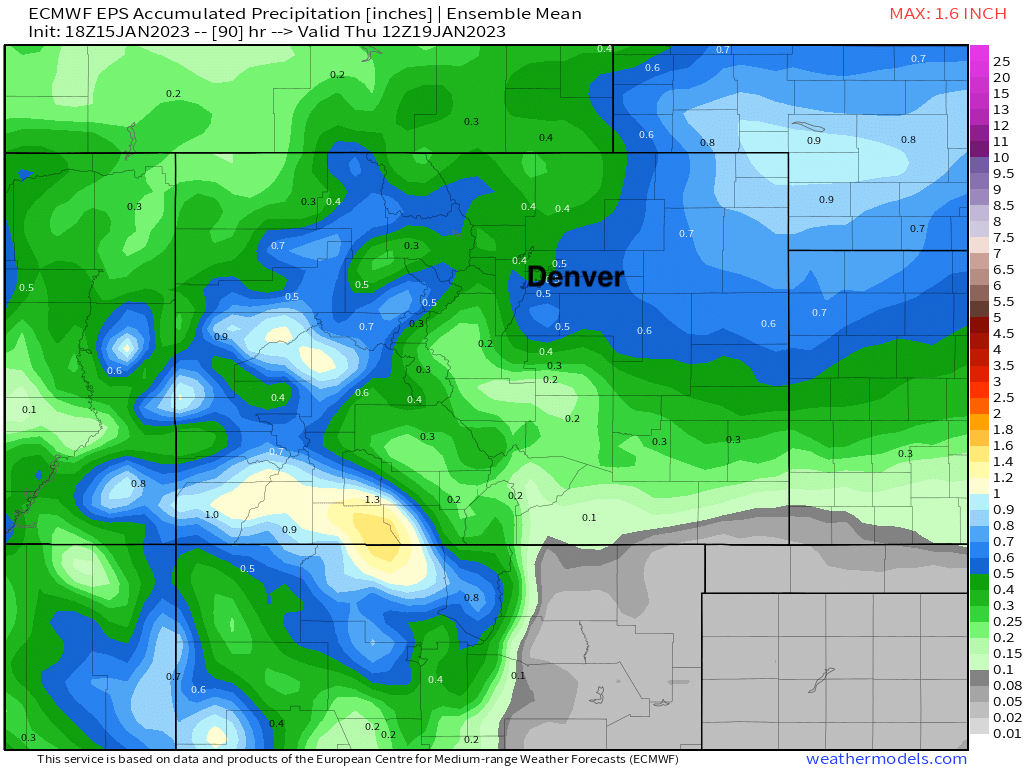 And finally, an updated look at probabilities for 3" of snow or more through Thursday for Colorado: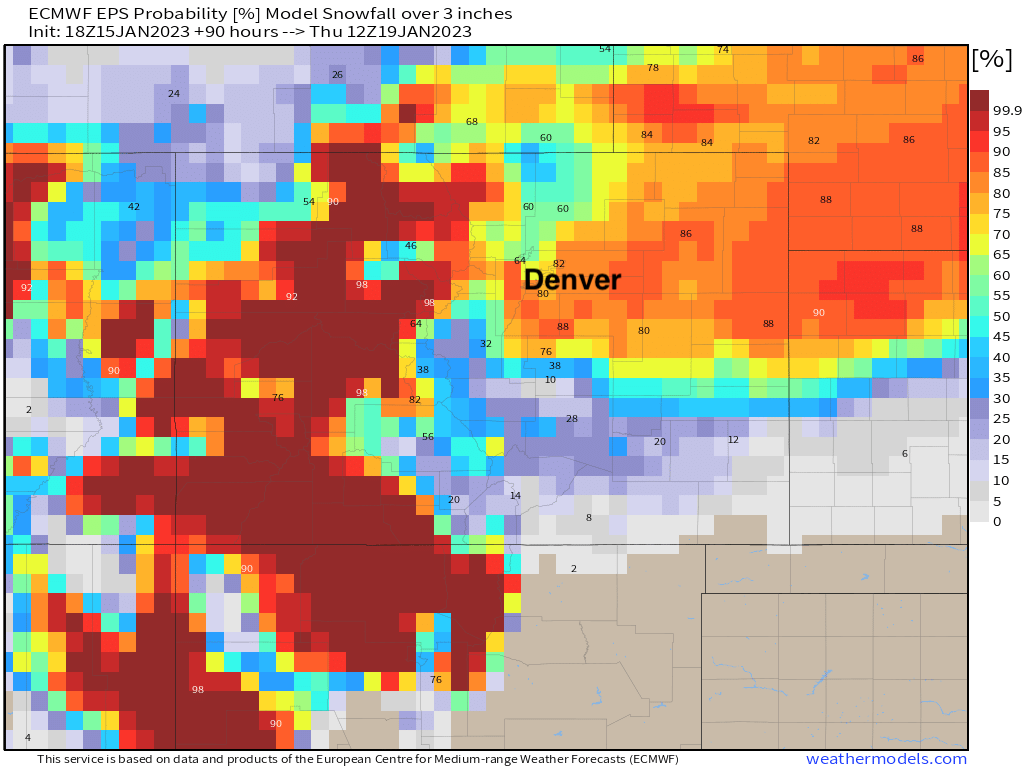 More to come tomorrow... stay tuned!