No big changes to the forecast this morning as we await the next winter storm to impact Northeast Colorado later today and Wednesday. Snow, heavy at times, is forecast to develop Tuesday evening along the Front Range and become more widespread overnight Tuesday into Wednesday morning across Northeast Colorado before gradually coming to an end Wednesday afternoon.
This will be an impactful event for much of the state, particularly northeast Colorado where a Winter Storm Warning goes into effect at 5pm this evening. Travel will not be advised over the northeast plains and urban corridor Tuesday night and Wednesday morning. Along with the heavy snow at times, expect gusty winds, with gusts to 20mph in the cities, and upwards of 35mph possible across the northeast plains.
Here is the forecast impact map as of Tuesday morning: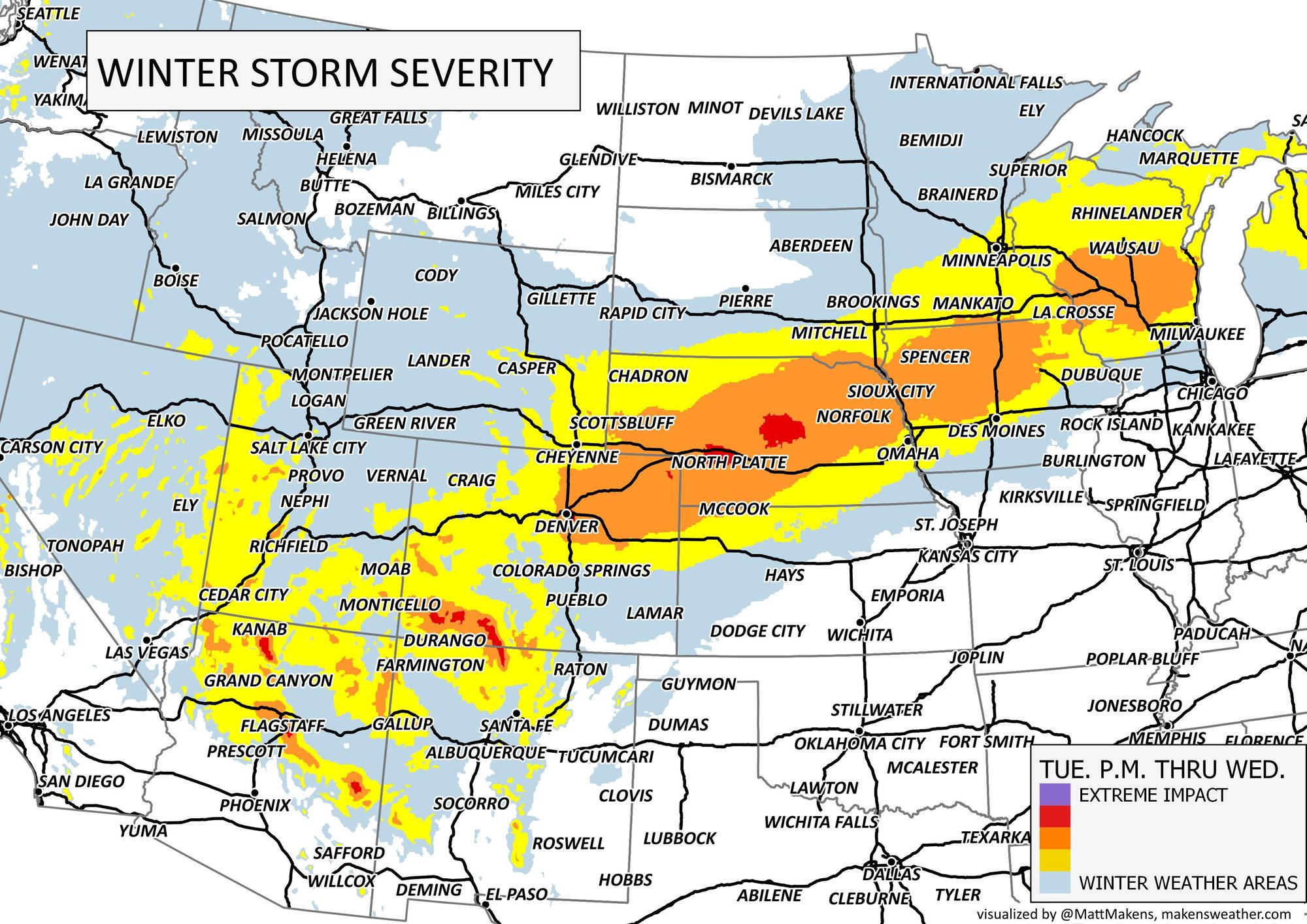 And here are the latest Warnings and Advisories for our area: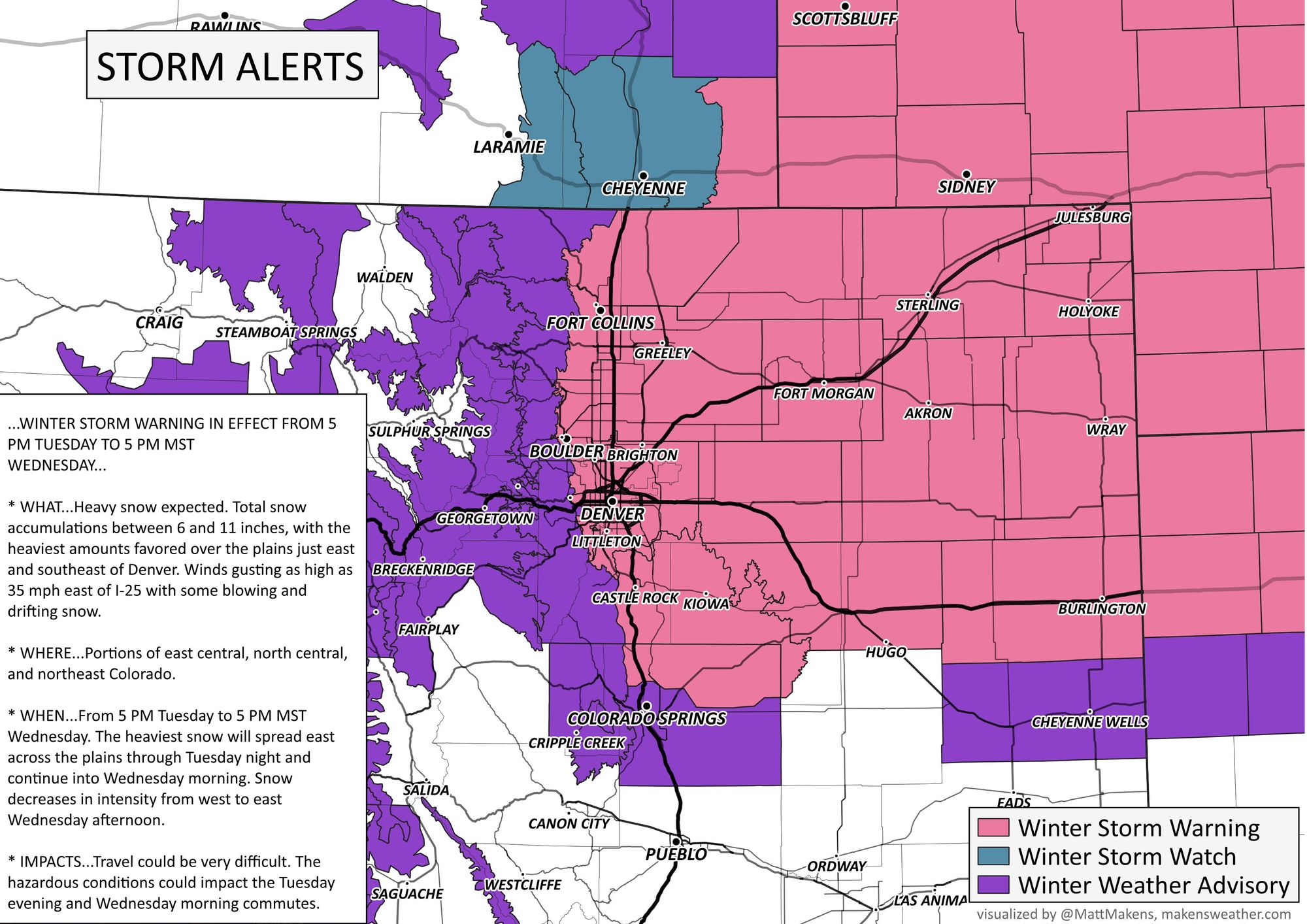 Snowfall forecast
We have not adjusted our snowfall forecast from yesterday all that much this morning. We still expected widespread totals of 6 - 12" across Northeast Colorado, with some locations possibly seeing totals in excess of 12".
Yesterday we highlighted the immediate foothills west of Denver as seeing the potential to also see some significant totals (>12") which we still see as a possibility, despite the decided lack of support in some of the modeling.
The main change this morning is to pull the 6 - 12" totals a bit further west than we had yesterday, and to mention the potential for some areas to see totals greater than a foot from this storm.
For areas south of Denver, a bit more of a bust potential here as well. Models have been trying to pull the low further north at times, which would mean less snowfall from say Monument south into Colorado Springs. We still have 'up to 4"' for COS, but some data suggest accumulation will be quite low in the city. We'll see.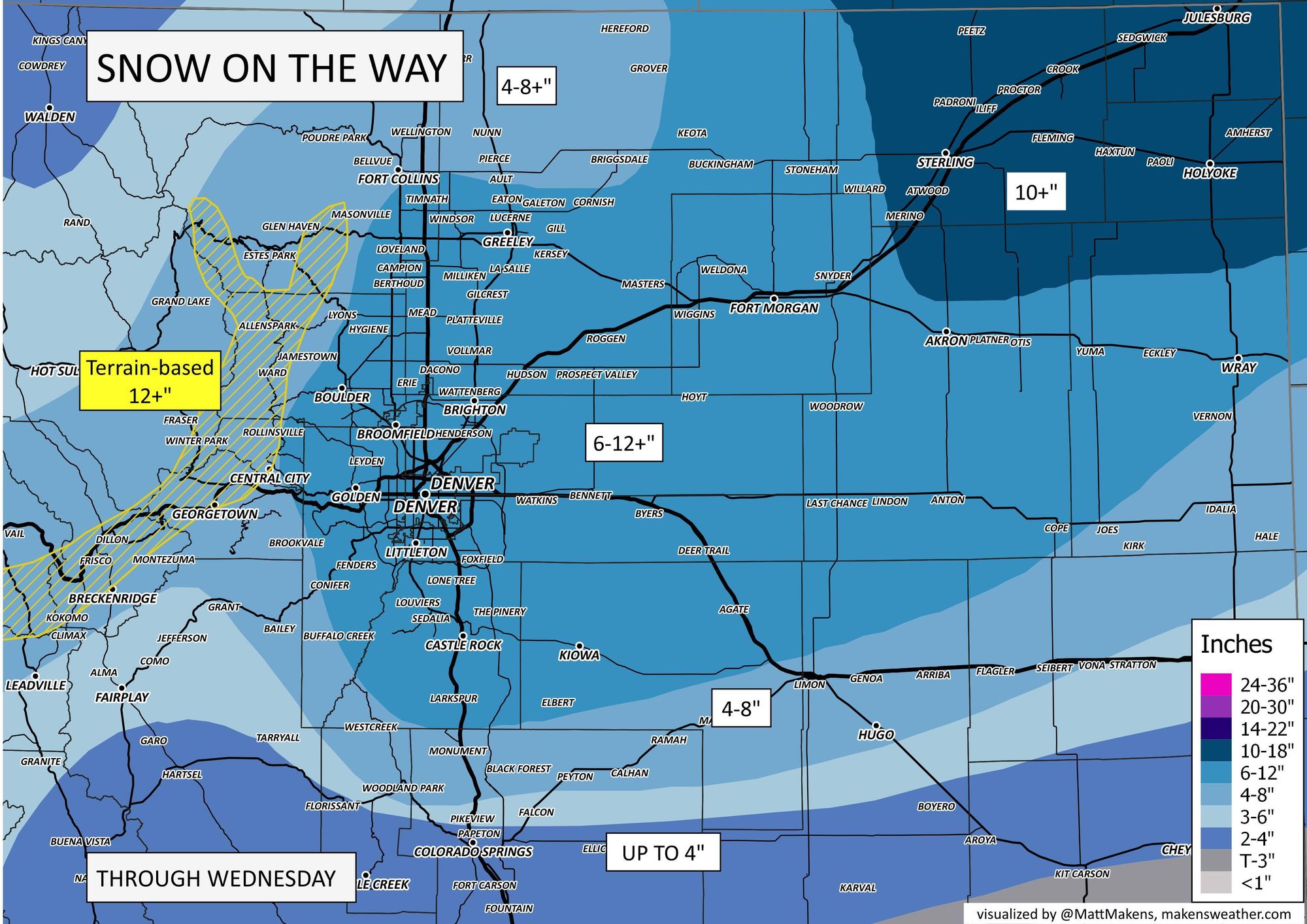 Timing
Timing shows the chance of precipitation ramping up this evening and being greatest between 6pm Tuesday and noon Wednesday. As things look this morning, snow will be heaviest between 11pm tonight and 11am Wednesday for the Denver area.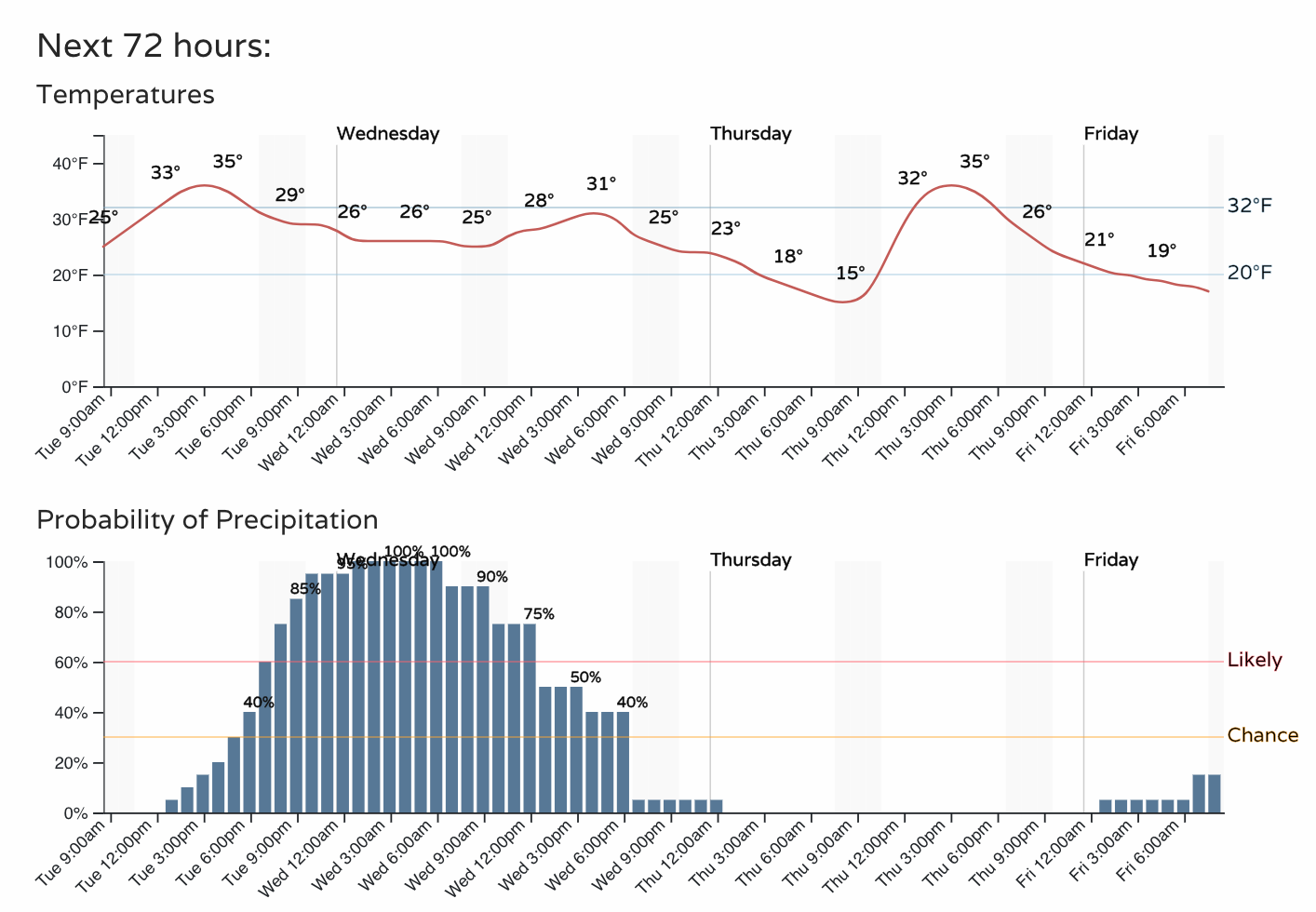 Here's a look at when we expect the heaviest snowfall for select cities: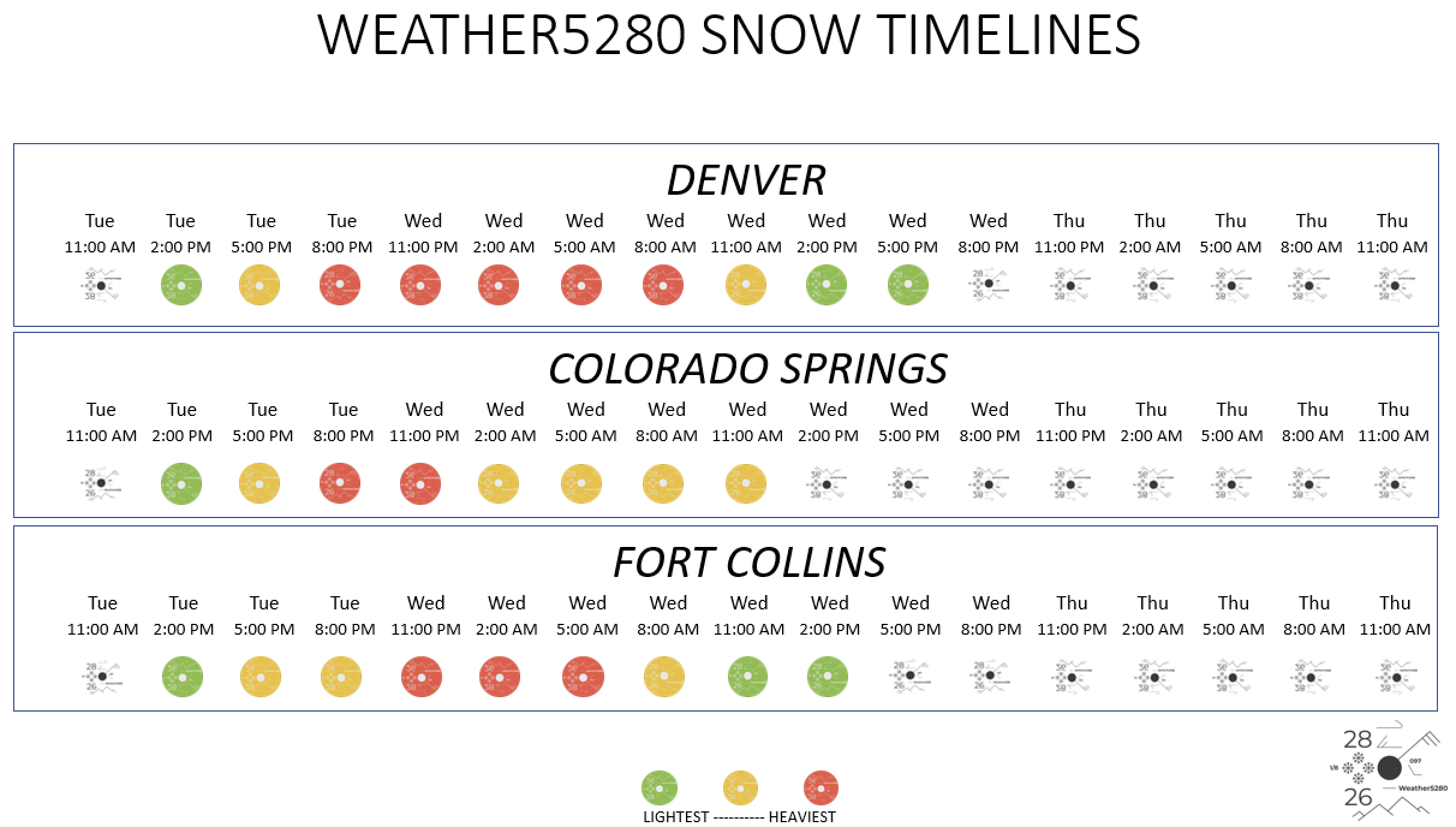 The data
We'll be watching for any shifts in the speed and track today as those two things will make our break this forecast. So far, things seem "on track", and the speed of the system seems to want to slow slightly (which would mean greater snowfall totals), though we still have concerns this system will eject too quickly across eastern Colorado, which would greatly limit snowfall totals if this occurs.
The low is over the Great Basin this morning and will move into the Four Corners Tuesday evening before moving across the southern Colorado border and eventually moving into Southeast Colorado Wednesday morning.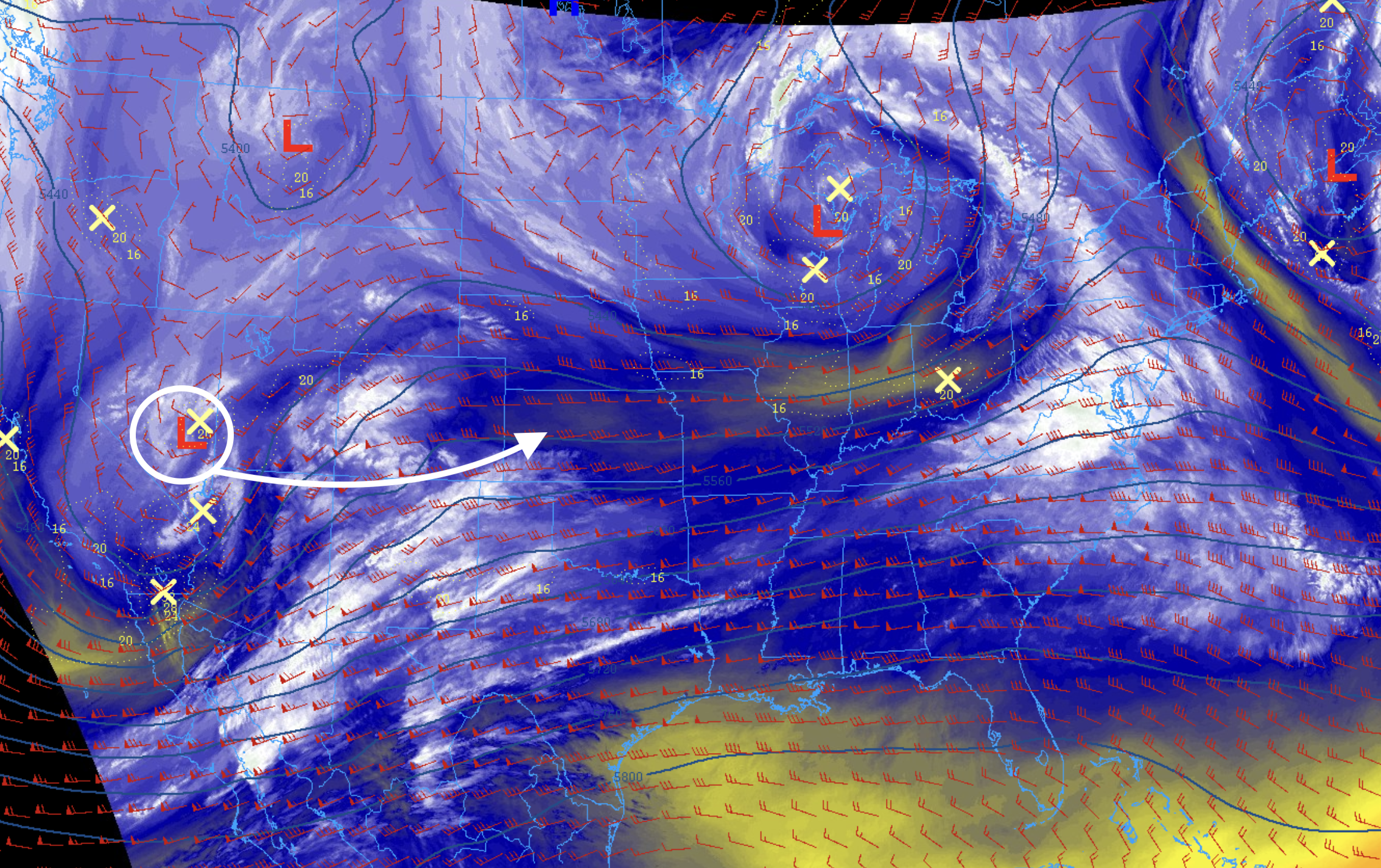 As it does we'll see rain and snow increase across the state today, for the southwest mountains first, then eventually spread into northeast Colorado this evening and overnight. The snow should come to an end across the northeast plains Wednesday afternoon: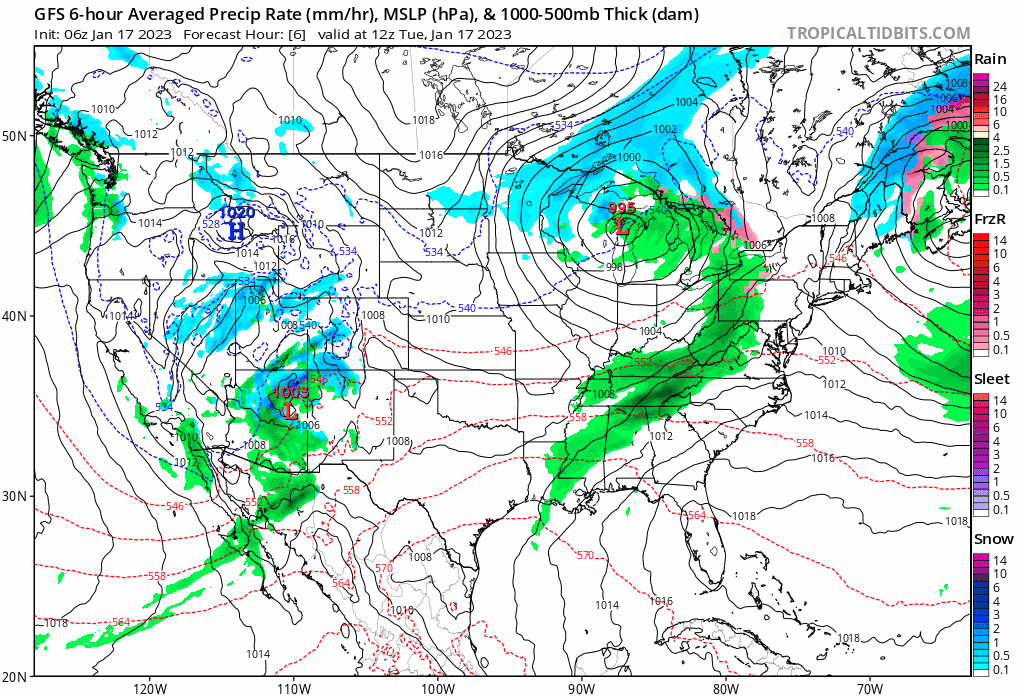 The NWS blend of models shows 0.7" to 0.8" of liquid across the Denver area from this system (quite wet for January, by the way) which is supportive of totals in excess of 8" of snow from this event. The heaviest precipitation for the urban corridor is forecast to fall south of Fort Collins and north of Monument, then extend east/northeast along the I-76 corridor into Nebraska: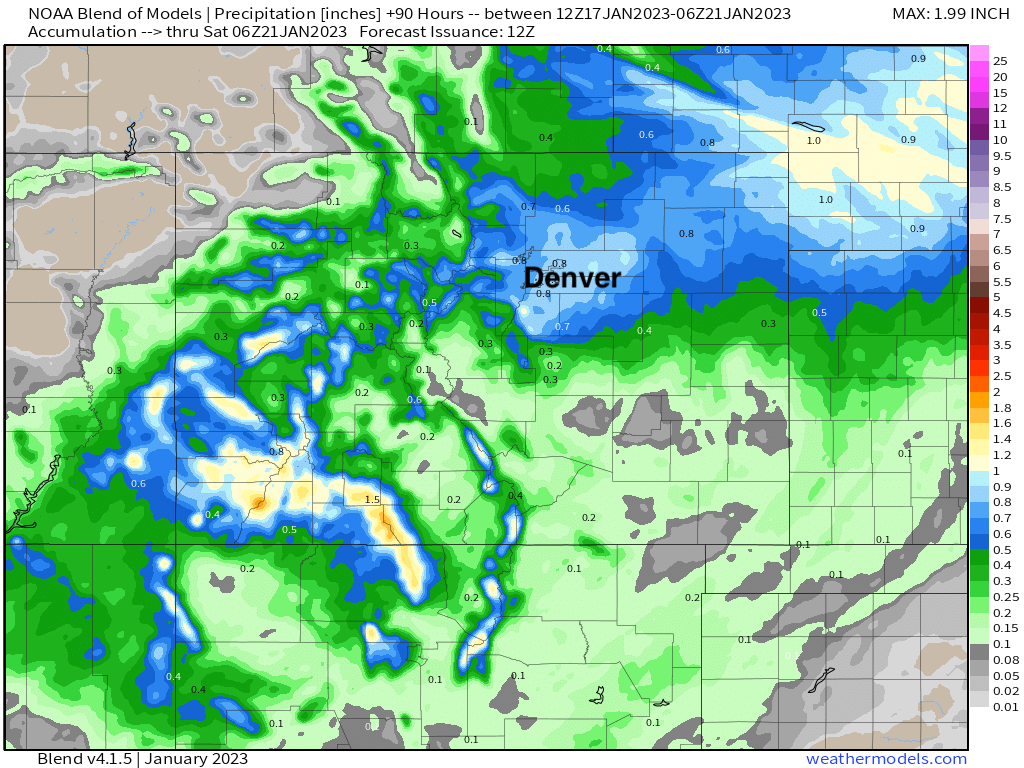 Nearly all modeling is in good agreement now with this system. Even the SREF which has been slow to get on board with higher totals shows 7 - 9" across the metro area this morning.
The lone problem child may be the NAM... its latest run has the Denver area waking up to 1 - 3" of snow Wednesday morning, and hundreds of people logging on to Twitter to complain about the blown forecast! It eventually ends up with 3 - 5" for snow for Denver, but puts a lot of weight on wrap around moisture late in this system and overall moves the low very far east quite quickly Wednesday, which isn't confidence inspiring.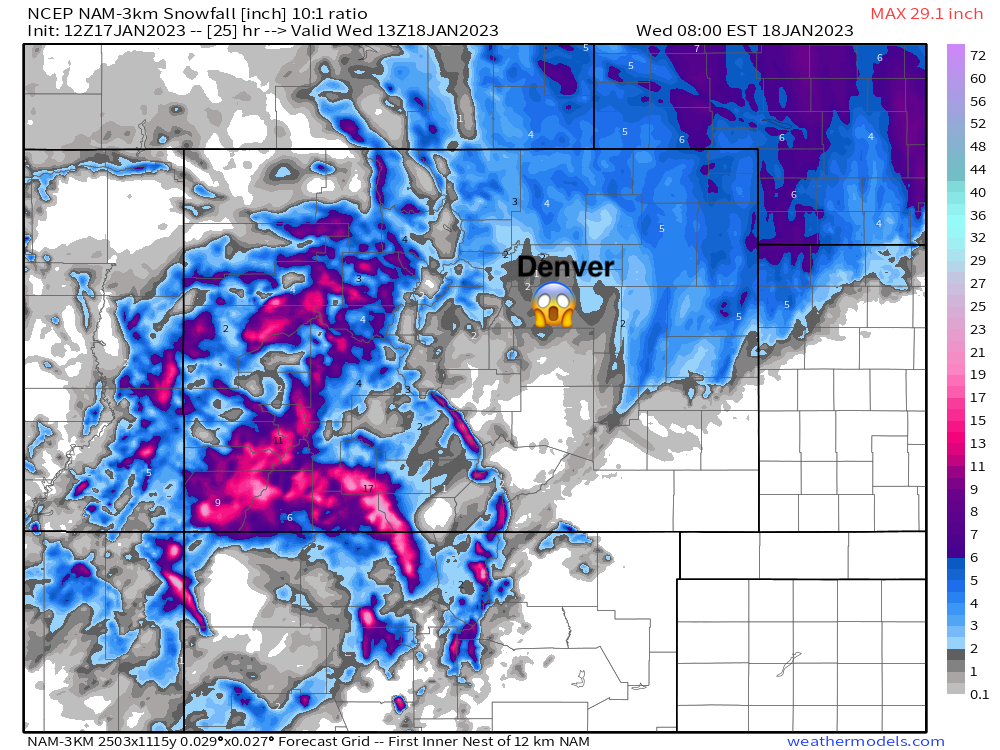 The good news here is that it's an outlier at this time, and of course this important scientific fact when it comes to the European, GFS, and NAM models: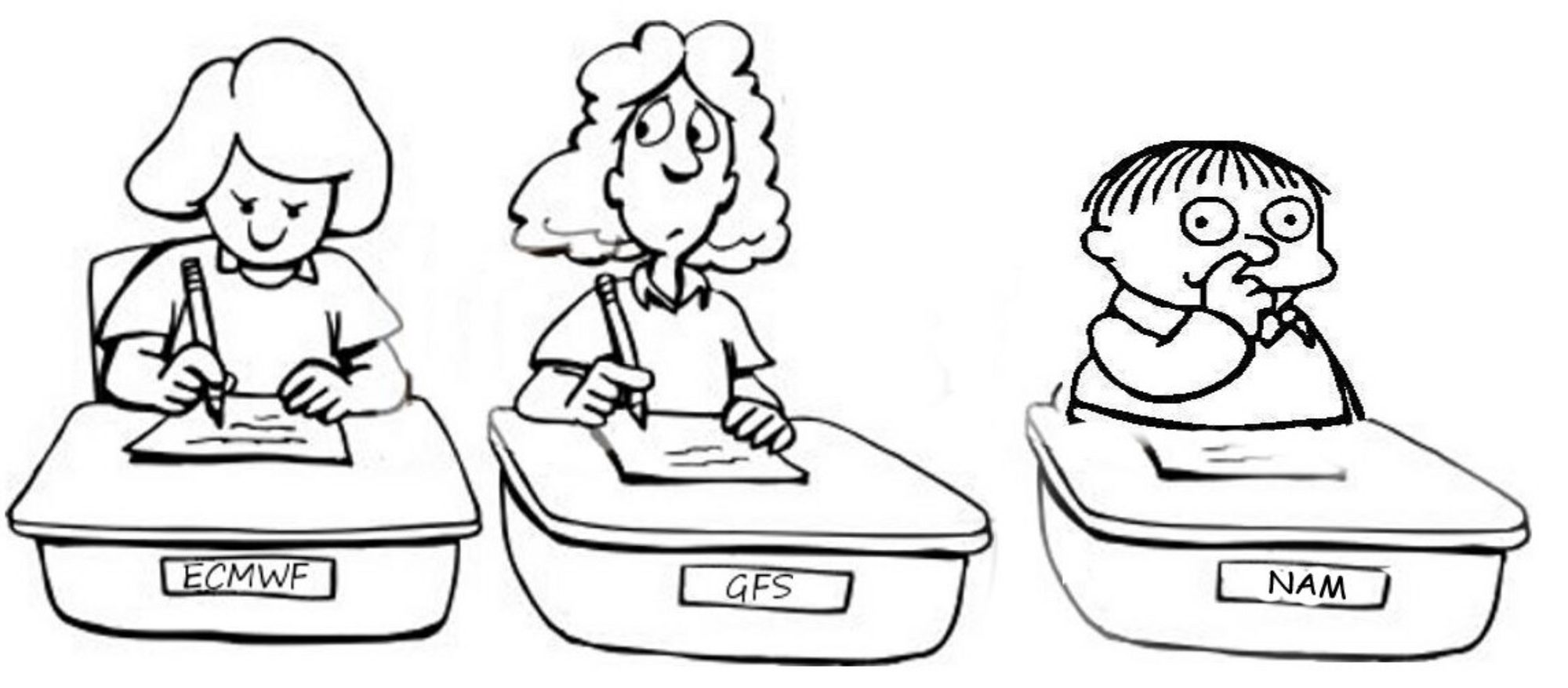 The other short term/high resolution model that is in this morning remains on track and has actually done well with storms this winter. It's got 6 - 9" across the Denver area valid the same time Wednesday morning as the NAM above, with moderate to heavy snow ongoing. For our forecast's sake, we'll take this please.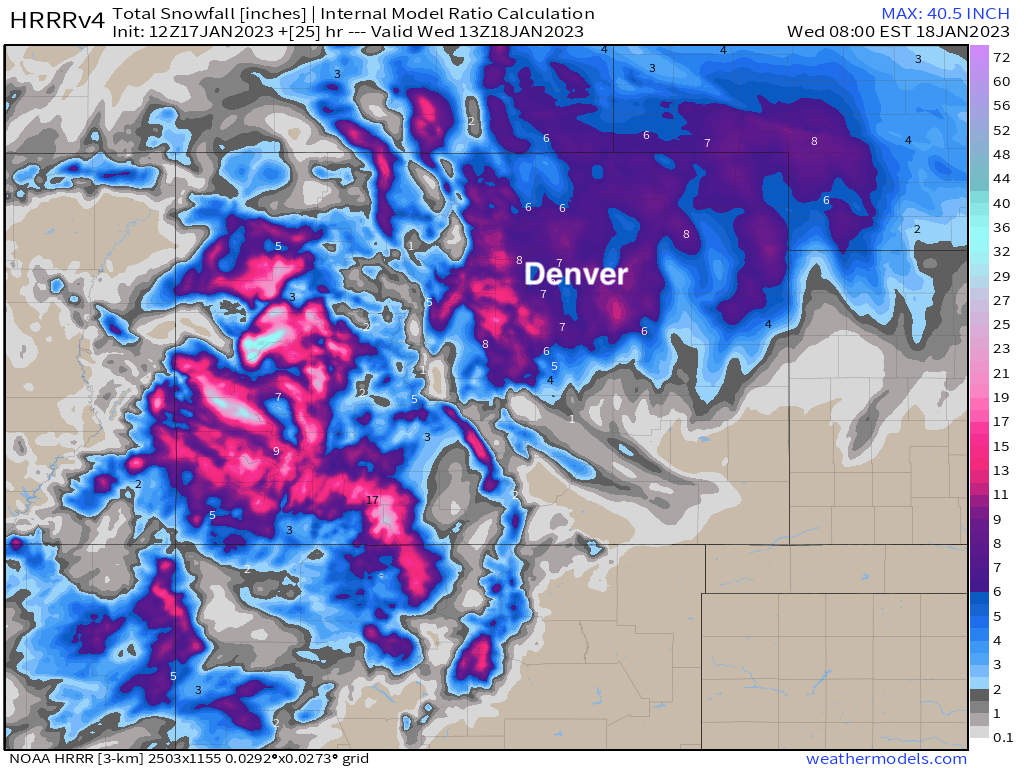 We'll be tracking things here all day today and offer an update as needed. For now, the forecast looks as steady as it ever does, and it's a bit of a wait and see to see if concerning trends (for our forecast) start showing up in observations today or any of the modeling.
As always, keep us posted in the comments below as the snow starts to fly (or doesn't in the case of the NAM!), and don't forecast to subscribe to weather5280!
How this storm is impacting the whole country, and get ready for a pattern change of sorts: