We continue to track a storm system that will deliver rain, snow, and wind to Colorado this week. Despite "good" model agreement in recent days, our confidence in this system has been relatively low when it comes to details on who ultimately sees how much snow in the end.
In yesterday's update we showed where model data currently sat with regard to how much snow guidance was producing for Eastern Colorado. We also discussed that much of the data was showing a southern shift in the heaviest precipitation (snow) – a trend which looks like it continued overnight.
While yesterday's model consensus was around 4 - 8" of snow for the Denver area, with greatest totals to our west and south across the Palmer Divide, overnight data cut into those totals across the board, and in some cases significantly. So, as of Sunday morning here's what's known/unknown about the upcoming system: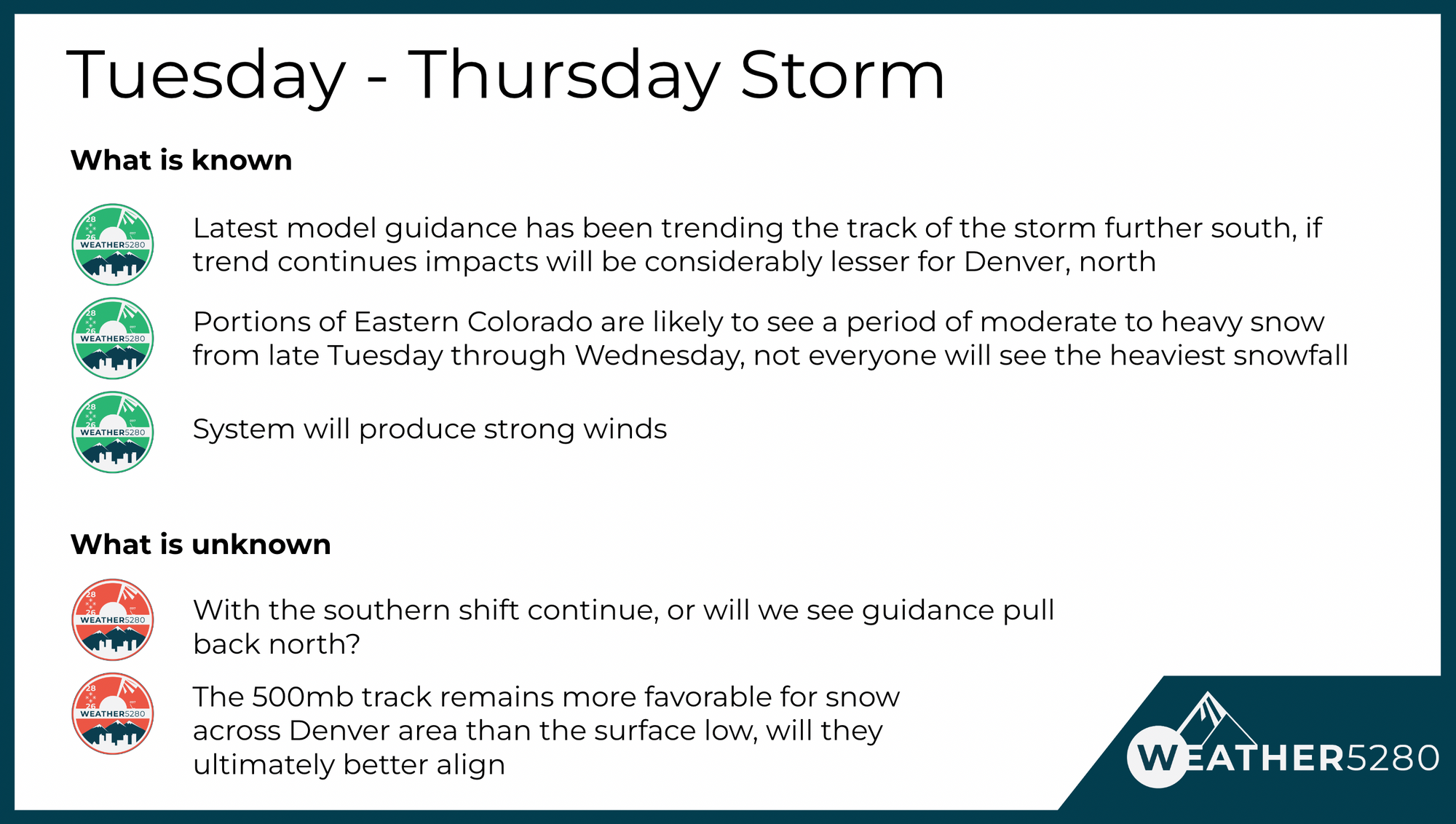 Before the "main event" moves through midweek, a quick-hitting system will pass to our south Monday into Tuesday. For most of the metro areas we won't see much of an impact, but portions of southern Colorado will see some rain, snow, and wind as it passes through.
For Denver, the initial system probably won't produce much in the way of showers, for Colorado Springs (timeline below) there will be about a 20 to 30% chance of showers Monday, with great precipitation chances arriving Tuesday night with the second system:

Here is a look at the upper level map valid Tuesday morning: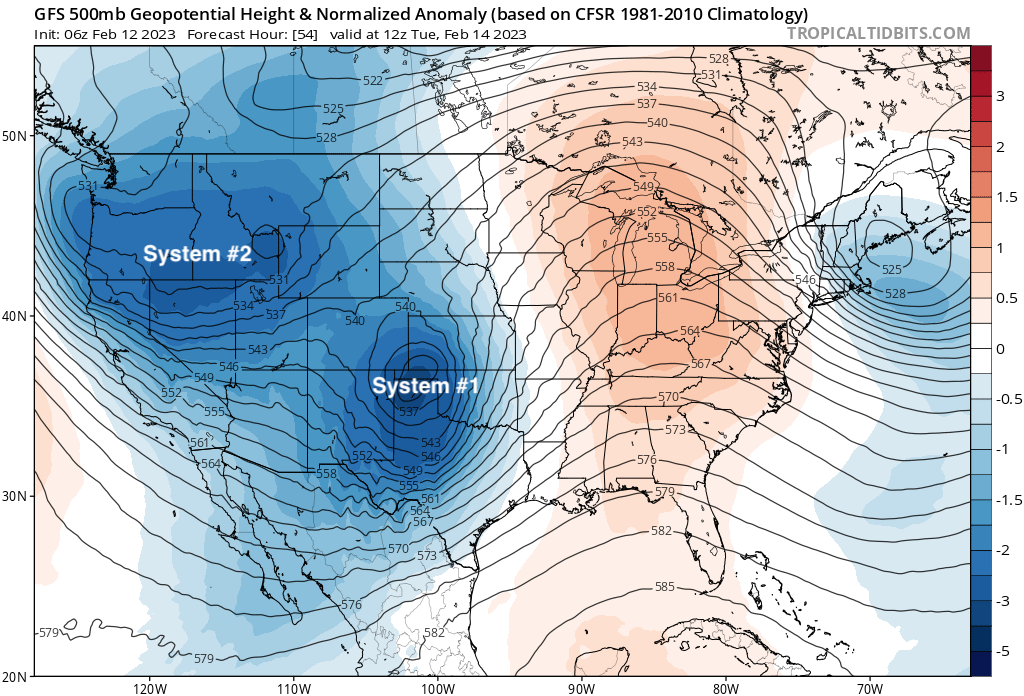 By Wednesday afternoon the first system is long-gone, with system number two moving through the region and bringing that chance of snow to the state: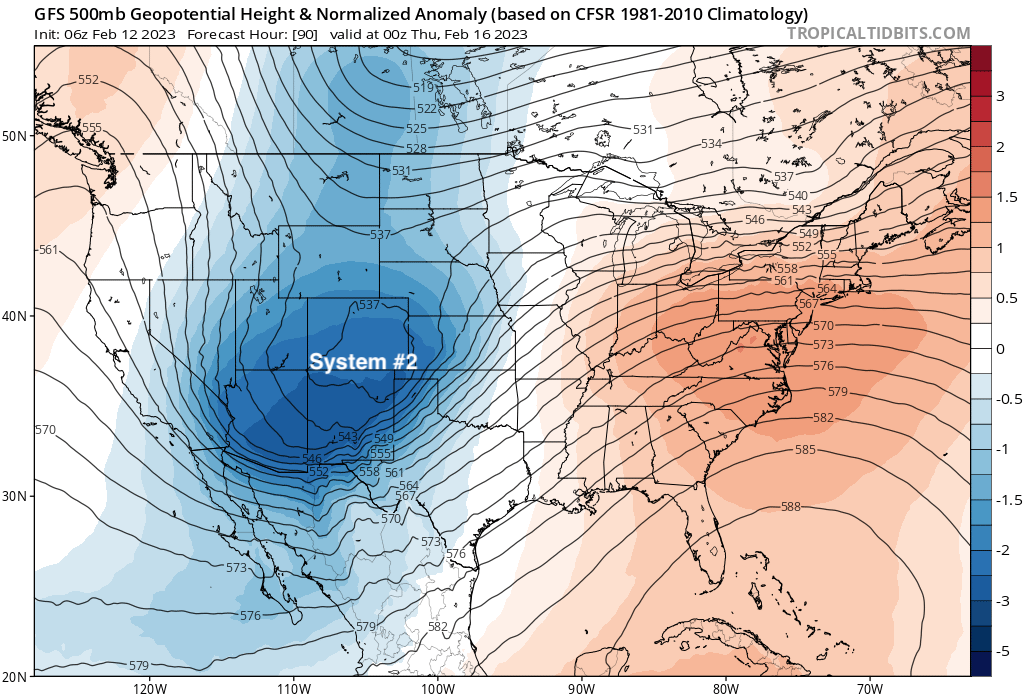 In theory, the position of that low still looks pretty good for snow around here. It's got some imperfections, but... just about where you'd like to see it for snow across the greater urban corridor.
At the surface though, we continue to see models pulling the low further south and southeast. If you watch the animation below, you'll note the cluster of red numbers (various ensemble member positions of the low) tracking further south over the last 4 runs. Each image is valid Wednesday morning. Prior runs had a lot more members in southeast Colorado/the OK panhandle, while the most recent run focuses most of the members a couple hundred miles further south. In some ways subtle, but also quite impactful to our snow potential if this idea holds/the trend continues.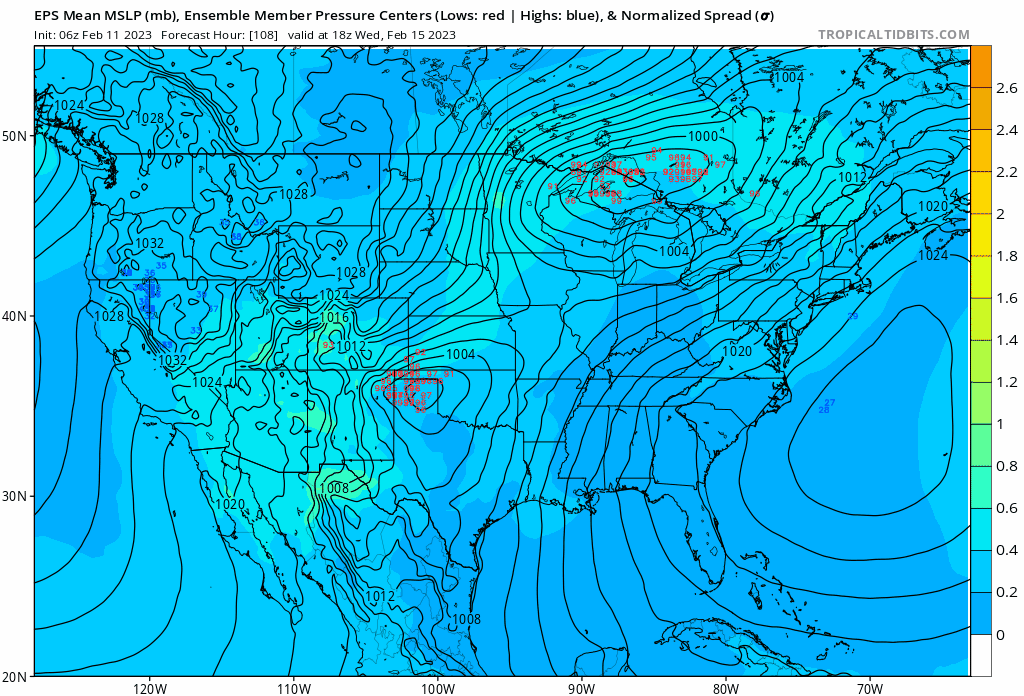 For example – below is a look at precipitation output from the European yesterday vs last night.
The Older run produced 0.4 to 0.5" of liquid across the Denver area (4 - 8" of snow):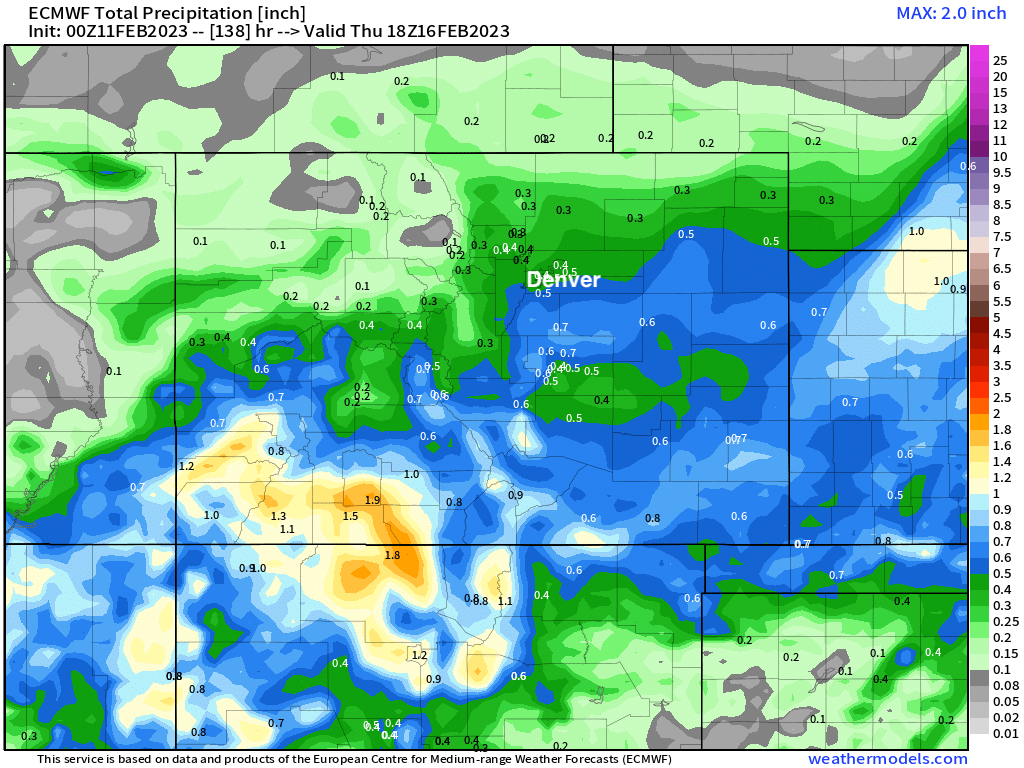 The Newest run produces 0.1" to 0.3" across the metro, cutting totals by more than half in some cases (!). This run has no QPF totals of 0.5" or more anywhere across the Denver/Colorado Springs area, with all of the heaviest precipitation focused well to our south and southeast: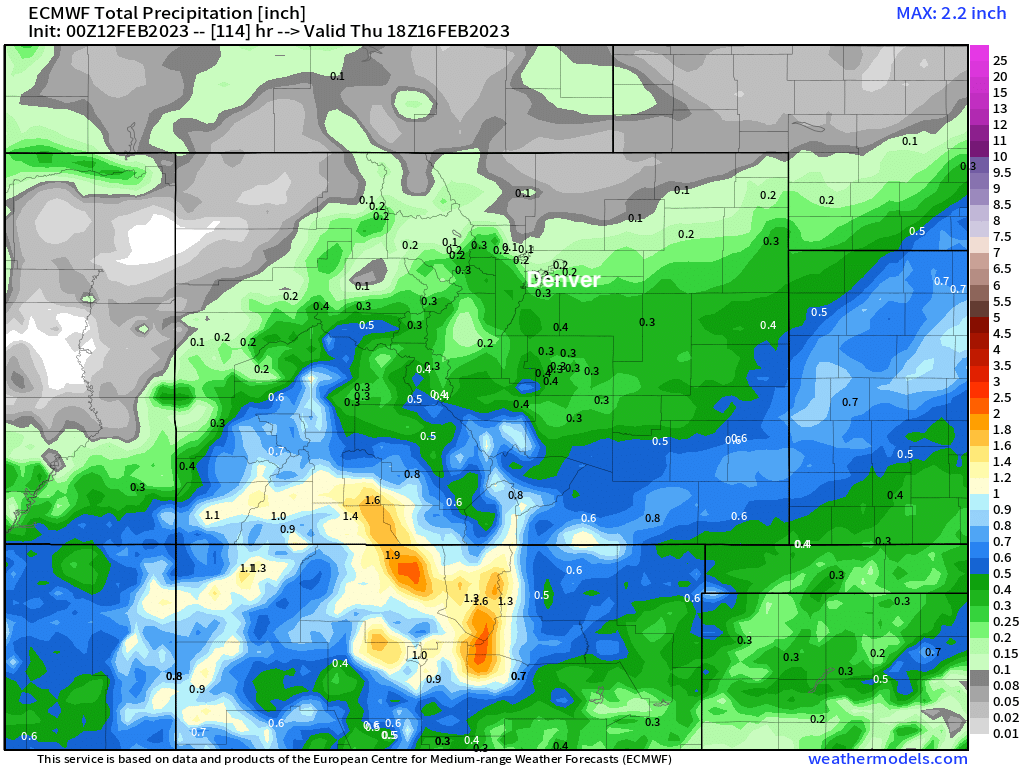 With that, here's the current probabilities for 3" of snow or more through Thursday morning – just 20 to 30% now for Denver, a bit higher still across the Palmer and even COS, but overall a downward trend from yesterday to be sure.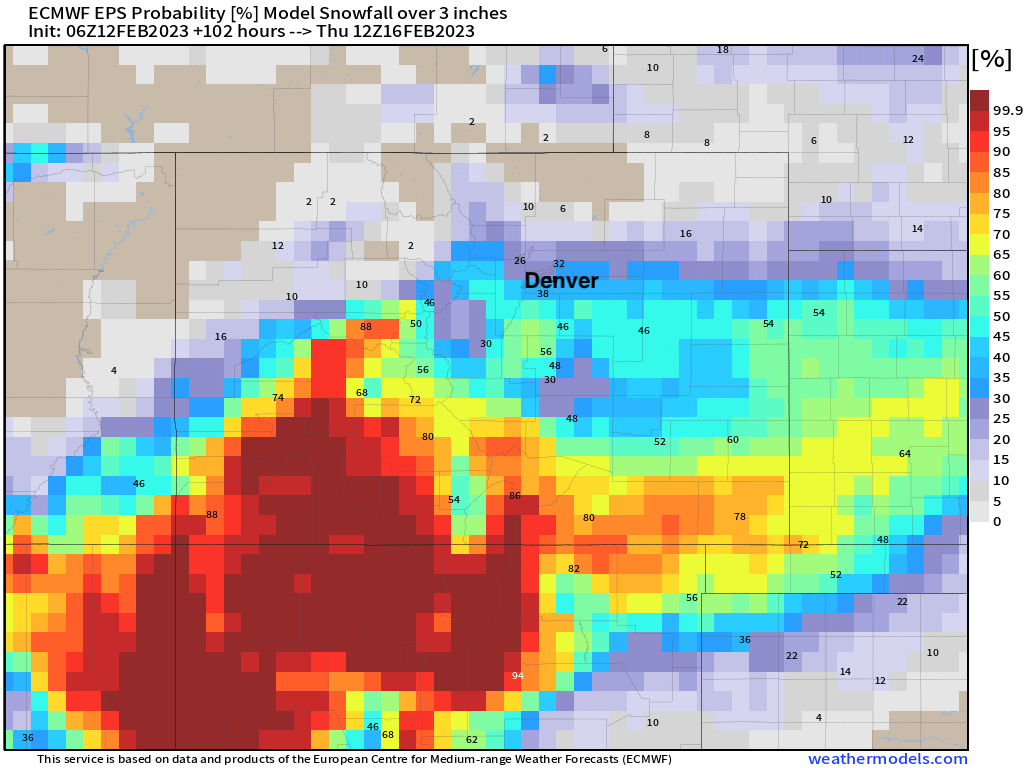 Now, we are still a couple of days out from this system moving through, so let's just be patient and see how things ultimately unfold. If you are hoping for a big snow, the current trend is not your friend. Plenty of time for that to change course, and like we said above, the overall "look" of the system would suggest a swing back north could still occur... but with ensemble data lacking much potential here, we are starting to run out of time for things to reverse. Let's see what today's data holds!
Stay on top of this storm(s) with our snowfall forecast to come out soon – subscribe to our email list today – it's free, and we send you an email when there's important information and forecasts to deliver.