Good snowy morning everyone! As the storm continues to unfold across the region we thought we'd quickly check in on what to expect through the remainder of today and overnight, as well as share the latest snowfall totals we have with you all, a list that will be updated as the day progresses.
Snowfall totals through 7am Thursday
Fort Collins: 2-3" (Forecast 1 - 4")
Boulder: 7-9" (Forecast 5 - 10")
Denver: 3 - 7" (Forecast 3 - 7")
Castle Rock: 3-7" (Forecast 5 - 10")
Colorado Springs: 2 - 5" (Forecast 2 - 4")
Pueblo: 4 - 12" (Forecast 5 - 10")
These are rough ranges from CoCoRaHS Thursday morning. Please let us know, down in the comments section, what totals you have in your backyard. Even as of 7am we are within our forecast range in almost all cases above. From looking at totals across the region, it looks like the greater Castle Rock area will be in greatest danger for a "bust", but we've added to these totals already, and have more snow to come... so we think we'll ultimately verify here as well.
Bottom line, some good snowfall already from this event, and more to come. If you don't have to be out on the roads today, don't! Here's a look at the Castle Rock cam along I-25 this morning, and while traffic is moving, a bit of a snowy commute to be sure.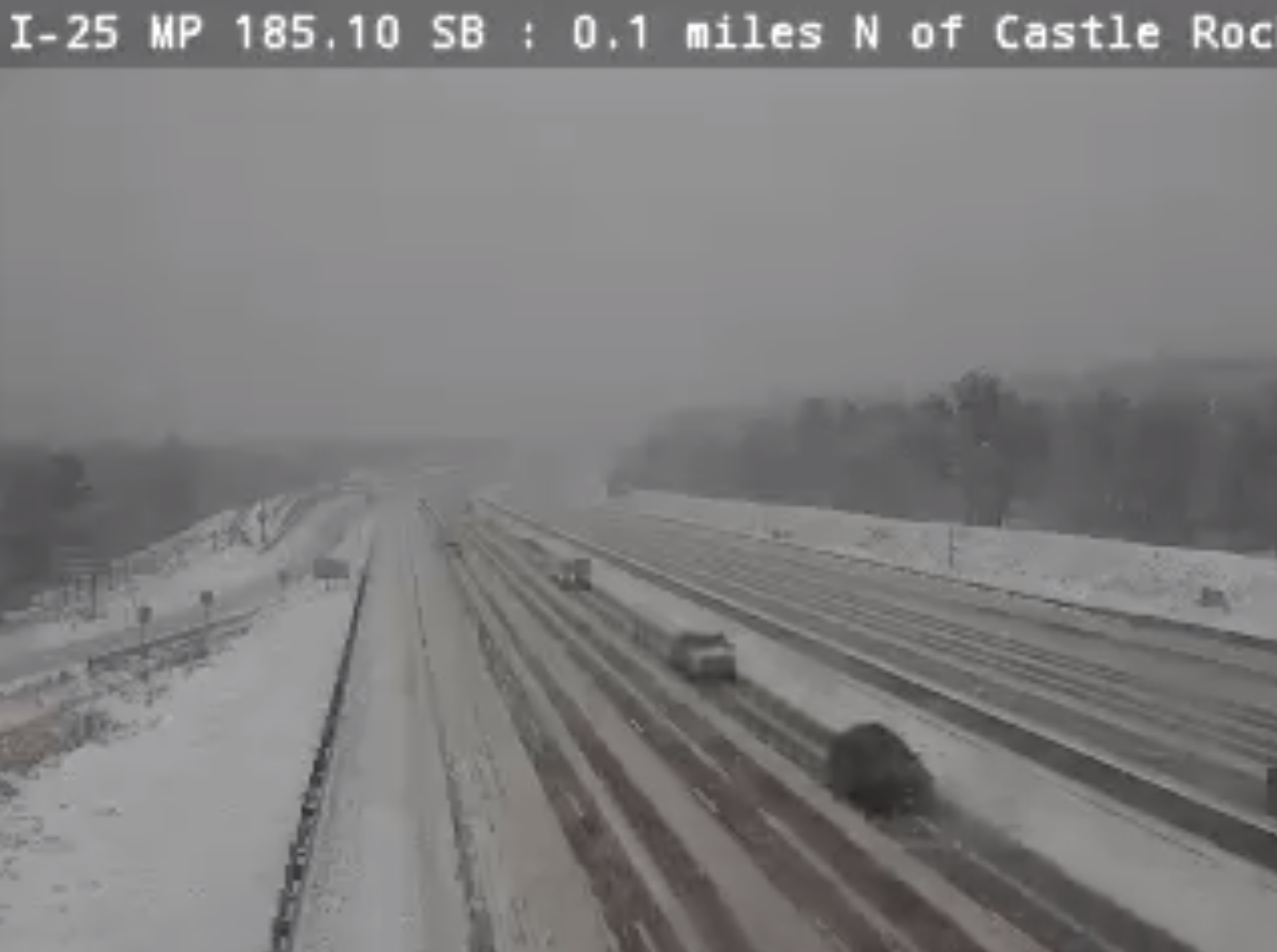 Storm update
Now for the storm itself... which, overall, remains on track.
As a reminder, here is our statewide forecast issued yesterday. You can find our full storm discussion, and zoomed in map for the Denver area here.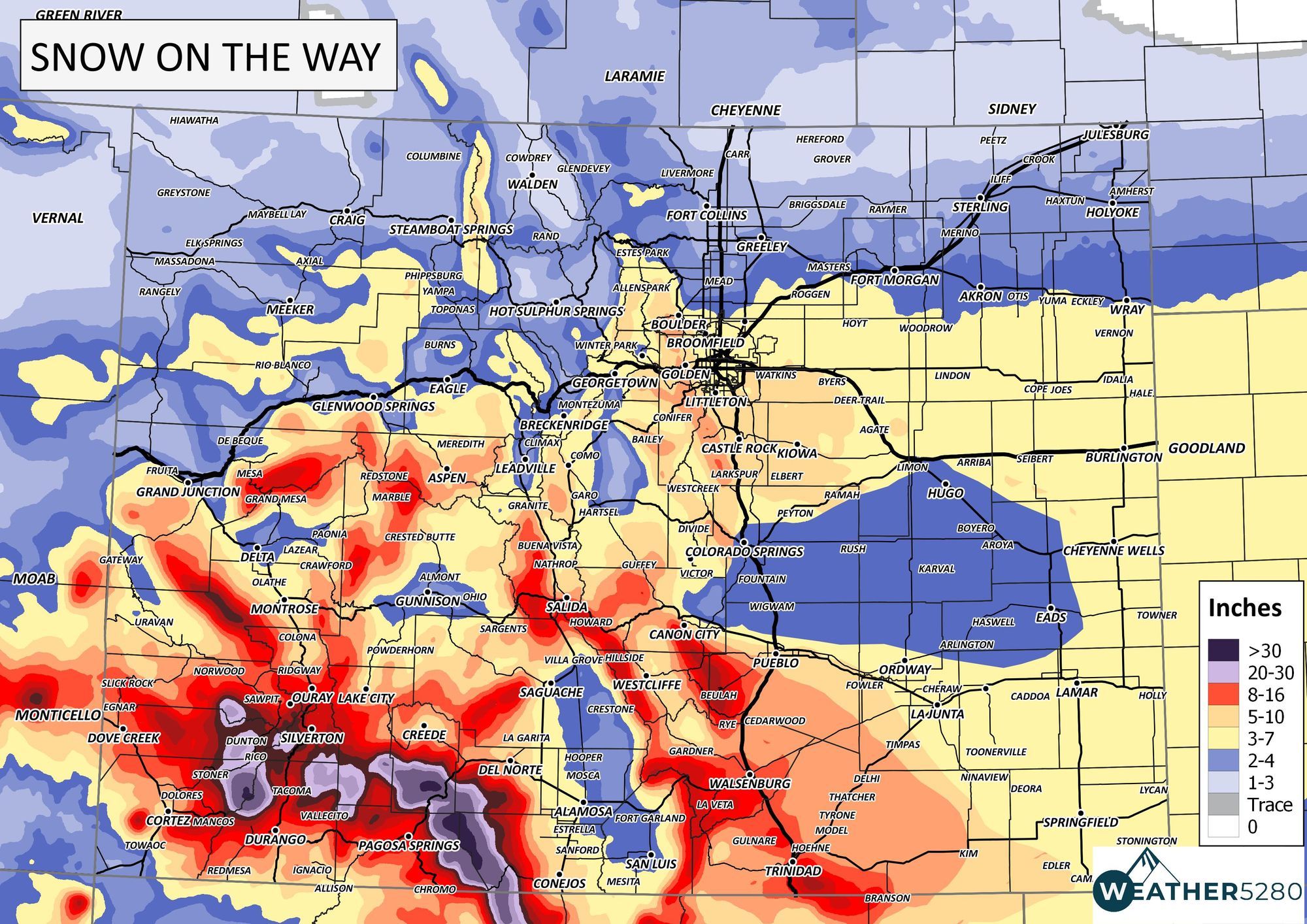 While we still have snow across the entire region as of mid morning here on Wednesday, the heaviest snowfall is beginning to focus itself across the Southeast Plains of Colorado. Here (outlined in pink below) is where we expect the heaviest snowfall to occur in the coming hours, with 1 to 1.5" snowfall rates possible.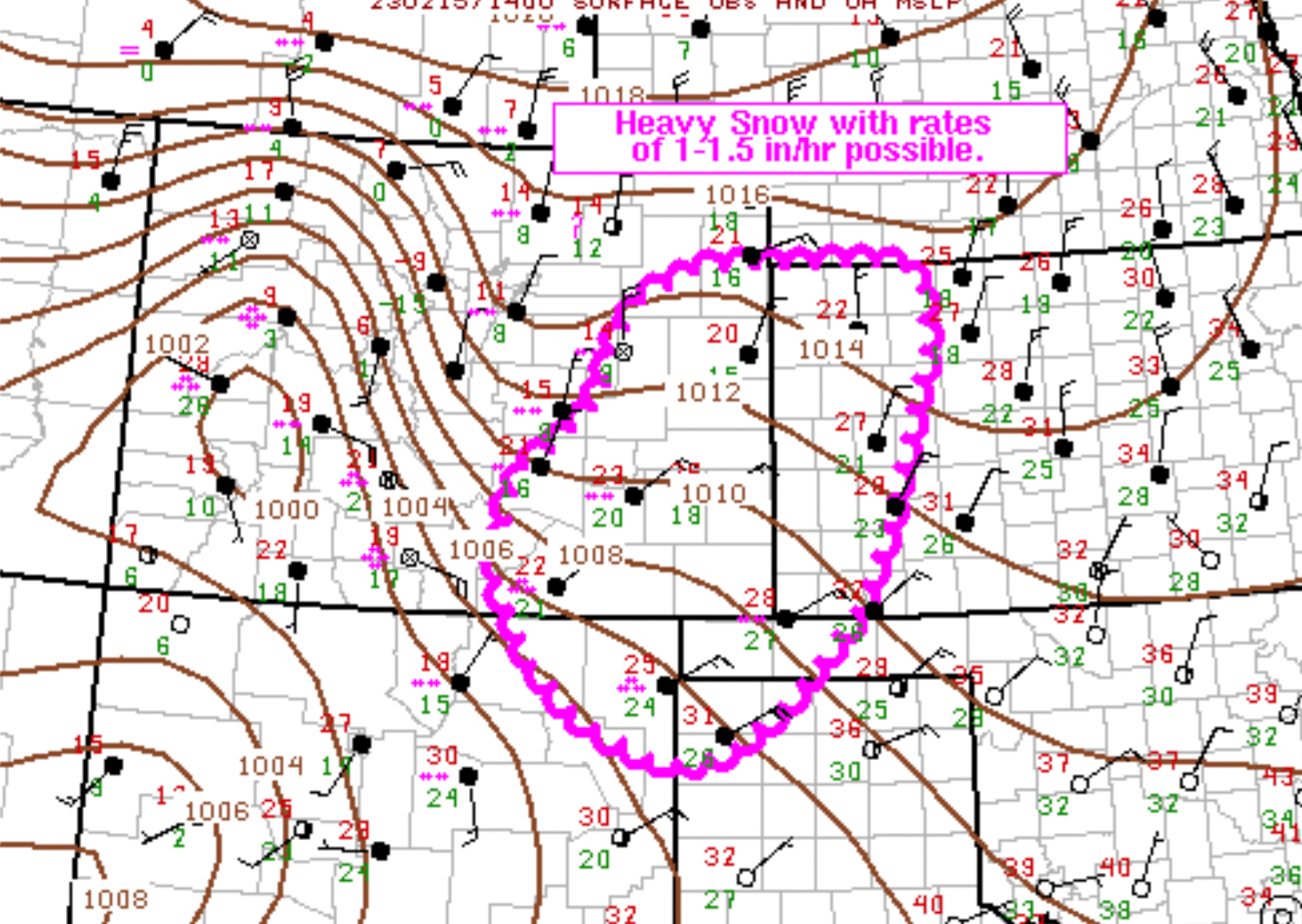 At 500mb (mid-atmosphere) we see the low now centered over the Four Corners, a good track for snow across eastern Colorado as we see. Meanwhile, at the surface, the low will soon be getting east of the Rockies, and as it does so it should take a fairly southerly track. This, combined with good jet dynamics, should really continue to focus the heaviest snowfall through the remainder of the event south and southeast of Denver and Colorado Springs.
If we are to believe the latest HRRR model, we should expect another 1 - 3" across the Denver area through the reminder of the event, with perhaps as much as 3 - 5" across portions of the Palmer Divide. The further north and northwest you live, the less additional snow you should expect today.
Much heavier snow will ultimately focus itself over the far Eastern Plains of Colorado, as well as south toward the state line and into New Mexico and the panhandles. Light snow will continue for all areas for another couple of hours, but gradually the focus in the greatest intensities will move east of the I-25 urban corridor.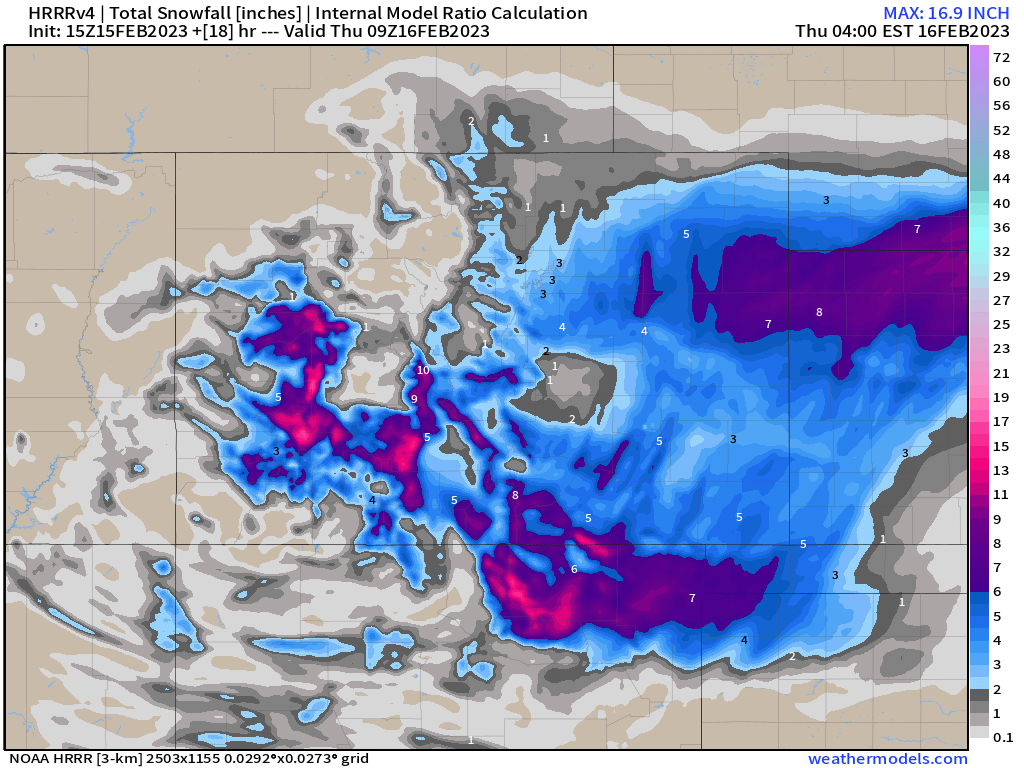 As for timing... don't expect much clearing through the remainder of the day. Temperatures will remain very cold along the urban corridor, with snow showers in the forecast well into Wednesday evening. Overnight lows tonight will be in the single digits, with highs climbing to just above freezing on Thursday before warming up nicely on Friday.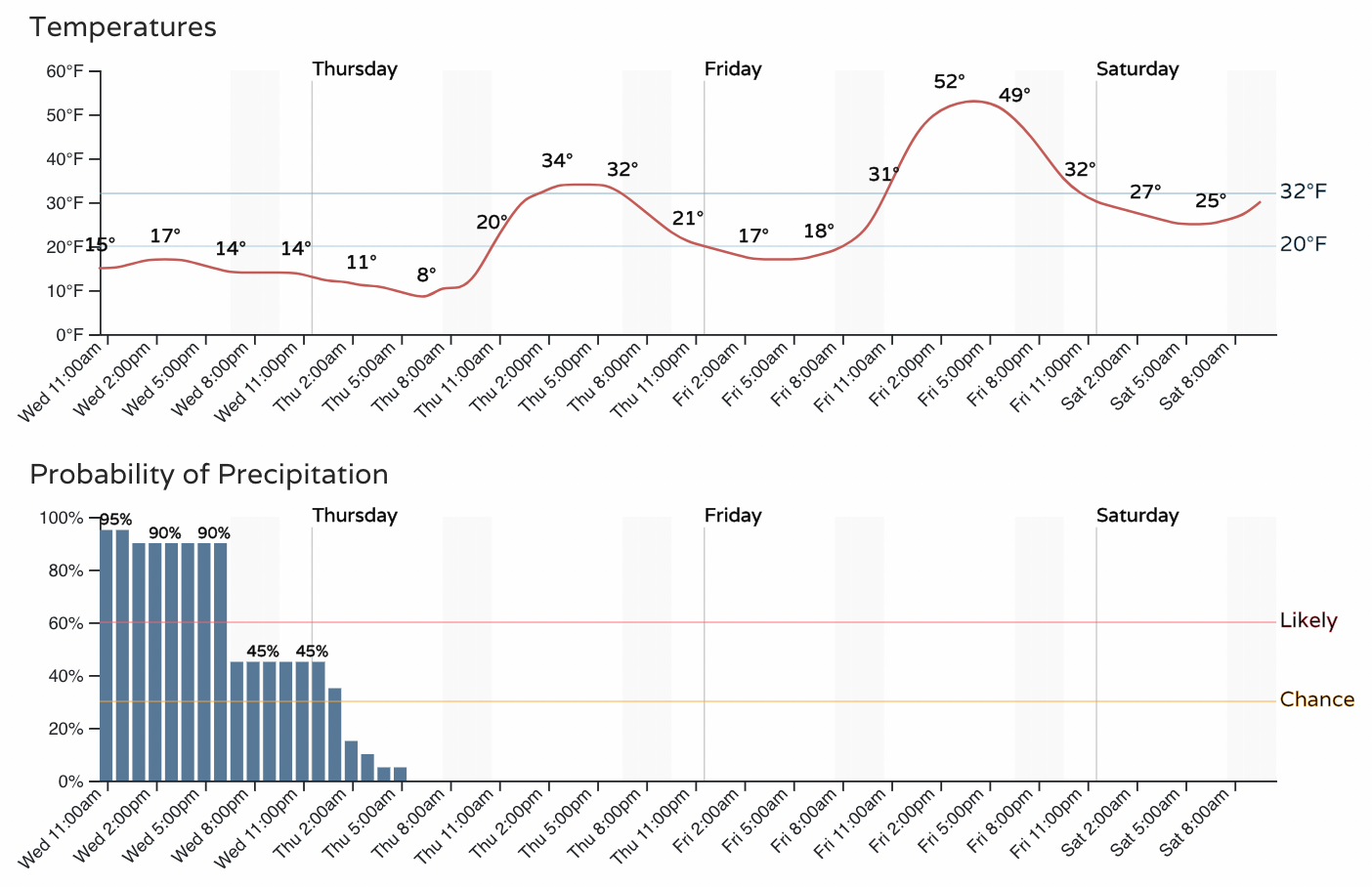 We'll keep updating the totals as we see additional reports come in. For now, do your part and – subscribe to our email list today – we send you an email when there's important information and forecasts to deliver!