As discussed in our last post, there will be a need to upgrade the Winter Storm Watch, at that time, into Warnings and Advisories and that's just what happened today. Below is a look at the latest alerts from the NWS for our area, quite a busy map: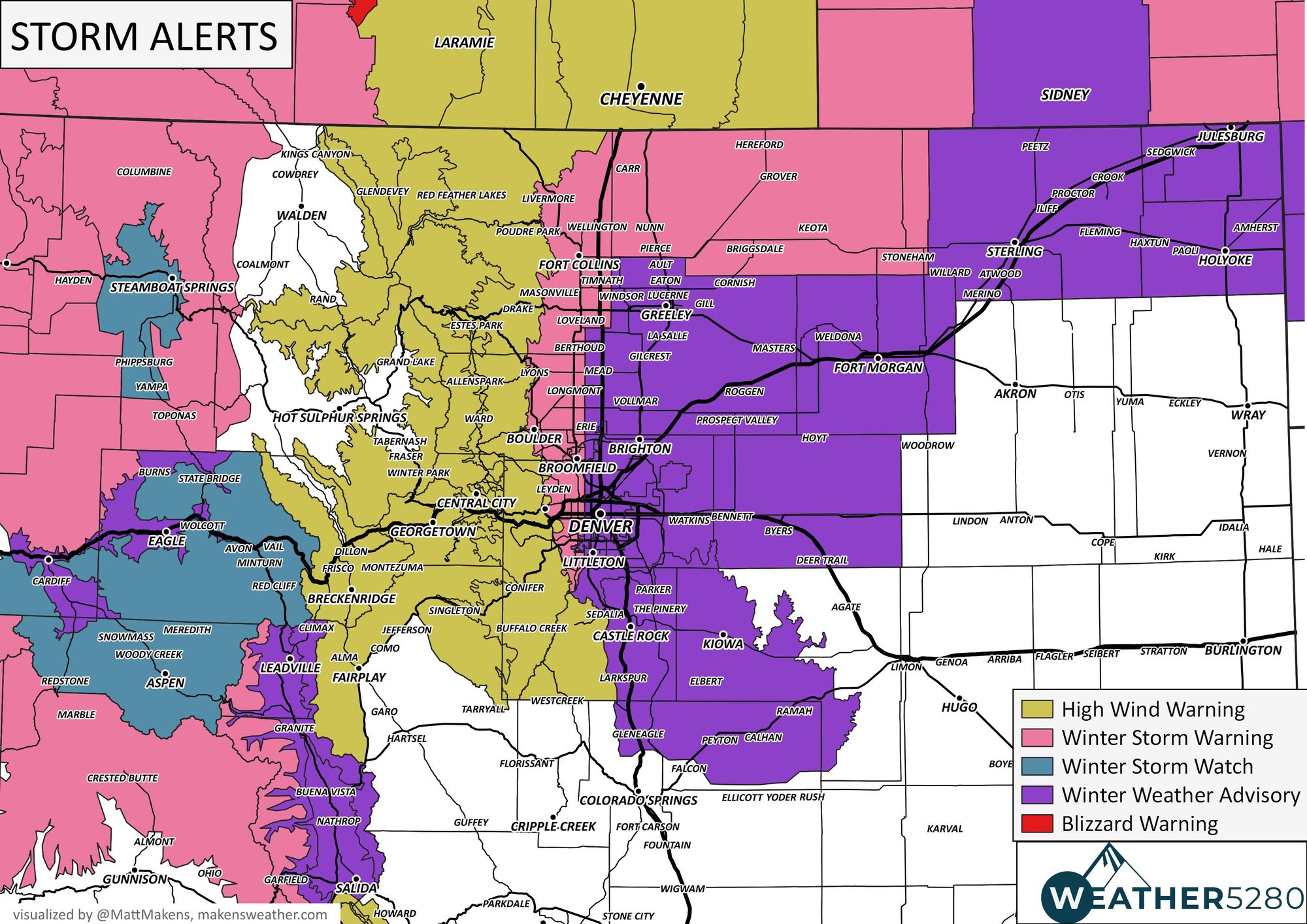 For perspective, take a look at the alerts across the entire region (below) with a significant portion of the CONUS under winter weather highlights today: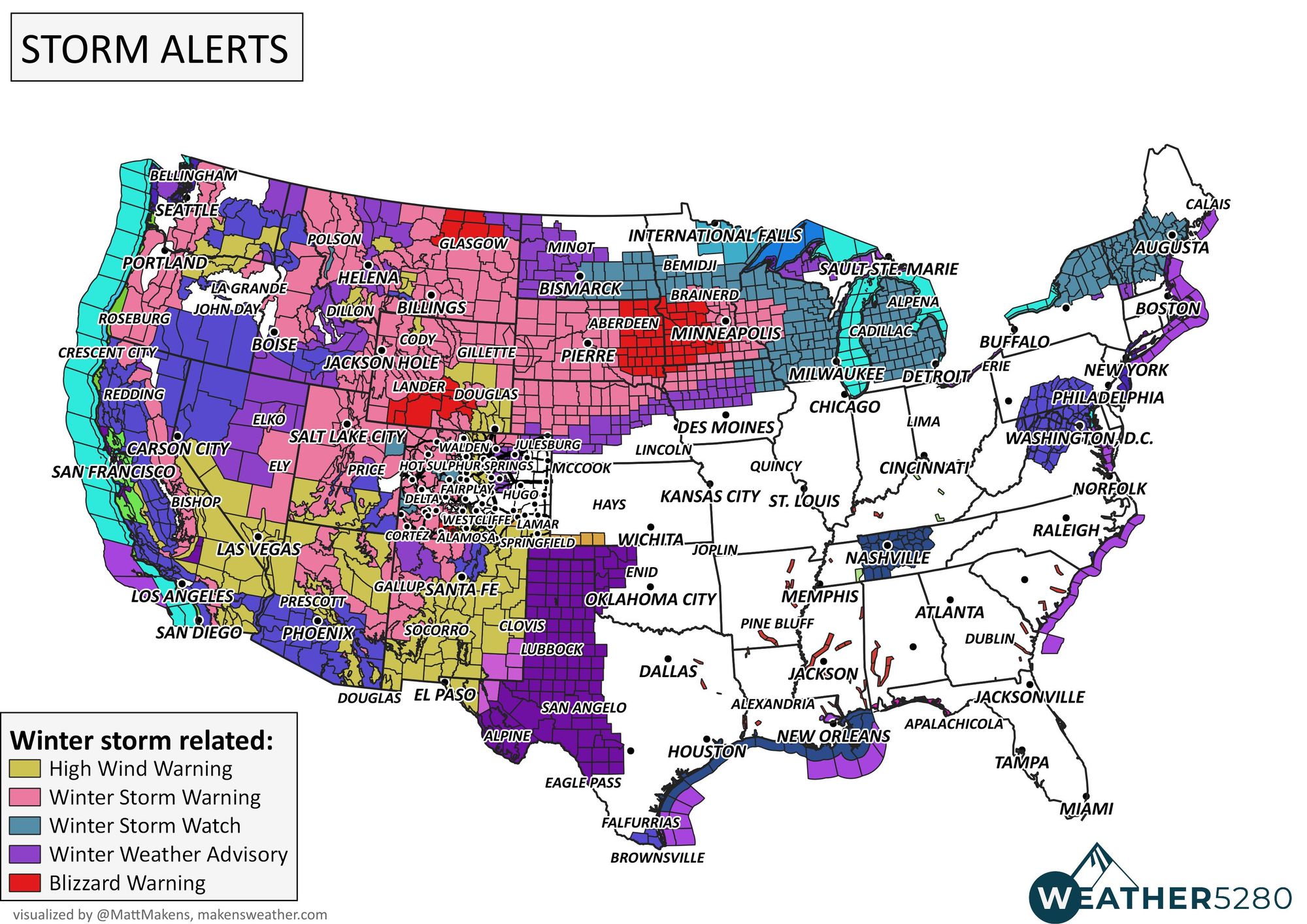 A Winter Weather Advisory early Wednesday morning for Denver and lasts all day. There's a warning for similar times in the foothills to the west of the city, and across NoCo; Fort Collins is in a warning area. The difference? The amount of snow, and wind. The combination will create travel issues up and down the urban corridor on Wednesday.
Our timeline shows the snow's timeline and intensity. As the storm arrives, let us know when and where you start to see the flakes fly by leaving us a comment in that section below.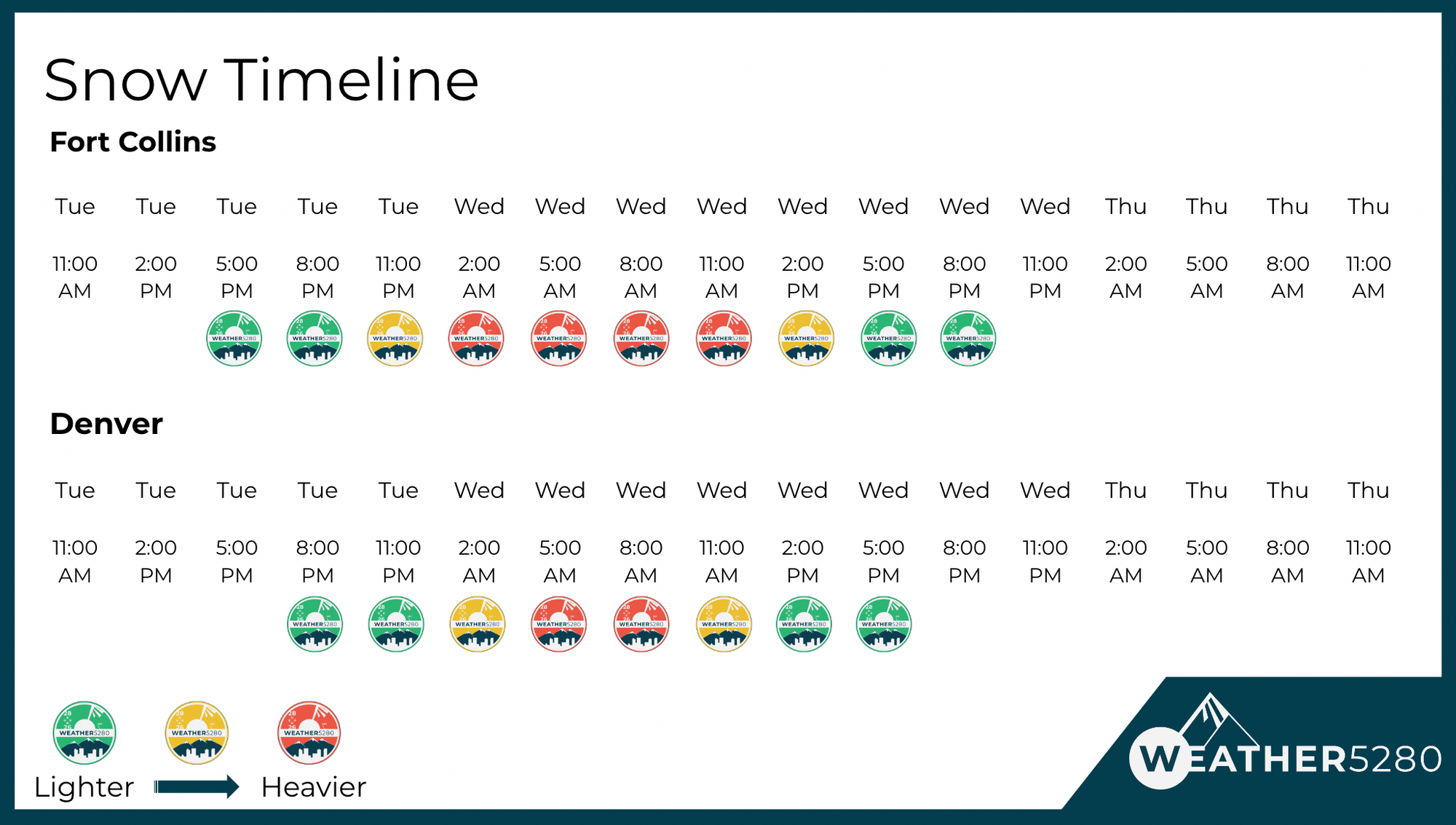 The total impact of wind gusts to 60+ mph in the mountains and foothills, and 45+ mph in the metro areas means we'll be dealing with blowing and drifting of snow as well as the snowfall. A map of the storm's forecast severity index is below, with the worst conditions expected north of Denver, in the foothills, and across the higher terrain of Colorado.
The impact on the roads will be from very early Wednesday morning through the afternoon commute Wednesday.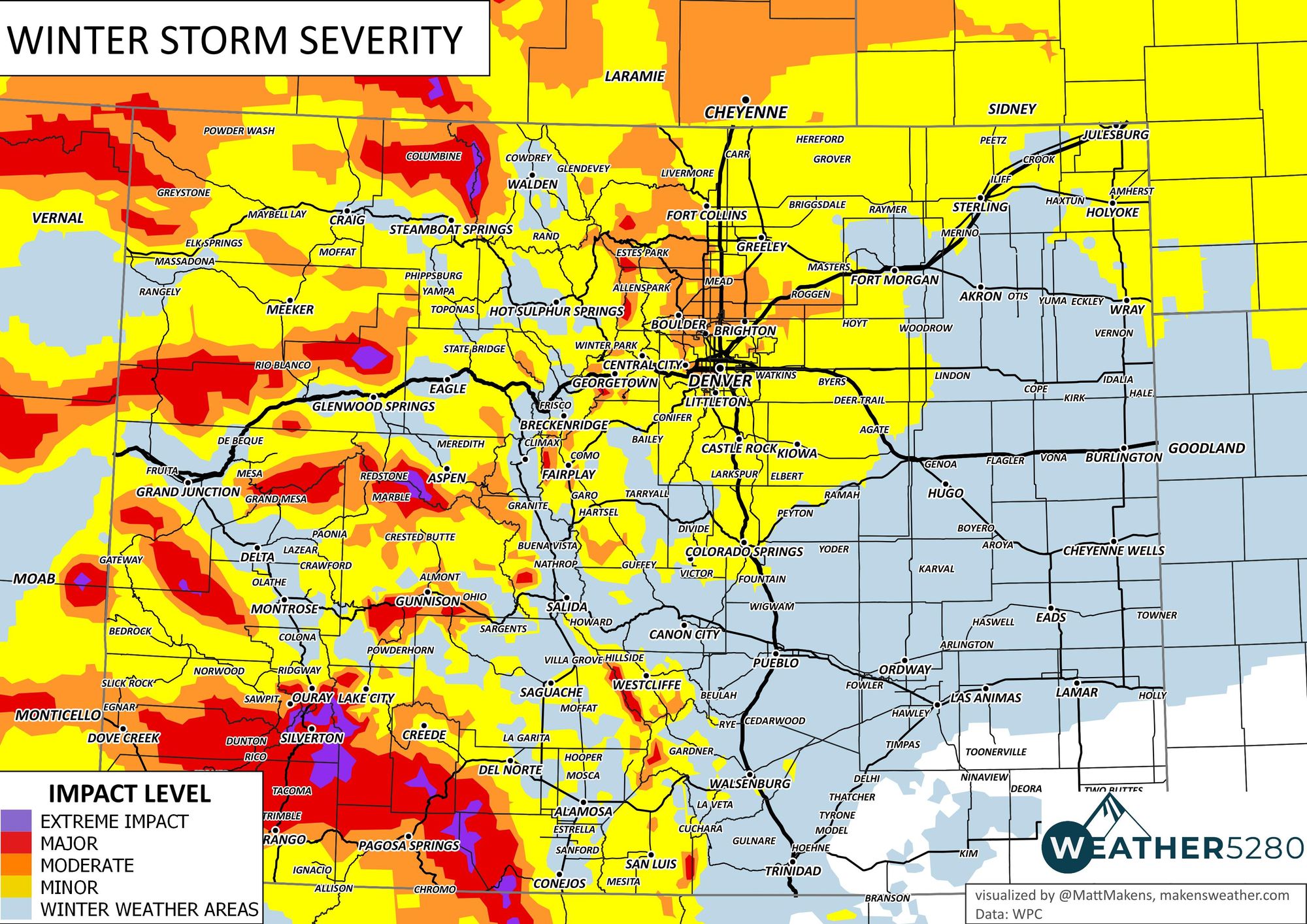 Consider drifting as a result of the wind as you look at these snowfall totals we are expecting, meaning in many cases it will be quite difficult to get an accurate measurement. We have watched data point to lower totals along and east of I-25 and lower on the Palmer Divide, too. However, we will hold with roughly the same forecast numbers as before, and which you see below. The reason? We want to account for any snow band that may setup over the city, and/or Douglas, Elbert, and El Paso Counties. If we see convincing data on the placement of any such heavier snow band, we will adjust the forecast accordingly in a future update.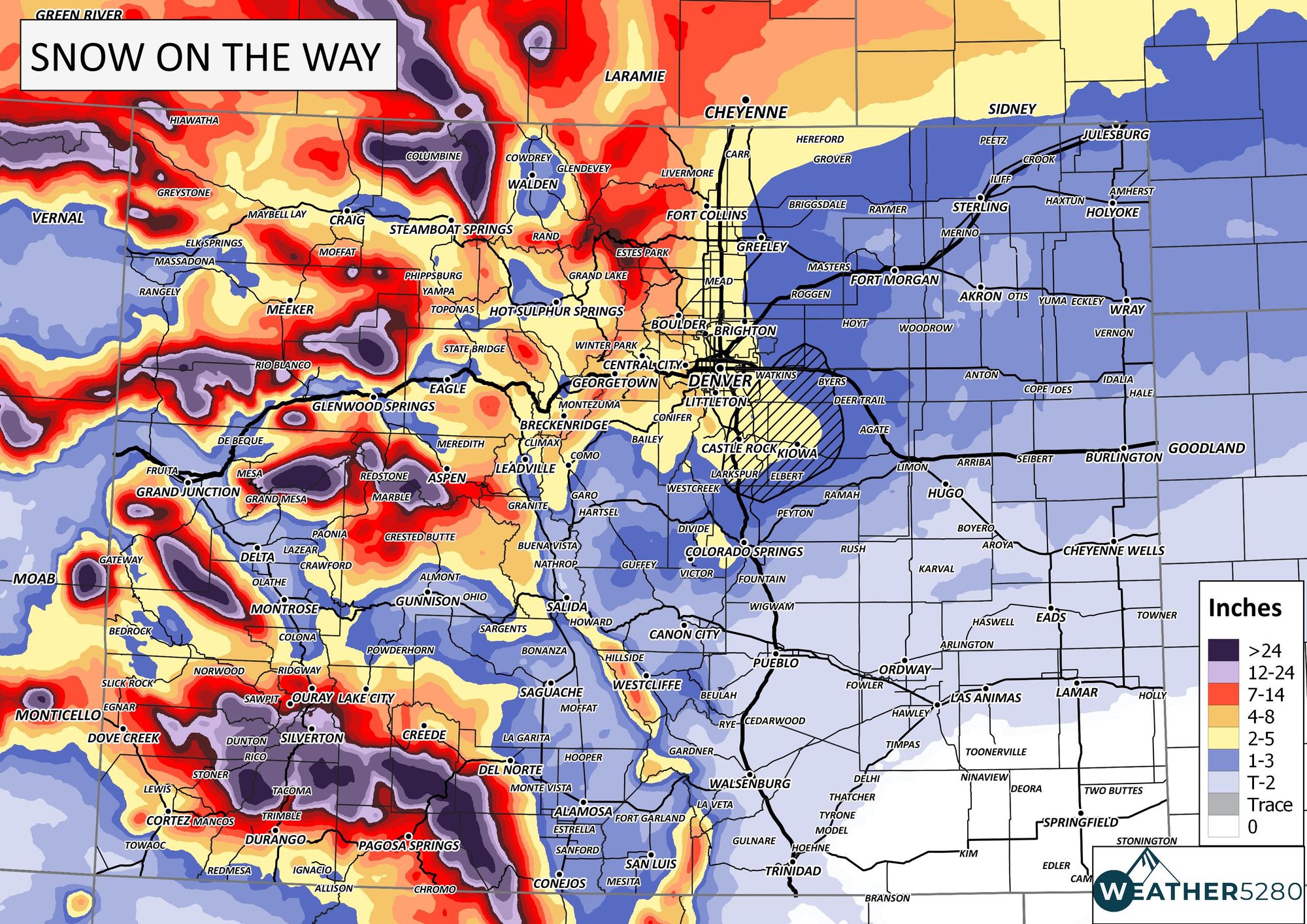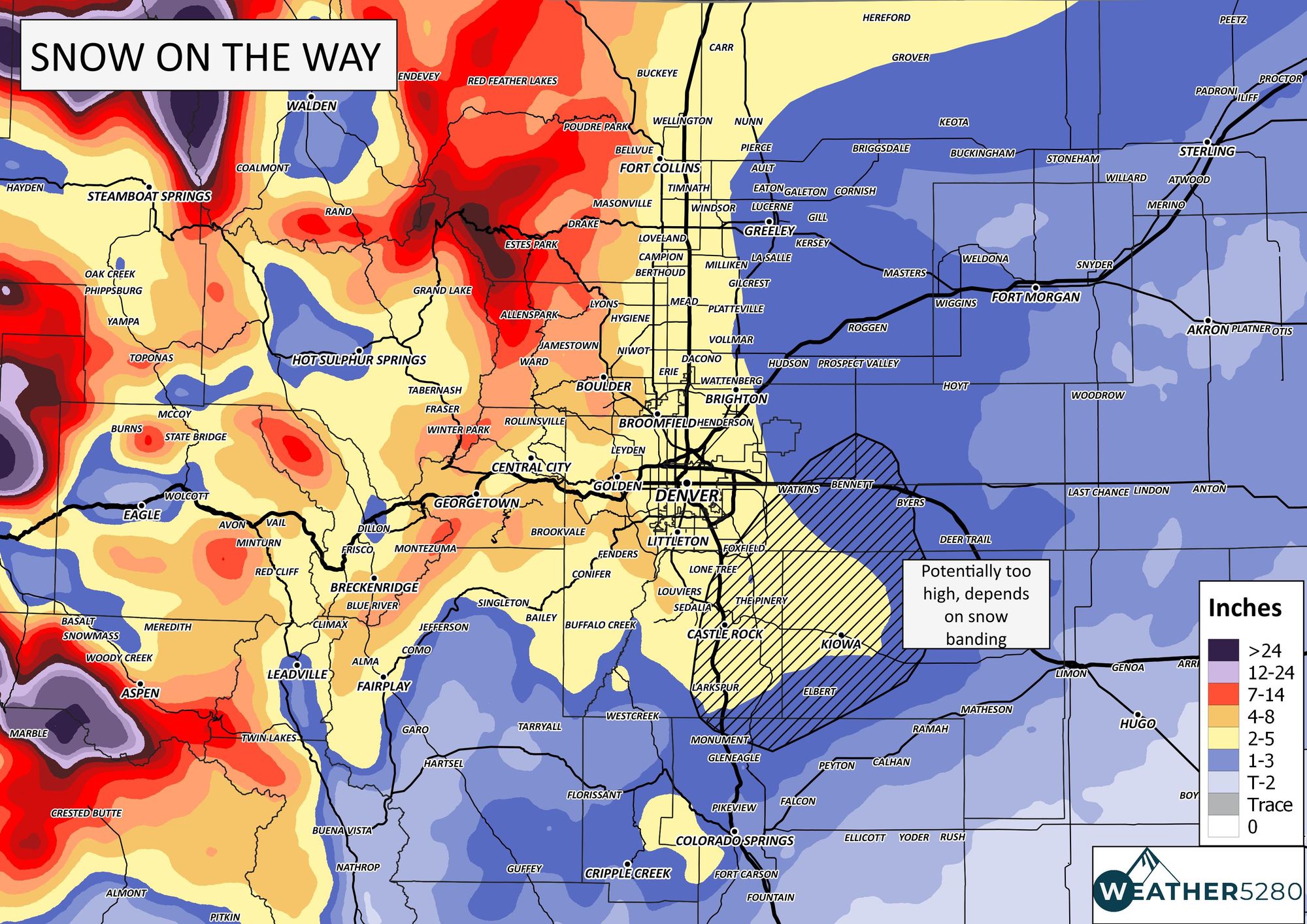 For the Denver area and much of the urban corridor that's generally from 2 inches on the lowest side (south and east) to upwards of 8+" in the foothills west, near Ken Caryl, Boulder and Fort Collins.
As we say, "Don't get left out in the cold!" – subscribe to our email list today – we send you an email when there's important information and forecasts to deliver, especially with our snowfall forecasts to come your way this week.