Another day with awesome temperatures in the forecast across the area before our next change arrives this evening and Thursday.
Highs along the urban corridor will again take aim at the 70°F mark today before a sharp cooldown arrives Thursday, with highs just in the low to mid 30s in the forecast.
Here is a look at the latest hourly planner for Denver: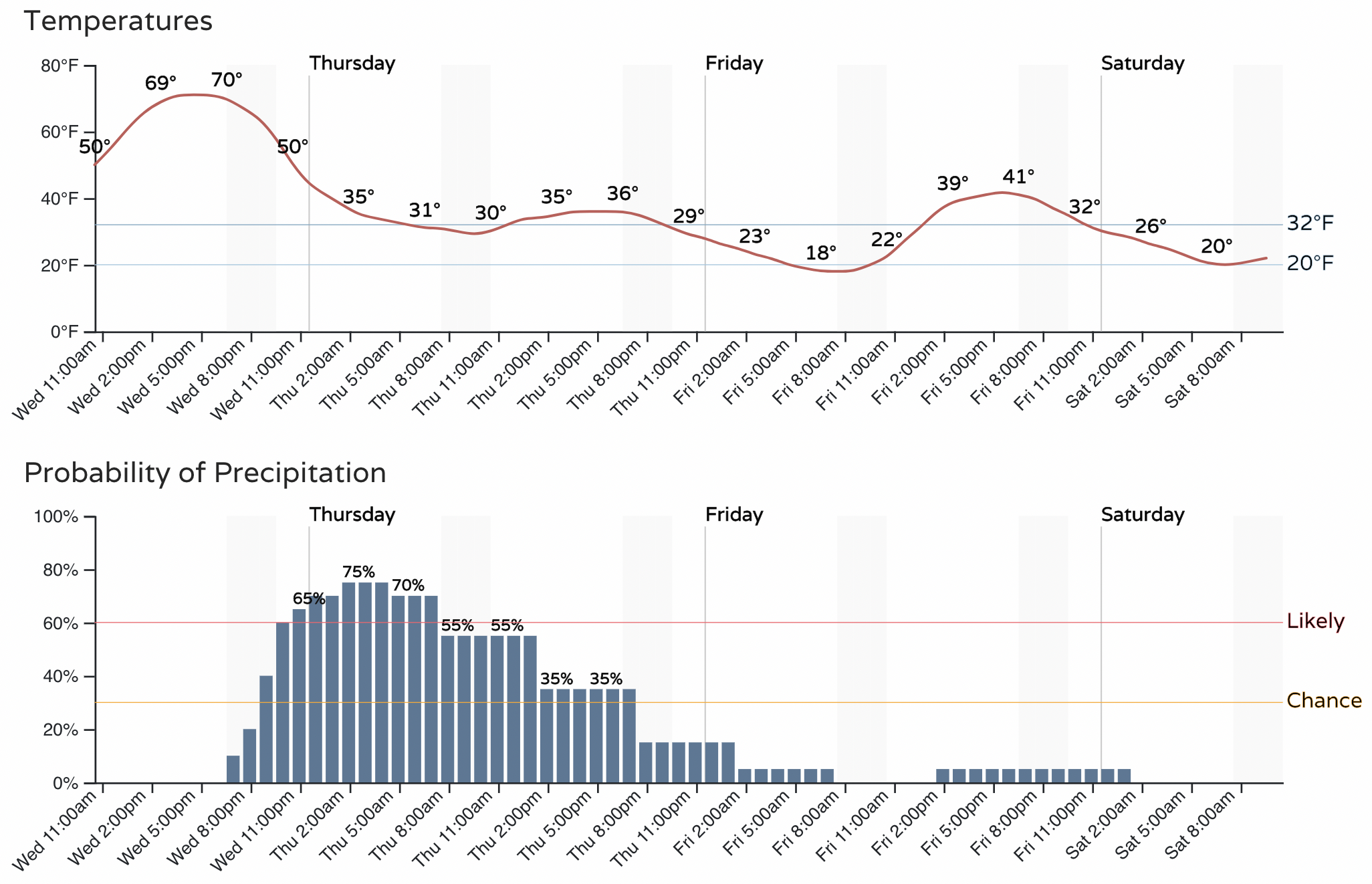 Gusty winds, rain, and a bit of snow will accompany the cool down. The chance of precipitation will increase after sunset tonight with the arrival of the cold front, and continue into the day Thursday.
Looking at the latest HRRR model, we see it has rain and snow picking up in earnest across Western Colorado by early afternoon: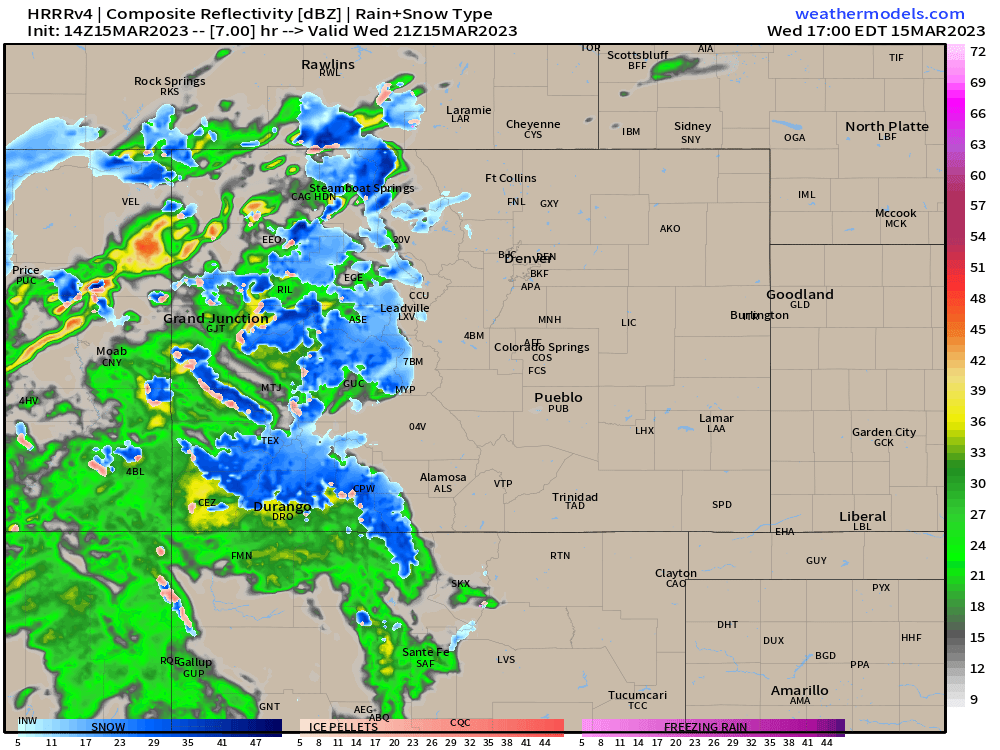 It has rain developing over the northeast plains and along the urban corridor after about 7pm this evening, with pockets of heavier rain at times: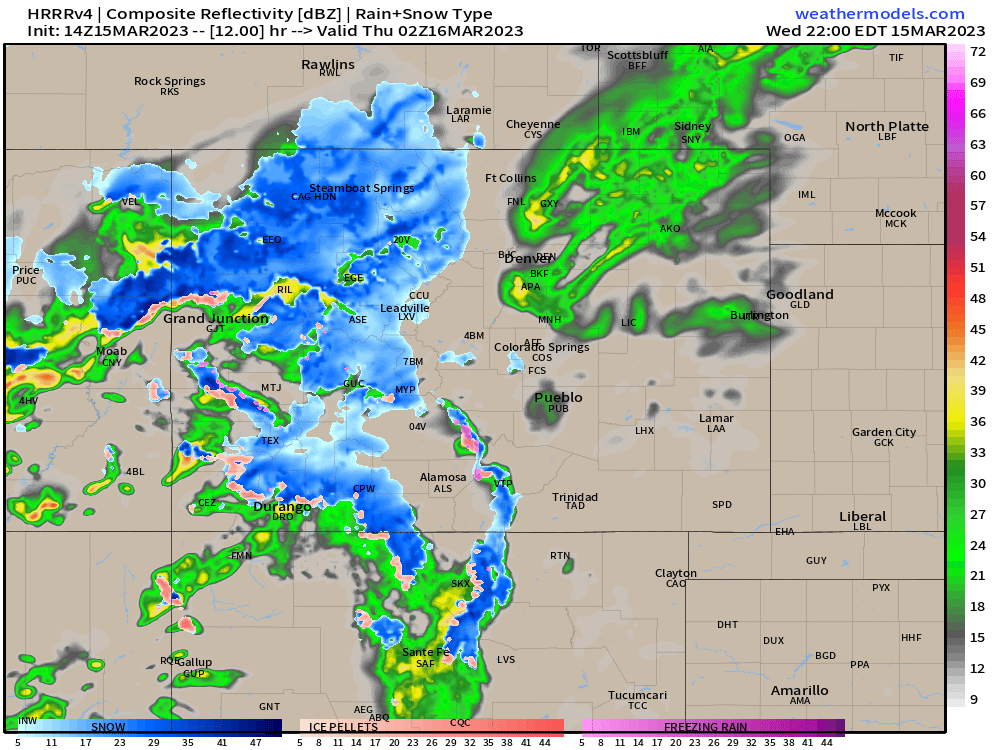 By midnight precipitation begins to changeover to snow... especially for those communities west of Denver, south of Denver, and west/north of Colorado Springs. As you can see below, this particular model still has mostly rain for central Denver at 1am tonight, but mixed precipitation (pinks) and snow (blues) for higher elevations surrounding the city: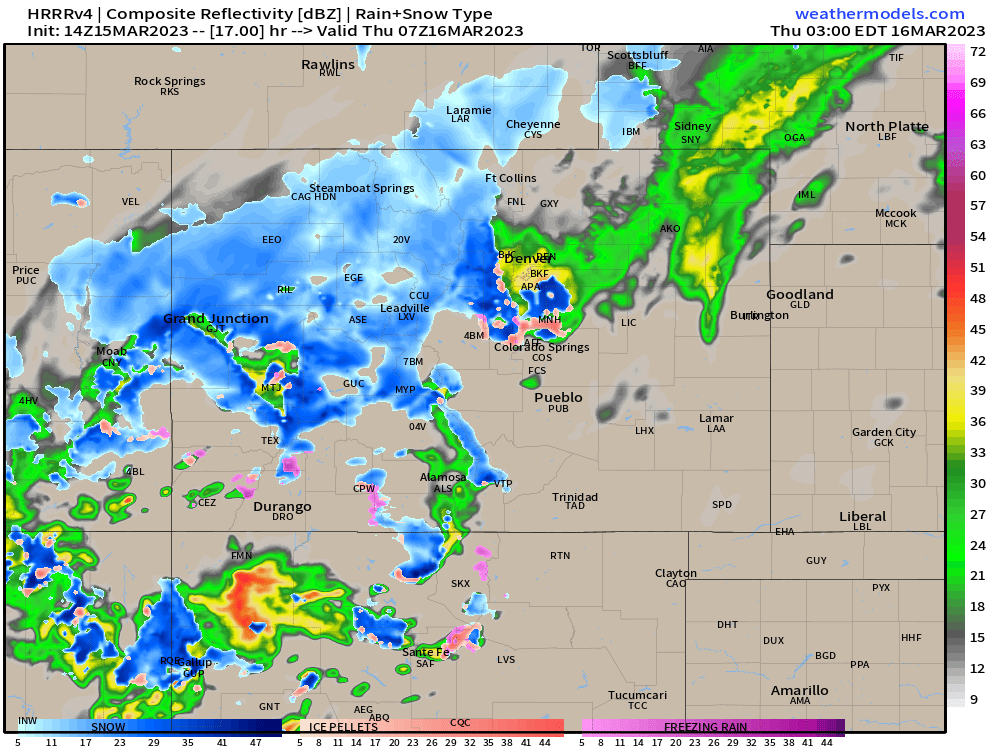 It's hard to disagree much with this timing, though history would tell us not to be surprised if we see an early arrival of both the cold air and precipitation changeover than what's depicted above.
Even as we aren't expecting a huge snowfall for lower elevations... the incoming weather change will be felt no doubt especially given the warmth being replaced. Winds will also be quite gusty at times today, especially along the foothills, and increasingly so for the Denver area as well, particularly as the cold front races through this evening and winds shift out of the NNE. Wind gusts will approach 40 mph by this evening.

As for how much rain and snow we are expecting from this system? Well, our idea here really hasn't changed much from yesterday. This storm will favor the higher elevations of Colorado for the heaviest precipitation, and the lack of truly cold air means the same is true for accumulating snow around here as well.
The blend of models shows QPF (precipitation) totals of 0.5" to upwards of 2" for a good portion of Western Colorado, and much more scattered coverage east. For Denver totals range from 0.1" on the northeast side to 0.4" on the south/west side. It's these western and southern suburbs that we'll need to watch tonight as they will have a better shot at seeing the rain/snow changeover happen sooner than later and thus a few inches of snow on the ground by Thursday morning.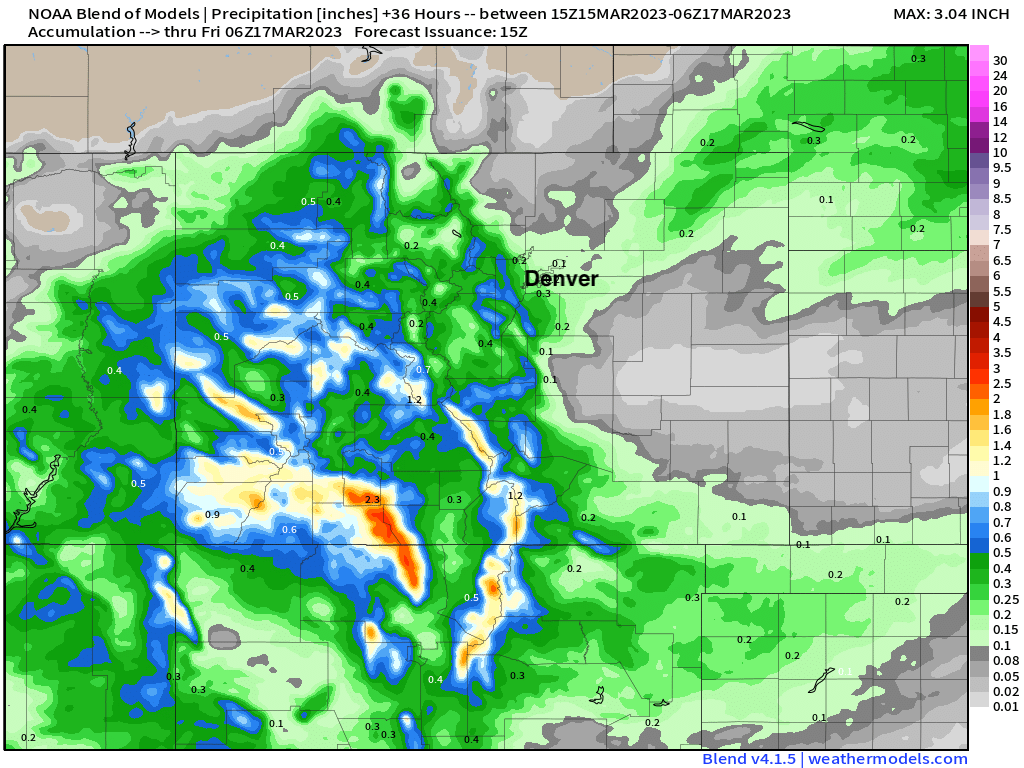 For snow totals we like a Trace to 2" for Denver proper... with 1 - 4" for the western/southwestern suburbs and immediate foothills, with pockets of 4 - 8" as you get a bit higher in elevation for locations like Evergreen and Conifer. Boulder and Castle Rock are cities that are a bit of a coin flip, 1 - 4" seems like a good bet here even if we have them on the line for the lower totals.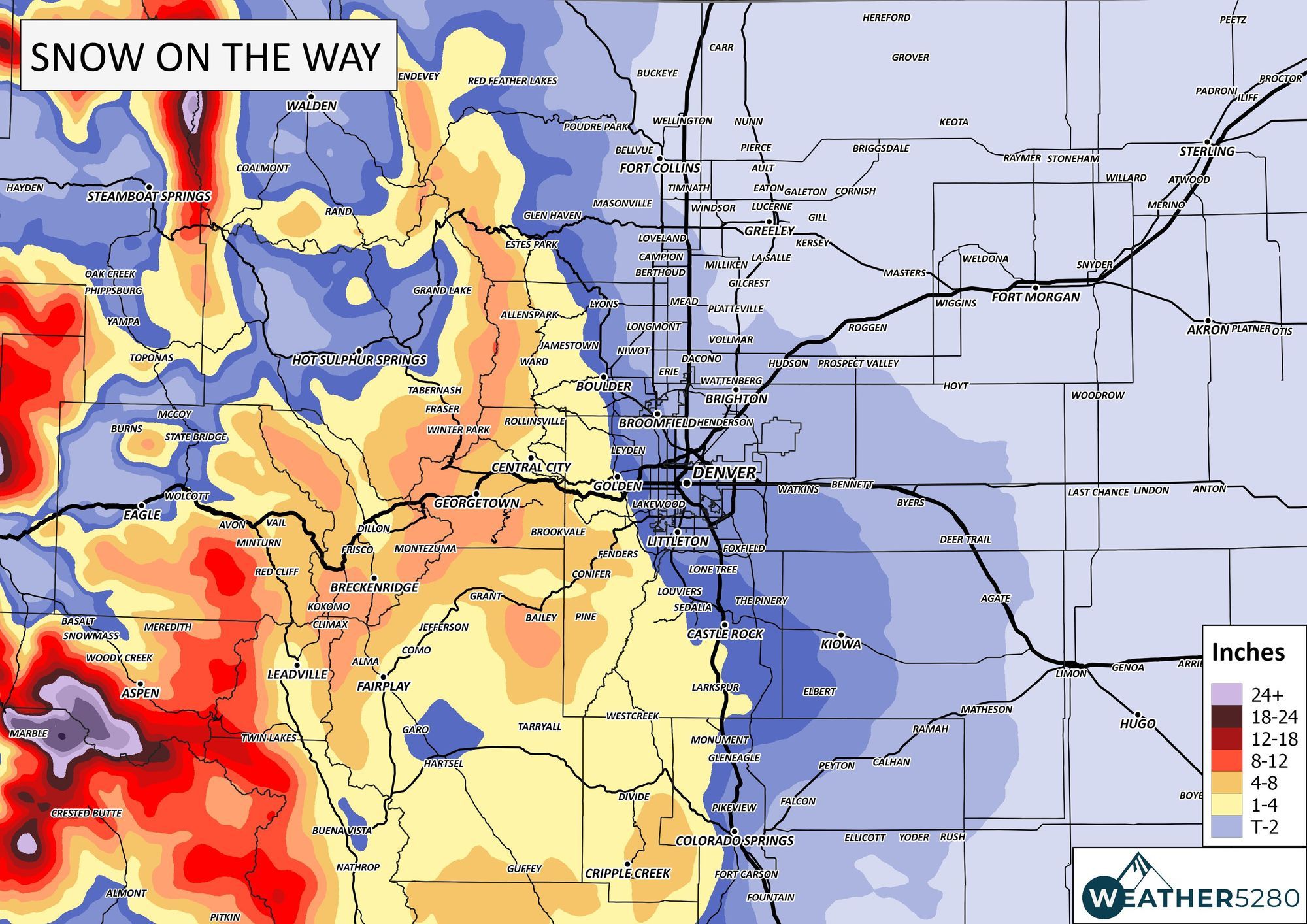 Finally, here's a look at latest NWS alerts across the state. Plenty of wintry weather up in the high country if your travel plans take you west tonight or Thursday be prepared for tough driving conditions at times.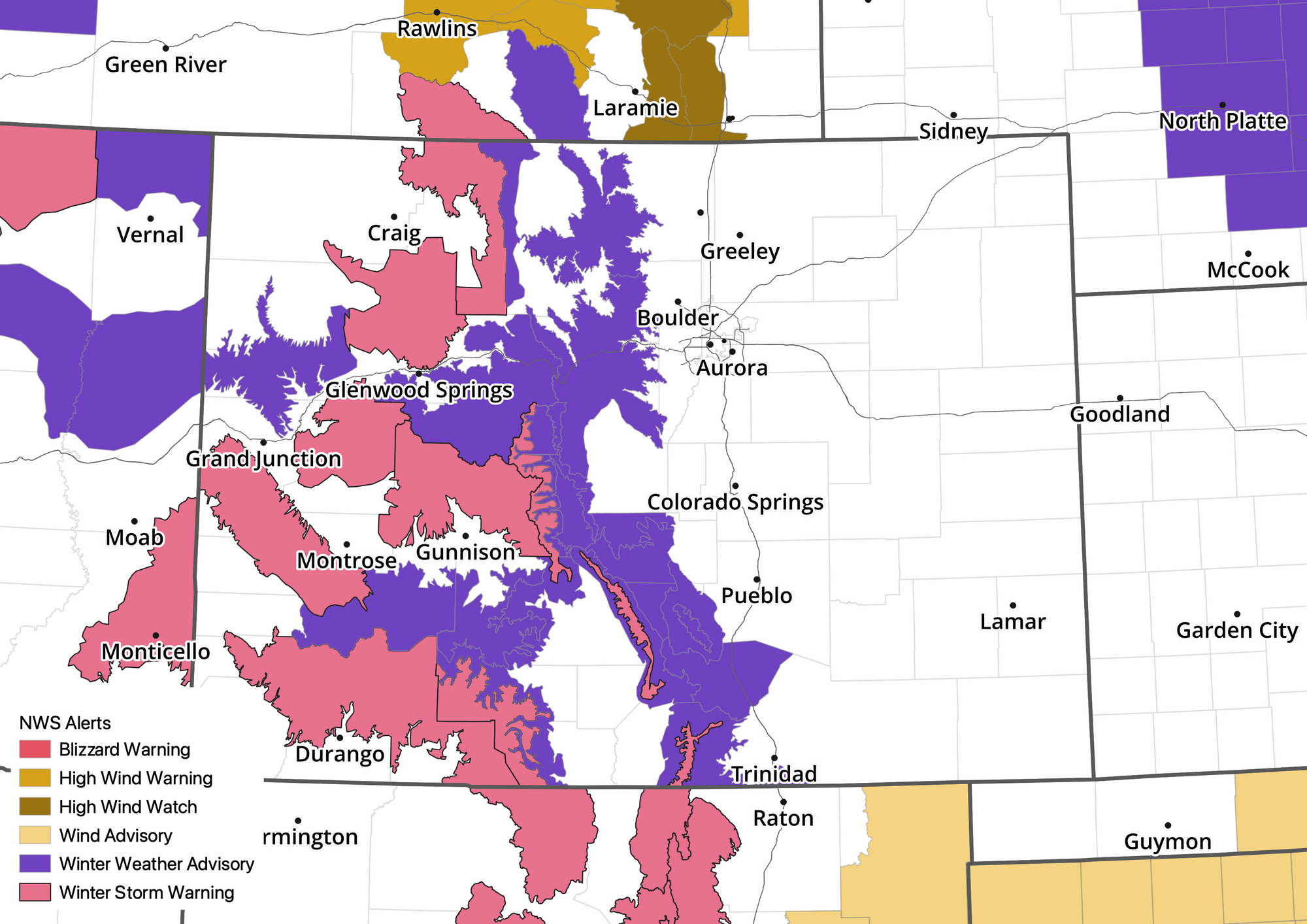 A bit more unsettled is possible by the weekend, so... stay tuned!