Rain and snow will return in a couple of days, until then, rather warm - nearing record high temperatures for Denver; in some ways a similar week ahead that we had last week.
Many, if even most of us saw some snow at the end of last week, but for most folks along the urban corridor it didn't amount to a whole lot.
The exception to that was along parts of the Palmer Divide, where a good swath of 7 - 8" of snow was reported as totals were added up Saturday morning, with even a couple inches falling in and around the Colorado Springs vicinity. The Western and Northern mountains also added a bit of late season snowpack with some appreciable snowfall over the last seven days: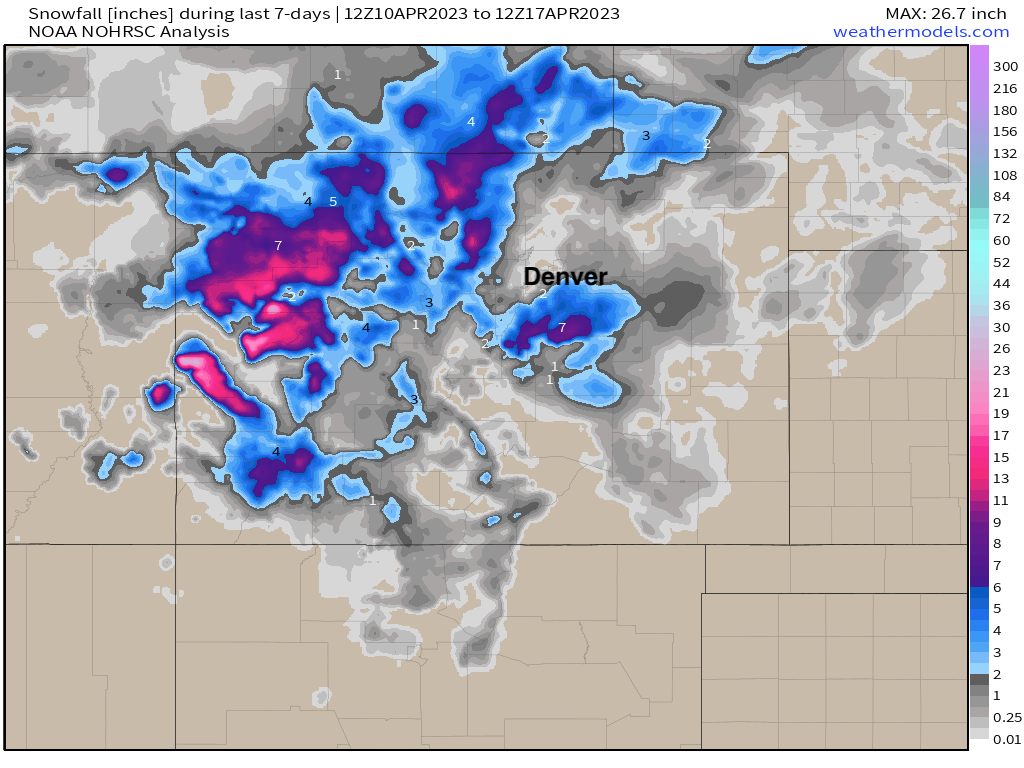 To start this week we once again warm up quite a bit across the region. No record highs forecast at this time for the Denver area, but we won't be too far off from those records today and tomorrow as highs are forecast to top out in the upper 70s, and records for the dates are in the low 80s.
Tuesday looks like the warmest day of the week, with MOS guidance showing a high of about 78°F in Denver, four degrees shy of the record high for the date of 82°F, set back in 1987.
Like last week, the early week warm will be interrupted midweek by another system moving through the state. This will introduce a chance of showers, storms, and even some snow to northern Colorado Wednesday, and really off and on through the end of the week. You can see in the animation below, beginning Tuesday evening, the most "organized" precipitation for Northeast Colorado is early in the animation (Wednesday), but additional showers and storms are possibly all the way through Friday night across the area.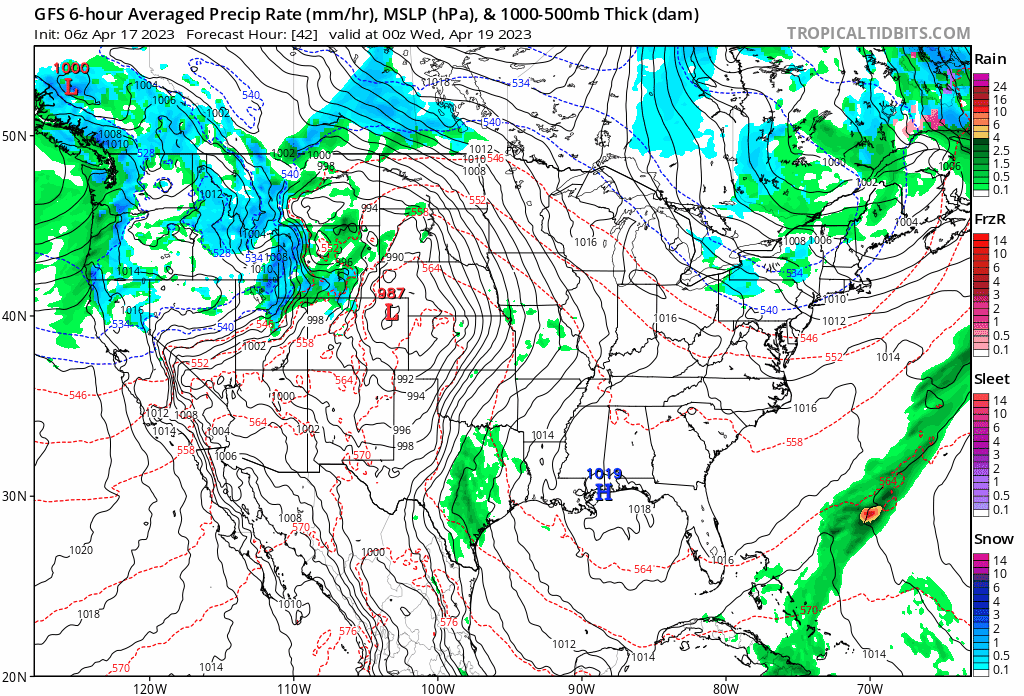 A look at the hourly timeline shows this, with no precipitation in the forecast today and tomorrow, but an uptick in those chances by Wednesday afternoon, with rain, and even some thunder possible across the plains Wednesday PM.
This system doesn't look to have quite as much moisture or cold air as last week (not that it was a lot for everyone last week), but some snow will again be possible by Wednesday night especially for higher elevations outside the I-25 urban core.
The latest European ensemble model shows roughly 0.2" of precipitation for most areas Wednesday - Friday, but a bit more than that for the foothills west of Denver, and across the northern and central mountains. Not huge, but not nothing.
For those that do see some of that precipitation come in the form of snow, it looks at this time this will generally be light (T - 3"), but let's keep an eye on things just in case.
For now, enjoy the warm days and keep an eye on the forecast for later this week!