Flood Watches across Northeast Colorado are set to expire at noon on Friday, but before they do there's more rain to come and the potential for more wet weather for parts of Colorado through the weekend; flooding alerts may be extended, we shall see.
Sunrise this morning revealed just remarkable imagery of our system that continues to pump moisture into Colorado, with light to moderate rain across Northeast Colorado continuing; gradually shifting northeast during the day today: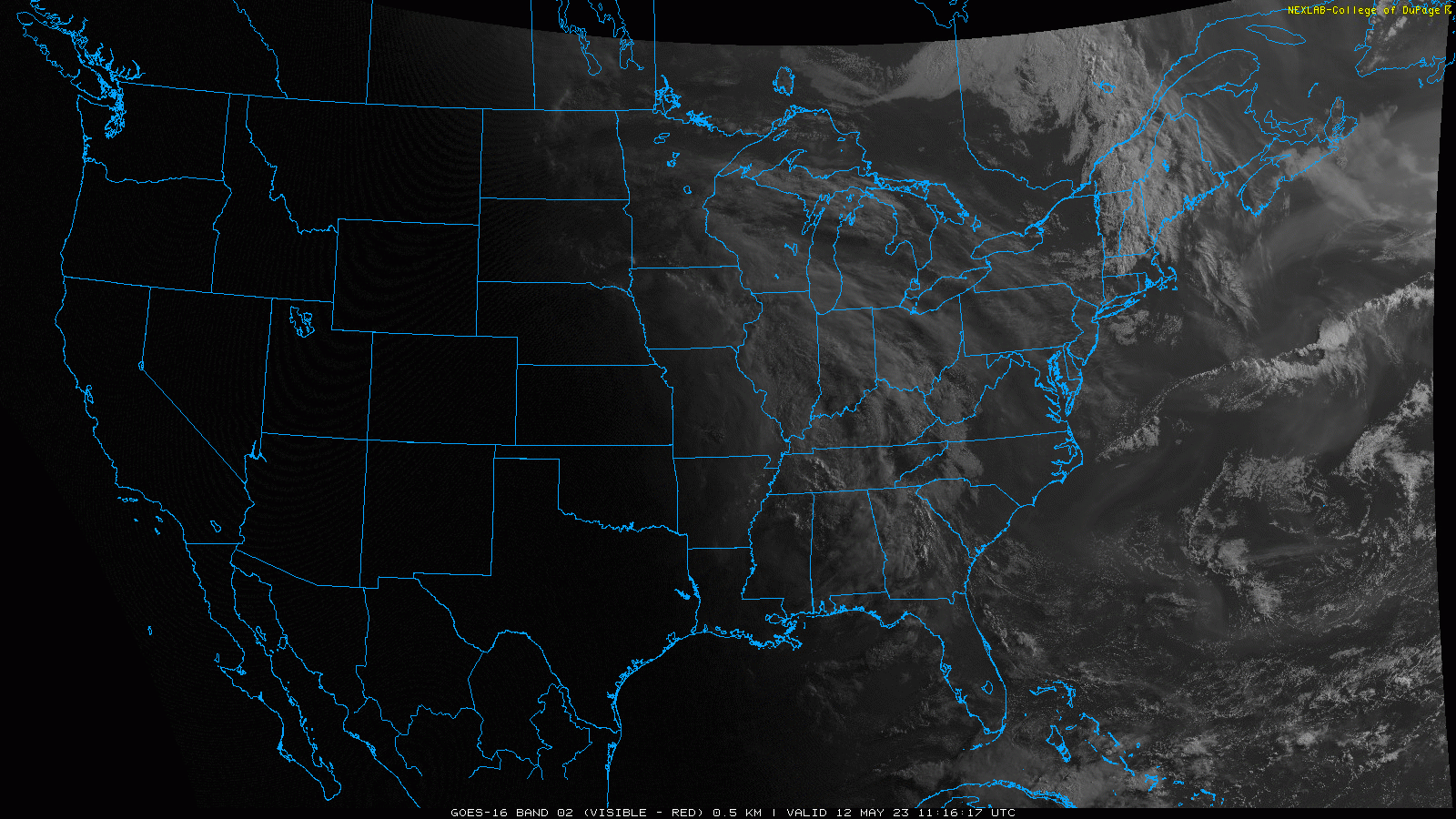 Latest guidance shows that the heaviest rain is behind us from this event, but pockets of moderate rainfall continue this morning nonetheless. North and northeast of Colorado will see the heaviest precipitation Friday as the low continues its trek northeast.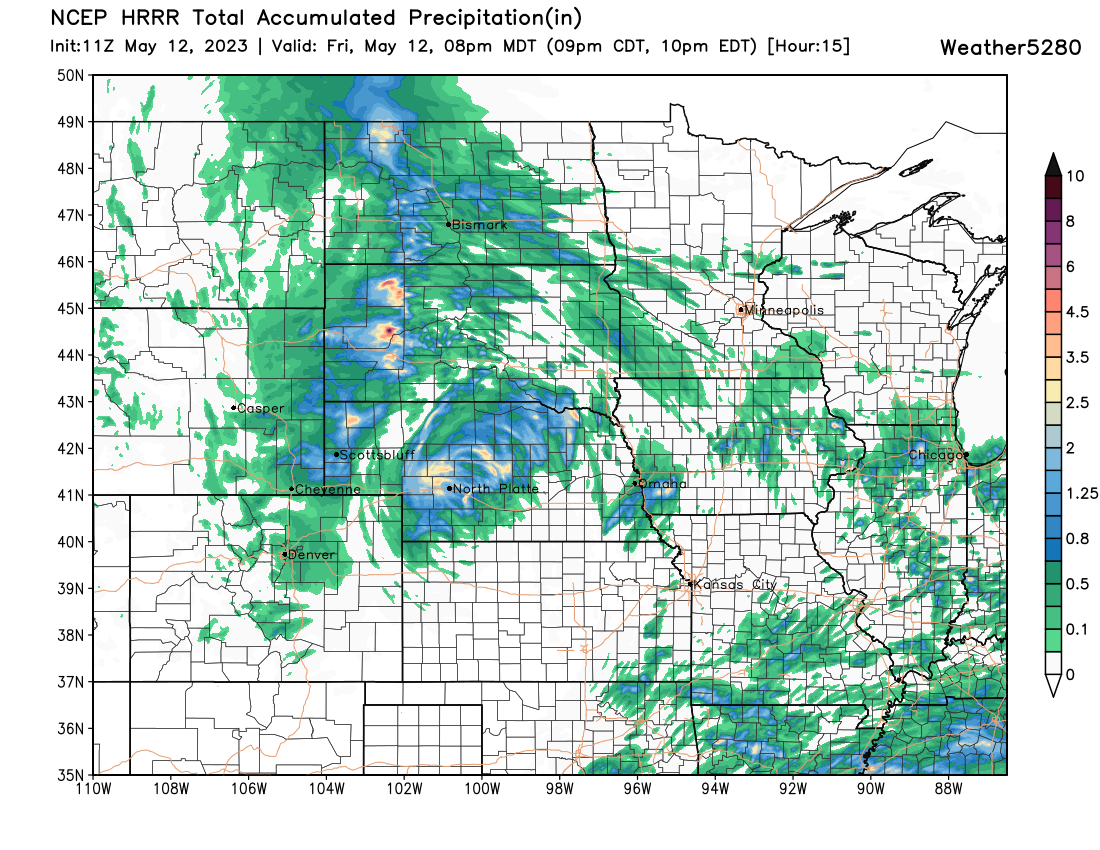 Oh what a rain event it's been
Rainfall totals from across the region over the last two days are impressive to say the least.
Denver International Airport was reporting 3.57" of precipitation as of midnight last night between Wednesday and Thursday's rain. So far today the station is reporting 0.47" of rain, which takes our three day total to more than 4.0" of rain! WHAT? Should these numbers hold, this would move the previous 3 days into 5th place for wettest 3 consecutive days on record for Denver. The wettest 3 day stretch came in 1876 (6.70", also in May) and moves us right behind May 1969 (4.68"). Of course, that record could be in jeopardy today too, though it doesn't look like we'll quite make it.
This event not only erases our year-to-date precipitation deficit we had coming into May, but flips it on its head and some. Through midnight last night Denver is now up to 6.43" on the year – 🥳!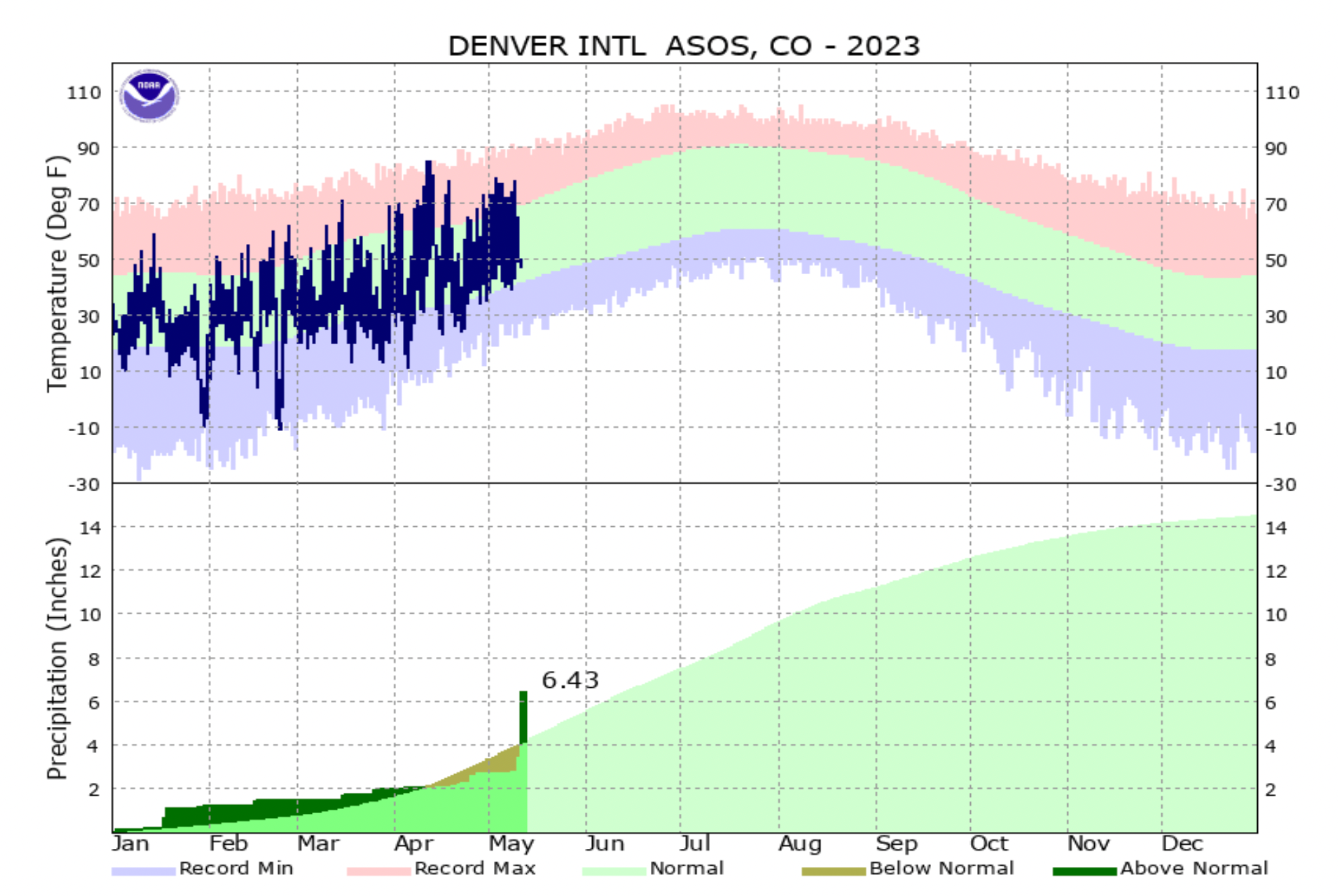 It's not just DIA reporting upwards of 4.0" of rain over the last 3 days. CoCoRaHS reports this morning for the same period from across the region are simply impressive with totals from 2 - 6" across the greater metro area, and nearly all of the southeast metro with more than 5" of liquid in the rain gauge from this event (and yes, it's still raining!).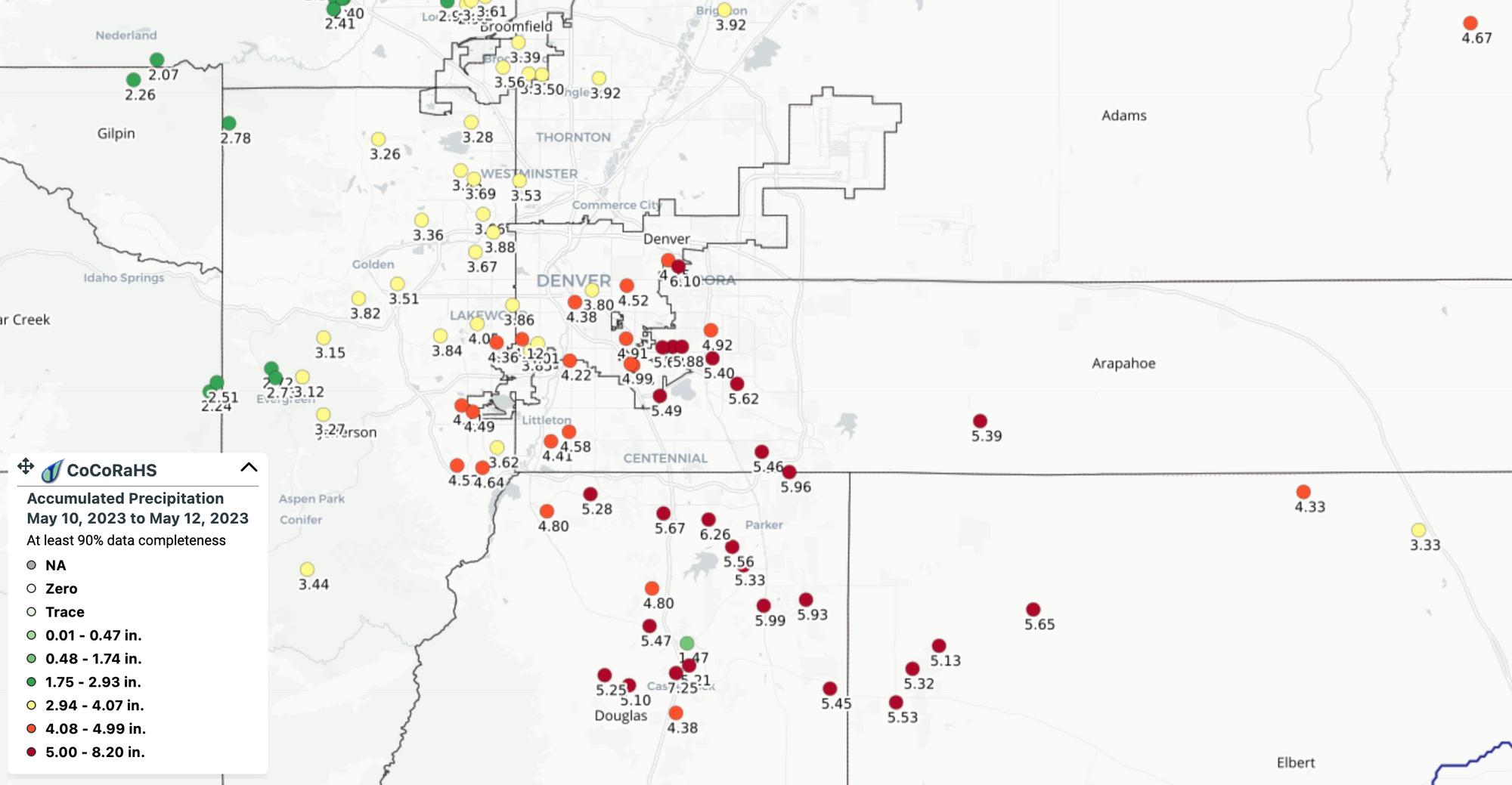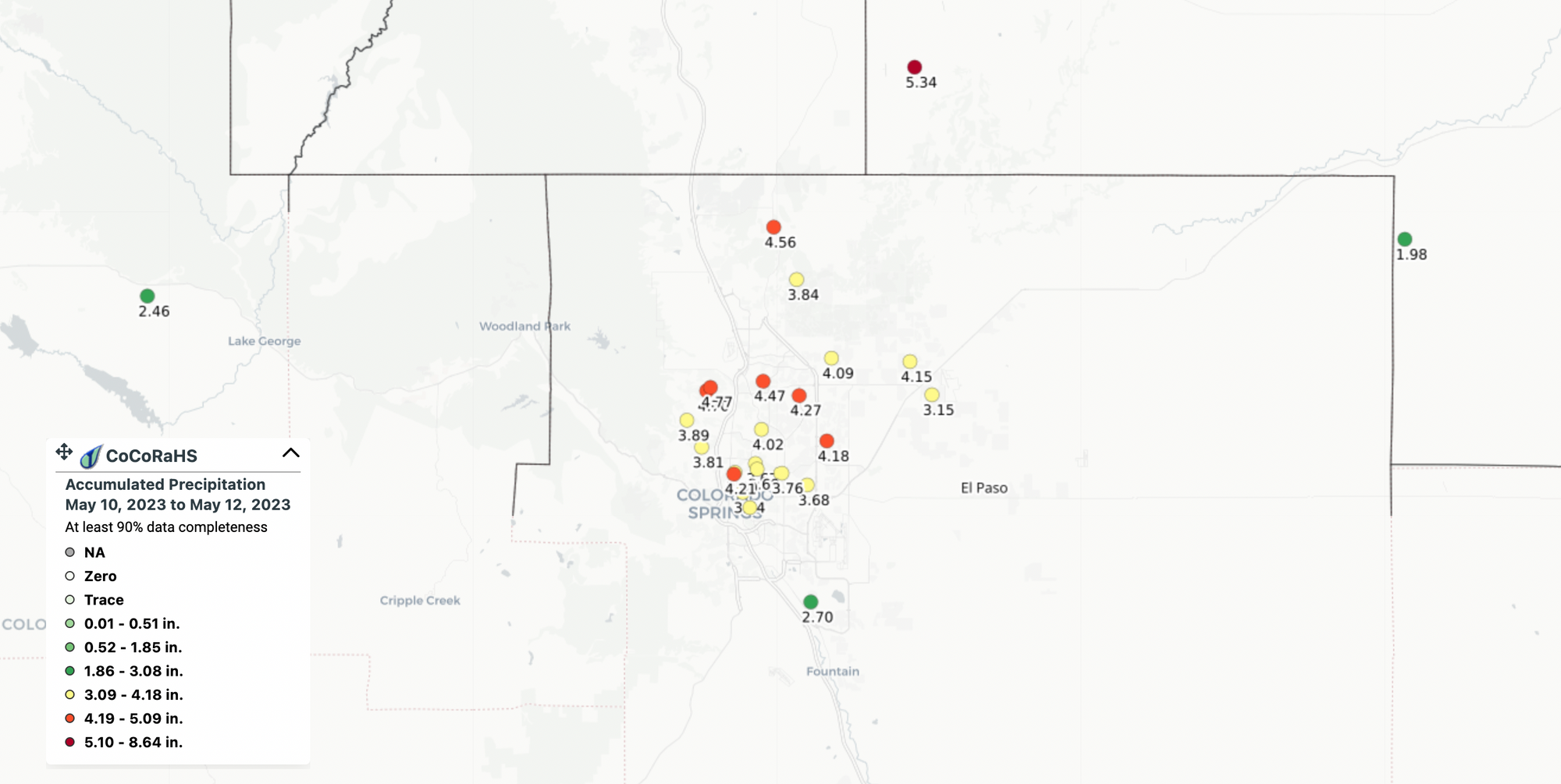 How much rain have you seen at your place?
More rain this weekend
For some of us, yes!
The weekend rain potential looks nothing like the last few days, but for some folks some more appreciable water is one the way. Rain will gradually subside today, with a relatively drier day on the way across the region Saturday and highs in the mid 60s for the Denver area. By Saturday night we see those rain chances increase once more, with a good chance of showers Sunday for the region, particularly the further south in Colorado you go – a change from our most recent event.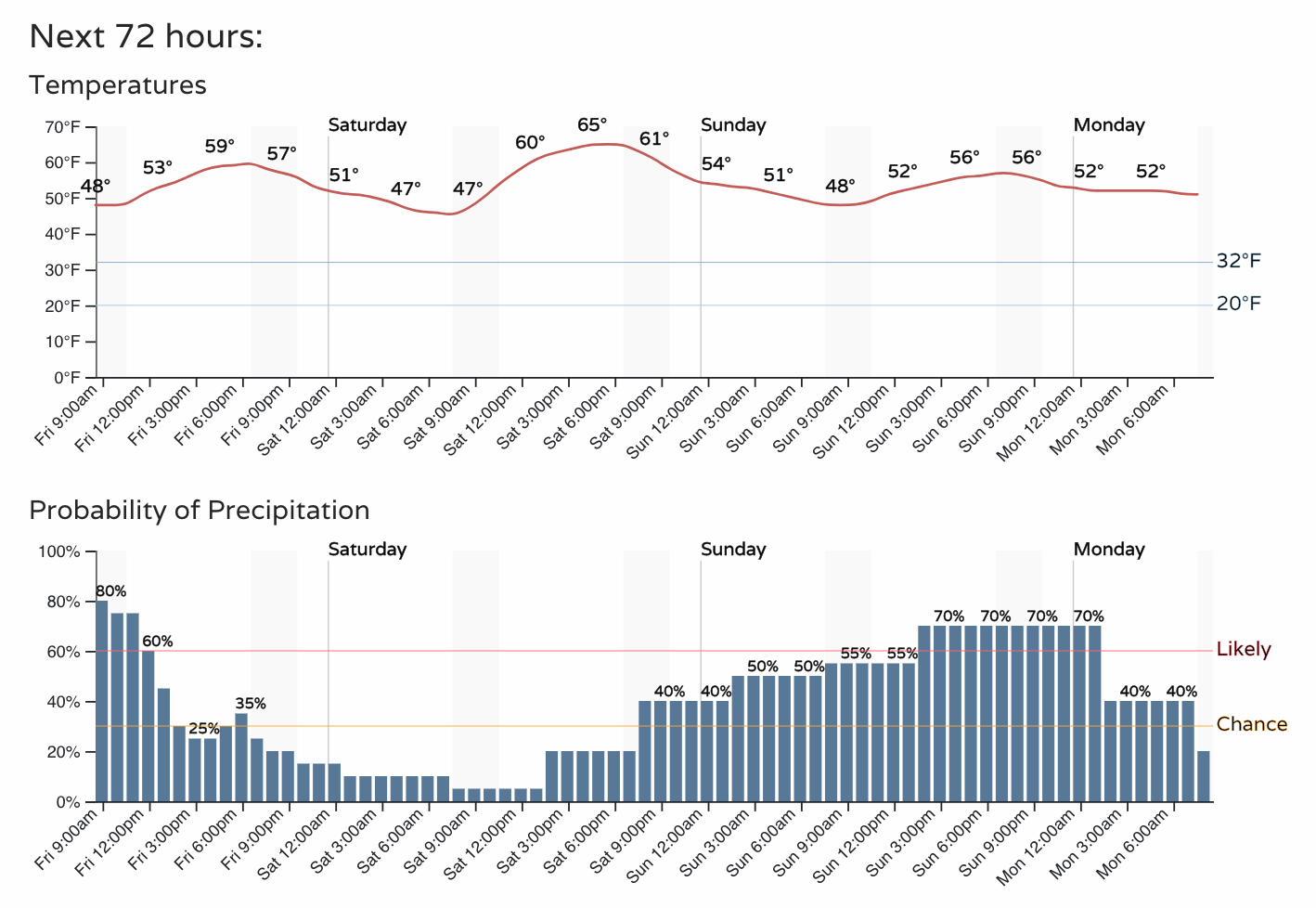 Three day precipitation totals ending early next Wednesday morning show some pretty healthy totals are possible, particularly for far south/southeast Colorado. In fact, for northern Colorado this may be one of the wetter models, so we'll see how things shake out for the northern urban corridor compared this this outlook.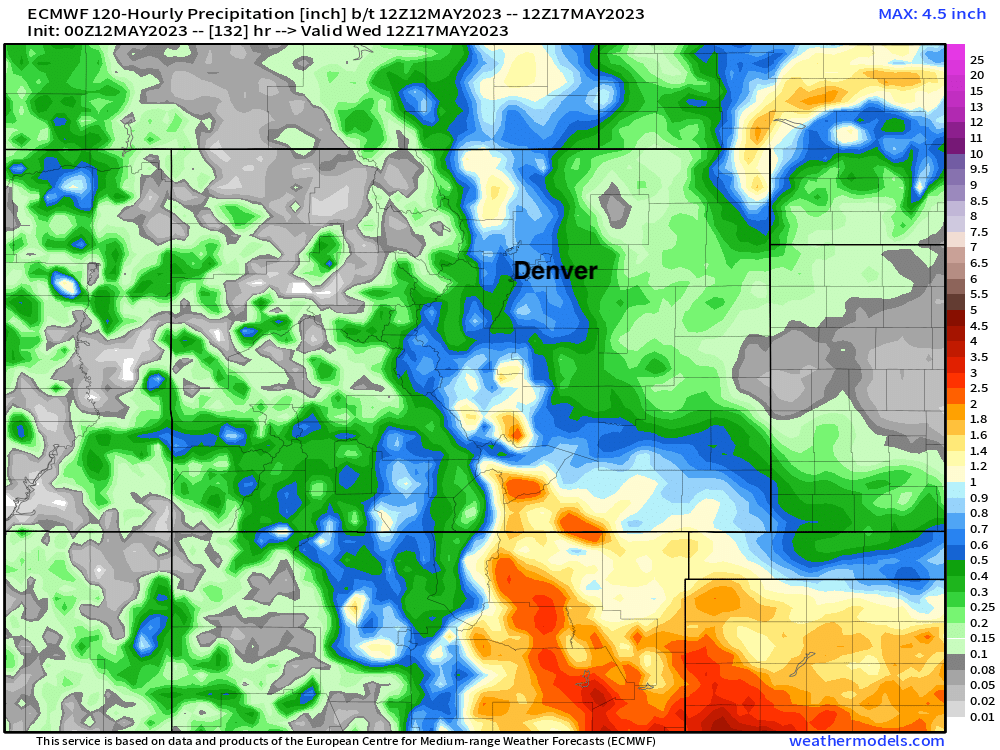 A look at the blend of models 24 hour precipitation totals ending late Sunday night it's clear to see the heaviest precipitation Sunday is forecast to have a southerly bias: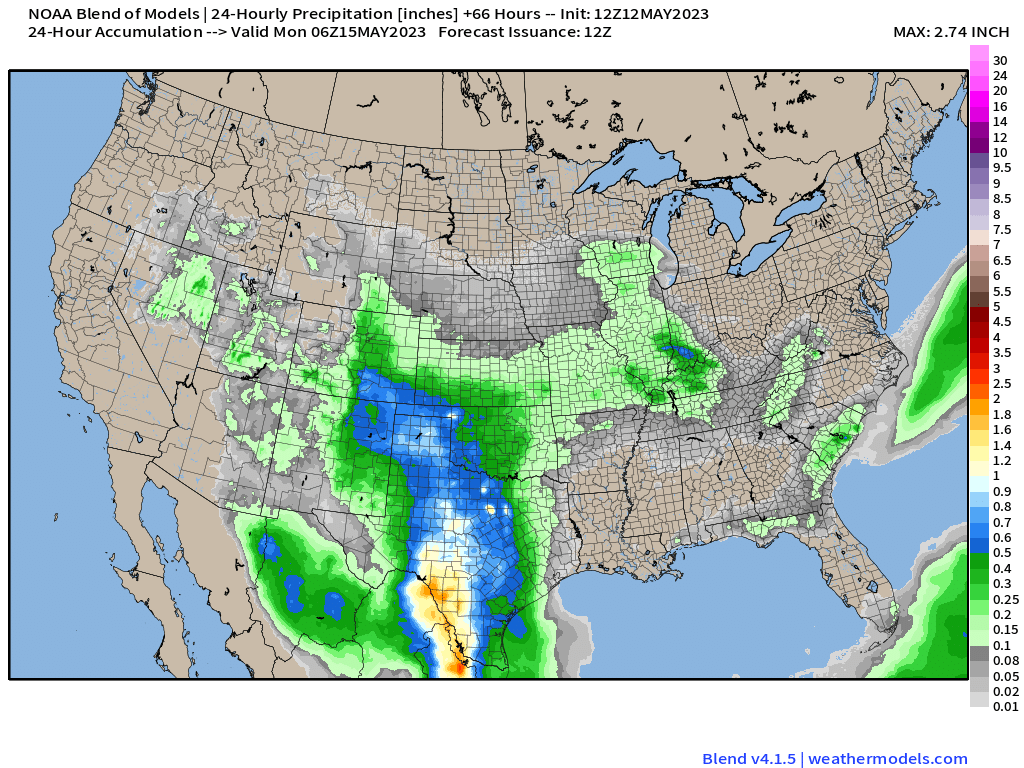 Severe weather doesn't look like much of an issue for our area through the weekend either. Today the threat is well east: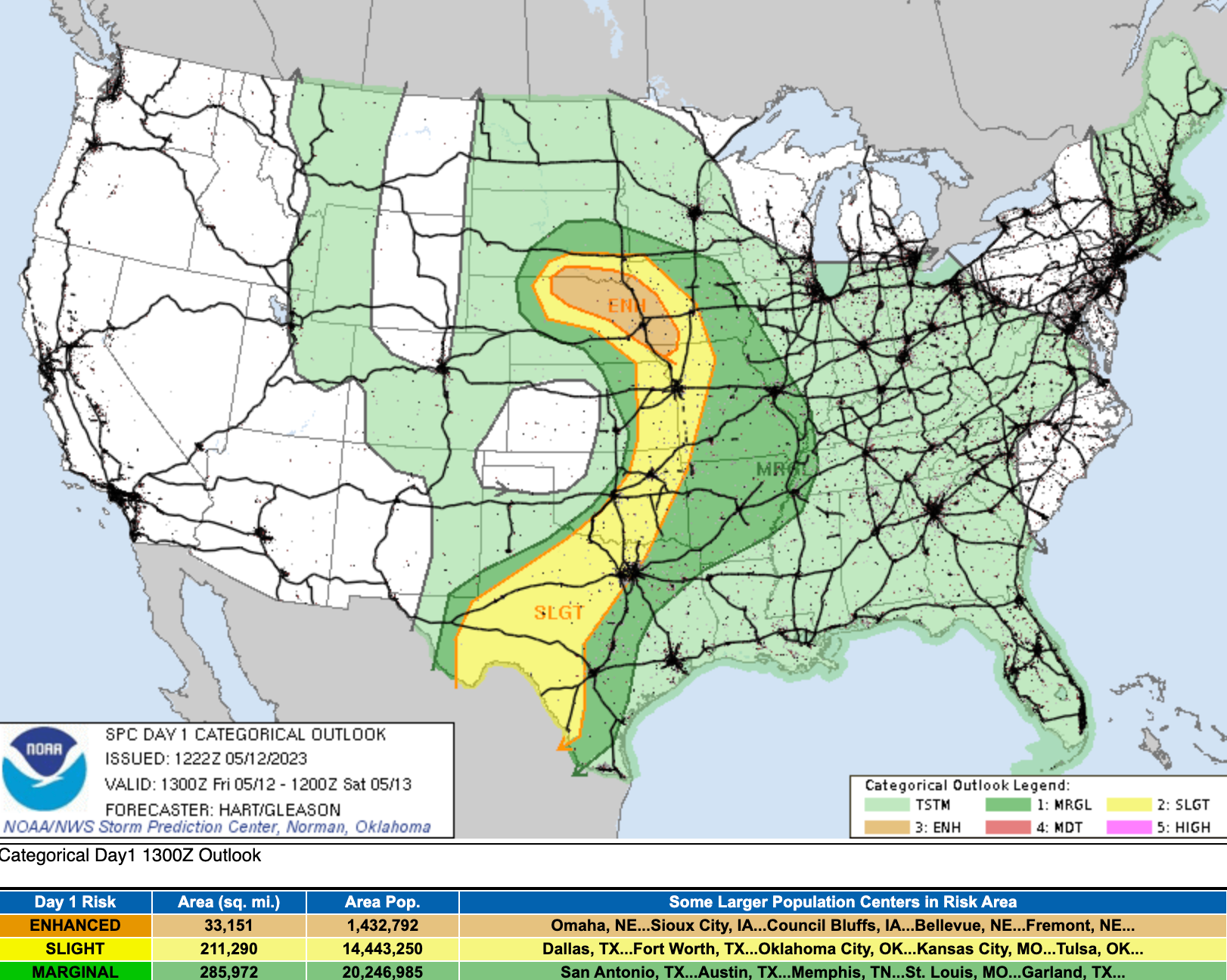 With thunderstorms possible both Saturday and Sunday across eastern Colorado, but no organized severe threat on the table at this time.
This wet weather isn't unexpected, we hit a wetter phase to end April and start May across the Plains states. We discuss this from a long-range perspective here for our members.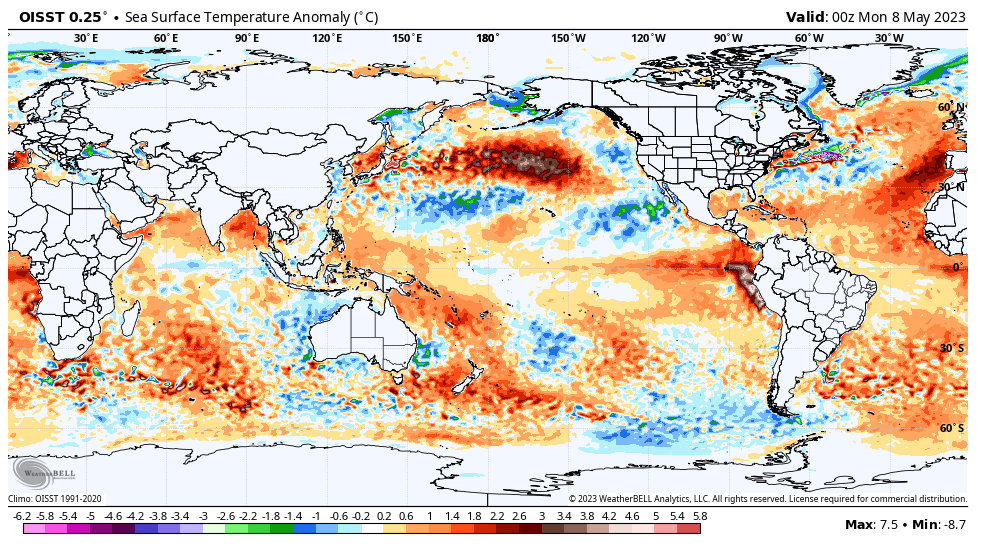 You can subscribe to those members only updates if you'd like, but if you just like getting the 'heads up' style emails from us on the public forecasts, you can sign up for those for free by clicking here.