As we discussed yesterday, the desert southwest is making preparations for a rare event as hurricane Hilary (will be tropical storm Hilary) is set to move inland over the weekend and into next week bringing with it in some cases more rain over a three day period than many of these places will typically see over two years.  
Here's the latest forecast track map, showing it moving into southern California Sunday night into Monday after weakening from a major hurricane today into a tropical storm. You can find an interactive version of this map here.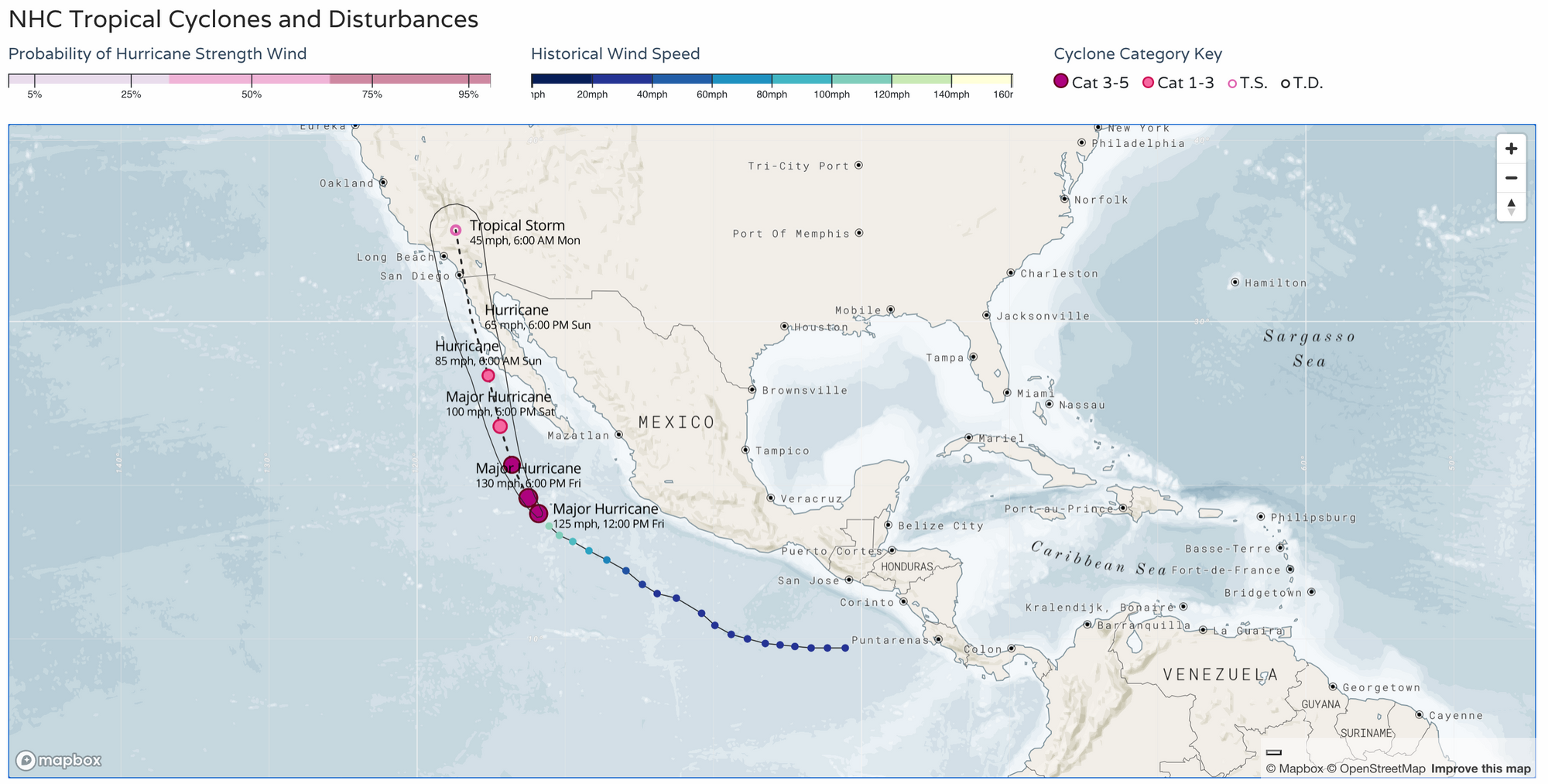 The westward trend has been pretty evident over the last couple of days, with good ensemble consensus now on the eventual track of Hilary as the storm moves north toward the U.S.: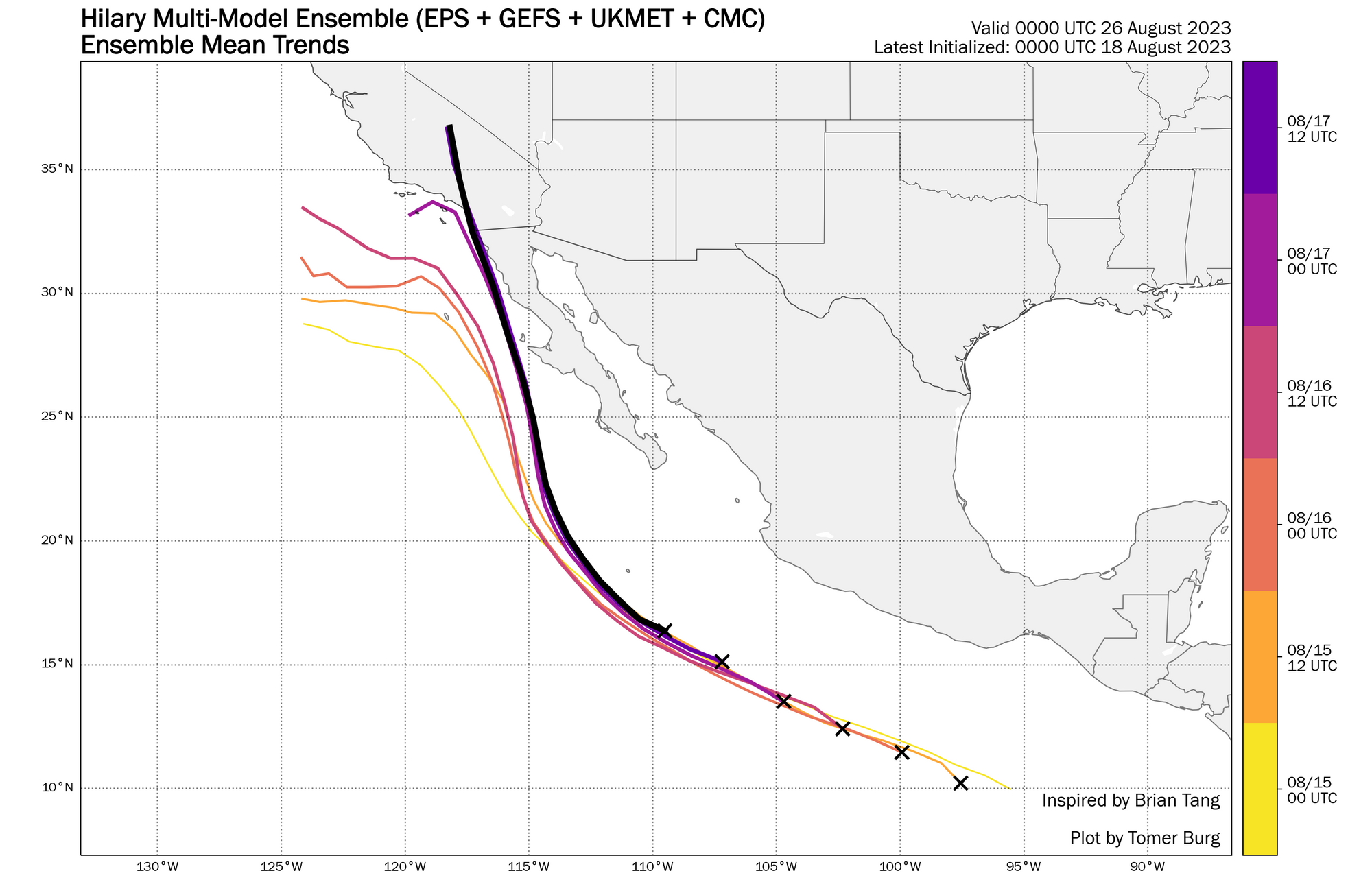 While wind and high surf will also be a factor, the amount of rain forecast for a part of the world ill equipped to deal with it will be the biggest story for most folks. Here's the latest flash flood guidance for the next 5 days via the WPC: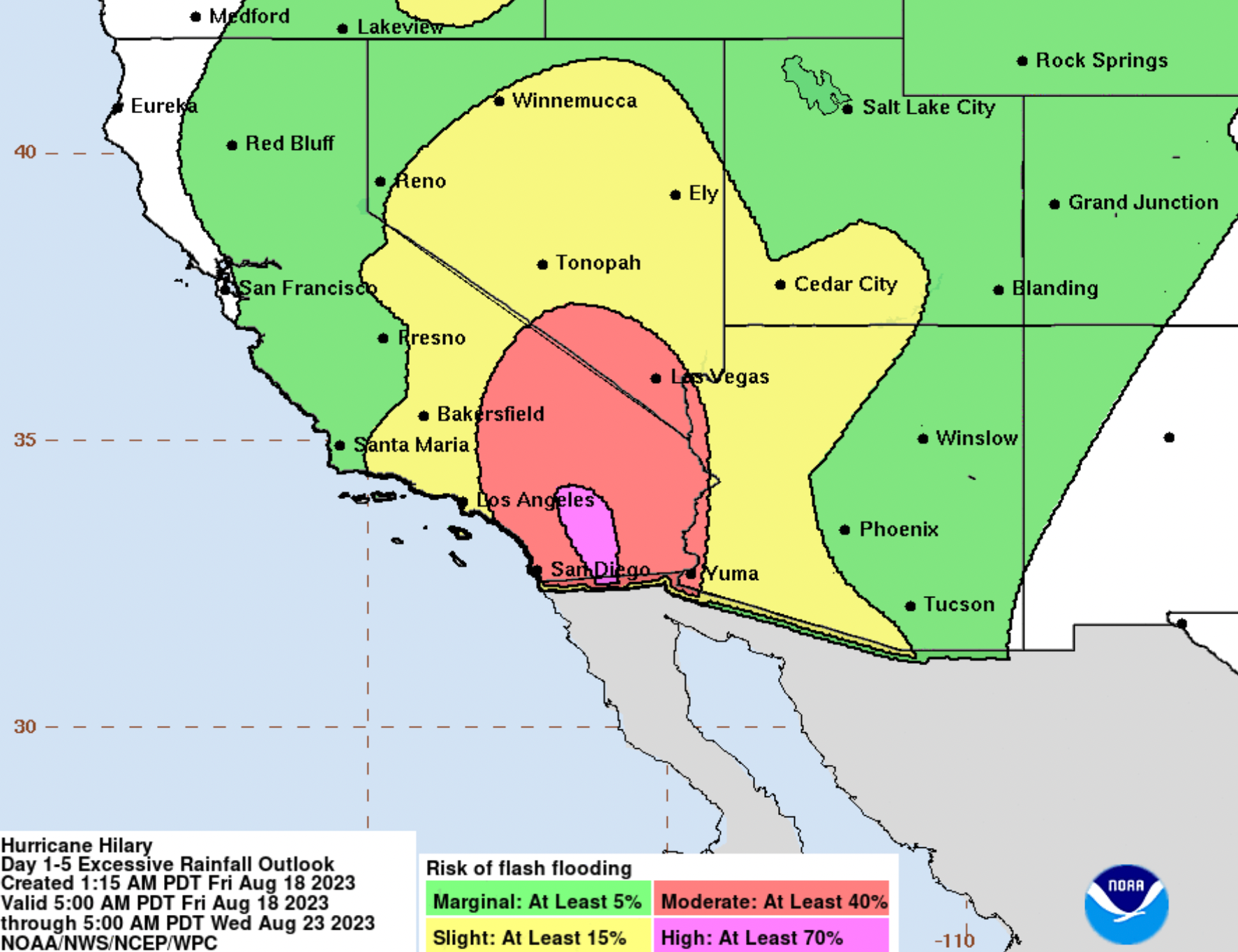 With much of Southern California and parts of Nevada expected to pick up 4 - 8" of rain from Hilary as the storm moves north over the next 5 days:
This closely matches the NBM precipitation outlook through Tuesday: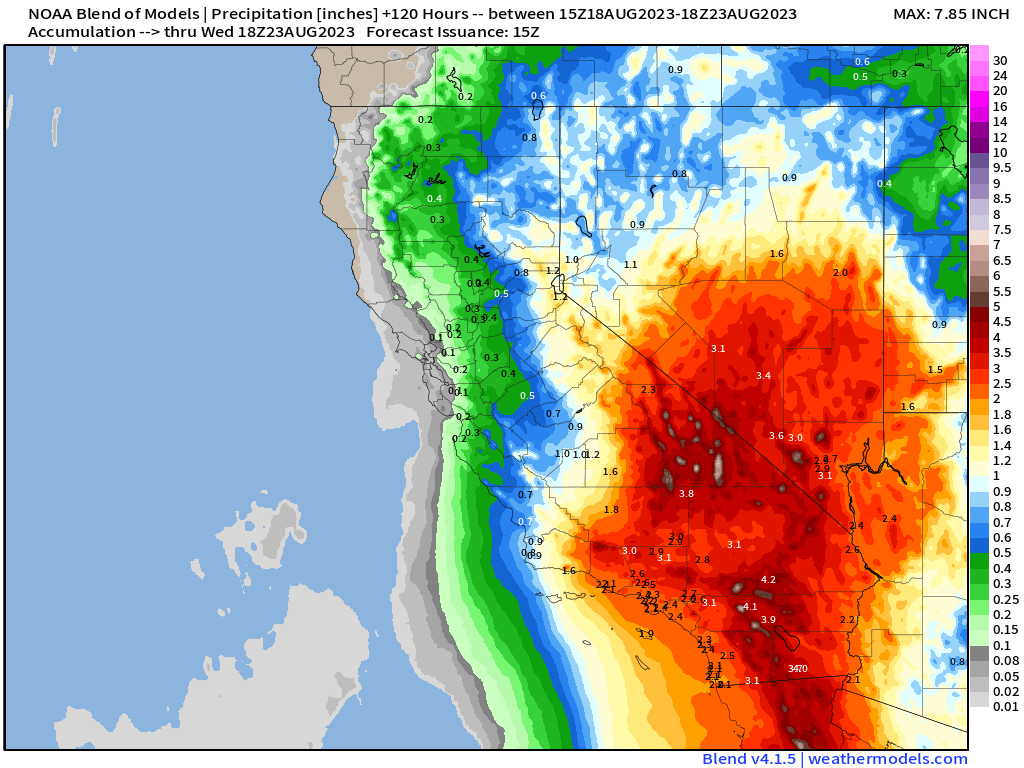 Needless to say, for places like Death Valley, California this isn't exactly your typical rainfall forecast. In fact, latest guidance suggests the area could see nearly double its previous 3-day record rainfall with this storm:
And that's not the only data point:
All that to say, flooding is going to be a huge concern over the coming days as the area braces for greatly anomalous rainfall from Hilary:
Wild stuff.
Tropical Storm Watch issued
A Tropical Storm Watch is in effect for southern California now and is the first issuance of a TS Watch ever for the area.
Here are some excerpts from the NWS watch:
* FLOODING RAIN: Prepare for life-threatening rainfall flooding having possible devastating impacts across Southern California. Potential impacts include:    

- Extreme rainfall flooding may prompt numerous evacuations and       rescues.    

- Rivers and tributaries may overwhelmingly overflow their banks in       many places with deep moving water. Small streams, creeks,       canals, and ditches may become raging rivers. In mountain areas,       deadly runoff may rage down valleys while increasing       susceptibility to rockslides and mudslides. Flood control systems       and barriers may become stressed.    

- Flood waters can enter numerous structures within multiple       communities, some structures becoming uninhabitable or washed       away. Numerous places where flood waters may cover escape       routes. Streets and parking lots become rivers of raging water       with underpasses submerged. Driving conditions become very       dangerous. Numerous road and bridge closures with some weakened       or washed out.
* WIND: Prepare for dangerous wind having possible significant impacts across Southern California. Potential impacts in this area include:    

- Some damage to roofing and siding materials, along with damage       to porches, awnings, carports, and sheds. A few buildings       experiencing window, door, and garage door failures. Mobile       homes damaged, especially if unanchored. Unsecured lightweight       objects become dangerous projectiles.    

- Several large trees snapped or uprooted, but with greater       numbers in places where trees are shallow rooted. Several       fences and roadway signs blown over.    

- Some roads impassable from large debris, and more within urban       or heavily wooded places. Hazardous driving conditions on       bridges and other elevated roadways.    

- Scattered power and communications outages, but more prevalent       in areas with above ground lines.
An impactful event on the way to be sure. If you live in the area or have plans to travel to the area please plan accordingly. As always, find the latest forecast updates, alerts, and guidance on the National Hurricane Center site: