There's been some weather here and there, but overall, our transition to Fall across Colorado has been... lackluster to say the least. We've been warm and dry. That's largely been a product of the summer ridge over The Rockies refusing to quit.
Data on temperature and moisture across Colorado in the short stint of Fall thus far: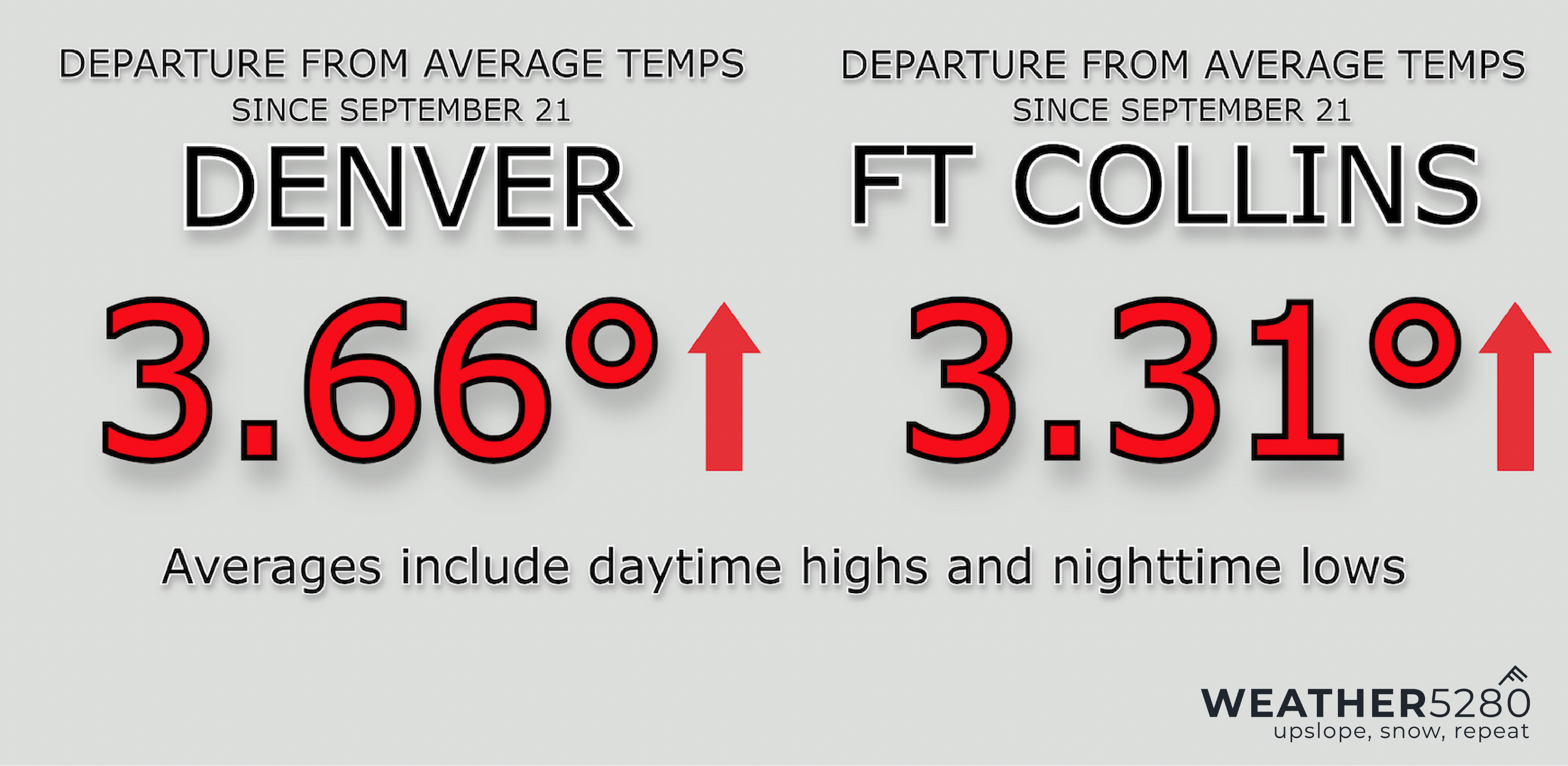 With much of the state running much drier than average: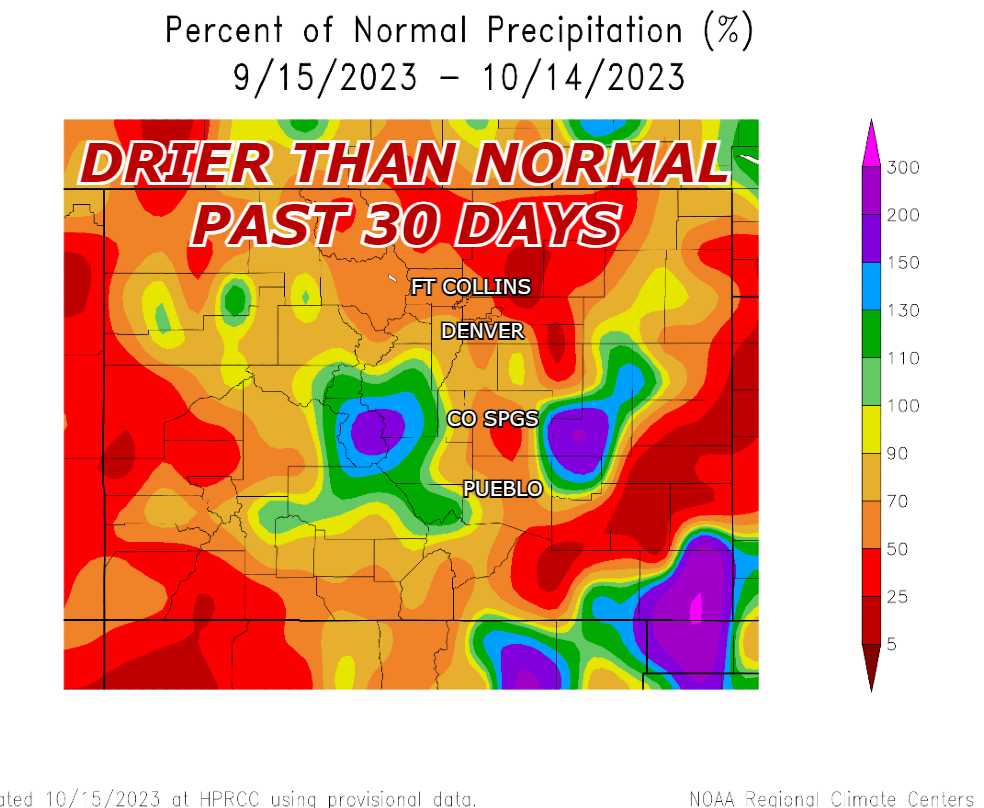 Most of the Urban Corridor and much of the mountains (including major ski resorts) are dealing with below average moisture over the last 30 days. The light orange and red colors (above) are areas that have seen 10- to 50%-plus deficits.
Outside of the mountain snow last week, the higher elevations are off to a sluggish start to powder season.

Alright, we get it. But what's ahead?
Well, if you're hoping for cold and snow, the news isn't good, but if youyou're a big fan of warmth and sunshine! Then it's pretty nice.
Mild conditions are in the forecast this week. We've got a cold front on the way Wednesday. Should cool us off a bit, but we're not talking much.
For instance, we'll see Denver go from the 70s and low 80s Tuesday to the low- to mid-70s Wednesday and Thursday. Not a huge change. And a similar forecast for Fort Collins.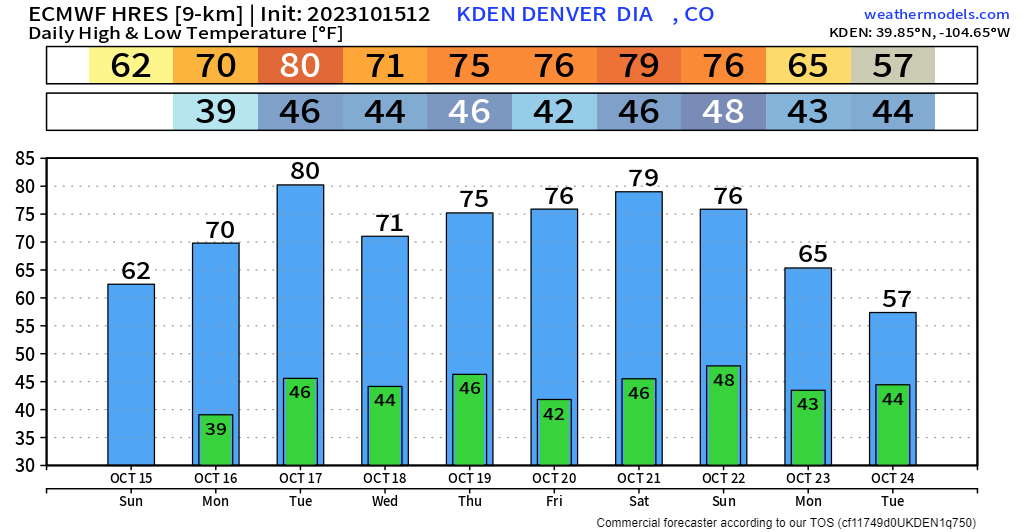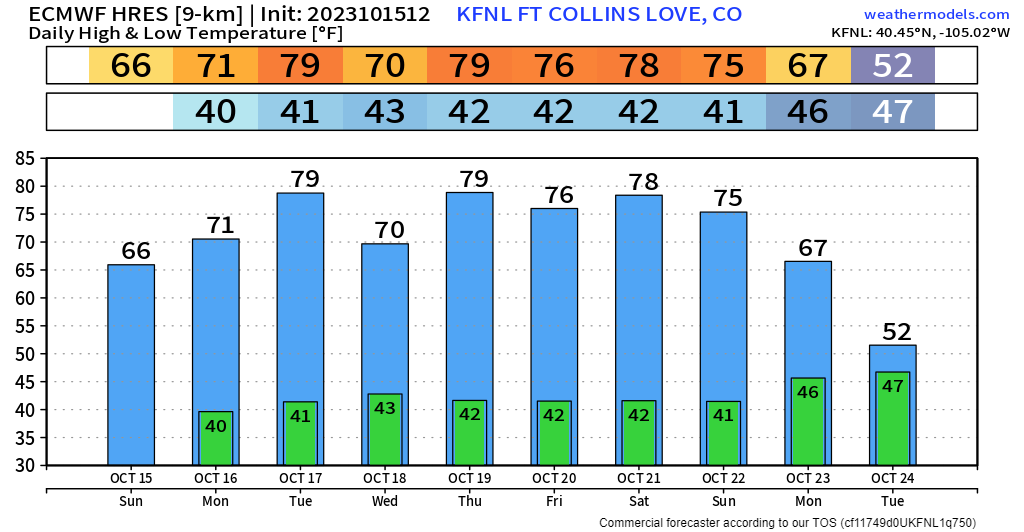 Some things you should note in these charts THROUGH next weekend – there isn't much variability... and it will be mild. For reference, on average temps should be in the mid-60s for Denver this time of year. We'll likely run 5-15º above normal in this period.
I do want to touch a bit more on the mid-week system. We've been watching it for a few days, but most models show that the system is too far from Colorado for any huge change.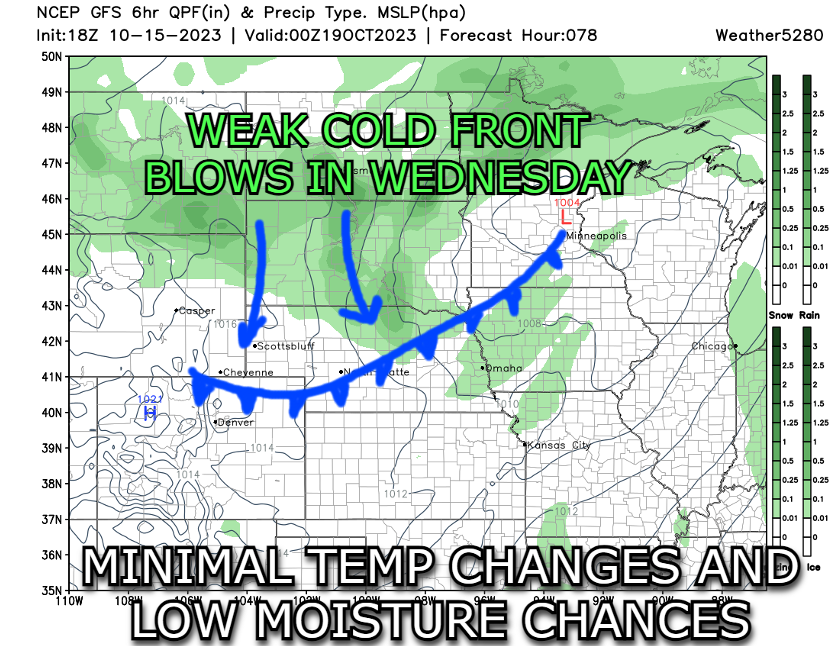 In the map above, the storm itself will be centered over Minnesota, bringing a majority of the system's moisture to the Dakotas, moving to The Great Lakes, eventually stalling out over New England.

Beyond this weekend? Well...
There's a lot going on in the graphic below, but I tried to add some captioning to give you an idea of what we're thinking, especially going into the end of October.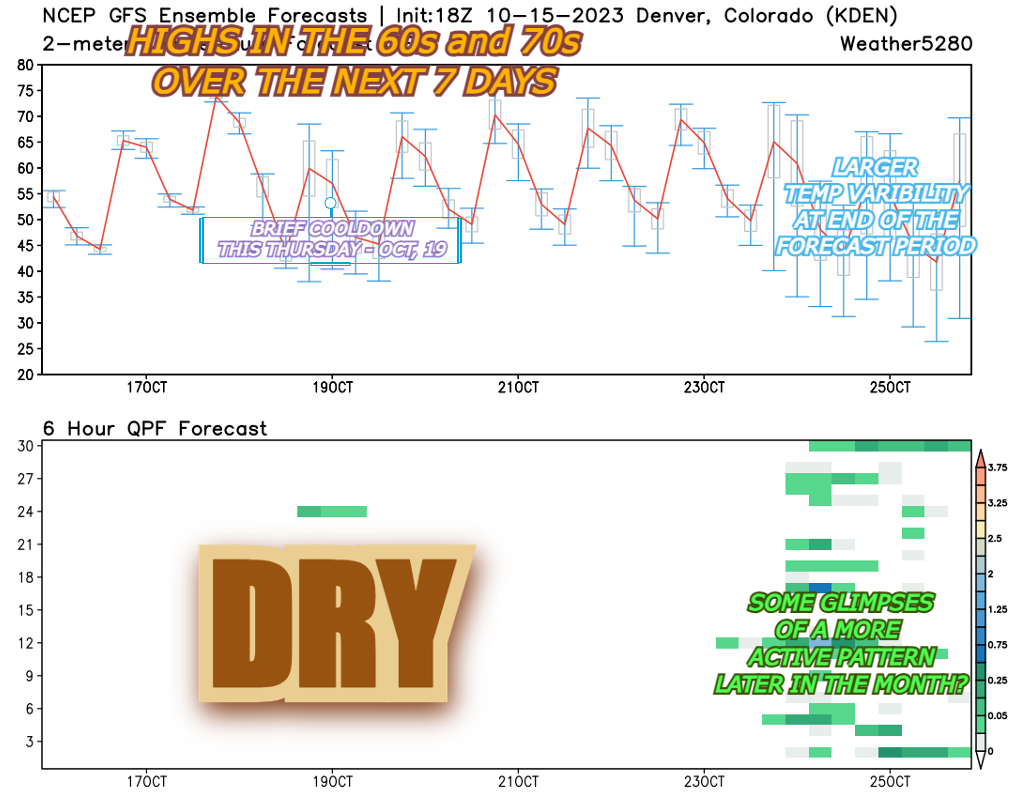 We already dug into the mild stretch ahead for the next 7-10'ish days... but notice the highlight around Wednesday, Oct. 25. Yeah, I know it's a while out, but if we're looking for any appreciable pattern change, that's what we're eyeing.
On the bottom half of the chart, we have a chance for moisture. Notice how the green/blue chiclets (not an official scientific term... 🙂) light up around that time period. A potential sign of moisture with rain at lower elevations. For the mountains, a possible shot at some snow.
To be clear, this is not a homerun, slam dunk chance for a big storm, or even a minor system. But it's at least something.
Fall in Colorado can be finicky during El Niño episodes. We can sometimes see the season end up drier and warmer than normal as we wait for Niño/Ocean temperatures to couple with/work in tandem with the upper atmosphere. That seems to be the case so far this year.
Overall, if you're looking for ski season to ramp up, you're itching to get the snow tires on, or wanting to break in the new snowblower, we're going to have to play the waiting game a bit longer.
Until then, remember to not get left out in the cold this winter! Stay one step ahead of the changing weather by subscribing to our email list today!