In our State of the Atmosphere post on Monday we outlined warm and dry weather holding tight this week. We're still in the midst of a dominating ridge of high pressure, with nothing more than some brief wobbles from 80s to 70s through the weekend and into Monday.
For Friday, we're looking to see one of our warmest days over the next 7. The forecast of 84 puts Denver a whopping 19 degrees above normal for the date!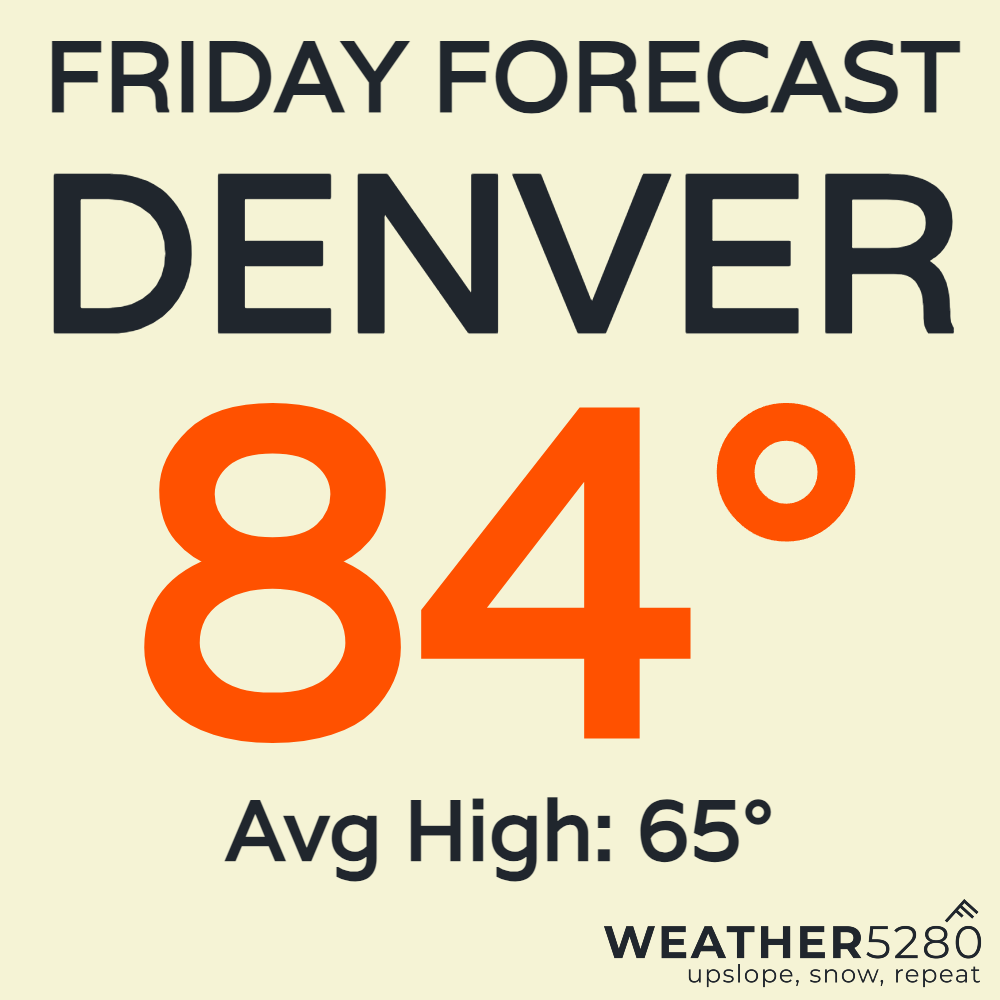 The whole state is going to feel this late-October warmth. Check out the departure from average temps for Friday afternoon: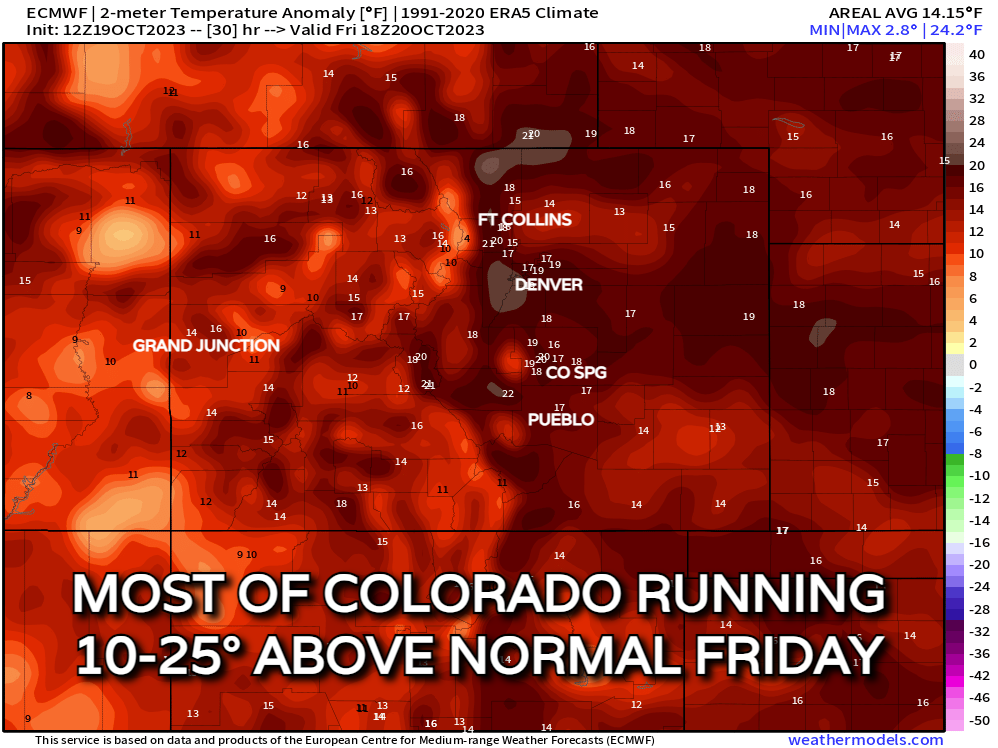 We'll see the ridge relax into this weekend and we're not expecting it to be AS warm. But we'll still see temps 10-15° above normal. We'll see highs in the 70s for most along the front range on Saturday and Sunday.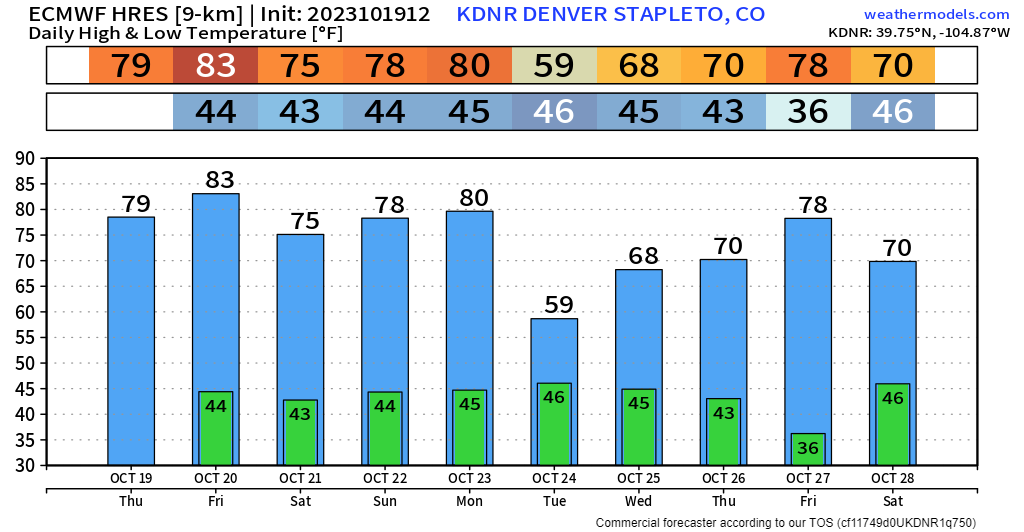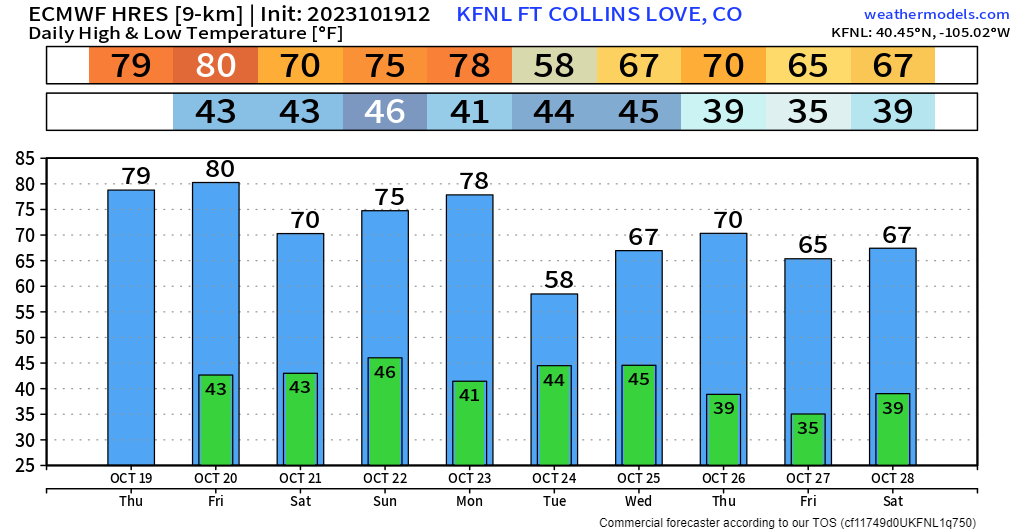 We will notice a pretty sharp cooldown on Tuesday of next week. That will be the start of what (at this time) looks like a slow, drawn out pattern change for the western United States.
Initially, it looked like we would get most of this to come out around the 25th, consolidated into 2 pieces of energy, back-to-back. Thankfully, Mother Nature plans to make this... fun to forecast.
Here's what things look like now...
An area of low pressure spins up off the coast of California Monday night into Tuesday, pulling in remnants of what is currently Hurricane Norma in the eastern Pacific.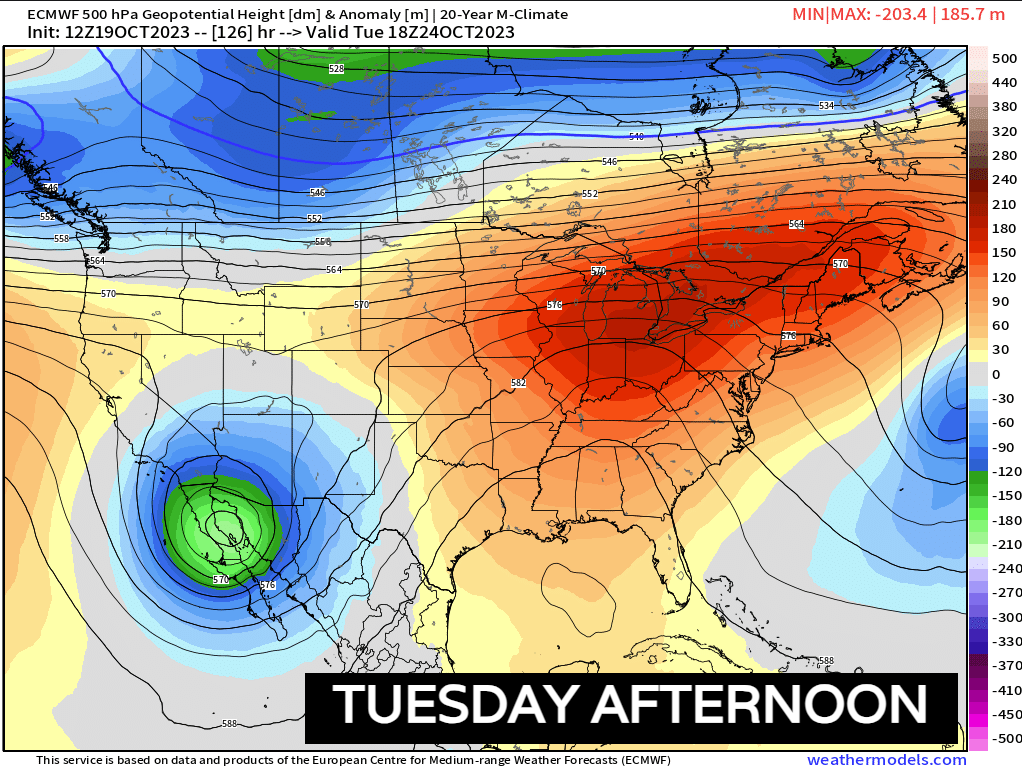 This system will move northeast towards New Mexico and the panhandles of Texas and Oklahoma. That could sometimes be a good sign for moisture in Colorado. This time around, it looks to weaken a little to quickly and go just a bit too far south for moisture along the Urban Corridor.
Below is the EURO's printout for moisture potential between Tuesday and Wednesday. Notice the bullseye over the central and southwest mountains. Seems like a few ski resorts might be able to squeeze out a light-to-moderate snow event before this system quickly exits.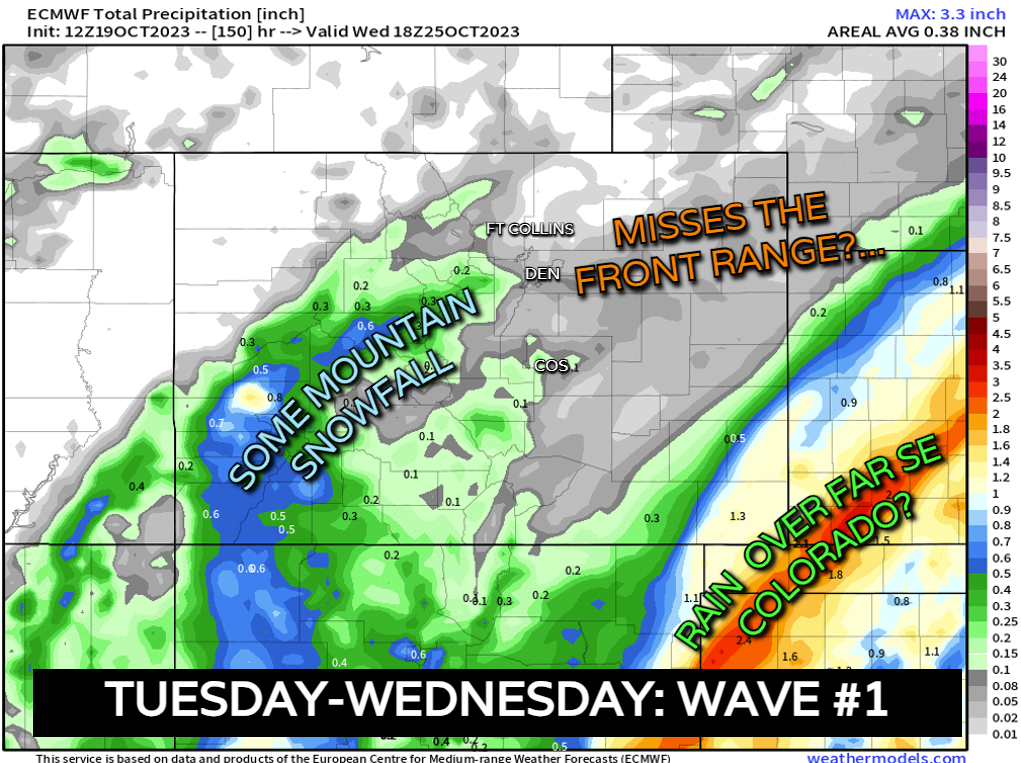 There's also a shot for heavy rainfall in Baca & Prowers county in southeast Colorado. At this range, it seems like the Front Range misses out on wave #1. It will be cooler though as many of us will see a return to 50s and 60s along I-25.
After that... things get a little weird...
It's looking like we'll see a brief warmup after Wednesday (10-27 to 10-29) as a weak ridge pokes into Colorado out ahead of a stout shortwave that develops over the Pacific Northwest. That's where we'll potentially see Wave #2 get its act together.
Beyond that, the models are fumbling all over the place. Some have that system shooting north into Canada, while the EURO is a bit more aggressive in digging that wave into the Great Basin. It looks to swing most of that energy through sometime around the 29th or 30th, close to Halloween.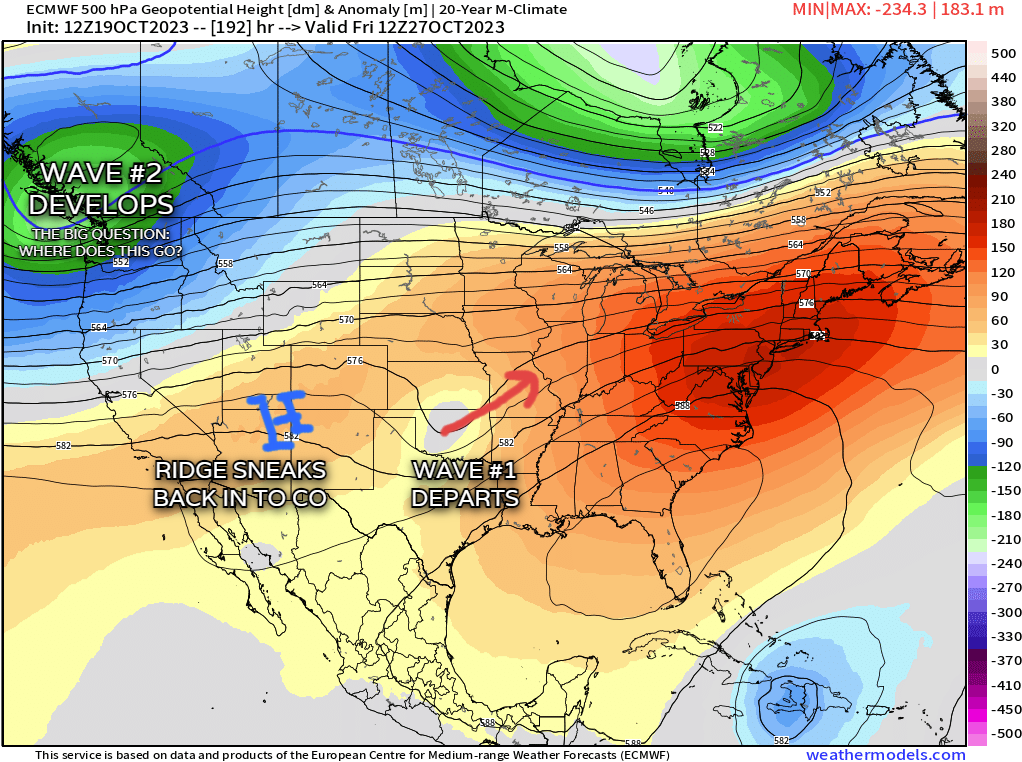 Keep in mind, that's just one solution. We've got several others we're looking at. Our best "outlook" this far out is an ensemble, which takes an average of many different solutions. Notice below how the solution on the top is pretty granular, and certain features are easier to pick up. While that looks pretty, it's probably going to look a bit different when it runs again tonight.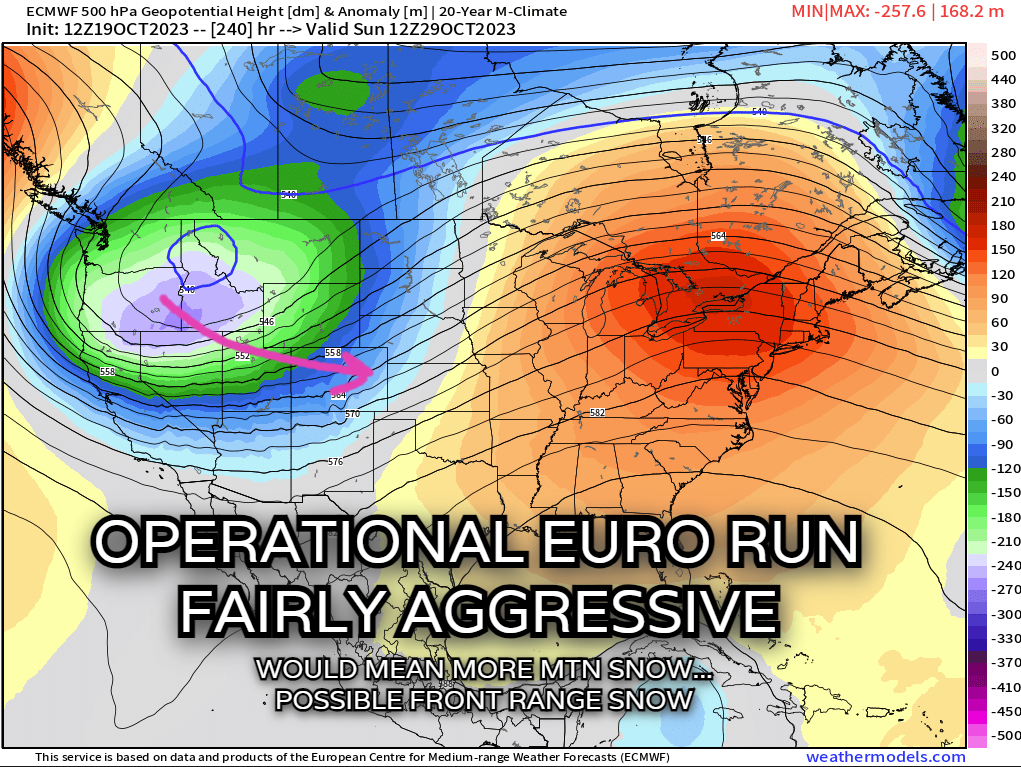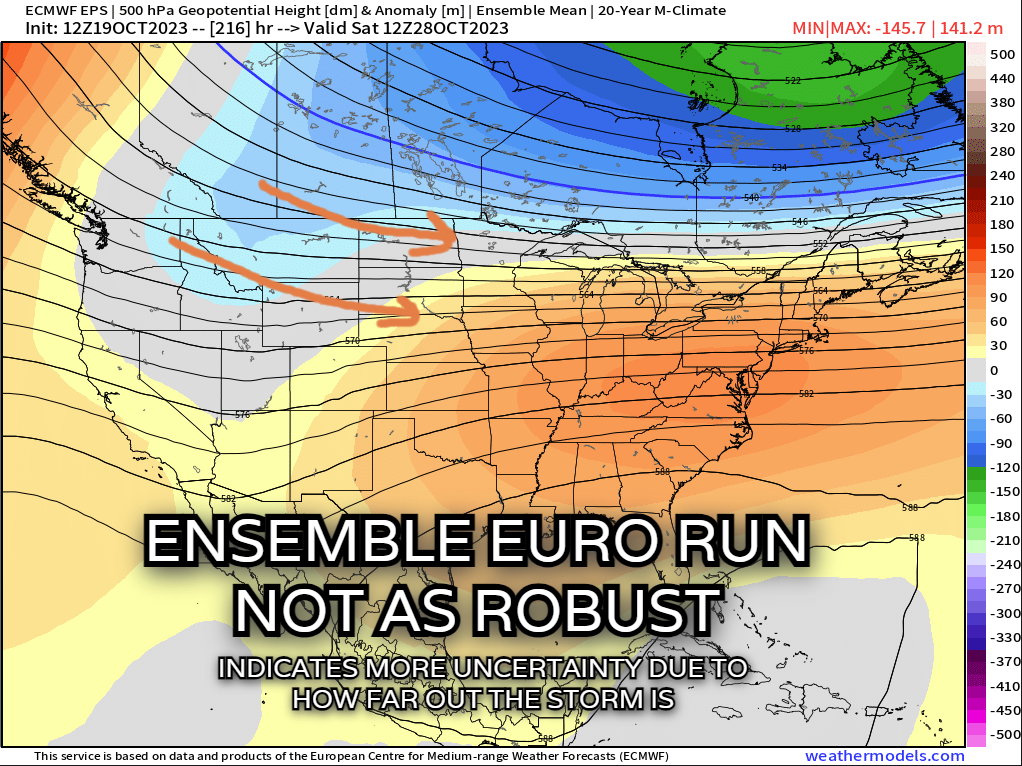 For the ensemble on the bottom, things are a bit more nebulous and stretched out. But we can "pick up" on a pattern that it's trying to portray. Some storminess in the west, ridging and warmth over the east coast.
For now, that's at least a good start. The important part will be seeing how the ensemble begins to become "clearer" as it's multiple solutions begin to fall in line with each other a little more in the coming days. I'd say the mountains are in a decent position for 2 rounds of accumulating snow next week. We'll want the ensemble to shift a bit further south if we want something more robust for the Front Range & Plains.
Bottom line: Warm through Monday, possible light mountain snow Tuesday/Wednesday, watching the end of next week closely!
Don't want to miss updates as we go into next week? Stay one step ahead of the changing weather by subscribing to our email list today!