Denver's 86-degree Friday shattered the previous record of 83°F set back on Oct 20, 1950. It was also the 2nd-latest recorded 86-degree reading since record-keeping began for the Mile High City! Safe to say it was way hotter than normal.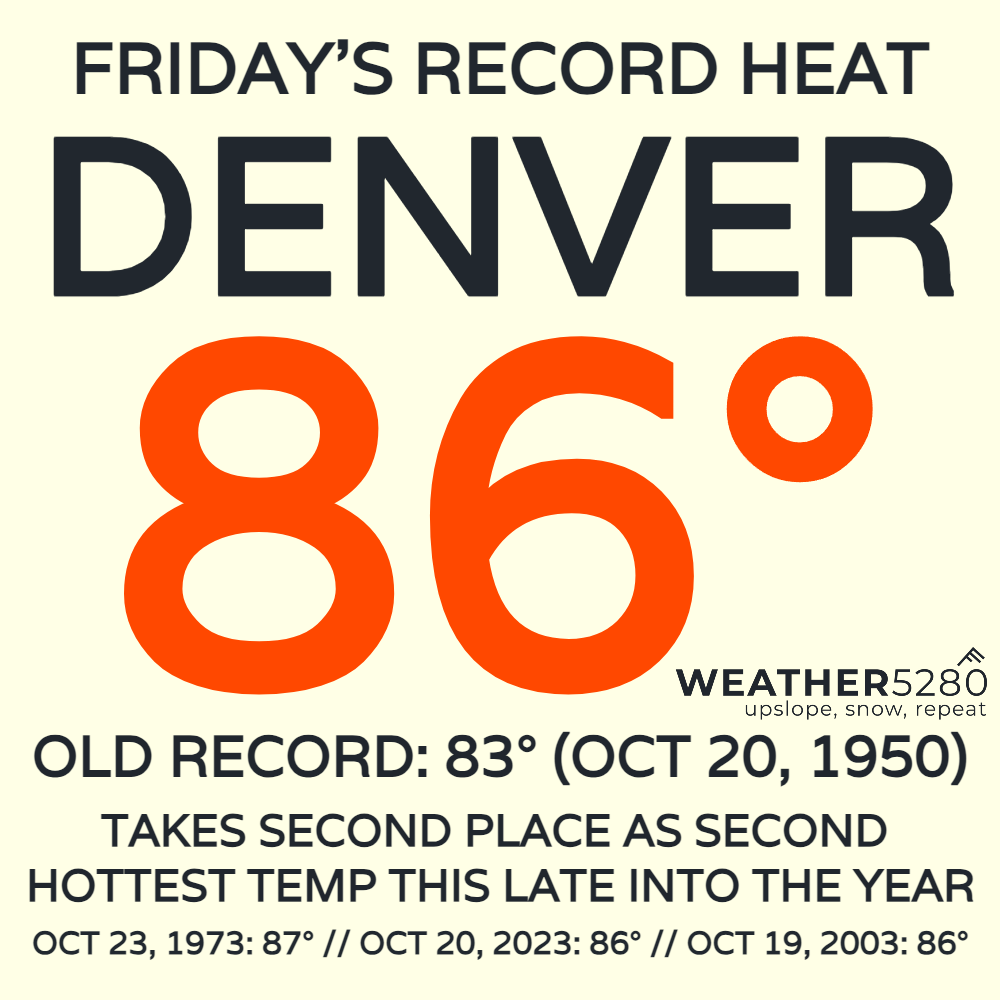 This weekend has featured some slightly cooler temps, back into the 70s for most along the Urban Corridor. We'll try to get back to 80°F in Metro Denver on Monday before a cold front knocks us down into the 60s and 70s Tuesday.
That will be the first step into a gradual pattern change, which may end with some snow for the lower elevations by next weekend.
Our last post outlined the potential for a storm around Halloween next weekend. While there has been some shifting around of timing/intensity from the mid-to-long-range weather data, colder temperatures and even some snow still looks to be in the cards.
There's several moving parts to this pattern change, so let's take them step-by-step:
WAVE #1: The Tuesday/Wednesday "Storm"
Storm in quotes because... it's not much of a storm. This part hasn't changed from the previous update: System spins up in California Sunday night, remnants of Norma link up with it by Monday, storm weakens considerably as it moves east.
Sure, it will cool us down a bit, but moisture is lacking as the storm fades on approach to Colorado.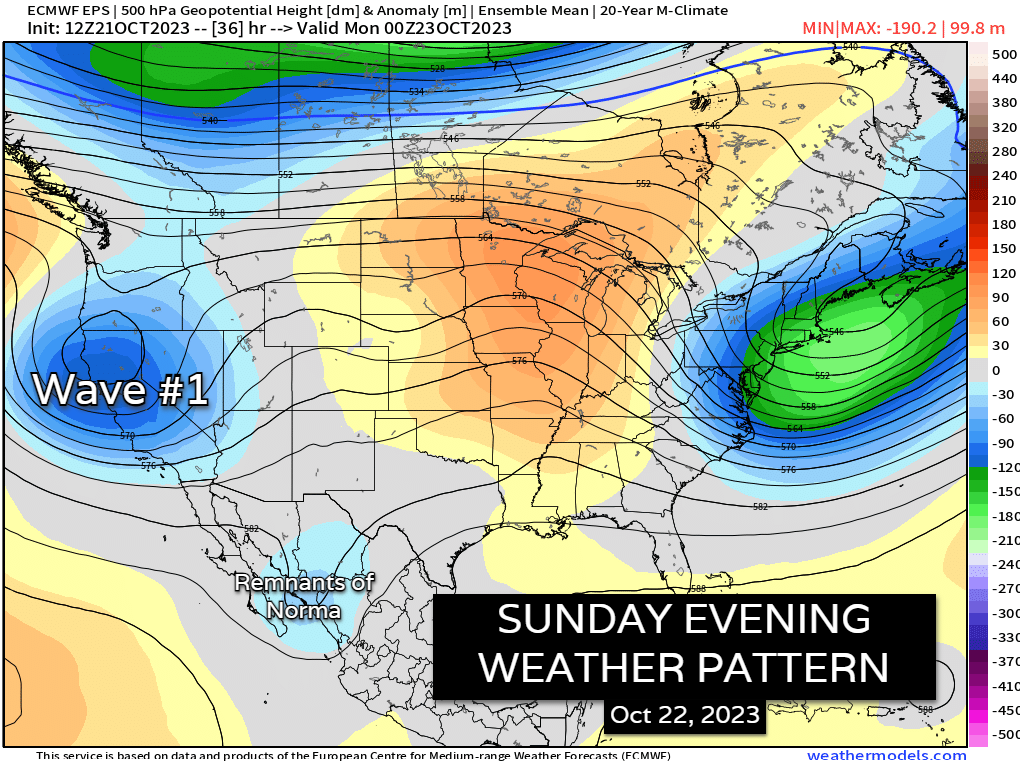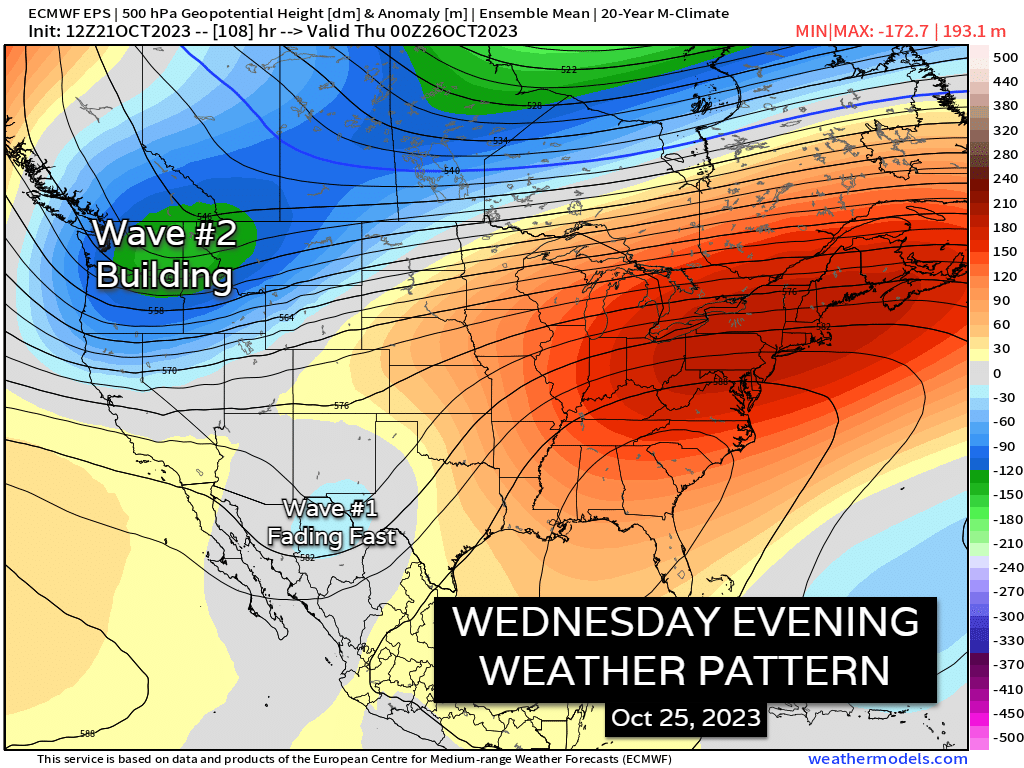 Below is a look at the EURO precip charts between Tuesday and Wednesday, October 24-25. Nothing much to write home about. In fact, Tuesday afternoon may feature a thunderstorm or two over the far eastern plains. That might be the highlight of this thing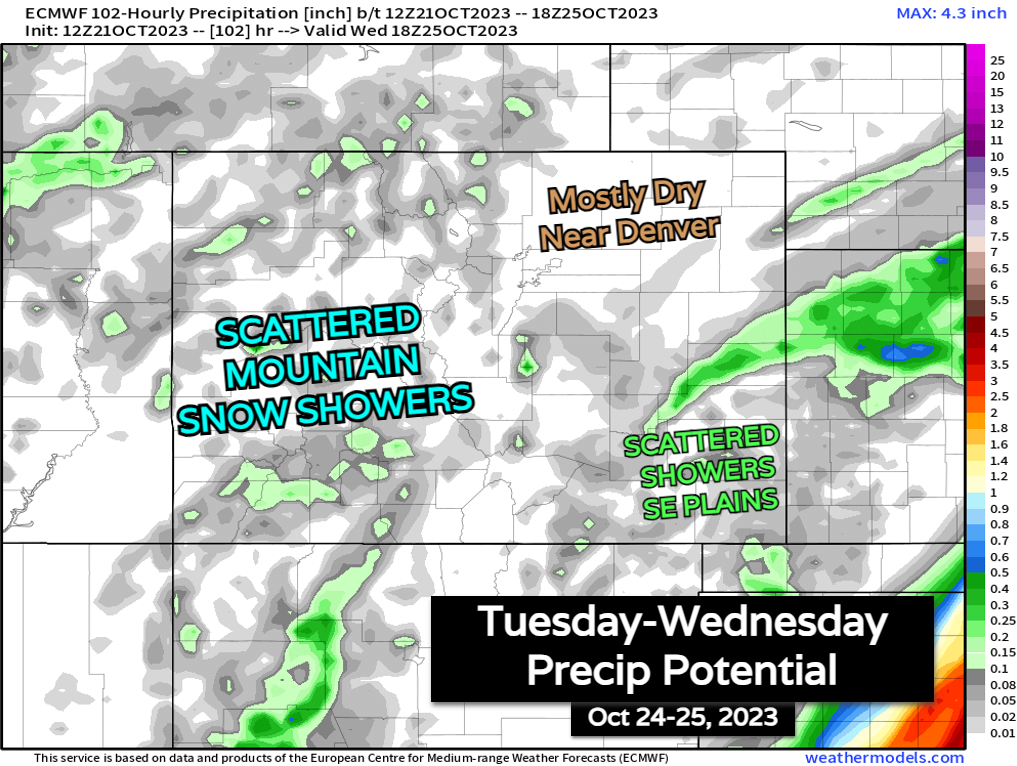 WAVE #2 Friday through Monday: How will the rest of this pattern change play out?
This has been the hardest part of this forecast so far. Trying to pin down what Wave #2 is going to do. From Saturday's data, the biggest consensus so far looks to be a big drop in temps.
Winter-like temperatures with highs in the 30s and 40s, and lows in the 10s and 20s won't be impossible to hit sometime between Friday and Monday of next weekend.
Based on the EURO ensemble data below, we will have a very large area of cold air develop over the High Plains and Western Canada late in the week. The signal is for this cold air to push down the Front Range next Saturday night into Sunday.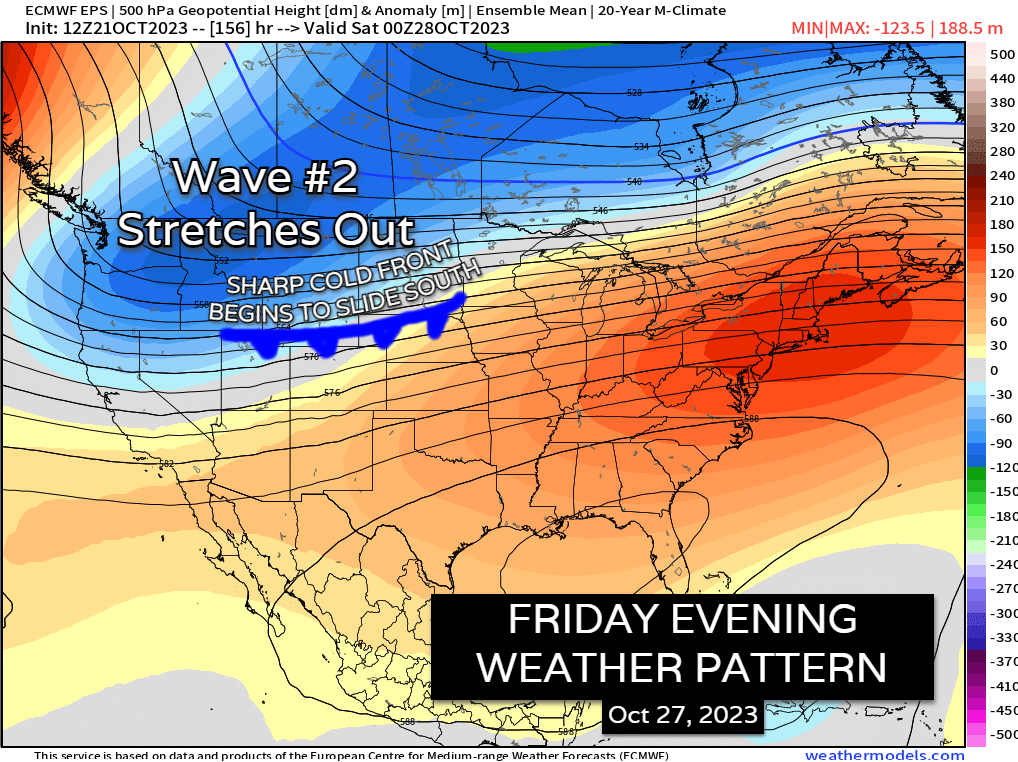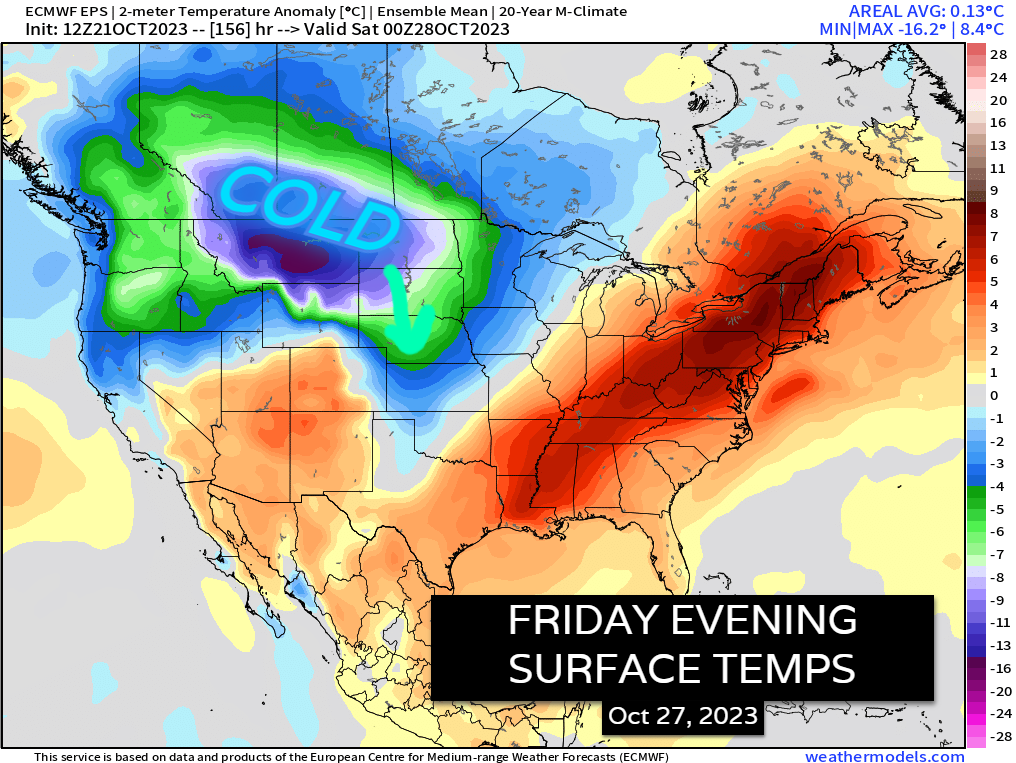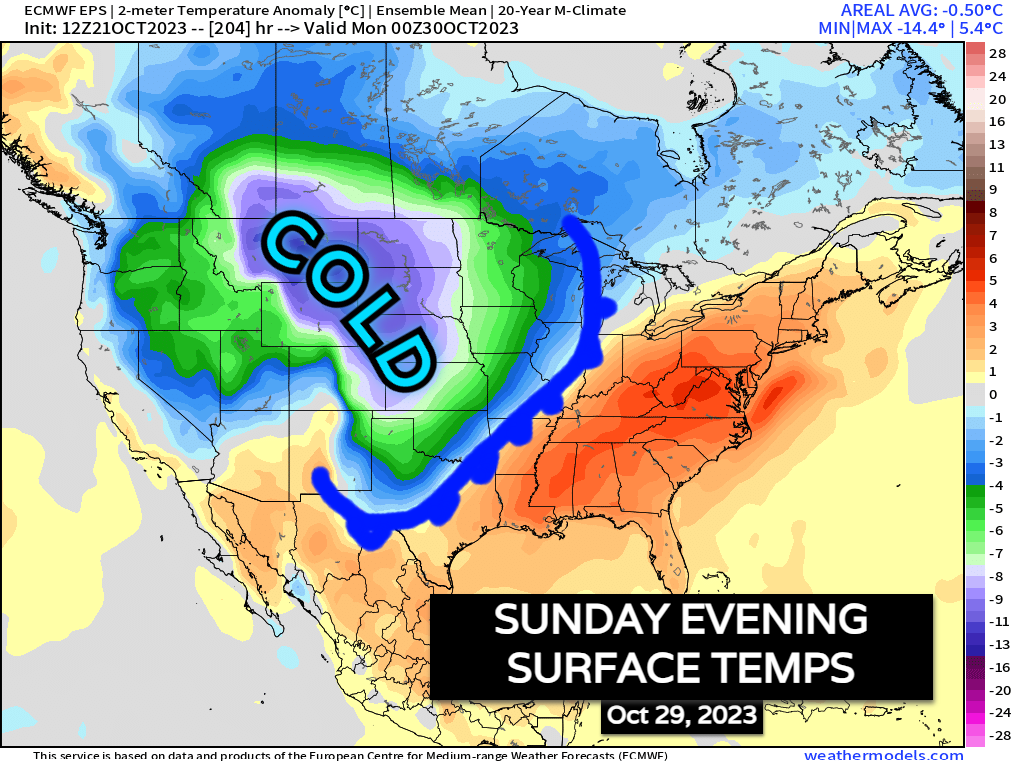 Departures from average temperatures range anywhere from 10-30° below normal, which would put us in the category of those winter-like temperatures mentioned earlier.
The next big question, which won't be answered until later this week is the precipitation aspect. The latest EURO prints out some decent snow next Sunday, Oct 29th for the northern mountains, some light snow on the Palmer Divide & north into Denver, with minimal snow chances south of I-70. This solution would also short out the southwest mountains of the state.
It's way too early to put any investment in snow prospects at this range, but I figured I'd at least show you what we're seeing now.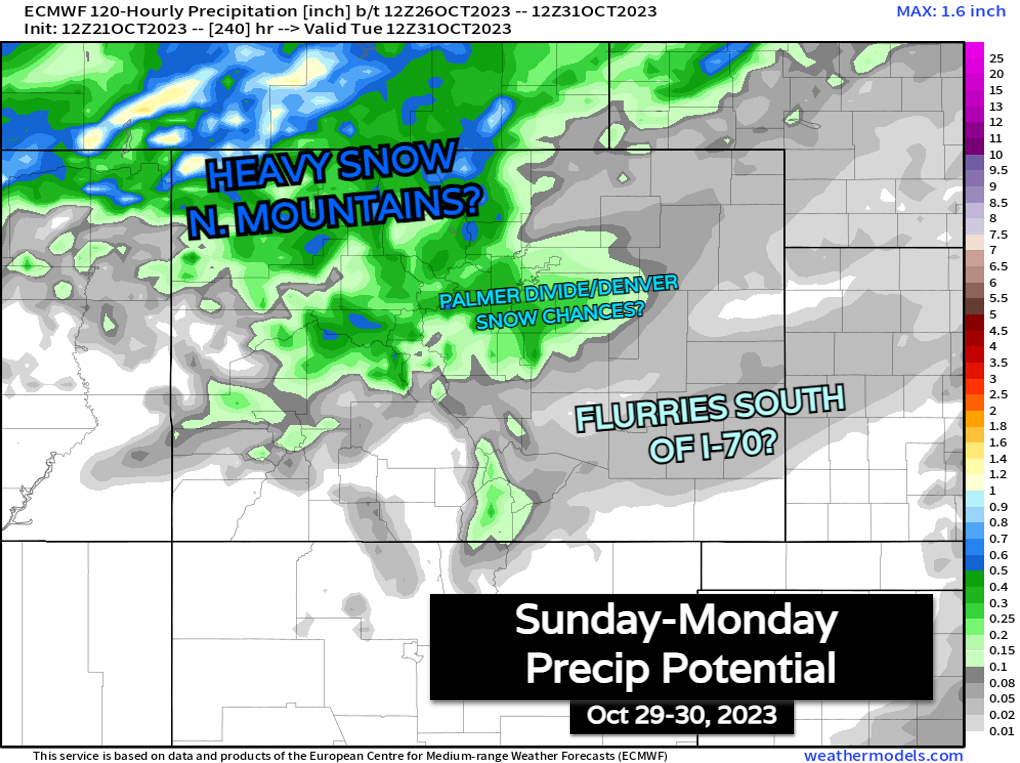 All that being said: still 5-6 days out from "gametime." Expect changes and shifts! If I were to put some numbers on this, I'd say the cold air aspect is a 50-60% lock, while snow chances feel a lot more uncertain: maybe a 10-20% chance for first accumulations of the season at lower elevations.
We're going to be all over this storm and its changes this week! Stay one step ahead of the changing weather by subscribing to our email list today!