A couple rounds of snow have fallen across this morning. Pictured above Fort Collins already seeing accumulations occur on grassy and elevated surfaces. As expected, roads have remained just wet so far. But there have been reports of icy bridges in the Denver metro area which have cause a couple crashes earlier this morning. That shouldn't be as much of a problem through the day today.
11:15am - A peek at the traffic camera on I-70 near the Eisenhower Tunnel shows wet road conditions.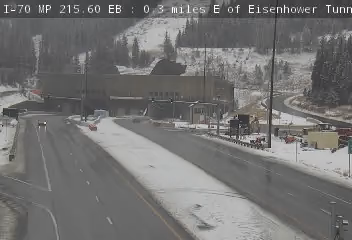 3:00pm - A couple hours worth of snowfall in Douglas County left behind 2 to 4 inch totals in parts of Castle Rock.
As we mentioned in yesterday's update we'll start to see road conditions go downhill after sunset this evening, especially those surfaces that melt snowfall initially, remain wet until turning into an icy mess.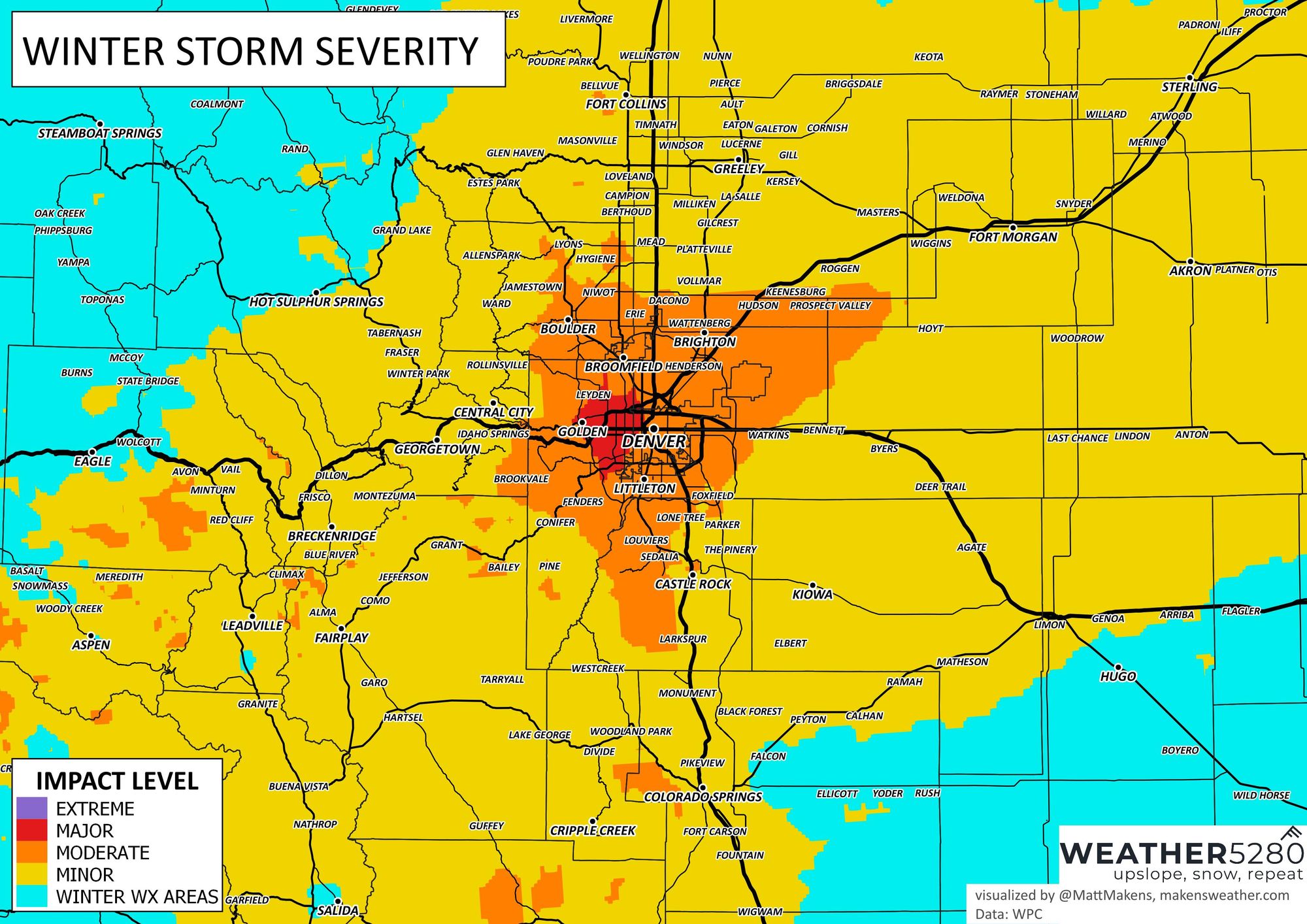 Here's the latest hazard map from the National Weather Service: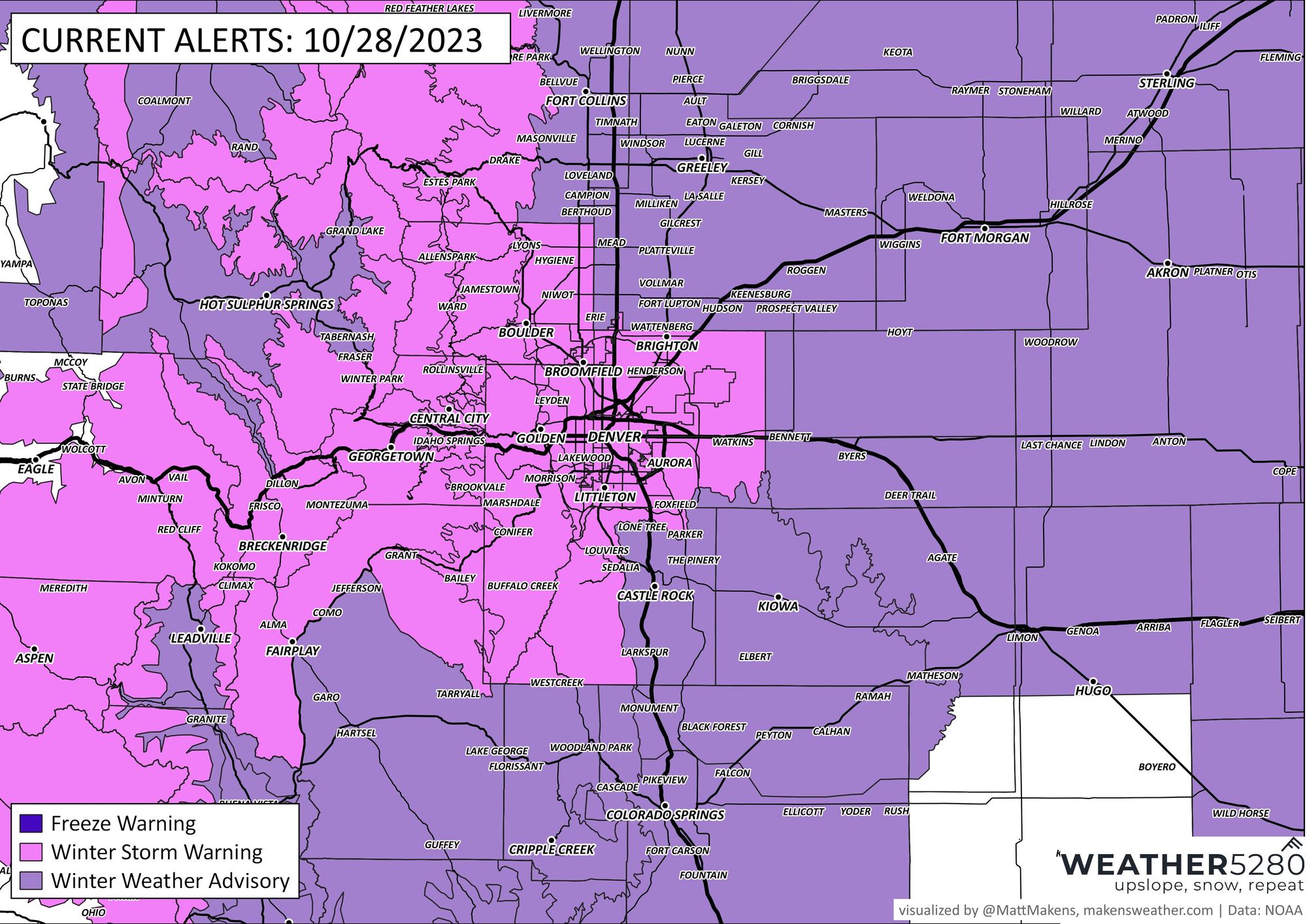 Winter storm warnings (pink) are up for Denver, and the foothills to the west, along with areas along HWY 105 in Douglas County. The warning is in effect until noon Sunday for lower elevation/foothill locations . Warnings extend along I-70 into the mountains.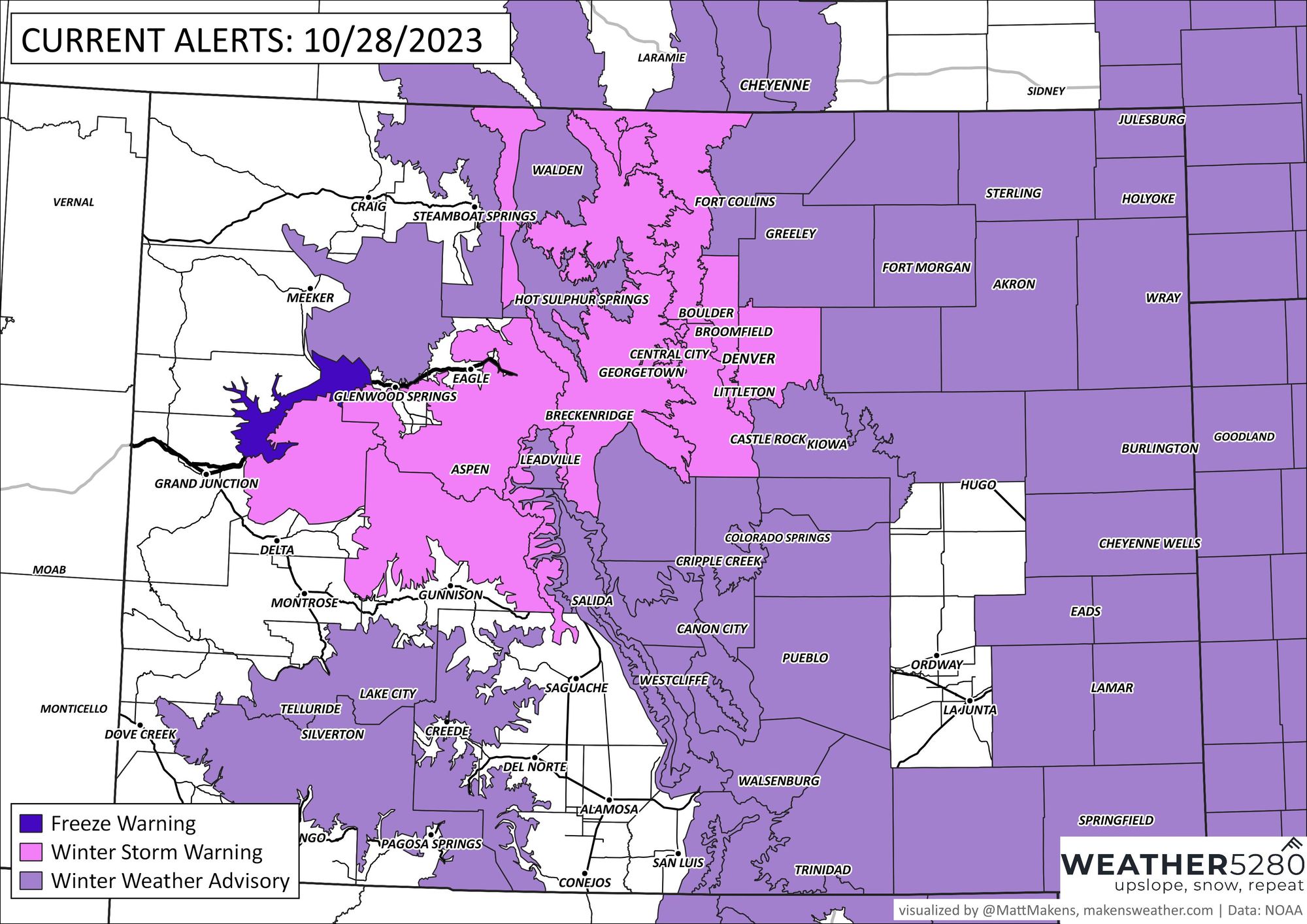 For northeast and southeast Colorado winter weather advisories (purple) are in effect. Areas south of the Palmer Divide including Colorado Springs and Pueblo will see lower totals, likely under 5". Teller County is in line for 4-6". Icing/freezing drizzle is possible over far southeast Colorado near Springfield and Lamar.
SNOWFALL TIMING
After some snow bands through early-mid afternoon today, our attention is still on the better and more widespread potential tonight. This wave will be the start of steady, accumulating snow for most from Denver to Fort Collins and our foothill locations. We'll see it stick to elevated and grassy surfaces first. Roads should be fine until sunset.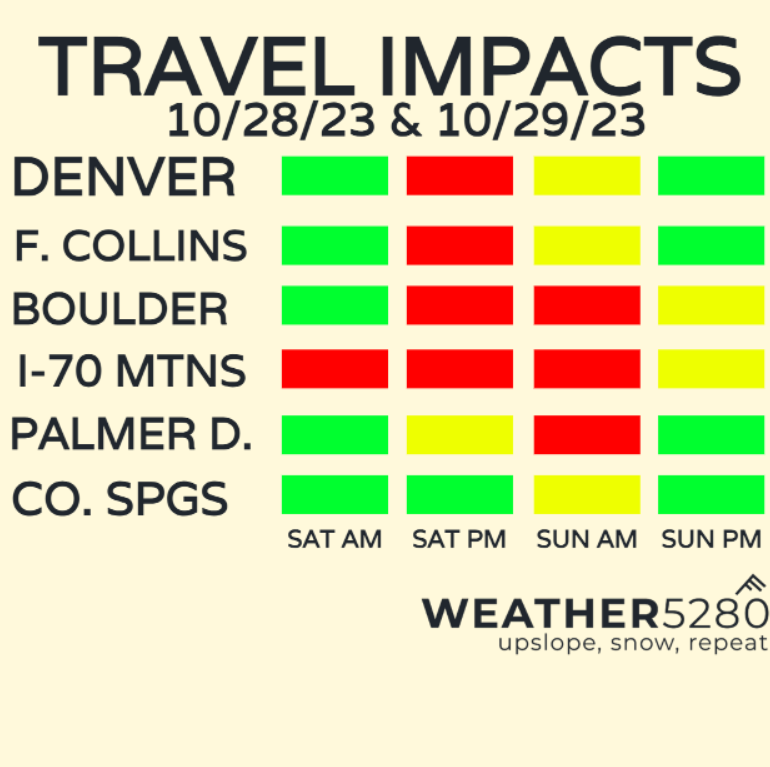 HEAVIEST SNOW TIMELINE - CITY BY CITY
Denver: Sat, 5pm - Sun, 2am
Boulder: 5pm - 2am
Fort Collins: 2pm - 11pm
Castle Rock: noon - 4am
Monument: 5pm - 8am
Colorado Springs: 9pm - 10am
SNOWFALL AMOUNTS
Our snowfall charts are a bit lower to take into account initial melting due to warm ground conditions. This will still be a medium-impact event and with this being the first snow event of the season for many of us, travel will be slow.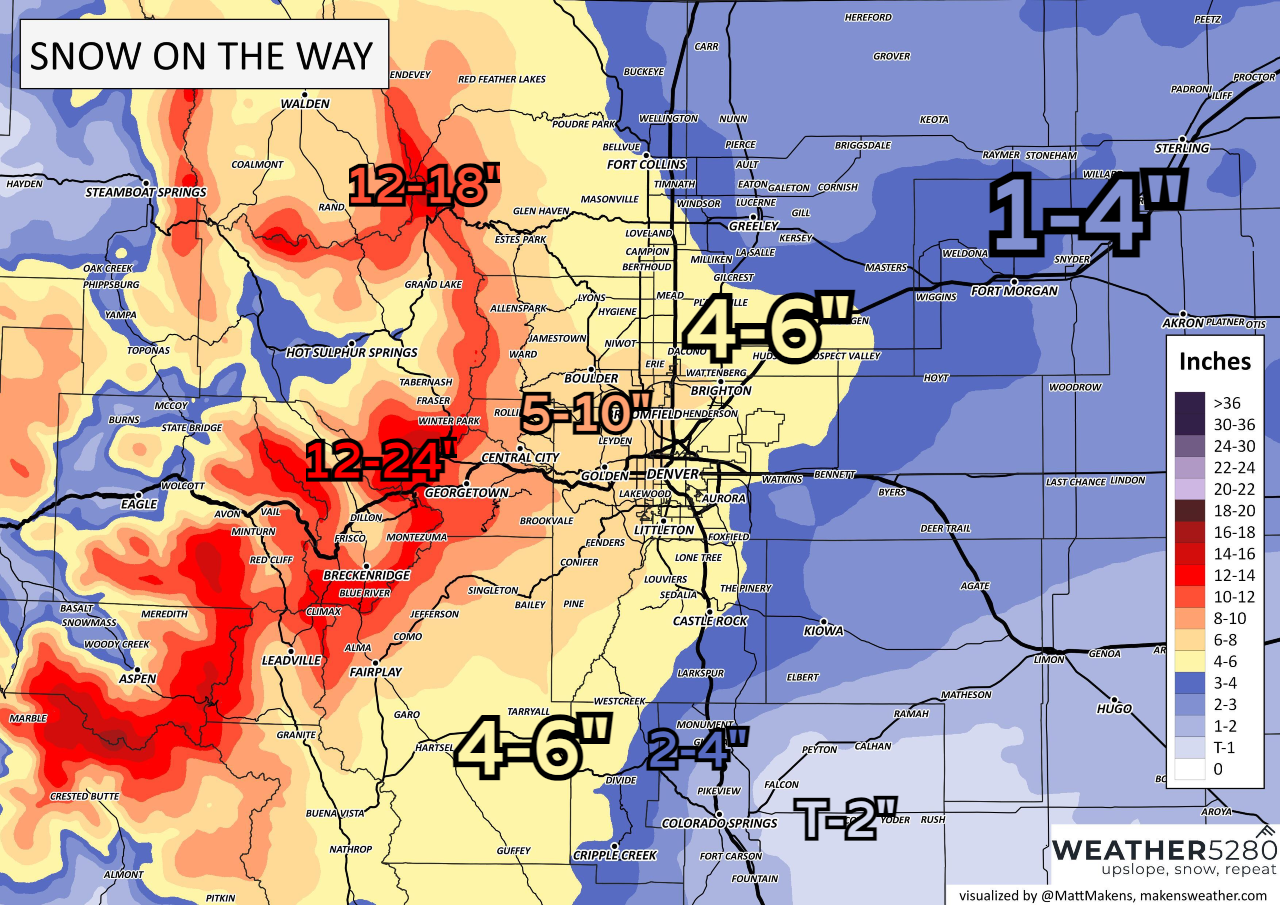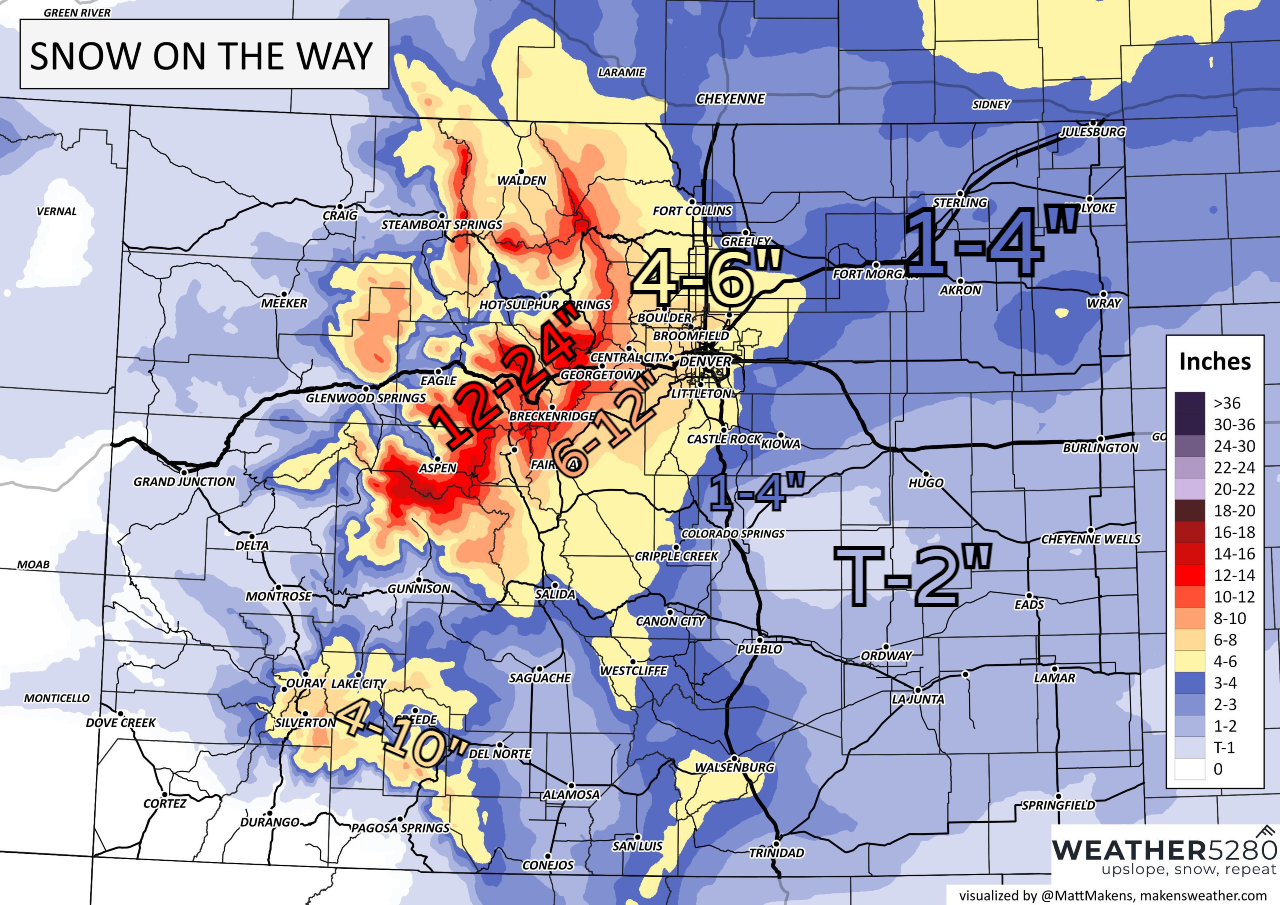 As always, send in your reports throughout the storm. We hope everyone is safe during the storm, and as always, stay one step ahead of the changing weather by subscribing to our email list today!