To start the week, more of the same... changes by Wednesday
All has been relatively quiet along the front range since last weekend's snowstorm. Other than beautiful sunrises and beautiful sunsets due to a strong jet stream overhead, we haven't had a whole lot to talk about. Some of the photos shared with us last week, however, were stunning!
And here's a look at those winds roaring in from the west overhead: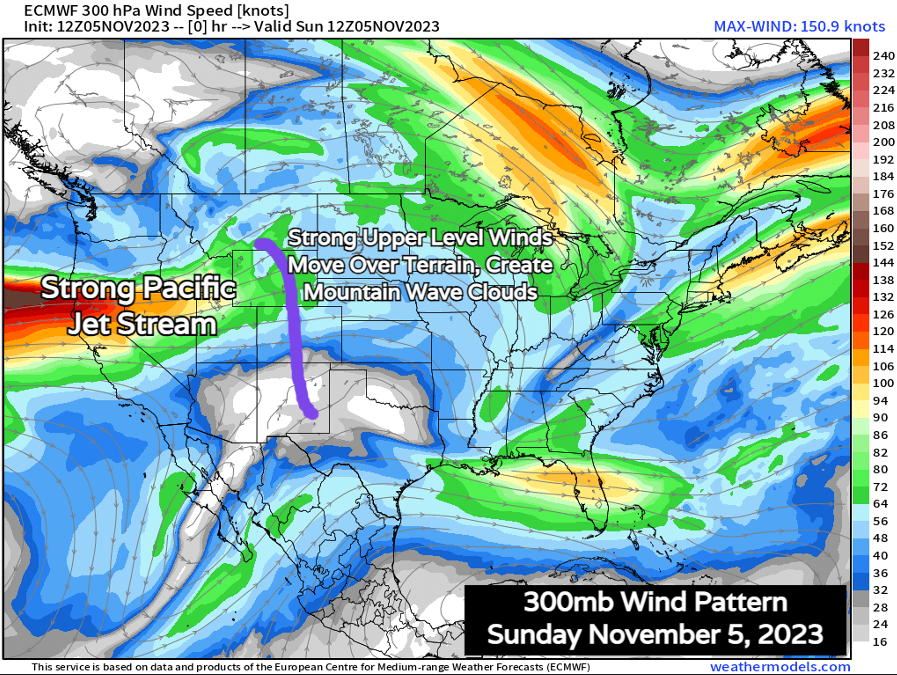 Temperatures over the next several days aren't going to move around a whole lot. We're probably at our warmest here on Sunday afternoon, but we'll hang on to the mild air Monday and Tuesday too. In fact, today's warmth was record-setting in Denver:
Wednesday, the bottom drops out on us a bit. It will be gusty, colder and we'll also see a shot for rain and snow showers at the lower elevations, with snow likely for parts of the foothills and mountains.
Denver temperature outlook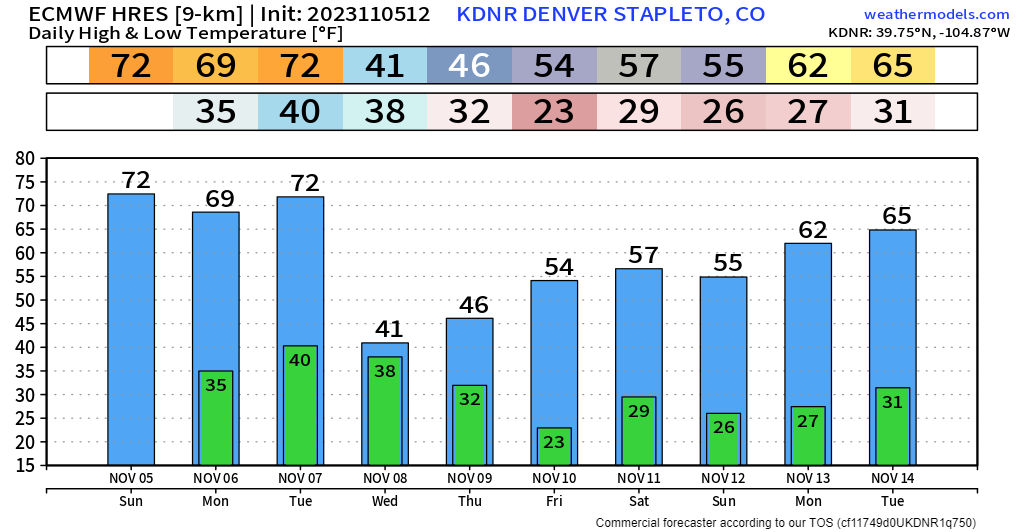 Fort Collins temperature outlook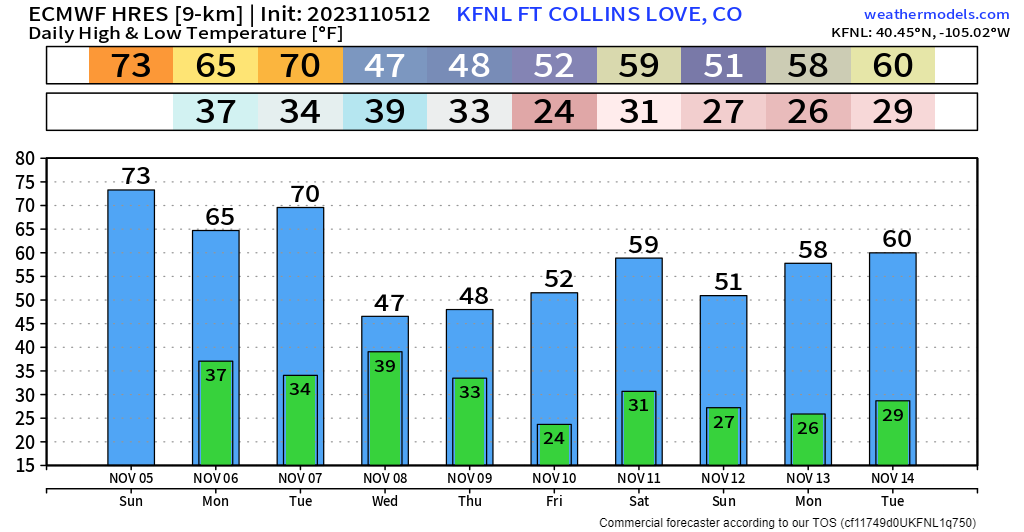 Breaking down the weather pattern
A storm system is set to move on shore of northern California by Tuesday morning. Ahead of that system, a strong pressure difference will setup over Colorado leading to gusty winds Tuesday afternoon. Latest model data is indicating that the upper-level low will weaken quite a bit as it approaches Colorado. This means the storm likely won't be as potent and it will have less cold air to work with as well.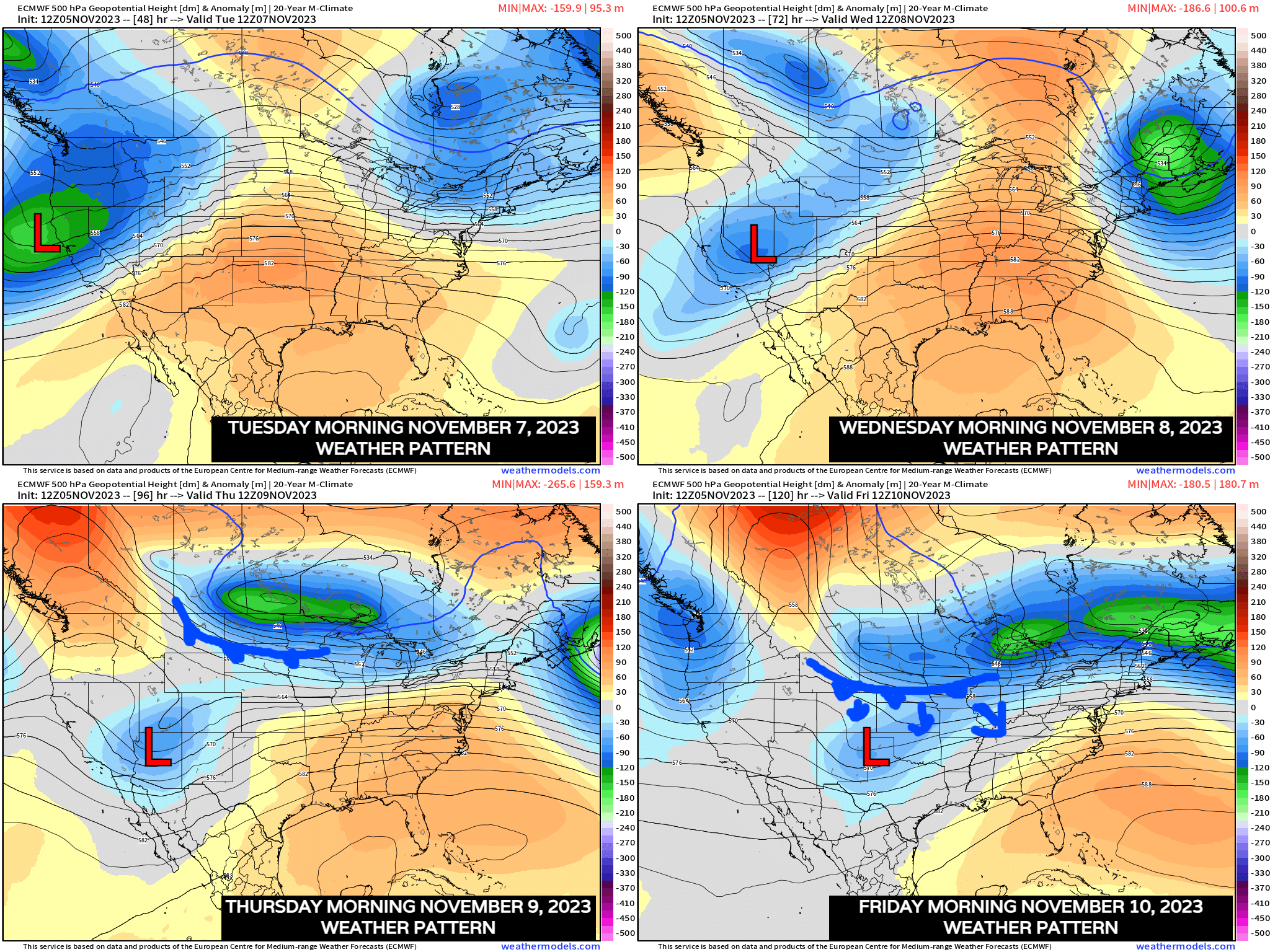 This looks like it's in response to the northern stream interaction, which eventually sends a secondary cold front south on Thursday which should help reinforce the cooldown into the weekend; and even at that, nothing all that significant. Probably just keeps us closer to average highs of mid 50s down low with 40s in the hills.
Now, if we get a phase of these two systems (which seems increasingly unlikely at this point) perhaps we see impacts increase, but for right now, this storm looks quite a bit less robust than the one we saw Halloween weekend.
At this time, the timing for rain and snow along the front range would start sometime Wednesday afternoon, ending by the morning commute Thursday.
An early look at snow potential Wednesday night into Thursday morning keeps most chances for at least 3" over the Palmer Divide and west into the mountains, and not all that likely within the urban corridor cities. With this system also not working with a lot of cold air, significant accumulations will be tough to come by.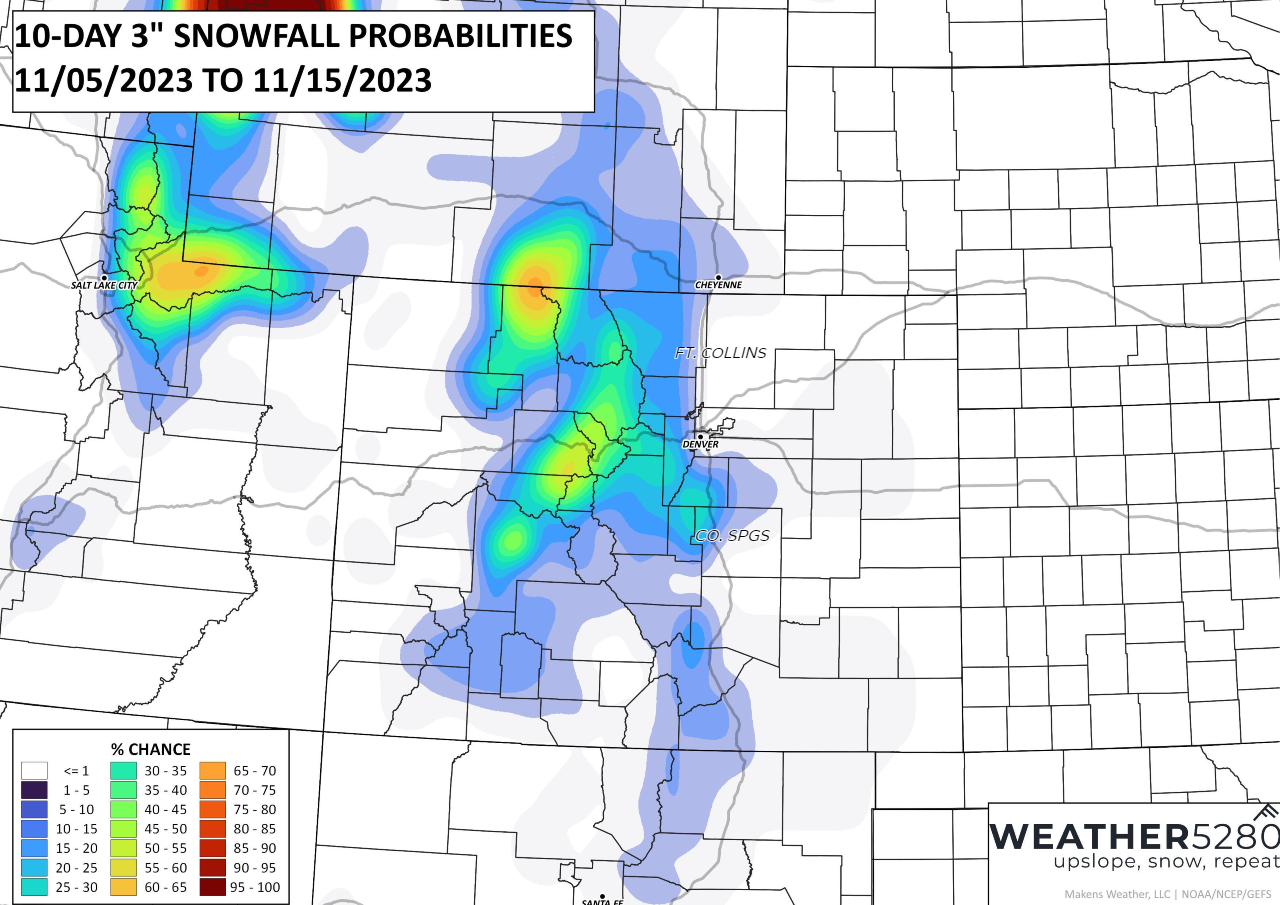 Further down the line, there's been some interest in what may happen around November 16'ish... Long-range ensemble data does support some notable troughing in that time period. That one might have a bit more to work with it as the large-scale wave pattern seems a bit more favorable. We'll see.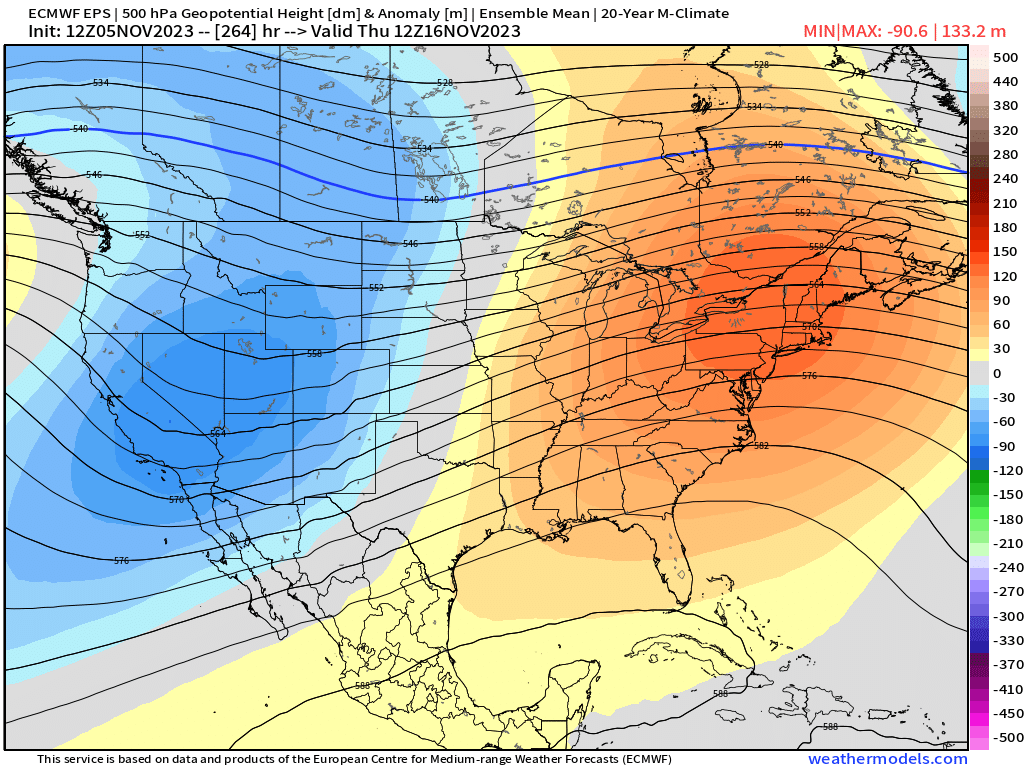 For now, enjoy the next couple of days but keep an eye on the forecast as we head toward mid week. Again, not looking like a big deal at the moment, but things can change(!) and if you have travel plans into the high country Wednesday you may see some travel impacts as things look today.

AI news for NWP
This has been the year for advancements in AI, and for weather and forecasting that is no different. This week in the world of Numerical Weather Prediction or NWP, the basis of the "weather models" we always refer to when making forecast, we saw Google making news. It's from Google's Research and Deepmind team who is presenting what they call a new "state-of-the-art neural weather model". It's called MetNet-3. According to their article, this model will be used to predict all kinds of weather up to 24 hours into the future.
It will be employed across a host of different Google products, including the one you might use when you look up a 7 day forecast on Google Chrome (shame on you for not using our 7 day forecast!). According to the MetNet-3 team, this model is supposed to be able to "outperform" models like the HRRR which was developed by NOAA. We'll have to see how much that rings true going forward. There's plenty to read up on in the article and pretty eye-catching graphics too.
https://blog.research.google/2023/11/metnet-3-state-of-art-neural-weather.html?m=1
---
We'll watch out for this week's storm and keep our eyes peeled around the middle of the month, until then make sure to stay one step ahead of the changing weather by subscribing to our email list today!