---
Update: WEDNESDAY Jan 4, forecast update is here
---
Update: Tuesday, 7pm video update/discussion on Facebook
---
We saw some snow across the northern Front Range this morning, but that's mostly come to an end now, and is not associated with our main snow event due in later Wednesday and Thursday.
Overall we're feeling a bit more excited about things today with regard to snow.
Models are in good agreement that we'll see areas of heavy snow with this event. Anywhere from the Wyoming state line to New Mexico will see this potential, especially along and west of I-25. As we've been discussing for several days now, this will be much like our last storm in that banded snowfall will 1) make for a very difficult forecast around specific totals, and 2) we'll likely see a big spread in totals from city to city, and neighborhood to neighborhood. Most important will be to plan for snow (heavy at times) from Wednesday PM through Thursday, with bitter cold temperatures and tough travel likely.
The models
Models struggle with these events. That said, we're seeing much better agreement this morning than we saw over recent days. Nearly all models are producing good liquid with this storm (upwards of 0.25" in most cases). That, in combination with cold temperatures should yield some high snow ratios, and some very respectable totals – especially for those that end up under a band.
Here's a look at least QPF (liquid) forecast from the latest models:
09z SREF: 0.2"
12z GFS: 0.55"
12z NAM: 0.4"
12z GEM: 0.4"
12z EURO: 0.45" (mean: 0.3")
This yields an average of 0.4" which at 15:1 to 20:1 snowfall ratios (snow to one inch of liquid) comes out to 6 to 8" for Denver from this storm.
Here's a look at the 12z precipitation forecast – totals of over an inch forecast across higher terrain will mean big snow for the resorts: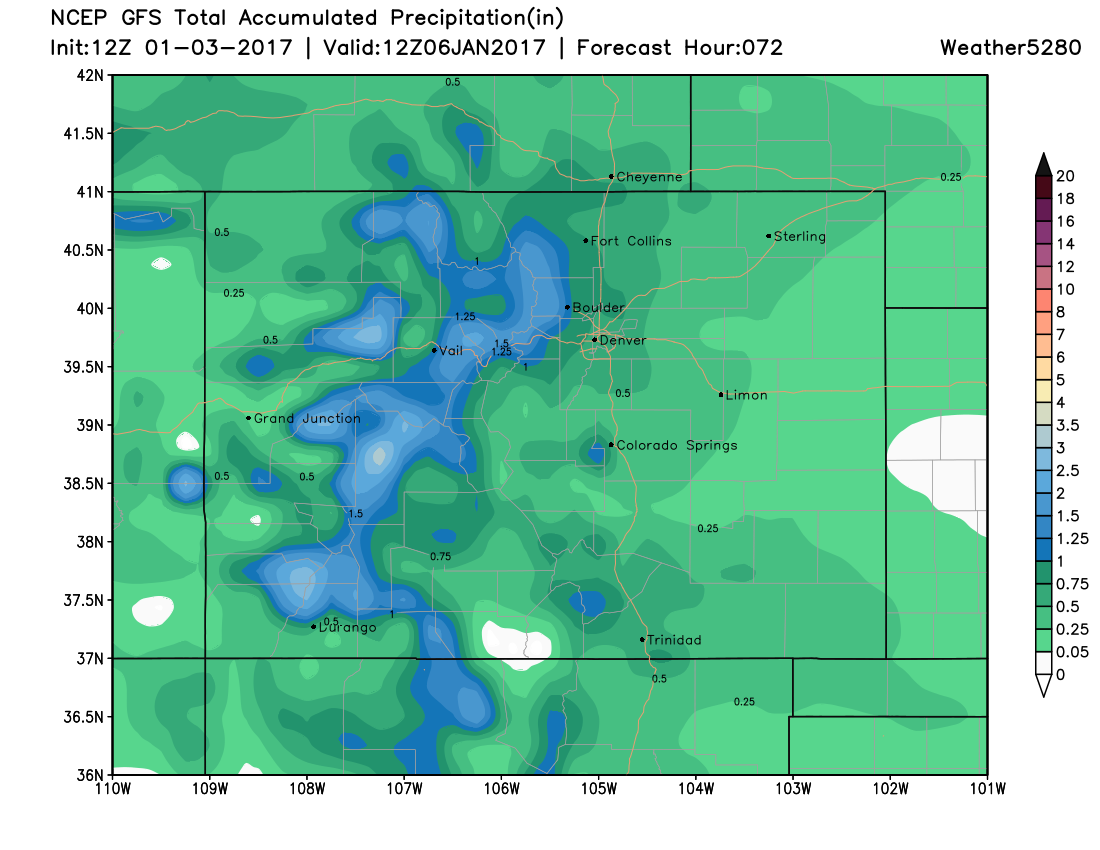 There's still some uncertainty in the modeling, to be sure. This is largely due to the fact that they are having a hard time knowing where to put the bands of heavier snowfall. Take a look at the spread from the SREF for Broomfield. While many of the members are clustered at lower liquid totals, a few are quite high – indicating the potential if you end up under one of these bands.

Concerns
Still a few differences in the modeling which we need to keep an eye on. Last night's mean ensemble forecast from the EURO, for example, was projecting less moisture than its deterministic model, which is a bit of a red flag for caution in a more bullish forecast.
Another pause, is that the duration of the event (mainly by the GFS) still seems a bit questionable – we think snow shuts off by Thursday evening in Denver, but obviously if it keeps going, higher end totals will be more common.
Lastly, communicating banded snowfall and that it won't be equal opportunity is a difficult task, and so too is making a snow map to communicate that. So, we'll try and mention the likelihood of a wide array of totals across the I-25 corridor, and hope folks understand what happens in their backyard may not be true up the street!
Snowfall forecast
With all that, here is our initial snowfall forecast from Wednesday PM through Thursday. We'll be watching how things progress over the next 24 hours very closely, and offer changes to this forecast as needed.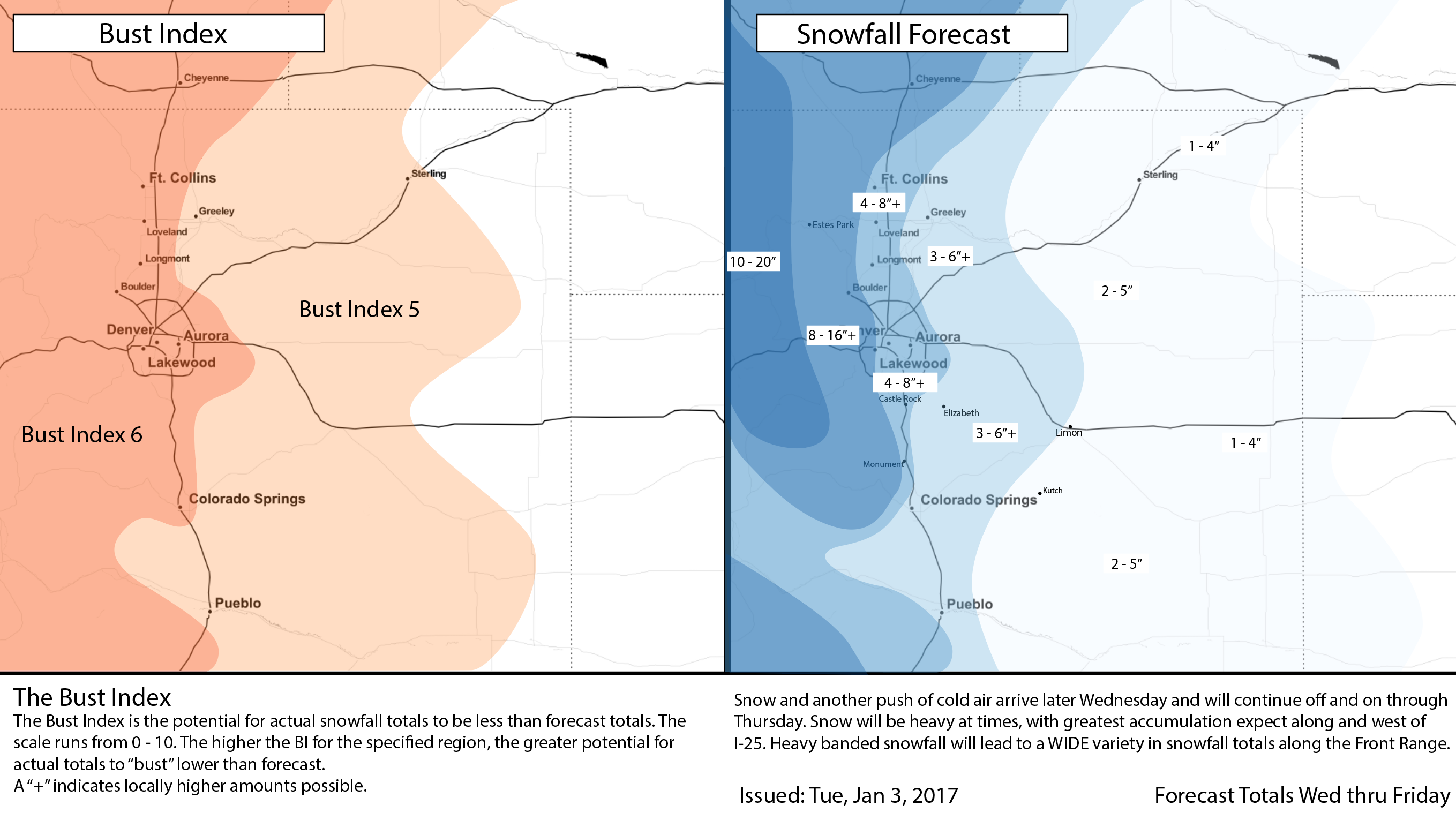 We're going with 4 - 8"+ for most of the metro areas, with 8 - 16" for the Front Range foothills including Boulder. For those east of I-25 totals will generally be lighter, though banded snowfall may very well push totals there as well in a few locales. IF trends remain the same, it could be we bump up totals an inch or two tomorrow in a few spots – but given the uncertainty, and a few models (including the ECM ensemble mean) coming in a bit drier, we'll start here and adjust if need be.
Timing and impacts
We like to stress impact around here more so than getting too caught up in specifics of how many inches each house sees. The combination of cold and snow will make travel very difficult across Colorado Wednesday and Thursday, with heaviest snow falling over the mountains and northern Colorado to begin, eventually sliding south and east Wednesday night and Thursday.
Cold air is here, and we'll only get colder for Wednesday and Thursday. Highs Thursday are likely to remain in the teens.
Denver's best chance for snow comes between Wednesday afternoon and Thursday evening. Right now the toughest commute looks to be Thursday morning, though Wednesday evening may be slow too (especially north of Denver) if things get going faster. If you live south of Denver (Colorado Springs) your best chance of snow at this time appears to be during the day on Thursday.
Plan on tough travel conditions across the state, especially along and west of I-25 and into the mountains where heavy snowfall will be making roads snow-packed and icy.
No winter weather advisories or watches have been posted yet for the Front Range, but that may change later this afternoon if things stay on track. Stay tuned.