We've found ourselves in a bit of a pattern over the last few weeks, one that is likely continue for the week ahead as well. That is, warm and quiet weather to start the work week, with a cooler and more active weather pattern to end the week.
As we move further and further into the spring, those warm days become warmer and warmer with each passing week, but still cold and snow lurks. In fact, April is Denver's second snowiest month on average.
For the next several days, no concerns about snow whatsoever. Temperatures will climb into the low 70s each afternoon through Tuesday at least, with highs near 70°F if not a few degrees warmer on Wednesday as well. Changes arrive thereafter, but for time time being a picture-perfect forecast:
While there's agreement that our pattern gets more active, there's little agreement on the details. Take a look at the GEFS 10 day outlook below. Warm and dry (no greens in the bottom chart) for the next several days, but then we see quite an "unsettled" look as we move beyond day four or so. Temperatures too fall off in the long term, but there's plenty of spread between each ensemble member, even for the end of this week, which indicates low confidence in the extended outlook beyond a bias toward cooler and wetter weather.
For Wednesday evening through Friday the overall impacts look on the low side at this point. Various models show more rain and snow potential at times, but consensus on something impactful just isn't there. The GFS is more southerly with its solution, the Euro mean is a bit further north. Its mean shows 0.1 to 0.3" QPF for the urban corridor through Friday evening, with most of that falling either as rain, or snow that mostly melts.
Still, enough cold air around by late week that we'll need to watch how things come together, it could be that either Wednesday or Thursday night will feature some snow showers across the region.
By next weekend we watch another trough drop out of the north. This one has shown a bit more to it in some of the data, meaning more cold air and perhaps a bit more moisture. Should that be the case, we'd expect to keep chilly and damp weather in the forecast through next weekend, with the chance for a more impactful rain or snow event.
Looking ahead to the next 10 days, we see precipitation near-average for most of Colorado, with some above average signals for north-central Colorado and the Southern Front Range.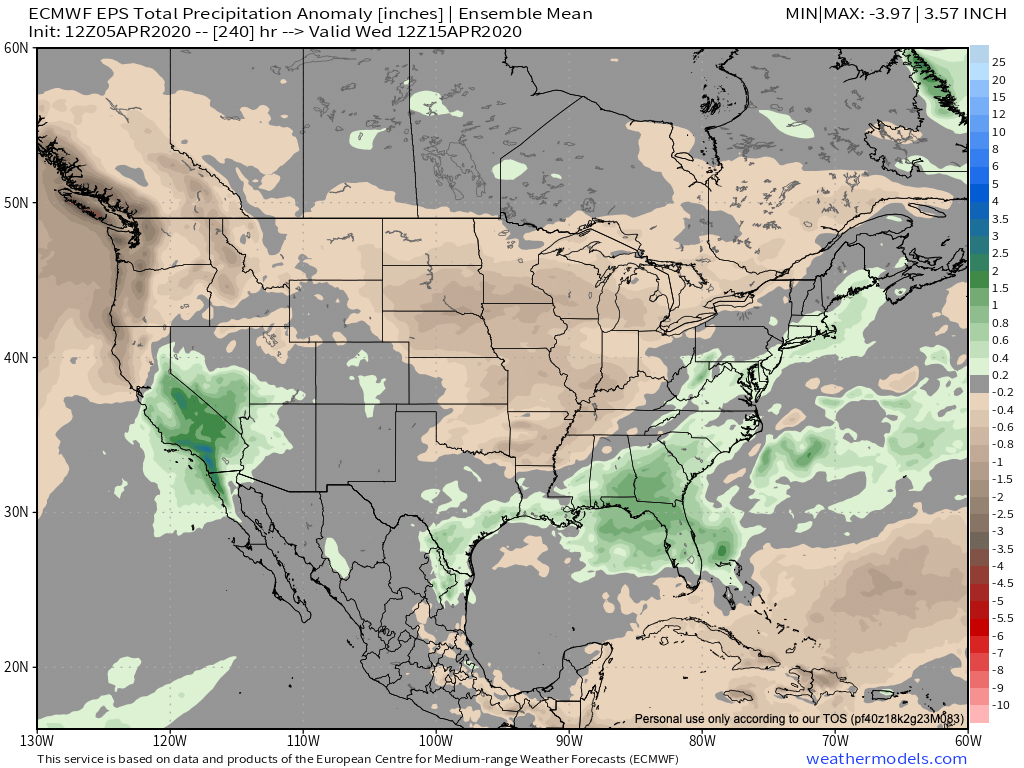 We'll keep an eye on the changes ahead for later this week, but for now get outside and enjoy these warm spring days ahead.