A lot to get to this morning, but let's start with answering the question many of you have been asking this morning: Where's the snow?!
It's coming.
Our system is now centered over Southwest Utah/Northern Arizona, and will continue its slow trek east today and tonight. As it does, severe storms, rain, and ultimately heavy snow will fill in across the Plains and Central Rockies.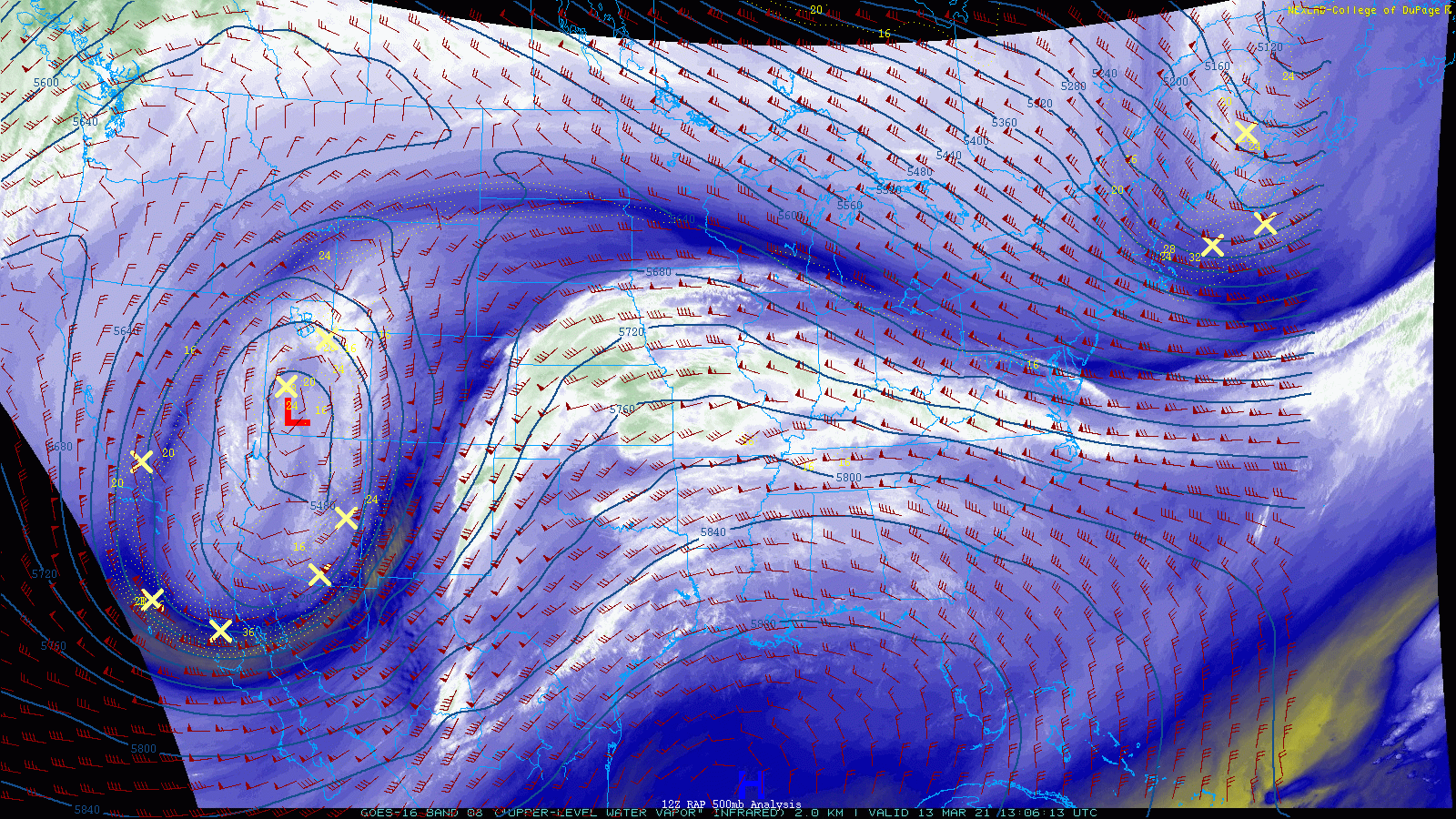 We warned everyone yesterday to please not wake up this morning expecting accumulated snow on the ground! The system continues to slow, and looks to be favoring a more southerly track vs what models have been indicating – something we've discussed all week as a likely scenario. This means a slower onset of heavy precipitation across Northern Colorado, but also a (if it holds) would be a good sign for our snowfall forecast, as it would favor greater snow totals across the region.
Severe storms
We have course been focused on the snow headed our way with this system, but this is a LARGE system with many different facets to it. One of those will be severe storms today, and likely some damaging tornadoes.
The SPC has issued a Moderate Risk for severe storms later today across the Southern High Plains, you can see the focus of where the worse storms are expected to develop in red below. Note that even across Northern Colorado we're likely to see some thunder later today!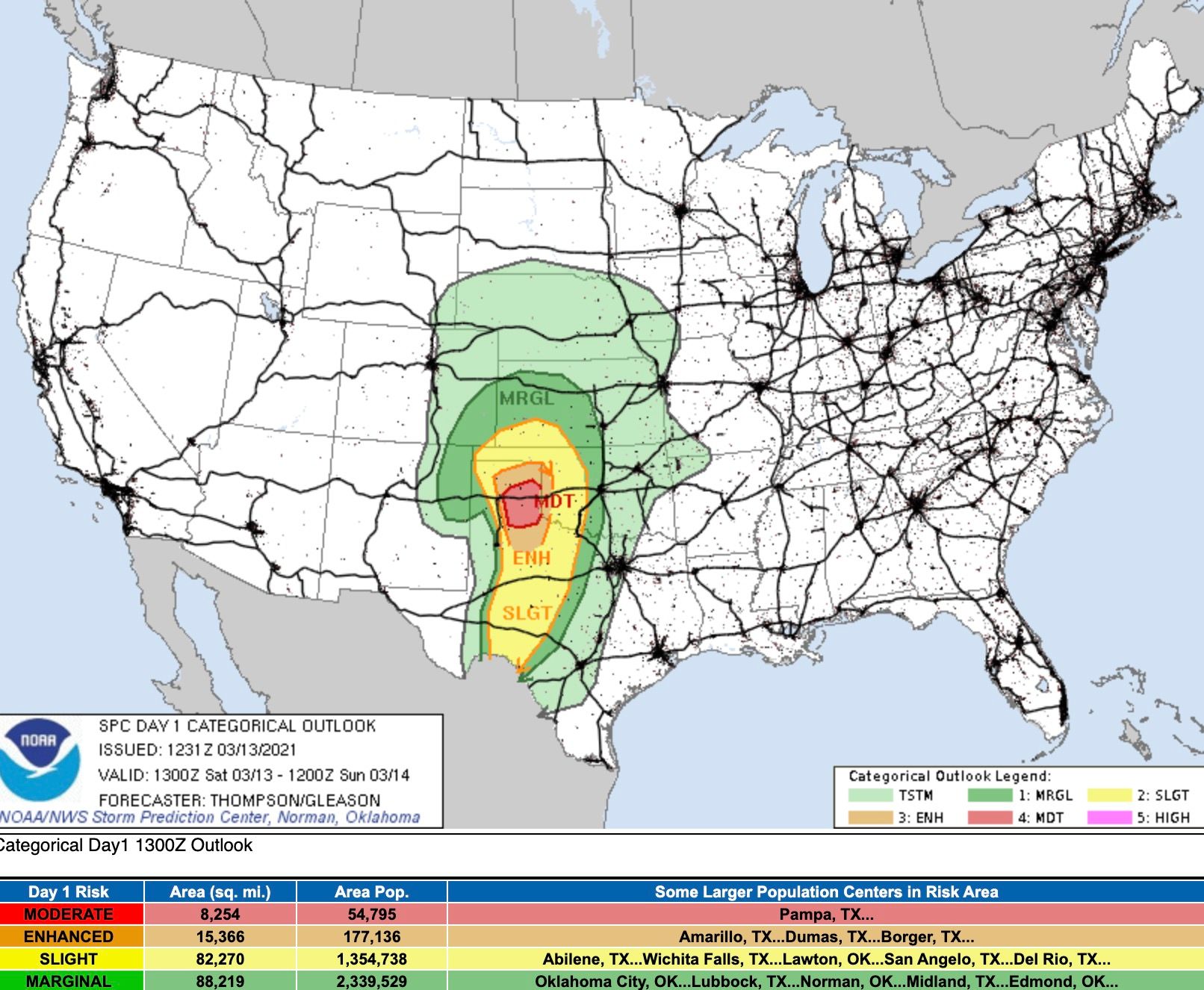 And the tornado threat: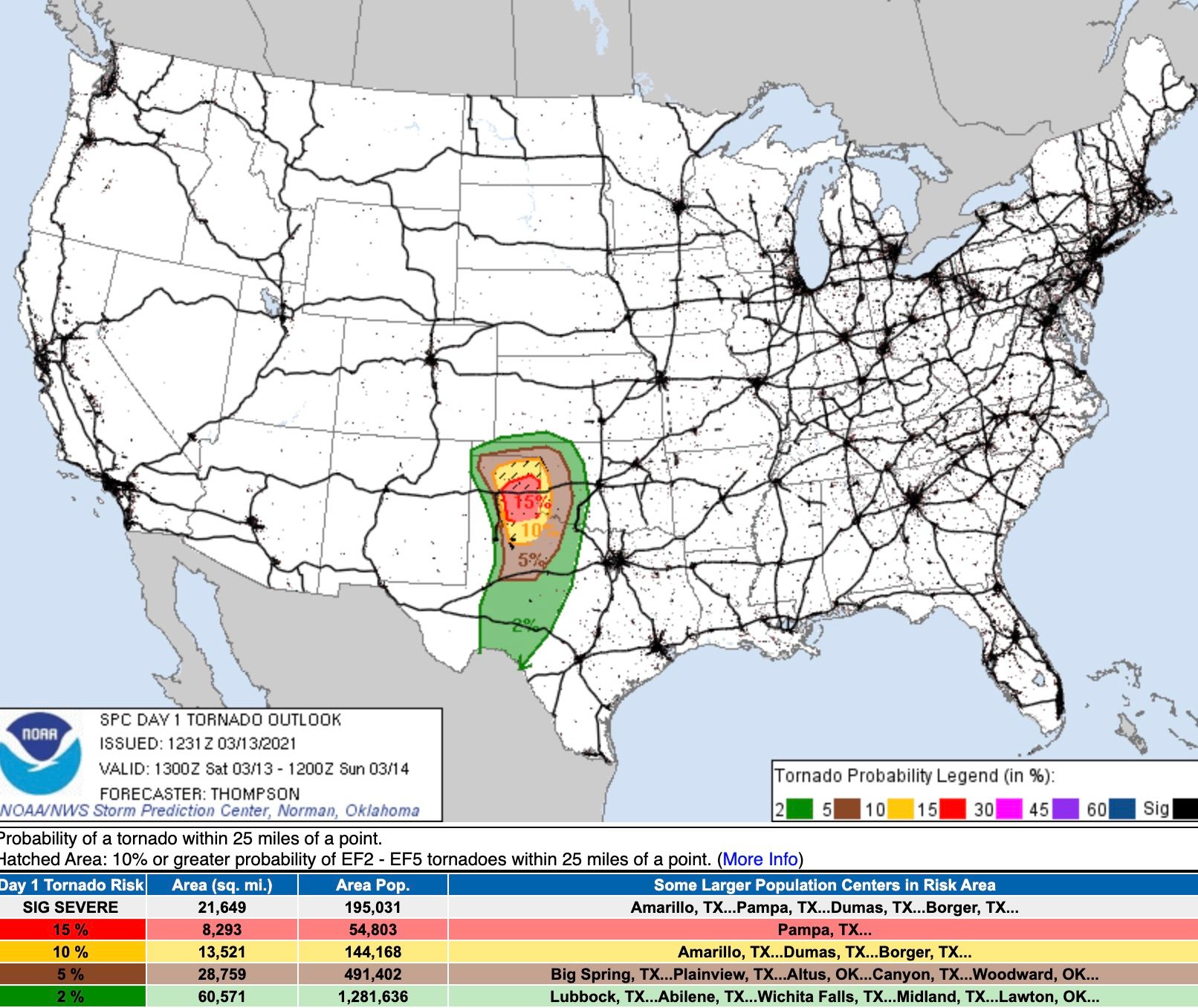 From the SPC:
Given boundary-layer dewpoints in the low 60s,    afternoon temperatures of 65-70 F, effective bulk shear near 70 kt,    and effective SRH in excess of 250 m2/s2, there will be a few hour    window for a couple of supercells to produce long-track, strong    tornadoes and very large hail across the east central/southeast TX    Panhandle.
The outlook
The upper level low is forecast to move through the Four Corners this evening, and will correspond with the greatest severe threat across the Souther Plains as it does.
Overnight it will track across the Southern Colorado border, and eventually into Southeast Colorado Sunday morning. The system is not in a hurry.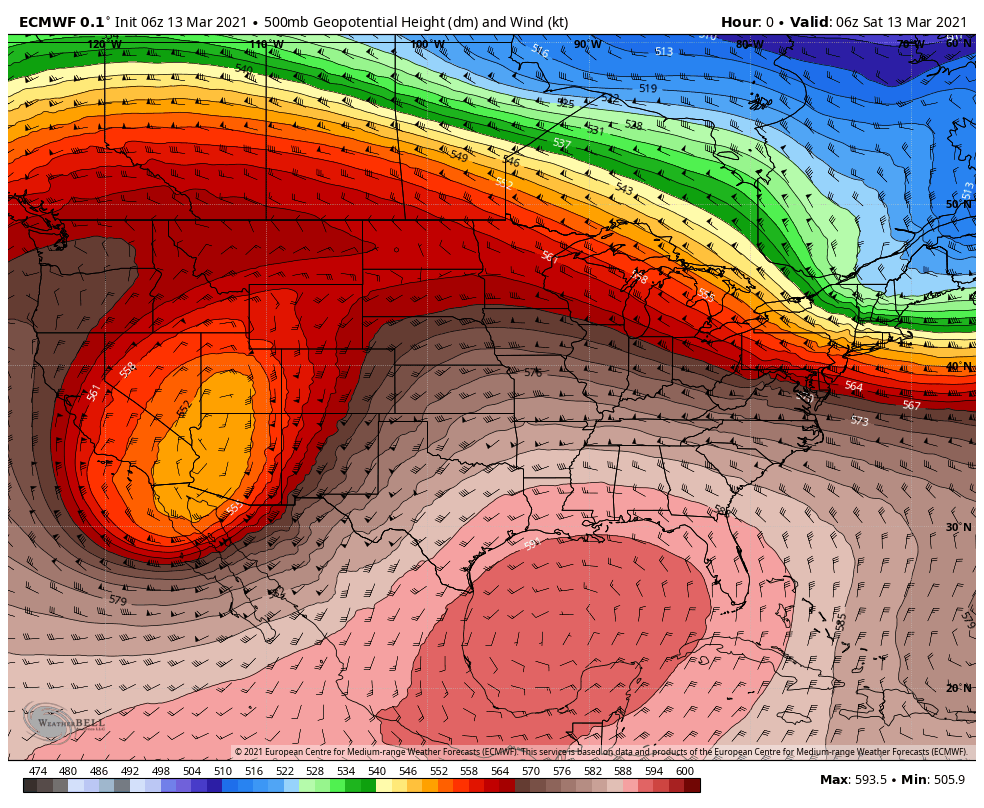 As it tracks east, we'll watch more and more rain and snow develop across Northeast Colorado. Snow is still expected to be very heavy at times this afternoon and overnight. Snowfall rates in excess of 3" an hour for the foothills, and 2" and hour for the adjacent plains will be possible.
The hourly planner shows a good chance of precipitation from now through Sunday evening, with probabilities dropping off after that for Northeast Colorado: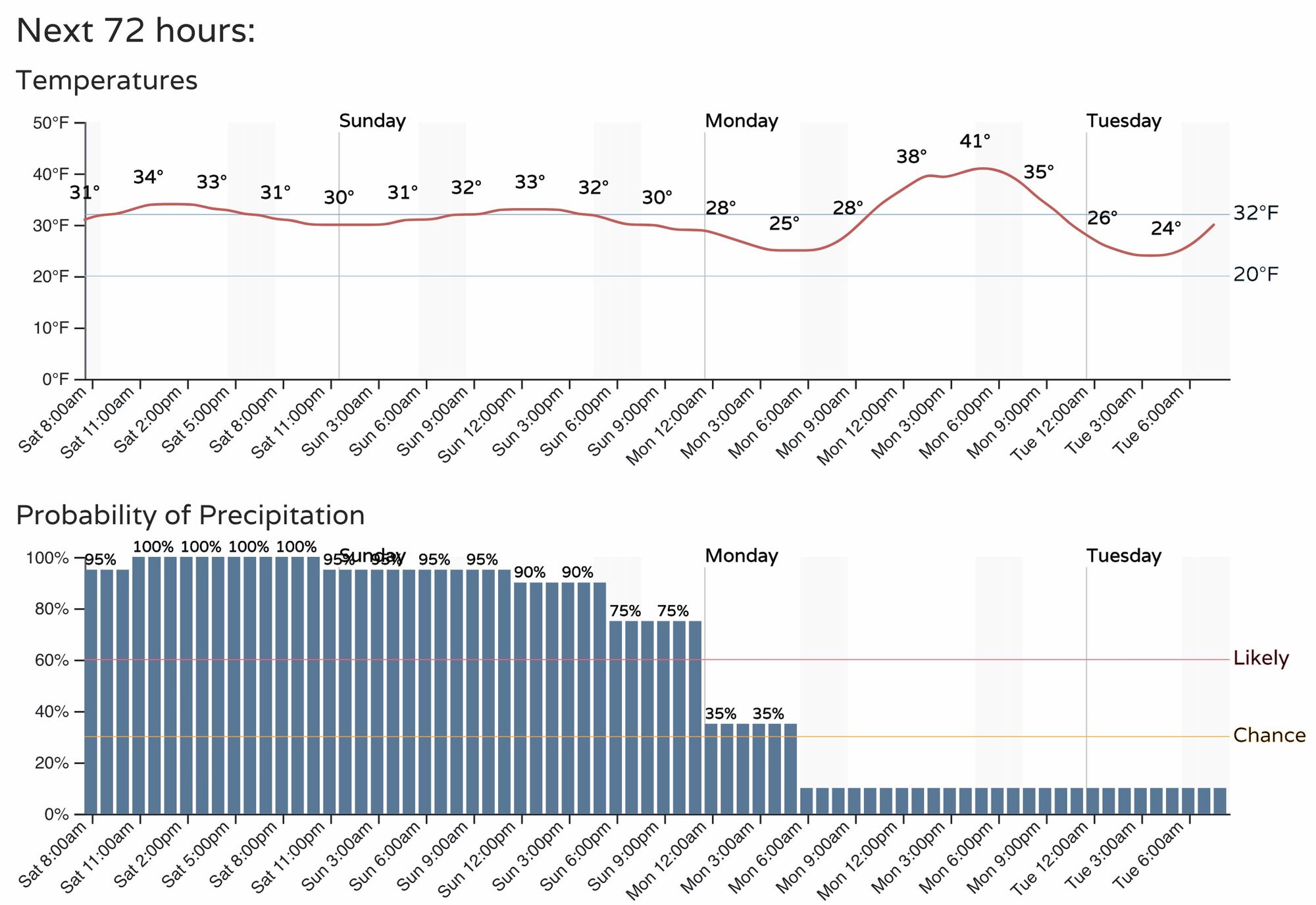 The HRRR shows rain, snow, and mixed precipitation increasing through late morning and early afternoon, before pushing the heaviest snow north of Colorado this evening. While not snowing now in most locations, we expect by noon or so most of us will be seeing the heavy, wet snow.
We expect that there may be a lull in the activity at a certain point this afternoon/evening, but snow should continue off and on through the night, especially along the urban corridor and Foothills, with perhaps more dry air/mixed precipitation in the mix across the Plains east of I-25.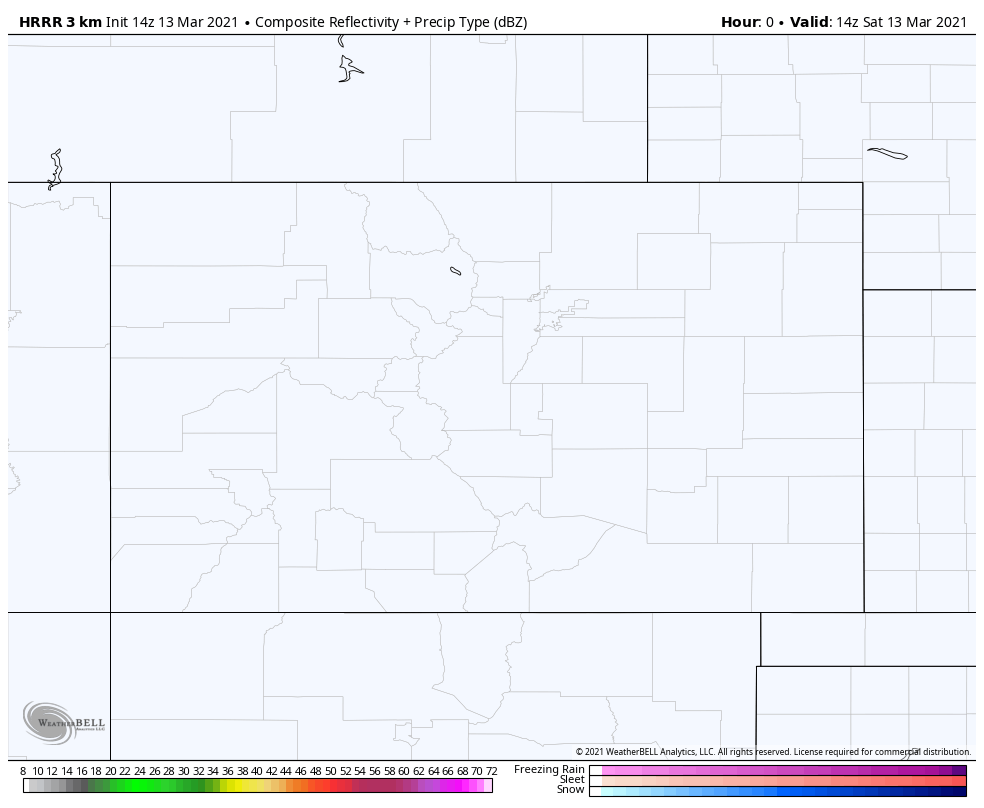 A Winter Storm Warning remains in effect for the region through Sunday night. In the map below you'll see all the pinks around Denver which are the warnings. To our east is as Winter Weather Advisory, and the reds north are Blizzard Warnings. To our south and east we see a Flood Watch, Dense Fog Advisories, and the Severe Storm Watch for portions of Northern Texas. Whew!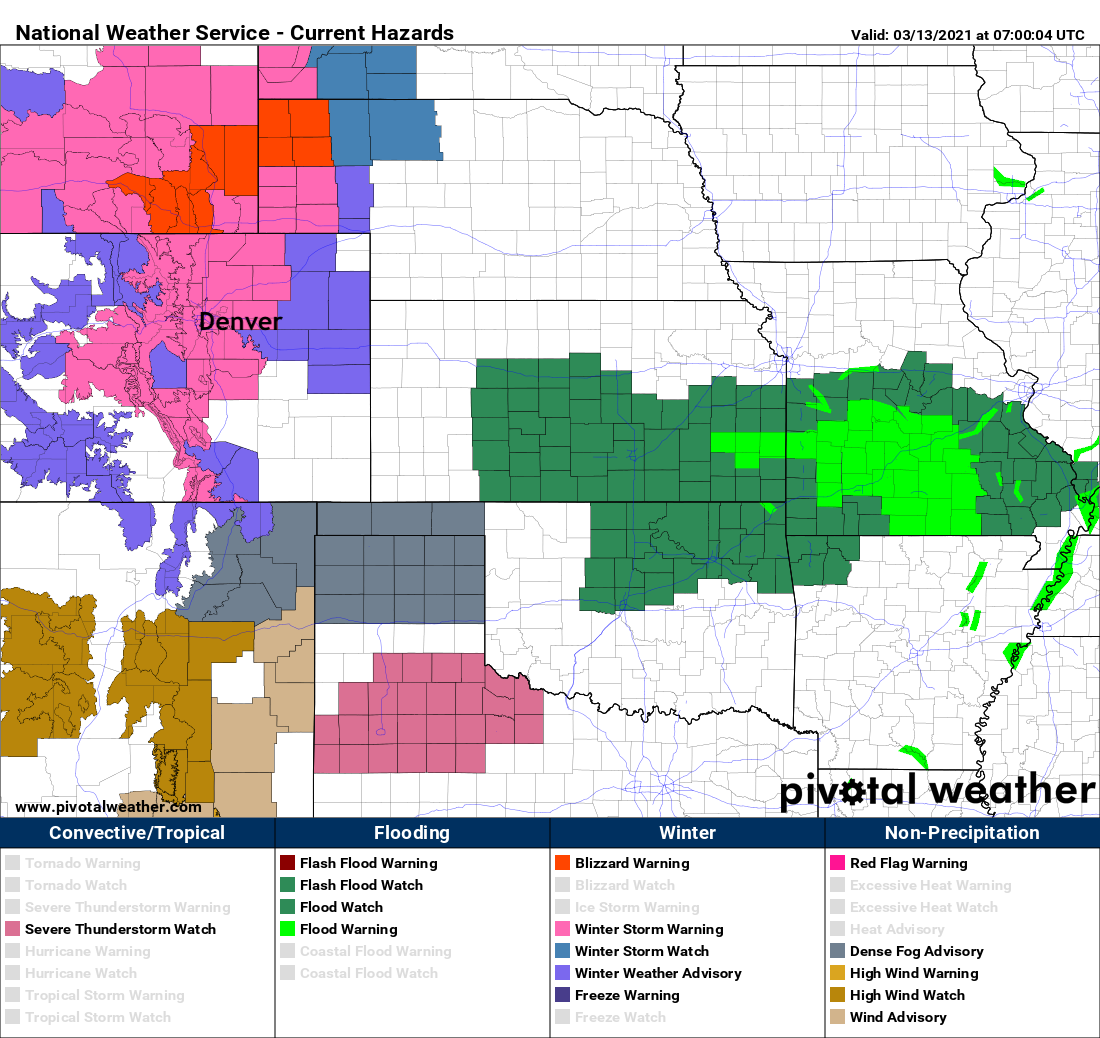 Given the above, we'll stress once more, please do not travel this weekend! Conditions will only deteriorate through the remainder of the day, with travel becoming extremely difficult if not impossible across portions for north-central Colorado tonight.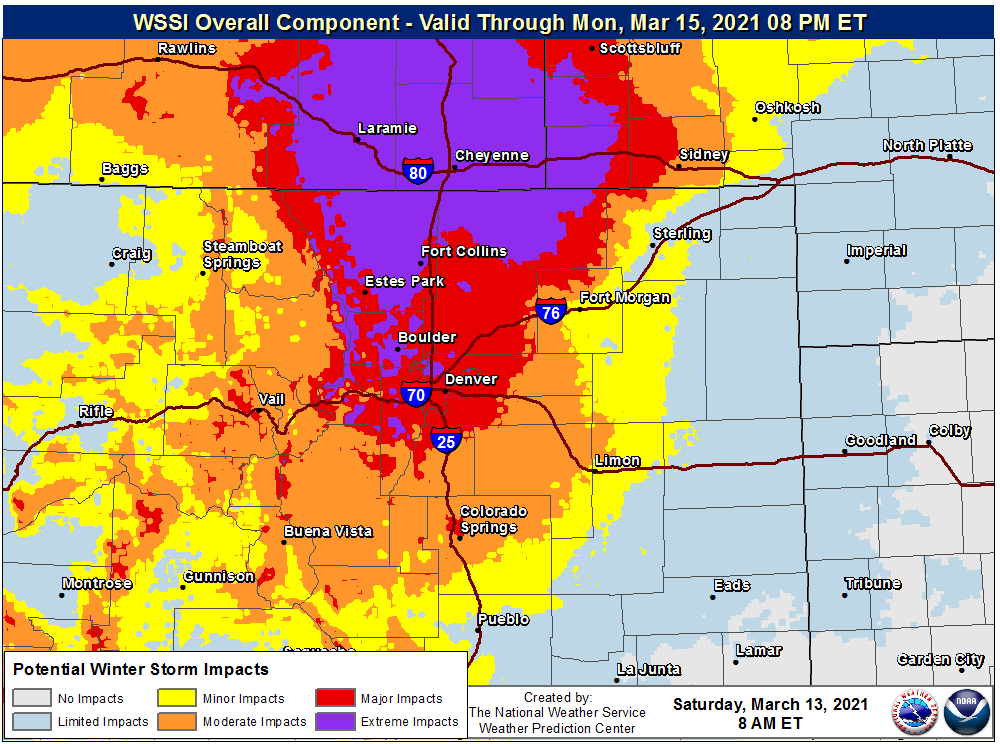 Snowfall totals
All this to say, we aren't worried about our forecast – yet! The snow should arrive before too long, and it will accumulate pretty well for a lot of folks. Even this afternoon, with high sun angle and warm surface we expect rates to be able to overcome a lot of that. Obviously the more snow we see during the overnight hours vs the day would mean greater overall totals. Melting and compaction will occur today.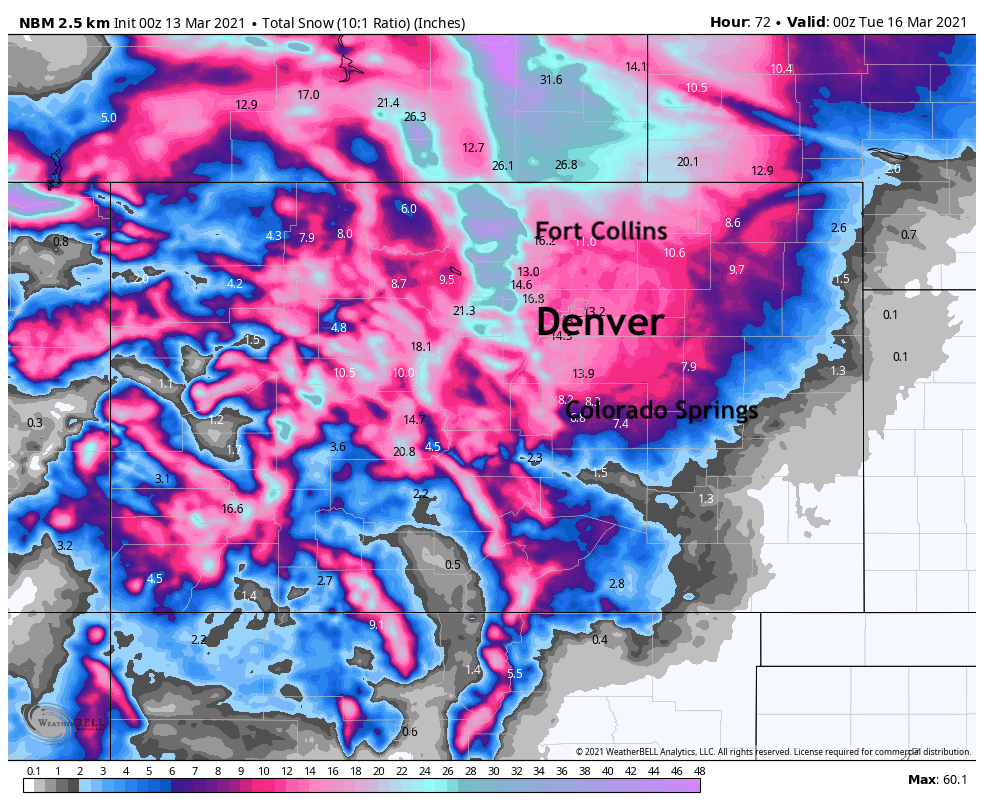 As for snowfall totals, we really don't see a good argument to adjust our totals we've now had in place for several days. The one exception to that will be to pull the 7 - 14" range a bit further south than we had it, to include much of the Colorado Springs metro area. We started that trend last night, and if this storm stays south – we should manage some nice totals there.
Here are the latest snowfall probabilities: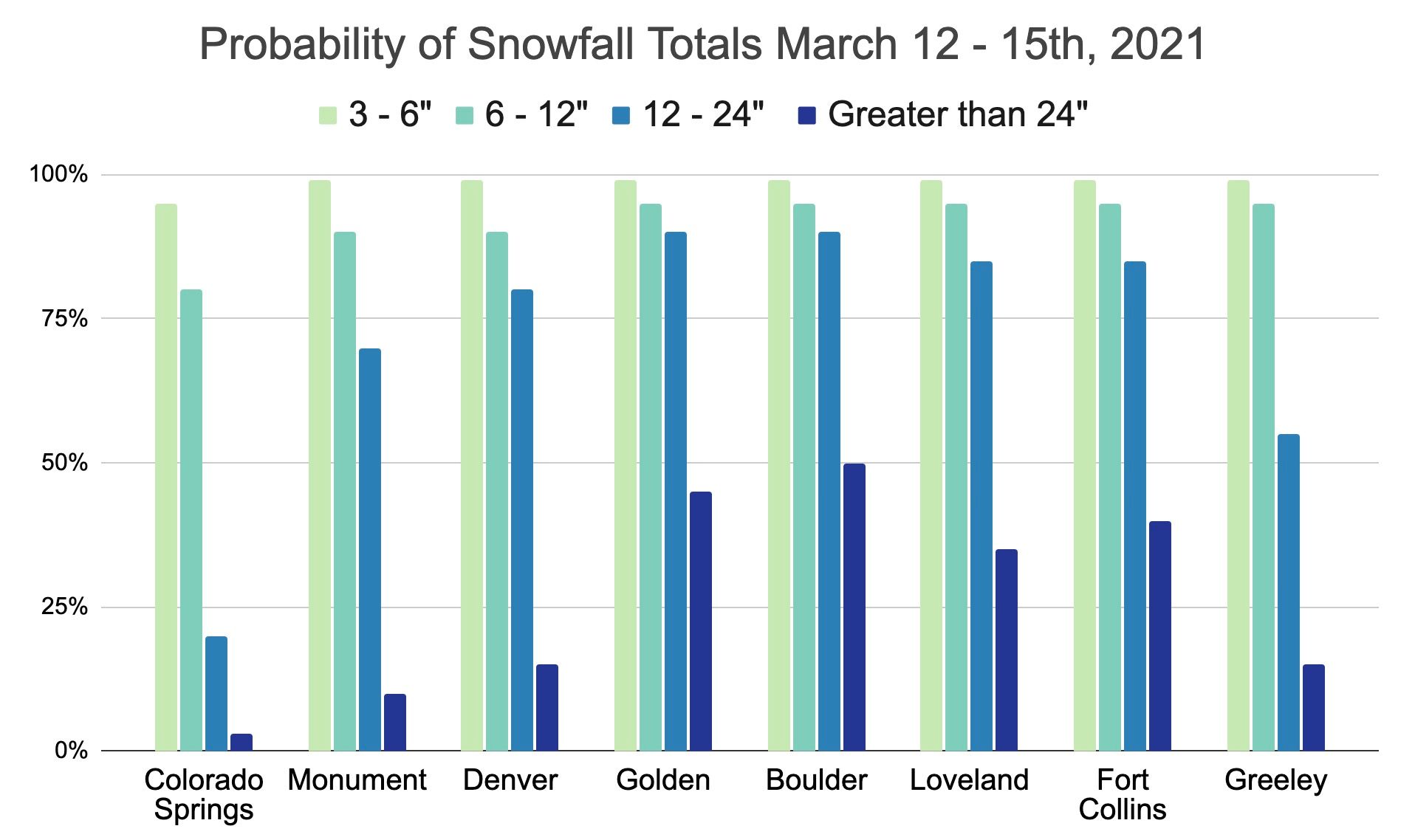 And the last snowfall forecast map before the snow starts to fly! Let's see how it works out.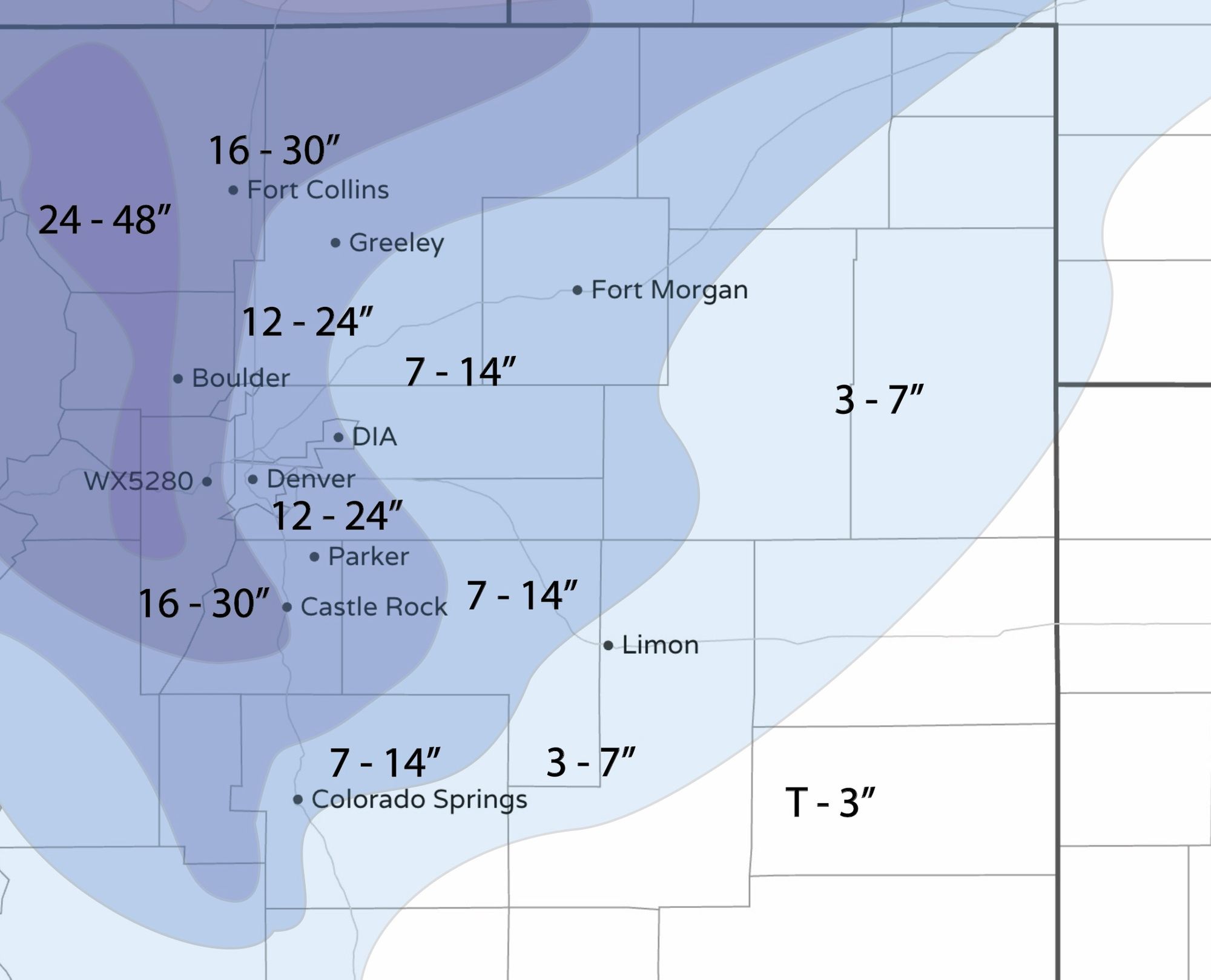 And finally, a quick look at precipitation totals expected from this big storm. Southeast Colorado may again end up well below its neighbors, but some fantastic moisture for many locations dealing with ongoing drought, with the European ensemble model forecasting upwards of 1" of liquid across a most of Northeast Colorado, Nebraska, Kansas, and portions of Oklahoma/Texas.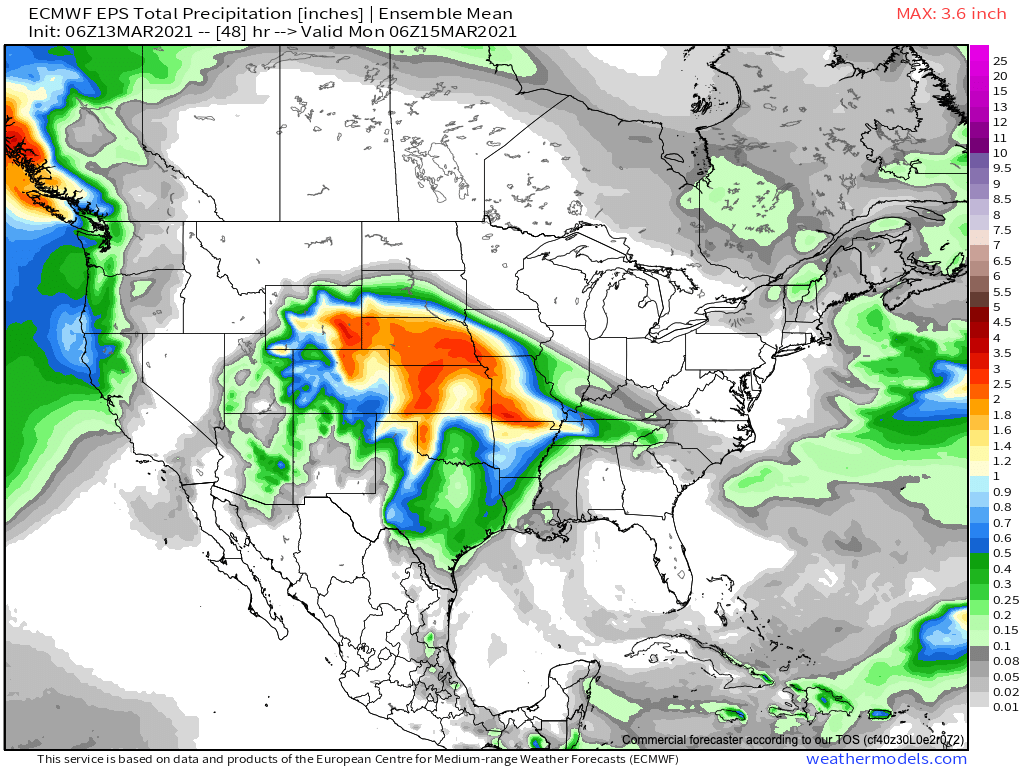 Not much else to say, besides be safe, stay home, and oh – please pass along storm updates our way! We love hearing from you in the comments below, and would like to know how much snow each of your see (or don't see) this weekend.
We'll continue to track the latest and pass along updates as needed, but for now we plan to go enjoy the snow a bit ourselves.
Let it (thunder) snow!