The first significant bout of wintry weather this season is headed through the metro areas today and tomorrow.
What makes this the most significant thus far is not just the timing of hitting us on a holiday, but finally some accumulating snow for many of us and very cold temperatures that will certainly impact your plans for the next couple of days.
Summary: Snow continues to spread across the state and the metro areas through Friday evening into Saturday as single digit (above and below zero) temperatures arrive for the New Year. Travel will be impacted from Colorado to the Midwest.
Timing: Let's take a look at a few timelines from north to south showing temperatures and snowfall chances. These are available for any location you'd like by customizing your WeatherBoard.
Fort Collins: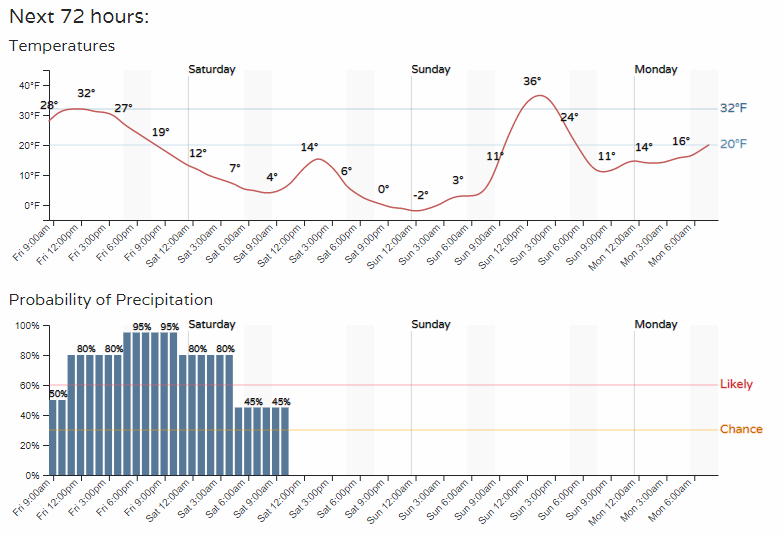 Denver: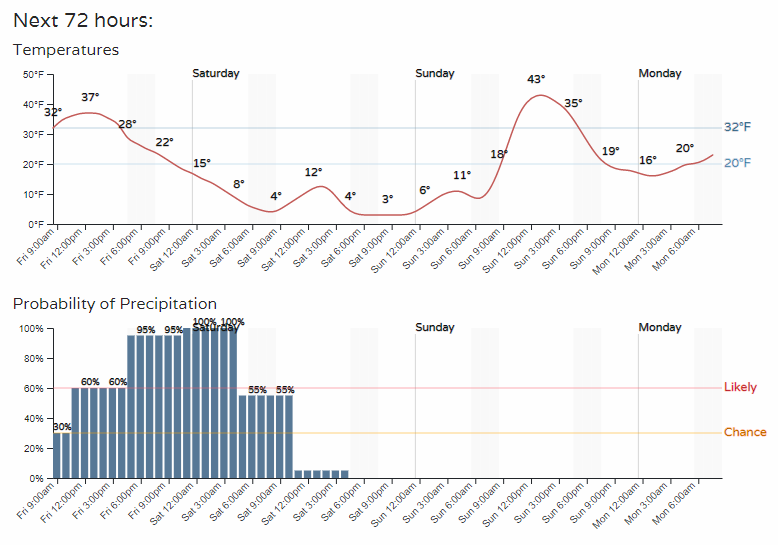 Castle Rock: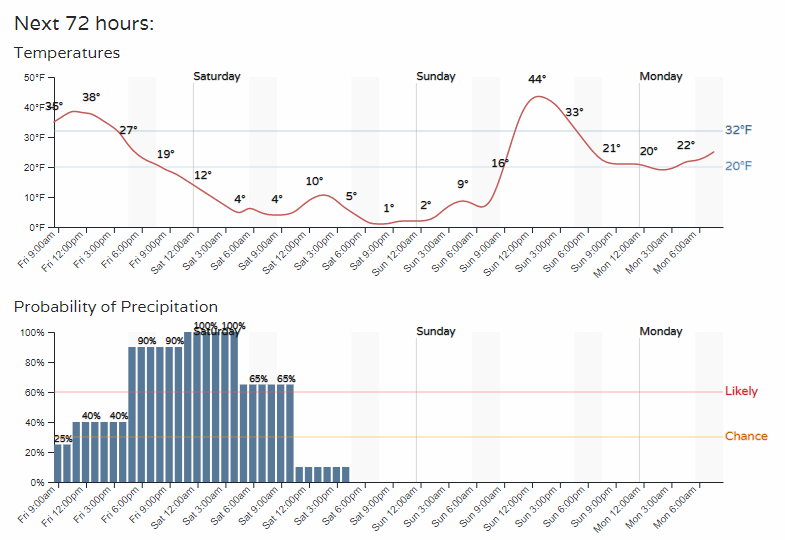 Colorado Springs: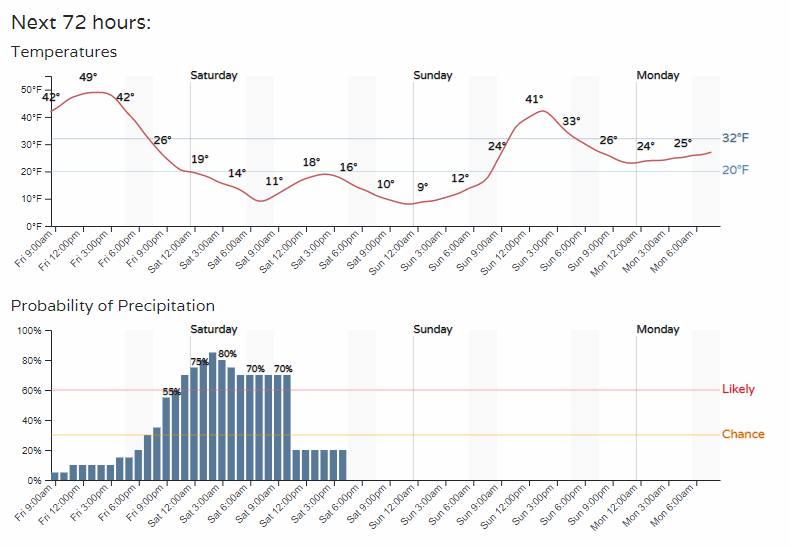 Hazards: The current alerts for this storm system are as follows. Winter storm warnings and winter weather advisories cover most of Colorado and points to the east.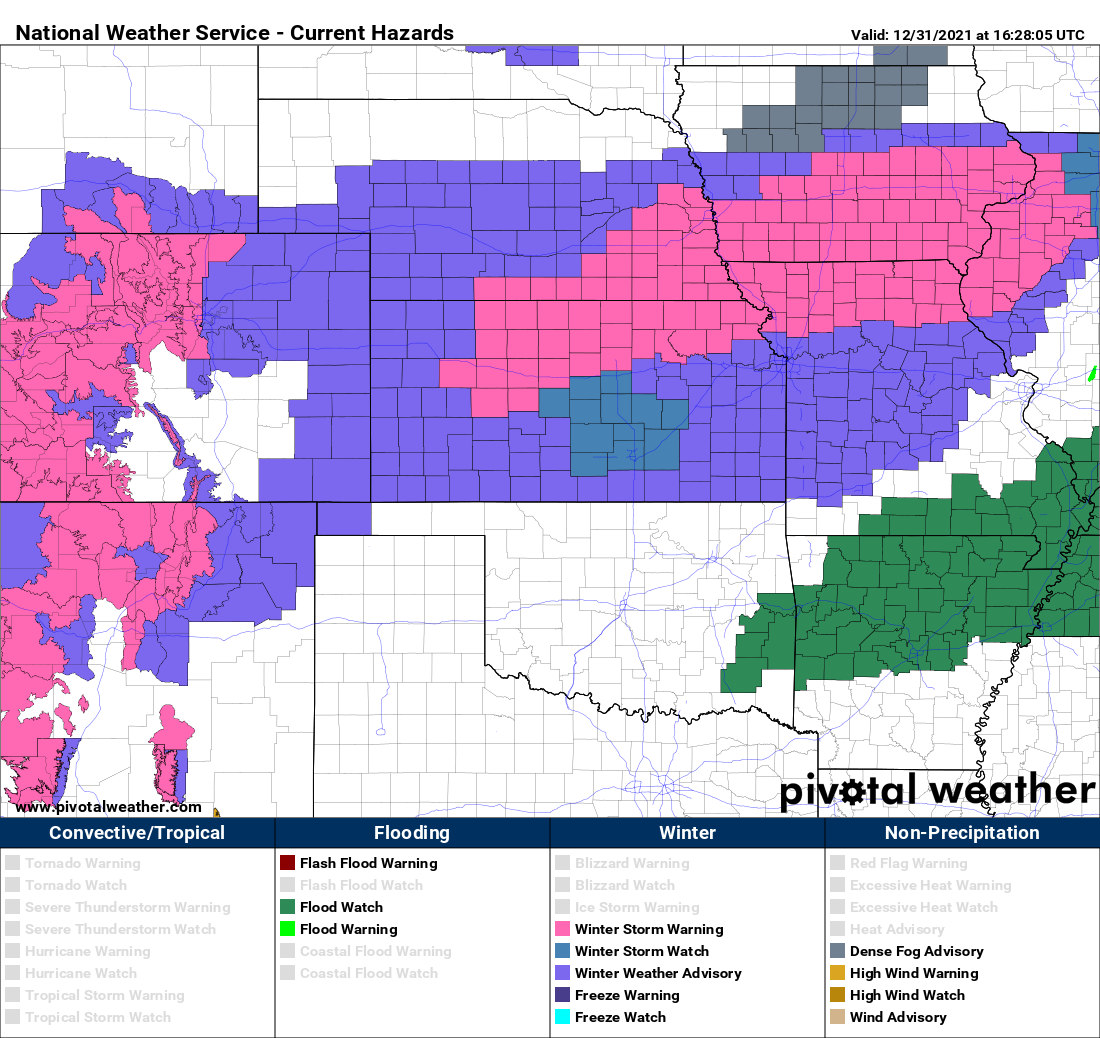 Specifically for Denver, the NWS has the following advisory in place:
* WHAT...SNOW, HEAVY AT TIMES. TOTAL SNOW ACCUMULATIONS BETWEEN 2 AND 6 INCHES EXPECTED. IN ADDITION, DANGEROUSLY COLD TEMPERATURES ARE EXPECTED BEGINNING FRIDAY NIGHT WITH LOWS NEAR ZERO AND WIND CHILL VALUES BETWEEN -10 AND -20 DEGREES.
* WHERE...PORTIONS OF EAST CENTRAL AND NORTHEAST COLORADO. * WHEN...FROM 11 AM THIS MORNING TO 11 AM MST SATURDAY.
* IMPACTS...PLAN ON SLIPPERY ROAD CONDITIONS. THE HAZARDOUS CONDITIONS COULD IMPACT THE FRIDAY EVENING COMMUTE. DANGEROUSLY LOW TEMPERATURES COULD POSE A THREAT TO LIFE IF ADEQUATE PRECAUTIONS ARE NOT TAKEN WHILE OUTDOORS.
But, Boulder and Fort Collins are covered in a winter storm warning:
* WHAT...HEAVY SNOW LIKELY. TOTAL SNOW ACCUMULATIONS BETWEEN 5 AND 10 INCHES EXPECTED. HIGHER AMOUNTS TO 1 FOOT POSSIBLE FOR HIGHER TERRAIN IN THE FOOTHILLS AND NEAR ESTES PARK.
* WHERE...THE NORTHERN FRONT RANGE FOOTHILLS, THE SOUTHERN FRONT RANGE FOOTHILLS, FORT COLLINS, AND BOULDER AND THE WESTERN SUBURBS OF DENVER. * WHEN...UNTIL 11 AM MST SATURDAY.
* IMPACTS...TRAVEL COULD BE VERY DIFFICULT. THE HAZARDOUS CONDITIONS COULD IMPACT THE FRIDAY MORNING AND EVENING COMMUTES.
Those alerts included some storm totals, but let's get more specific. Very little has changed in our reasoning for the forecast posted previously.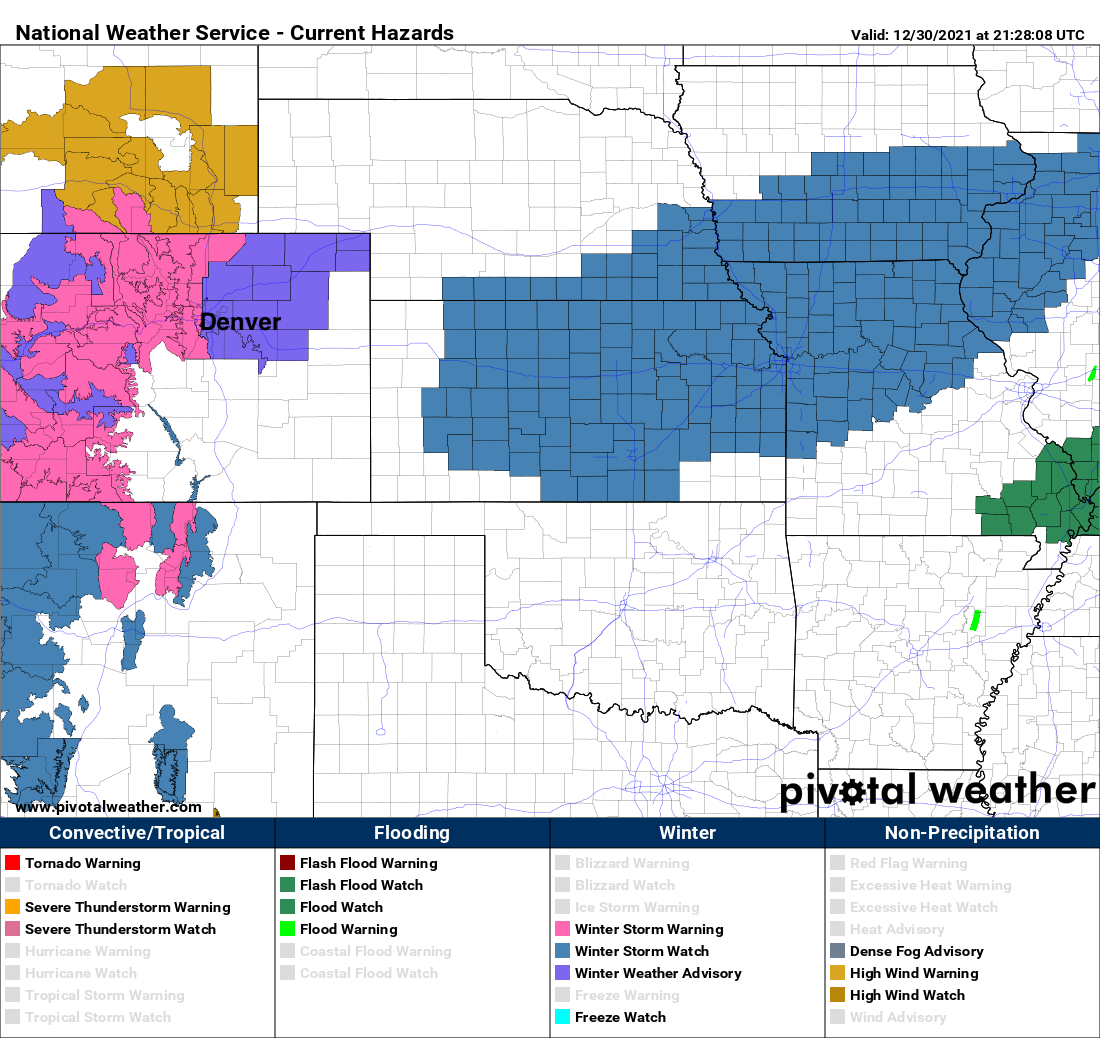 Our snowfall forecast shakes out as the following:
Fort Collins: 2 - 6"
Golden: 4 - 8"
Boulder: 5 - 10"
Evergreen: 5 - 10"
Denver: 2 - 6"
Castle Rock: 2 - 6"
Colorado Springs: 1 - 4"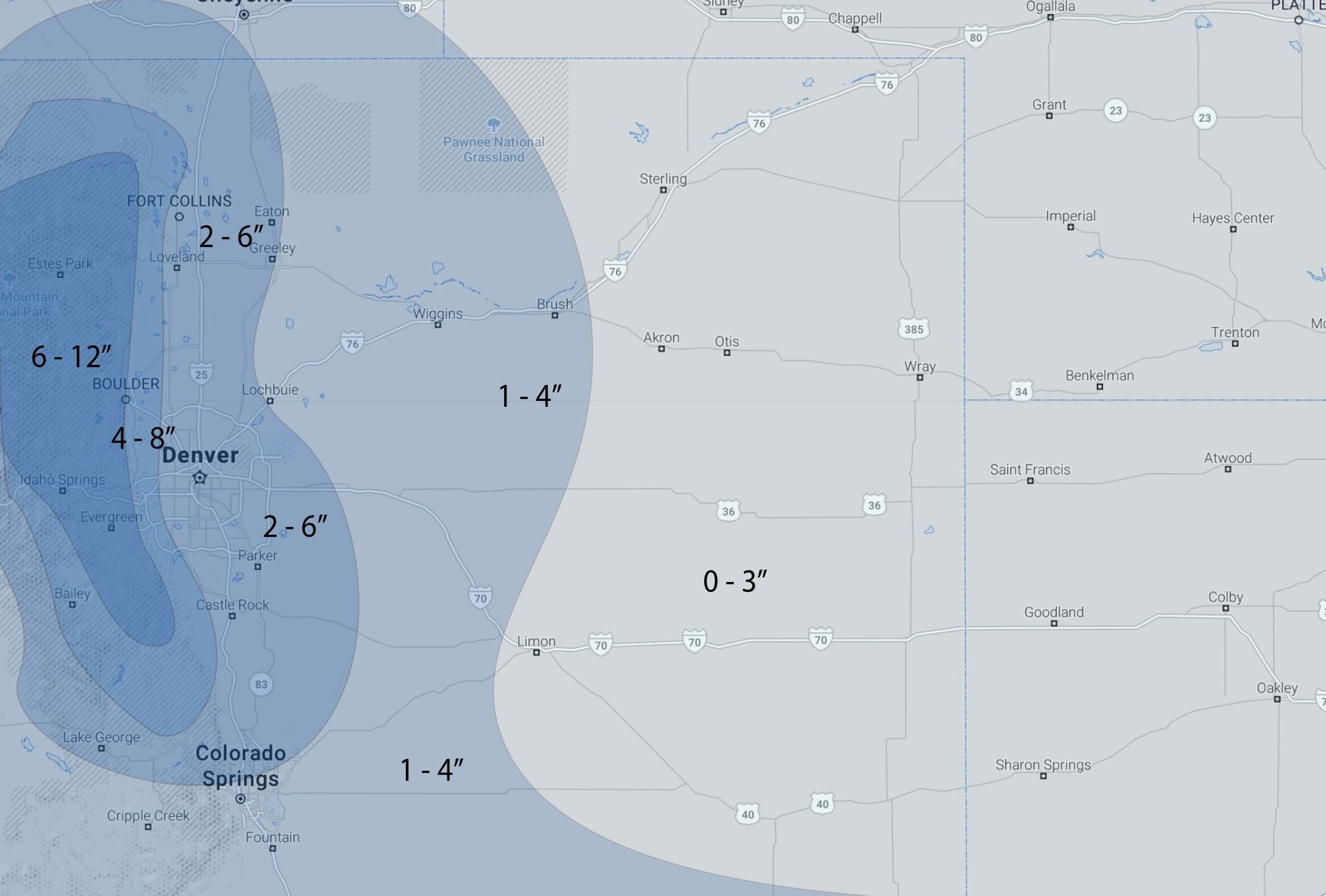 The probabilities remain strong for highest accumulations in Boulder and Larimer Counties.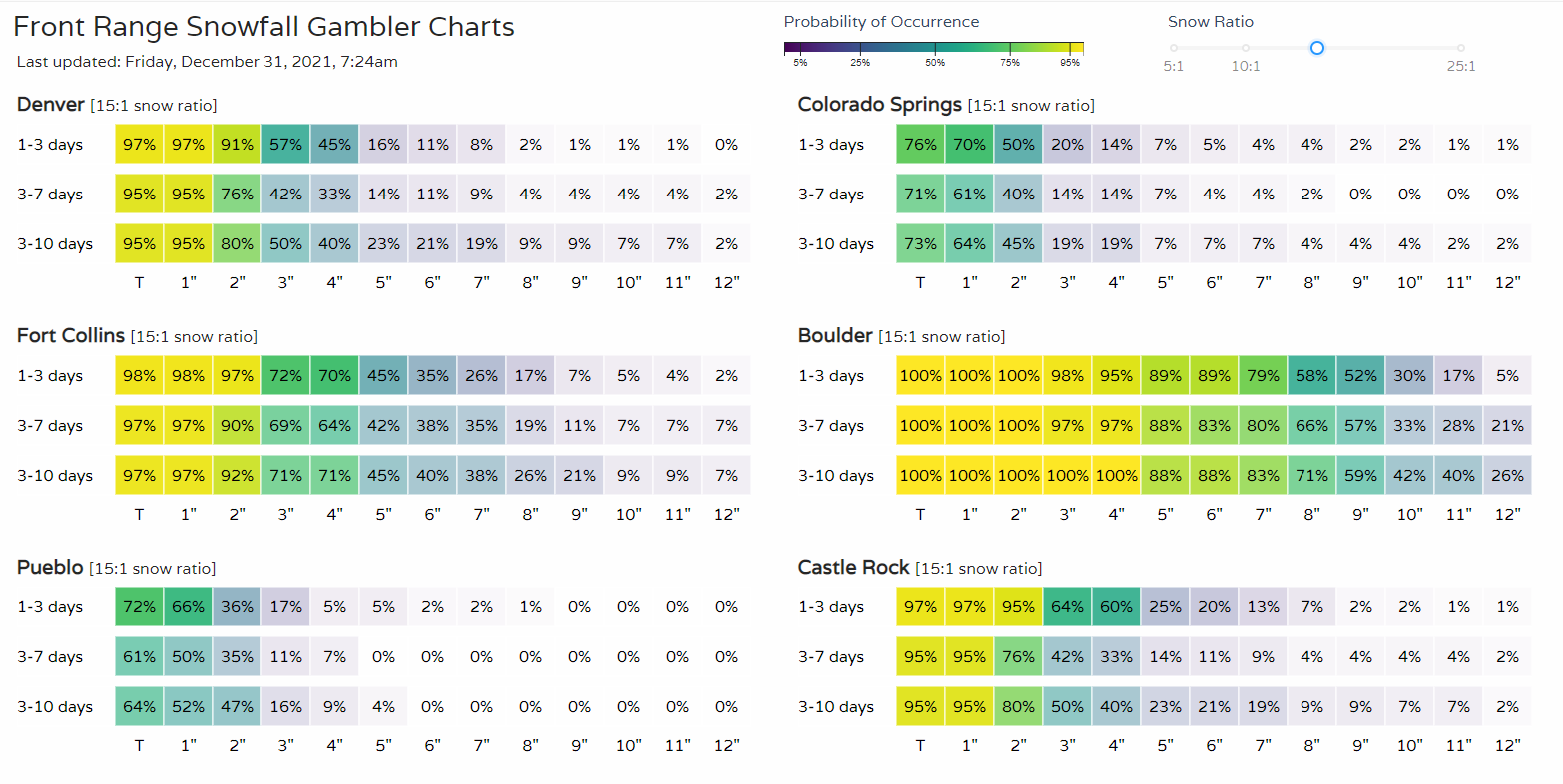 Models
For snow lovers, some concerning trends on some of the more recent high-resolution models like the HRRR. This particular model shows Denver struggling to get to our low-end totals, with 1 - 2" for most of the metro by Saturday morning, and the heaviest totals up across the northern foothills and adjacent plains – a nice snow for Fort Collins!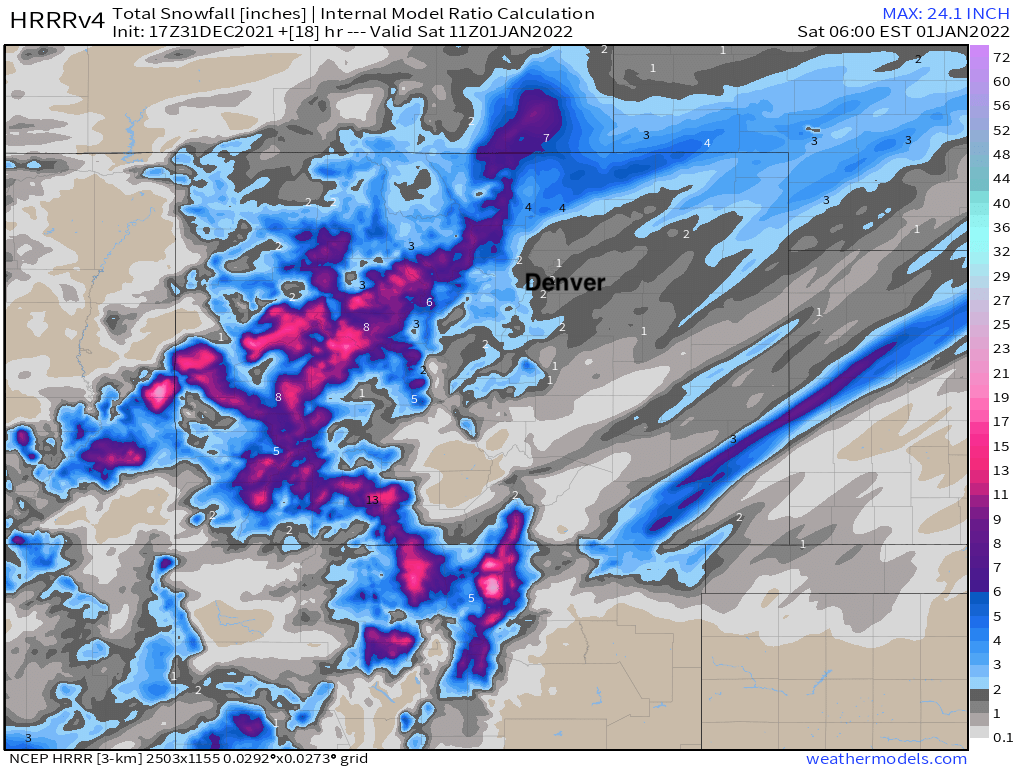 The latest European model output still shows our forecast doing just fine. This one is a 10:1 snow/liquid ratio, so totals would be higher than indicated here and puts everyone comfortably in range.
Finally, the national blend of models shows 2 - 6" remains a good range for the urban corridor, with certainly a northerly bias ala the HRRR. Boom for Fort Collins and bust for Castle Rock? Perhaps!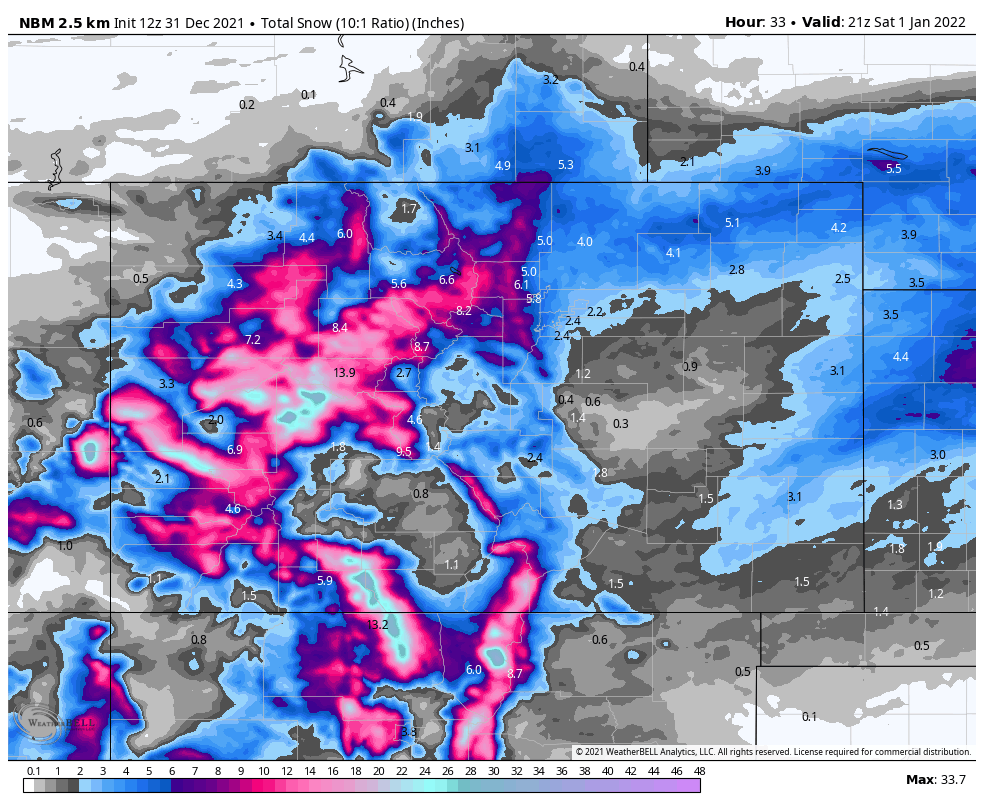 Travel
Sadly there will be significant impacts due to the snow. Travelers beware in these highlighted zones.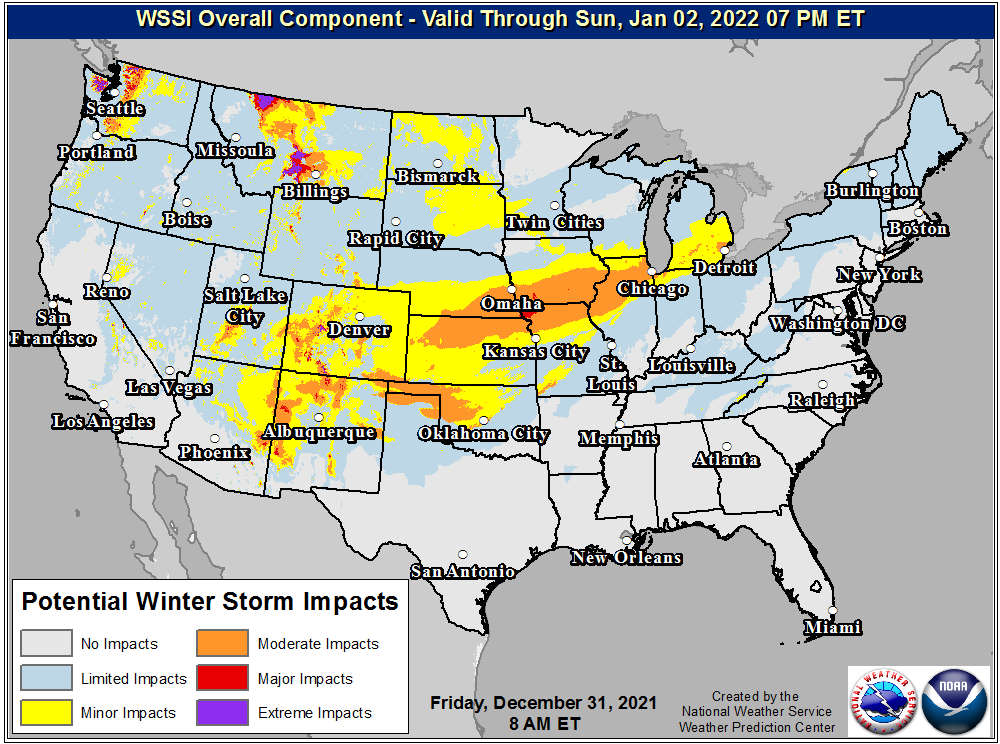 Temperatures
There is the season's first real cold, too. By Saturday, lowest temperatures will be in the single digits above and below zero followed by highs in the teens, or so. For Saturday afternoon, temperatures will be the coldest Denver has felt since mid-February 2021. Denver's coldest seasonal temperature to date has been 4 degrees on December 18th.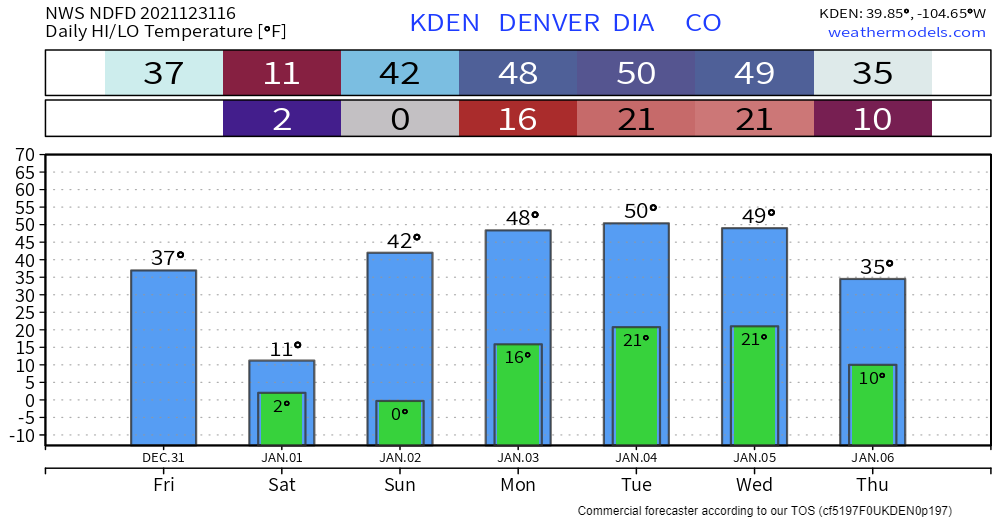 For the region, it'll be a downright cold start to 2022.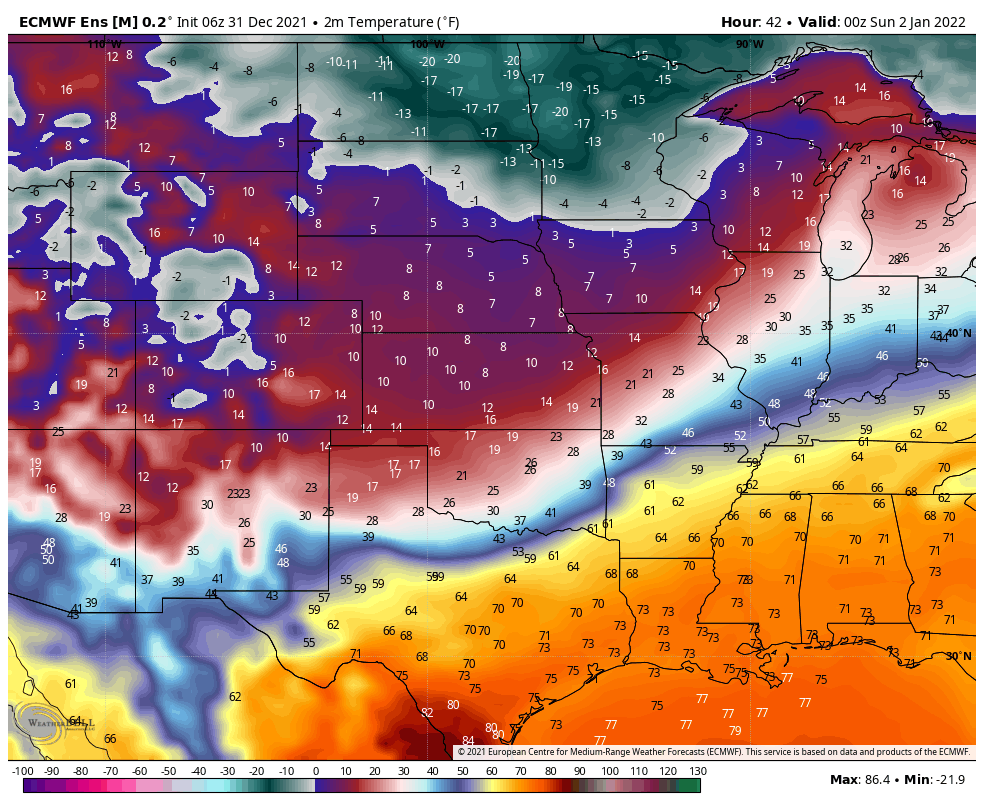 Temperatures do rebound a bit after Saturday, however, plan on more frequent bouts of cold in January as we will start to see that supply of cold air in Canada spilling south of the border more often.
This snow and cold came too late to help the devastating end to 2021 due to the fire that spread from Boulder to the east. Our deepest condolences to all those impacted.