We said the snow would be heavy! And goodness was it. Even after a slow changeover for some Wednesday evening, much of the greater metro area managed to see the high-end (and more!) snowfall totals we discussed were possible in yesterday's update.
Below is a look at some of these totals from across the region as of 7am this morning. The clear winner, as expected, were the foothills west/southwest of Denver. The greatest totals we've seen so far this morning are out of Jefferson County, where some spots west of Denver picked up a foot or more of snow last night. The greatest total we've seen this morning comes from Jefferson, with a total of 16.0" of snow!
The southeast metro area did quite well as well, with quite a few reports of 8 to 12" of wet heavy snow reported there. We also have seen some 8 to 10" totals north of Denver (Westminster area), with generally 5 - 8" across Denver.
Totals were much lighter up in Fort Collins and down in Colorado Springs proper.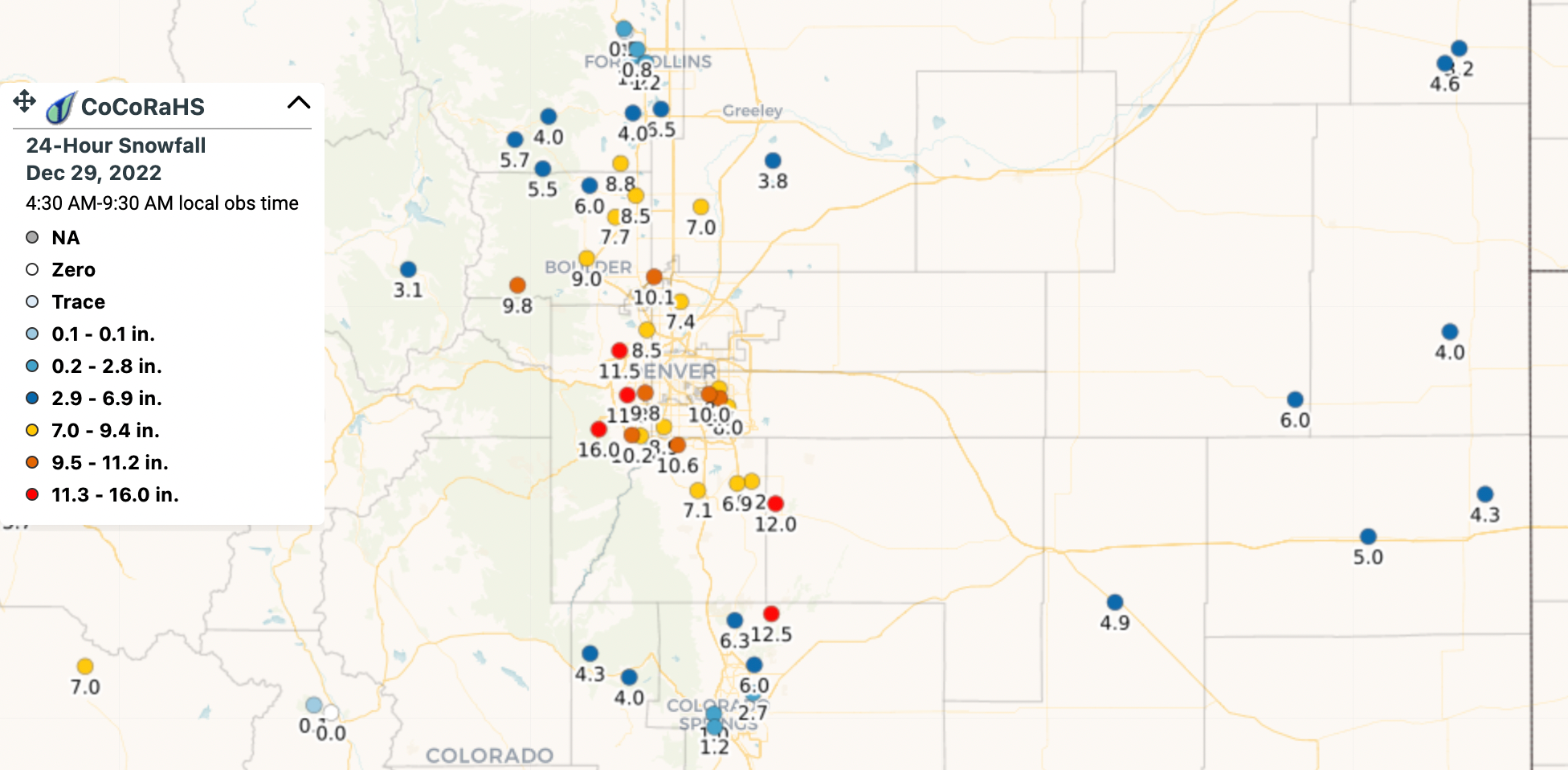 Equally impressive, or perhaps more impressive, is the amount of water we picked up with this system. "Typically" a December snow of this magnitude would not be anywhere near as wet, with high snowfall ratios driving the greatest totals, but this was not the case last night. Looking at CoCoRaHS precipitation reports this morning many are showing more than 1.0" of precipitation from this event!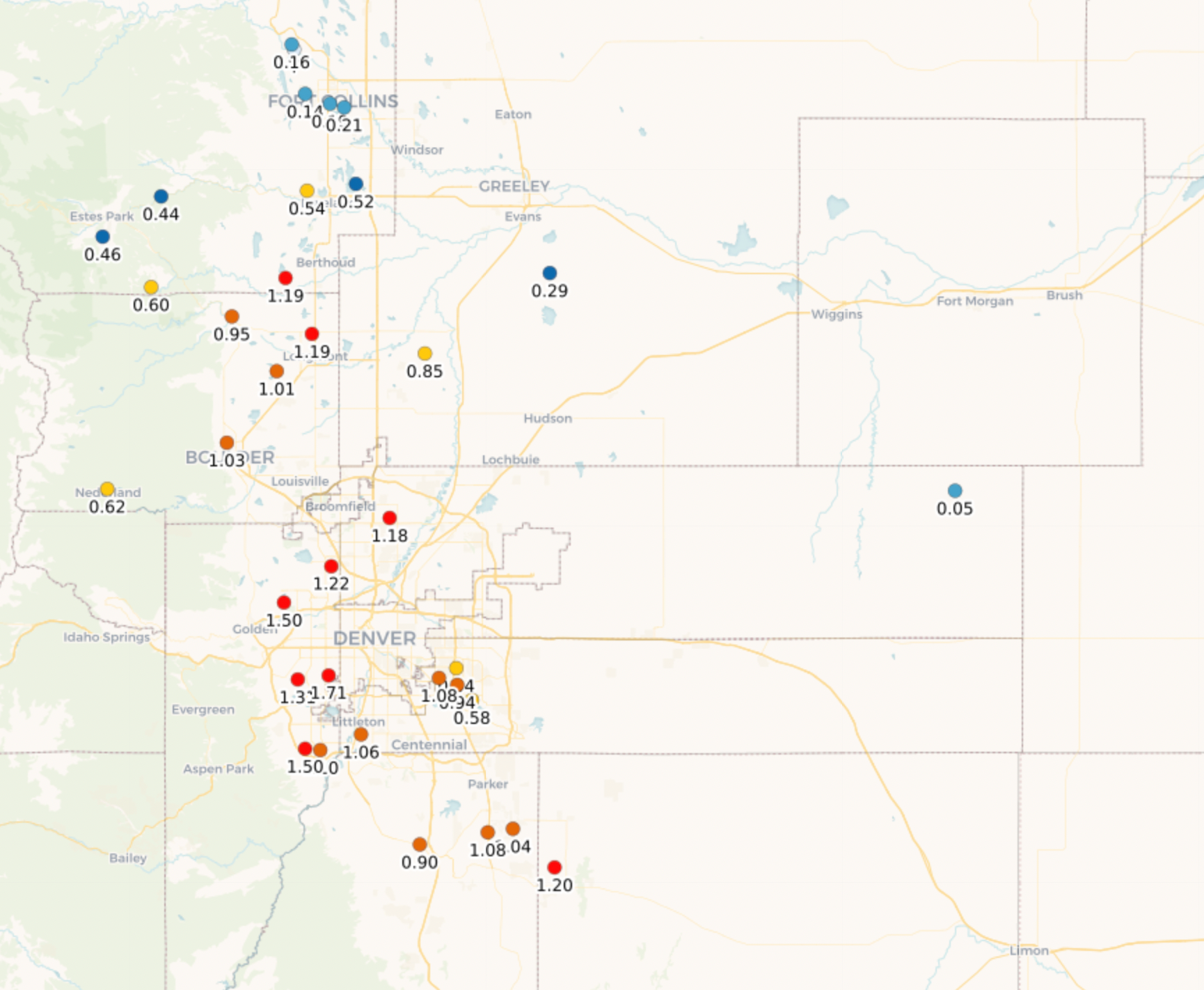 For all of you that follow us on Twitter, we really love getting your reports! Please leave your snow totals (and pictures too!) in the comments below as well.
Snowy December
With a storm total of 7.1" officially for Denver, the month-to-date snowfall total for Denver has hit an even 13" this December, far exceeding the 8.0" longterm average for the city.
This storm also pushes us just above average for the season to end December, with 23.9" recorded at DIA so far compared to the 20.6" cumulative average we see to end the month.
Remarkable system
We talked a lot about how wet last night's system was, particularly for December. It's made even more remarkable considering the record COLD and dry snow we saw just a week prior. You'll recall a week ago this morning the temperature bottomed out at -20°F with 3.9" of fresh snow and 0.1 to 0.3" of precipitation across the metro area. This morning we are sitting nearly 50°F warmer, with 7.1" of fresh snow, and more than an inch of precipitation reported at many stations! Spring come early much?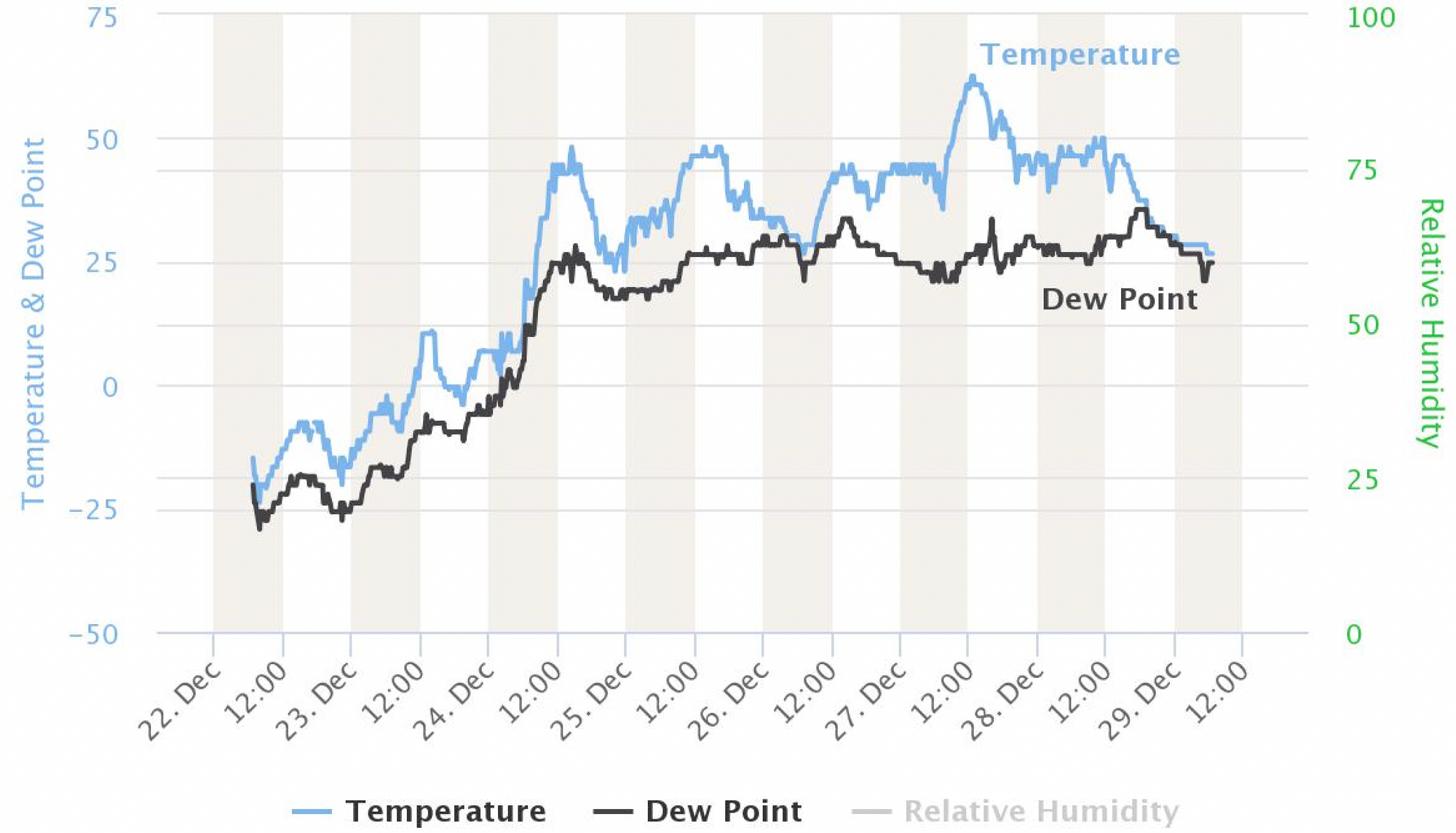 Precipitation totals over the seven days prior to last night's storm are shown below. Last week's snow put down about 0.1 to 0.4" along the urban corridor, mainly from Colorado Springs north to the border.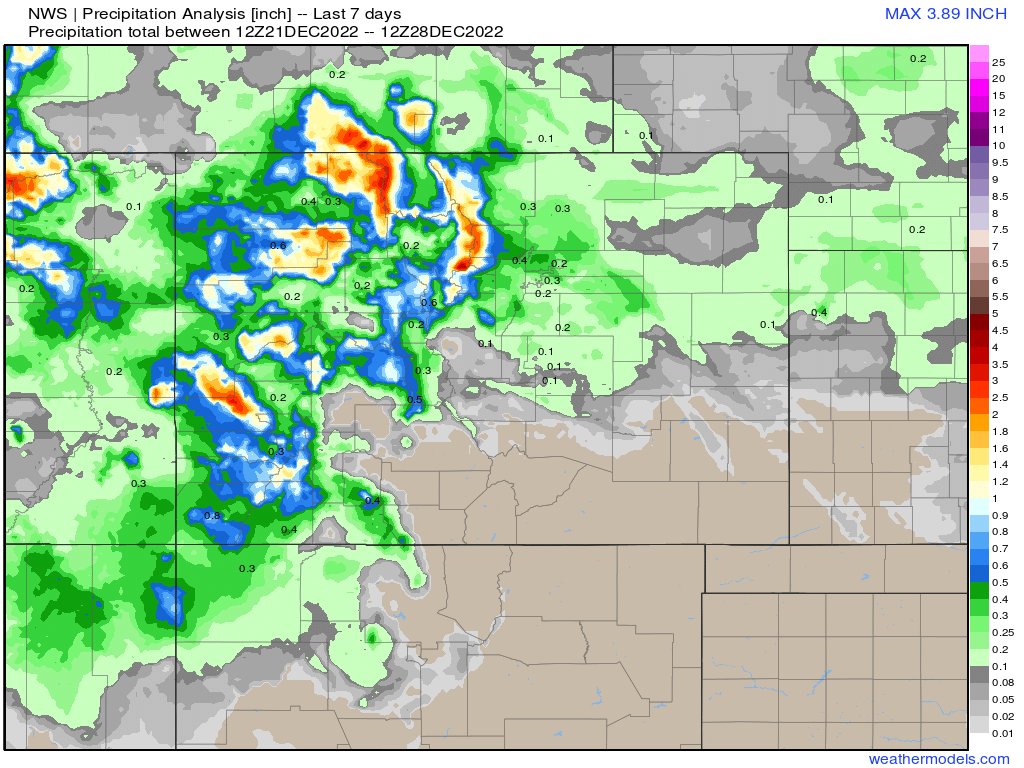 While the northern and western mountains actually saw pretty good precipitation over the last week, look at the great moisture this storm delivered to Northeast Colorado overnight: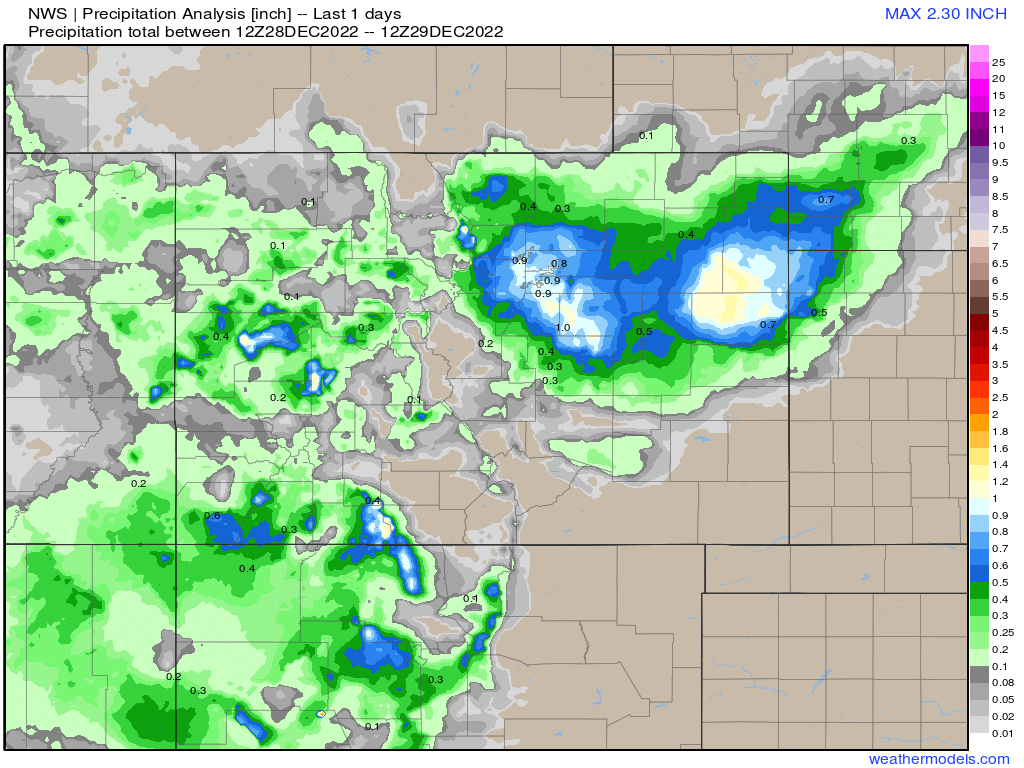 Snowy pattern?
As we discussed earlier in the week, the pattern unfolding across the states right now can produce rather epic snowfall and GREAT moisture across the Western United States. It's less common, I would argue, for Denver to capitalize on this pattern as we did last night as usually the mountains are favored over eastern Colorado.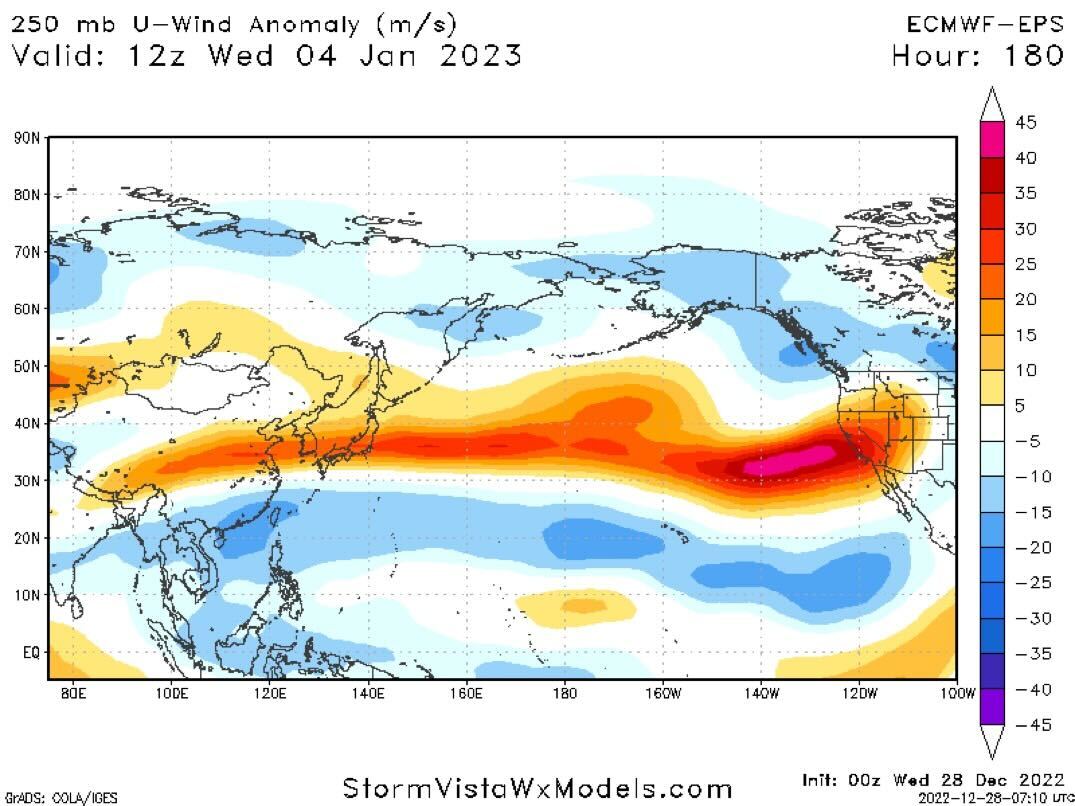 That said, we've got just enough of a southerly storm track in place, that last night's system may not be the last to deliver us snow before the pattern eventually breaks. As long as we keep these storms digging into the southwest, we should continue to see good moisture being pumped into the state.
If we look at the precipitation anomaly forecast from the European ensemble model, this would certainly look to be the case. Some of the darker greens from far northeast Colorado into Nebraska are from last night's storm departing, but all that above average precipitation forecast from California across the Great Basin and into western Colorado is more water to come through next Tuesday night: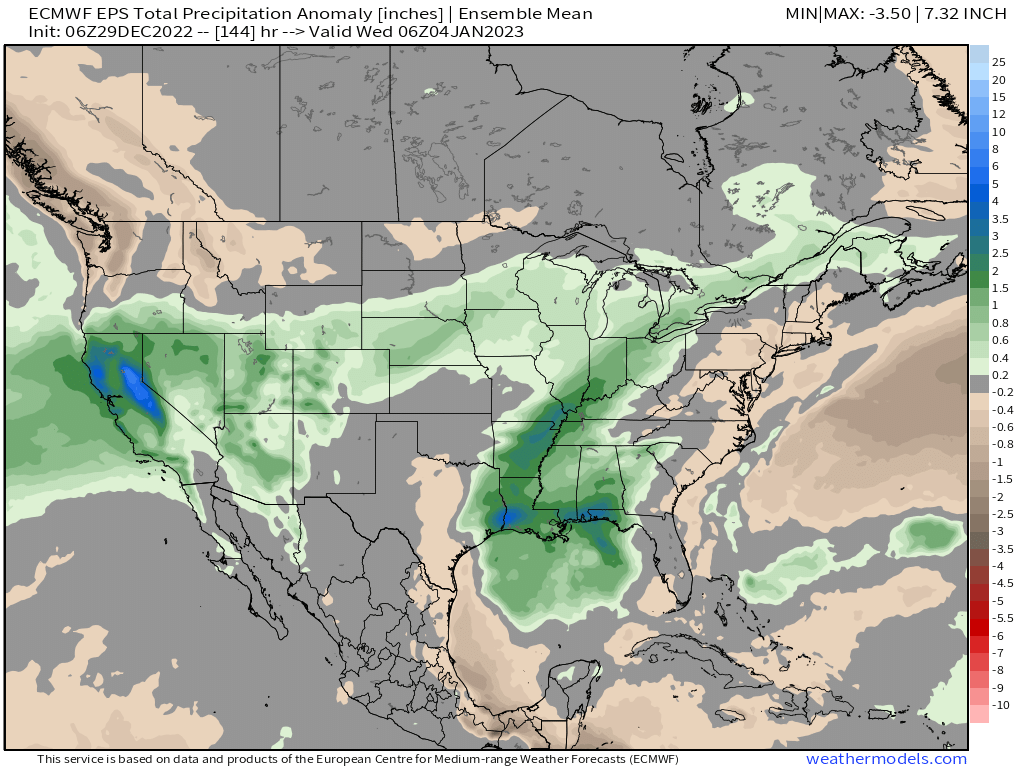 Similarly, if we look at projected 10:1 snowfall for the same period, an active and snowy storm track remains in place to end 2022 and start 2023!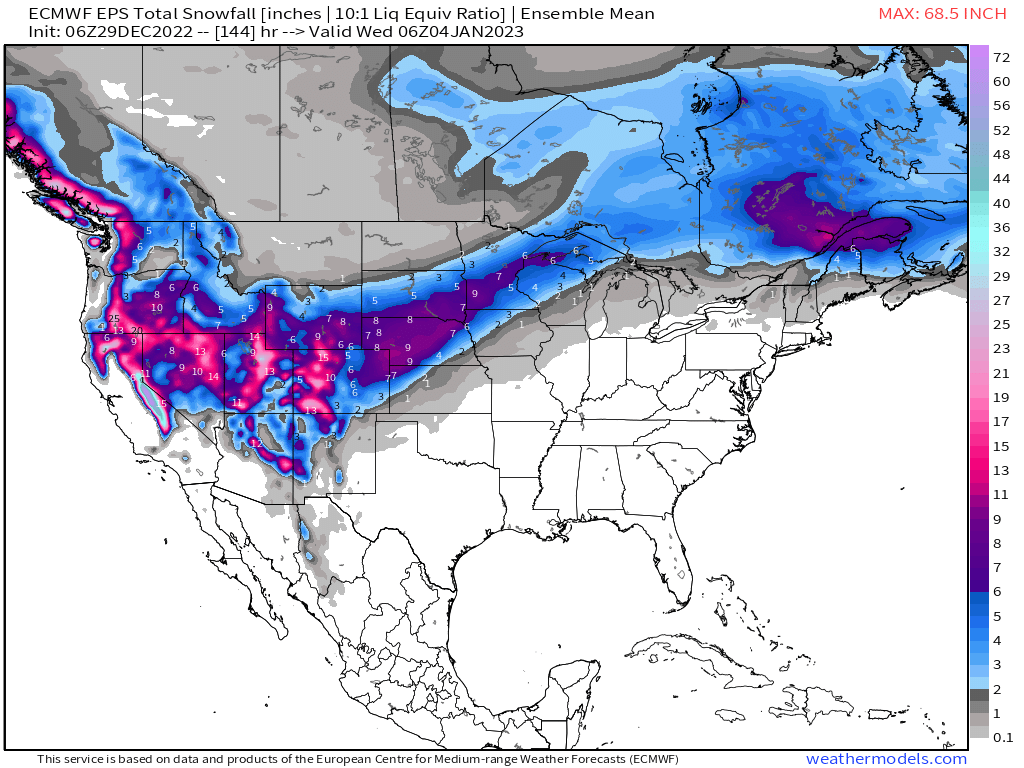 For Denver, it looks like our next best chance of snow will come late in the weekend into early next week. With unsettled weather continuing across the west in the meantime, we expect mountain snow to continue off and on over the next couple of days, with the possibility we see a stray rain or snow shower pass across the plains as we head into the weekend as well. In the hourly planner below you can see these chances, but temperatures overall will be mild after today, with the low to mid 40s on tap for Denver on Friday and Saturday.
The forecast for New Year's Eve really doesn't look all that bad, especially considering how cold we are some years. We see about a 20% chance of rain and snow showers along the urban corridor, with highs in the mid 40s and lows in the mid 20s.
By Sunday night we'll be watching our next more organized system move through. It's much too early to worry all that much about the details, but here's a look at the GFS for next Monday morning, showing some rain and snow across the region, with accumulation likely for someone east of the mountains once more.