Death, taxes, and underperforming hyped snowstorms!
There's a lot to get to this morning, so let's jump in.
First, let's look at snowfall totals through 7am Wednesday morning. There's been a fair amount of grumbling online about the low snowfall totals in some spots, and in some cases rightfully so! We're almost certain to end up low in many of the spots we were most concerned about, primarily locations along and west of I-25 through the Denver area. Still, we aren't quite done yet! We suspect many of you are still see snow flying outside your window, and there's still enough left in the system that we expect many folks (not everyone) will ultimately get within at least the low-range of our forecast by the end of the day if you haven't already.
In many respects, our original forecast from Monday looks like it'll end up better than the tweaks we made yesterday. That is generally less than 6" west of I-25, and more than 6" along and to the east. Yesterday we pulled the 6 - 12" range about 10 miles west from where we head it Monday, upping totals a good bit (from 4 - 8" the day prior) for quite a few folks on the west side as a reader pointed out, and this looks like it'll ultimately be the wrong call.
CoCoRaHS totals this morning are largely in the 3 - 7" range up and down the urban corridor. Officially DIA has seen 7.7" of snow through early this morning and has/will add to that total today. So, no bust (officially!) for Denver and areas north/northeast of the airport. 🎊
The maps below are likely a bit hard to read, but the general idea is blue dots are less than 5", yellows and reds are greater than 5". There are a lot of blues on the map. Here's a link to the interactive map.
North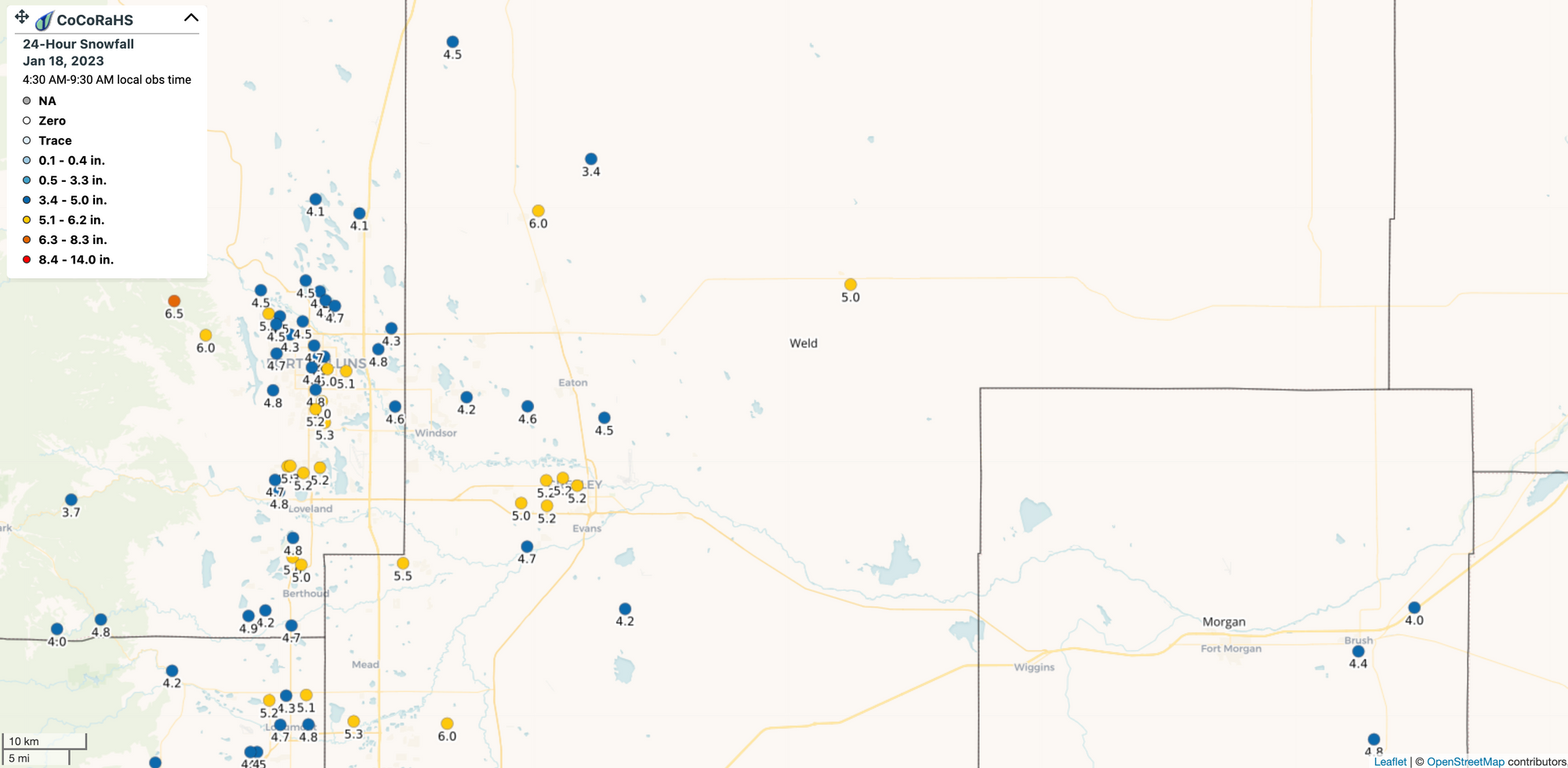 Central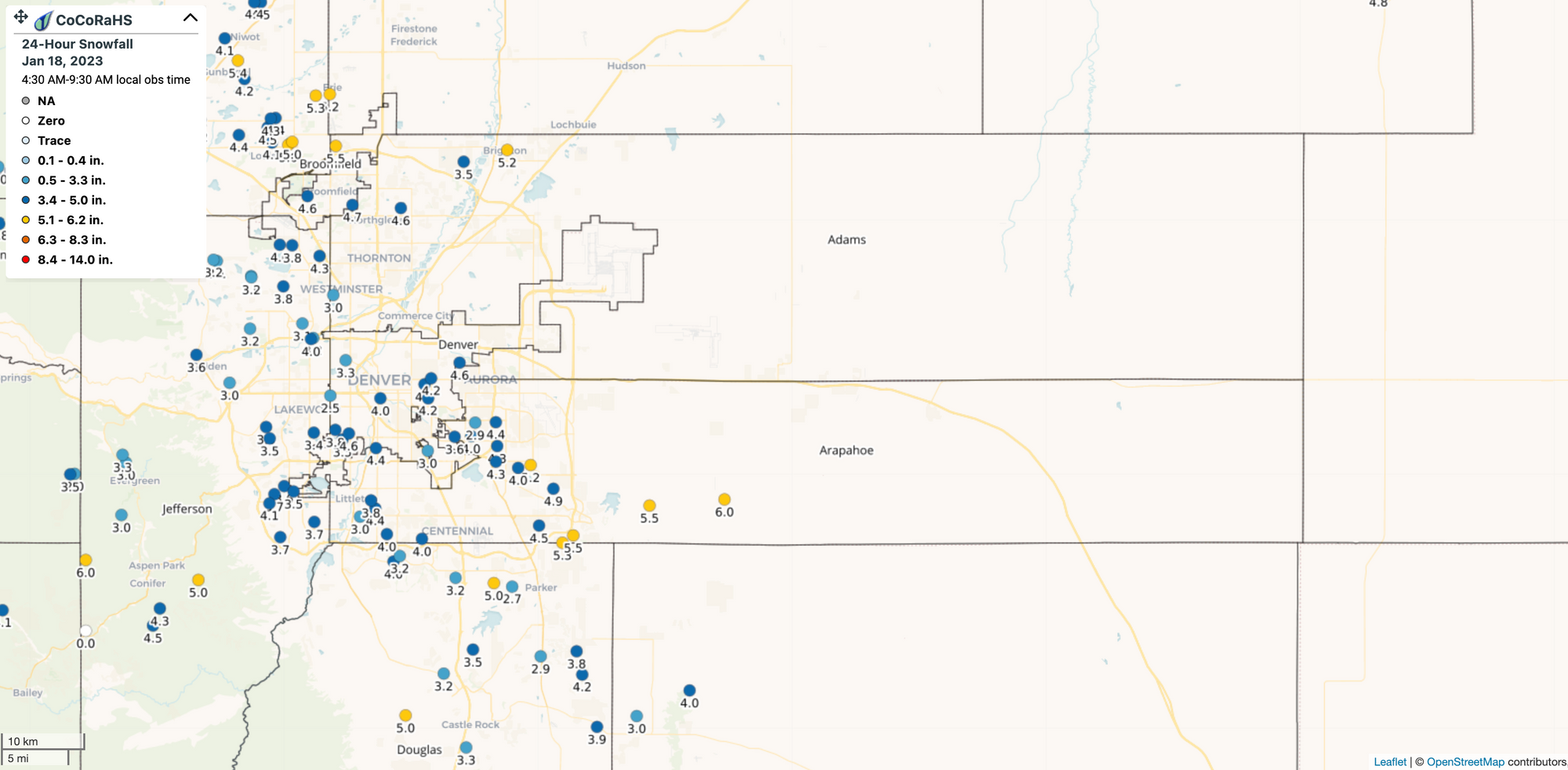 South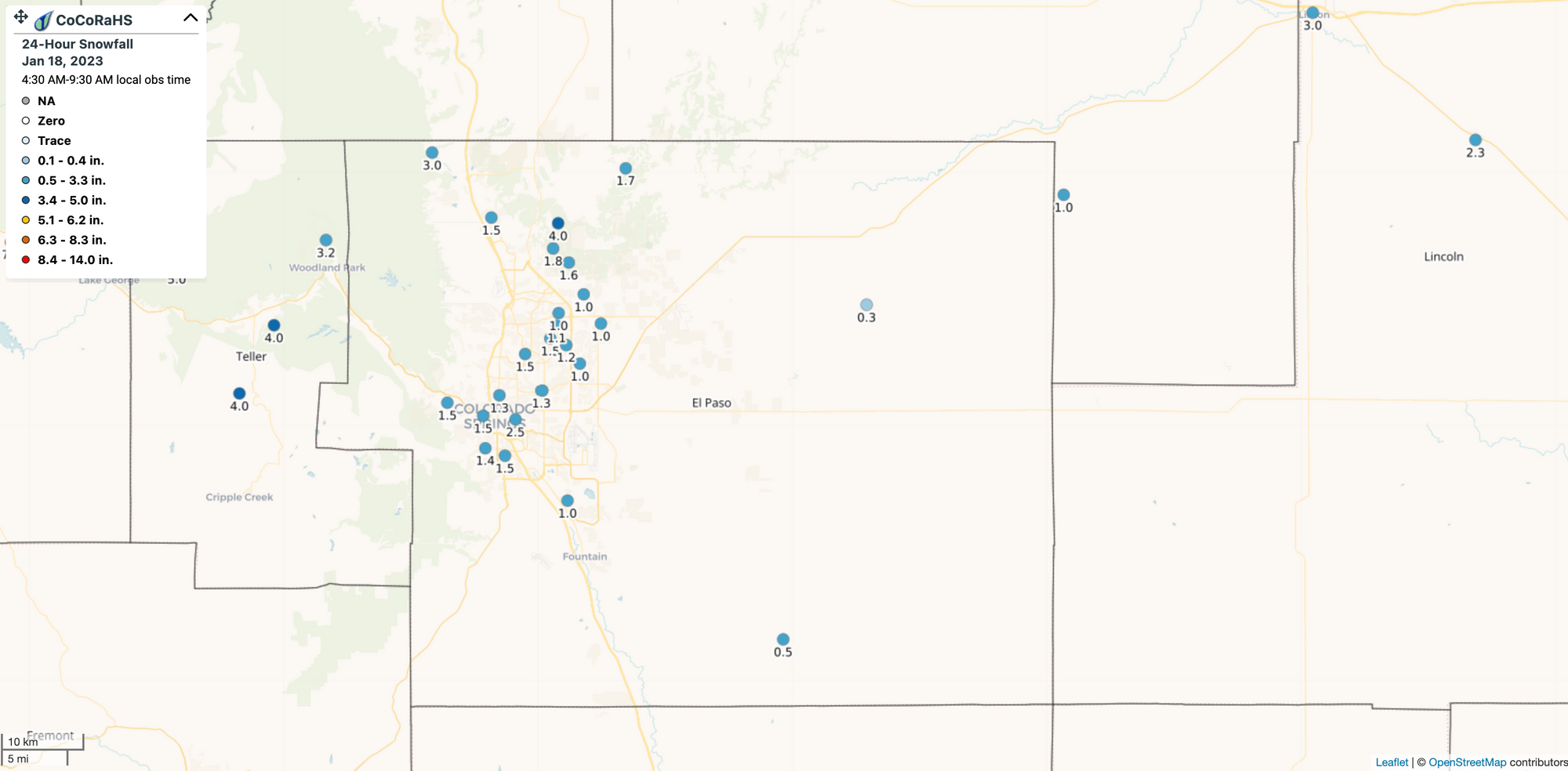 Now, these totals are through 7am Wednesday. We've added a bit of snow already to these totals since and with snow expected to continue off and on through midday at least across the region we'll add a bit more.
Snow today will generally be light, but some additional accumulation is possible, and it's possible we get a lot of folks closer to the low-end range of our forecast when all is said and done. The latest HRRR shows another 1 - 3" across the Denver area, but the bulk of the heavy snow today will be well (well) to our northeast: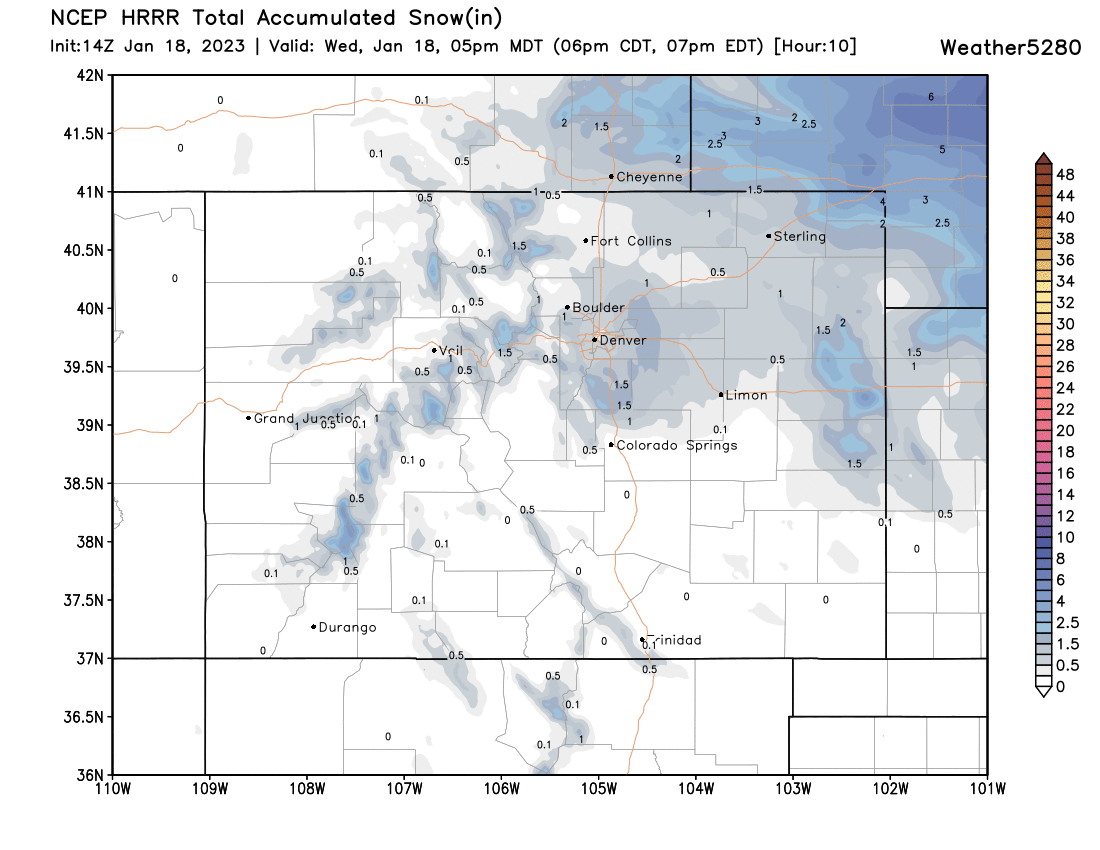 There were a number of issues that cropped up during the day yesterday and ultimately as things unfolded overnight. As models were hinting at yesterday the system ended up a bit further north than anticipated, we had quite a bit of dry air works its way into the south side of the system, and we failed to see a formation of a barrier jet along the foothills this morning, which would have been a key component to seeing those heavier totals west of I-25.
From the NWS last night:
Nobody likes a dry slot. HiRes guidance isn`t showing this but taking a deeper look into all components may help. Winds are remaining more easterly for parts of the urban corridor and plains mainly along the I-25 corridor which isn`t giving us true upslope. Looking at the latest NAM cross sections, there a large amount of dry air in the 400-500mb layer which isn`t helping our snowfall development either. The RAP and NAM have surface winds finally shifting northerly sometime between 07Z-09Z. Additionally, there is still the low pressure system in western Colorado that can feed northerly flow through late Wednesday morning. Thus, there is still time and potential to receive 1-1.5 inch per hour snowfall rates meaning the better timeframe for heaviest snow falls between 09-16Z.
Well, that dry air really did hurt us. And, as the low moved into eastern Colorado early this morning we do see it feeding the snowfall we do see along the urban corridor this morning, but the heavier rates have failed to materialize, outside of a brief period early last night.
If we look at water vapor imagery from the middle of the night last night we can quickly see the issues at play. The RAP analysis shows the mid level low (red L) just enough further north than our "sweet" spot for snow along the urban corridor, putting the dry slot right into the south/west metro overnight. The moisture instead ended up north – and with that we actually saw some of the better totals along the northern urban corridor. The yellows indicate drier air, with the whites and greens wetter.
If we look at the snowfall analysis from NOHRSC we see quite plainly the northerly bias of the heaviest snow. We can see where dry air really hurt snow production across the southern metro areas, and the lack of good upslope hurt areas west of Denver. For DIA and areas north and east we ended up in range, as well as across extreme northeast Colorado and into Nebraska.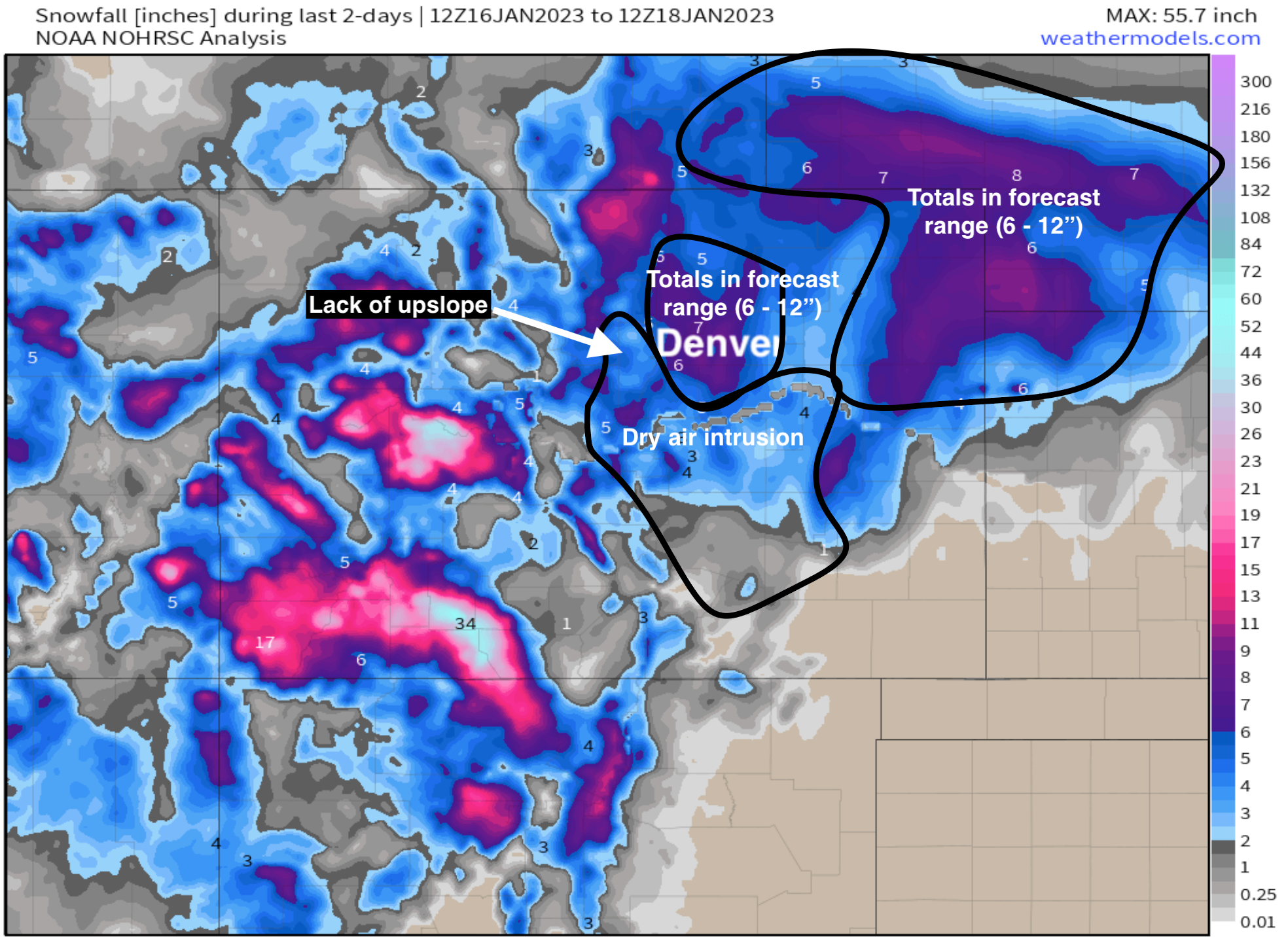 What's more, in looking at the map above, is the overall look from our forecast isn't all that bad. In the end, on the whole, I think the forecast for Northeast Colorado will pan out pretty okay. Most areas across NECO will end up closer to the 6" end of our range rather than the 12" end, but there's a range for a reason! For the Denver metro area in particular it really is just one of those matter-of-miles issues we saw with this system which hurt snowfall production for a core portion of the population here.
For the powderhounds in the group, it'll be a good weekend to get up to the high country. Southwest Colorado was buried with this system, and our own Matt Makens actually thought he would escape the deeper snow in town by hiding in Steamboat in an effort to get out of shoveling, he was wrong.
Forecast
The system gradually moves east of us today and as it does we'll see light snowfall gradually come to and end through the afternoon and early evening. Additional snowfall totals of 1 - 3" will be possible, but the bulk of the heaviest snow is over for most of us.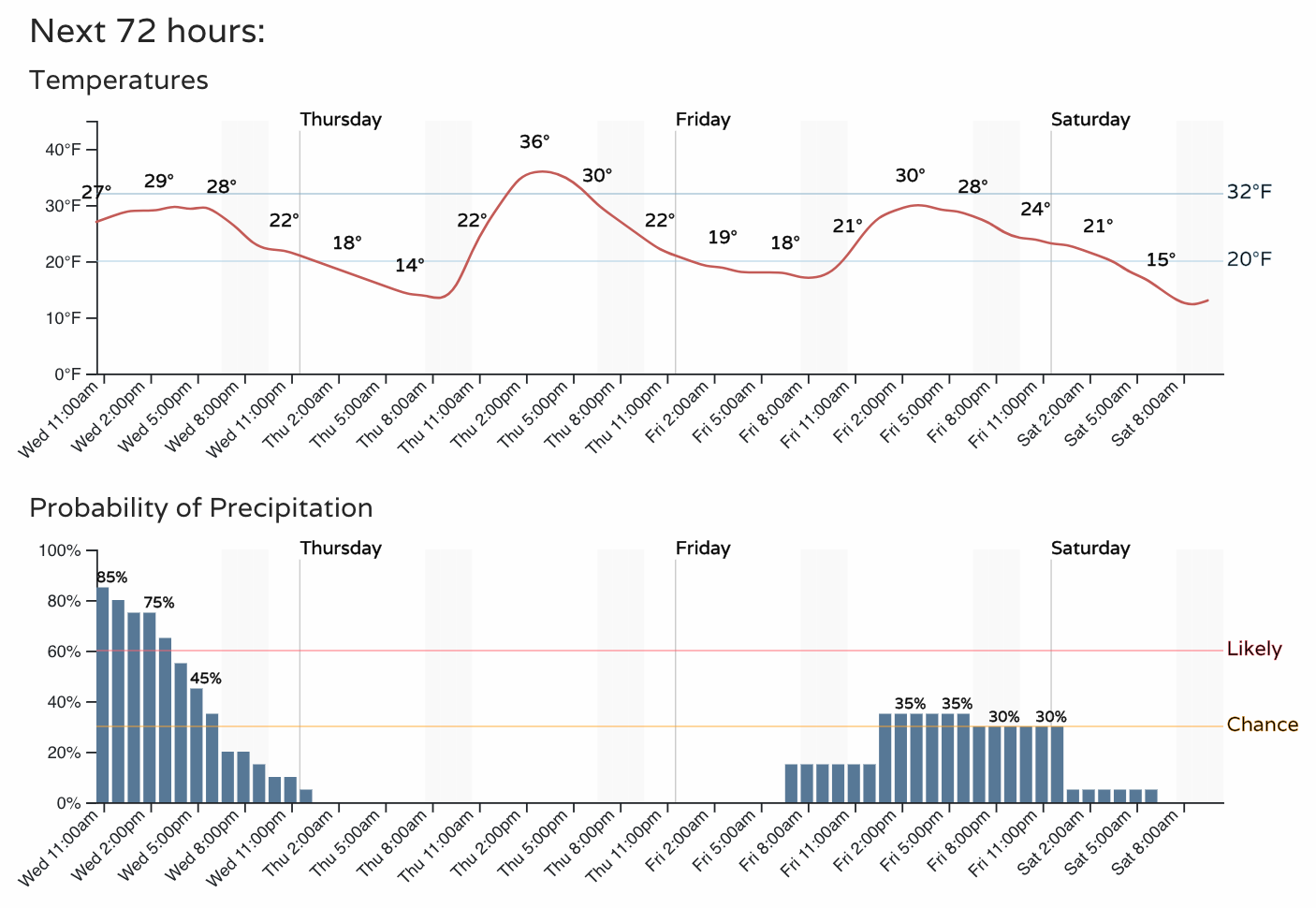 Another system swings through on Friday. Right now we have a 30 to 40% chance of precipitation with that one, and temperatures staying cool to end the week. More on that after the snow stops flying from our current system.
As always, share your snow reports and images below!
Until next time.