Denver's average snowfall for March (dating back to 1882) is 11.5" of snow. That makes it the city's snowiest month on average, with some big time storms coming during the month over the years. The snowiest March on record dates back to 2003, when 35.2" of snow was recorded. We nearly broke the record a couple of years ago but came up just short in 2021 with 34.0" falling at DIA.
Month to date we've picked up 1.5" of snow officially. We're now just past the halfway mark and have our work cutout for us if we're going to hit that average mark this month.
While 3 of the last 4 months saw above average snowfall in the city, thanks to a lackluster start in October, and a just-shy-of-average February, the city would be sitting just shy of average snowfall for the season should we see no more snow this month. Average snowfall through March is 41.4", and we have picked up 39.4" so far this season.
That's not to say it hasn't been snowing elsewhere in Colorado this month, just not so much across eastern Colorado. Totals over the last 3 days fits well with the forecast we put out, with just a Trace to 2" for most of the urban corridor, a bit more in spots across the Palmer, and good mountain snow – particularly across southern Colorado from our last system: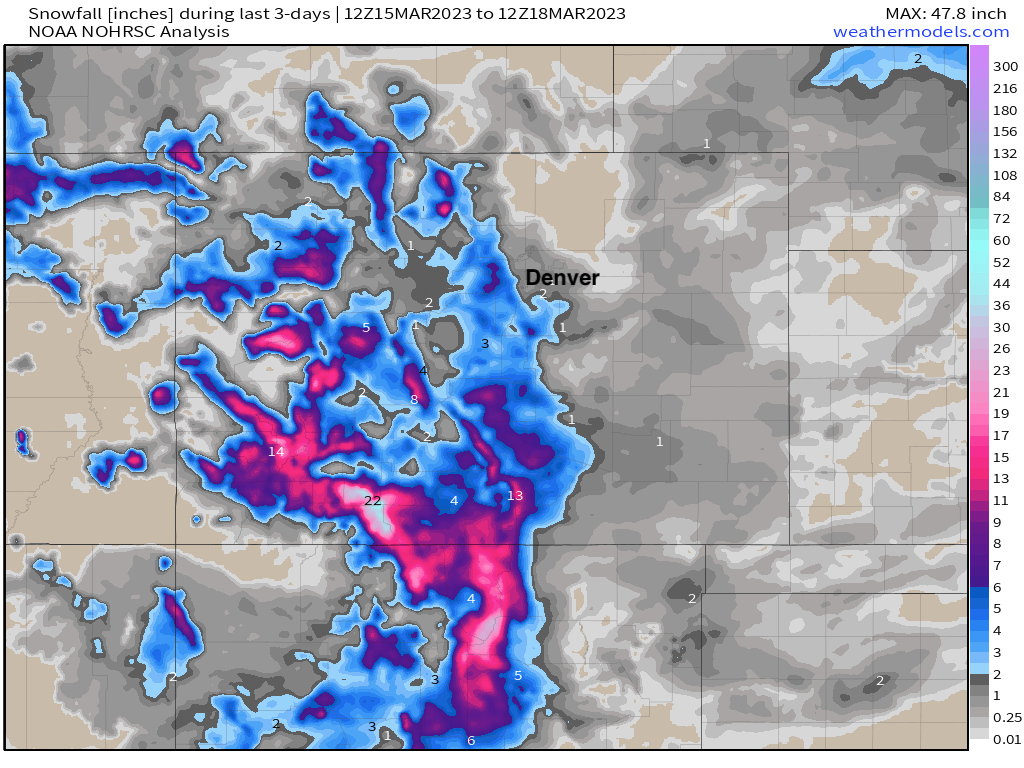 Month to date we see some great snow across the west, but pretty quite for most of Eastern Colorado, especially given the month: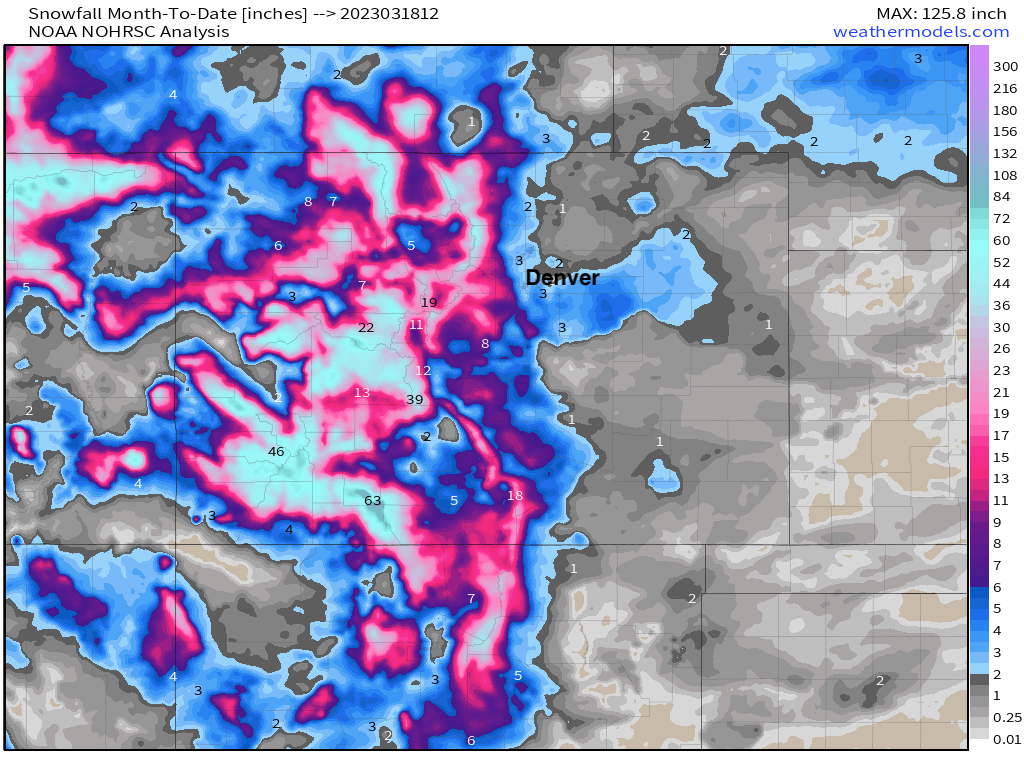 Happily this means statewide snowpack is in great shape as we near the climatological peak in April. The statewide median SWE sits at 130% of average for the date, and well above our numbers for the same time last year: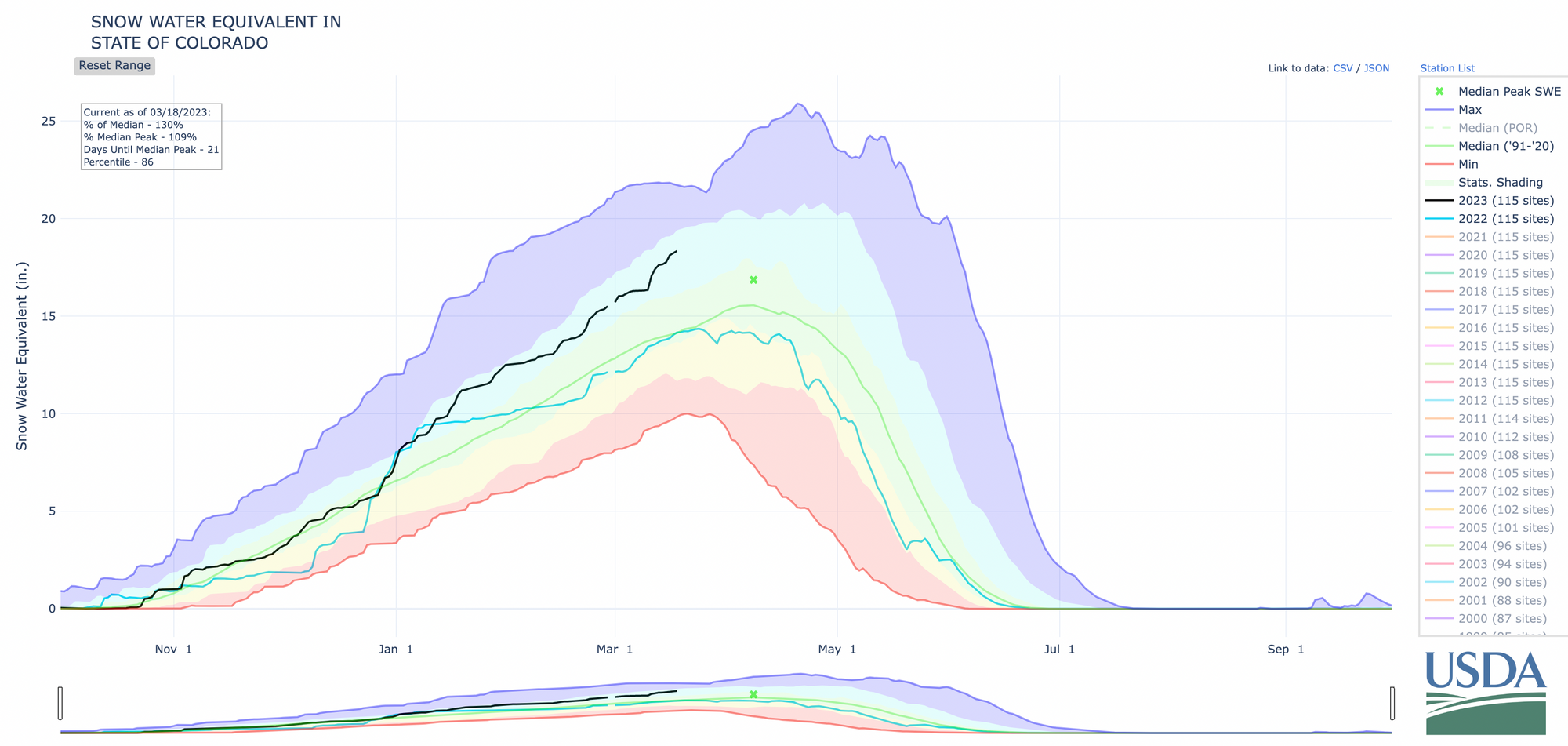 While it's hard to complain too much given where we could be... it's a big state, and not every basin is faring equally well. The Arkansas Basin is the only basin with below average SWE (87% of average), but we could use some snow across Northeast Colorado as well.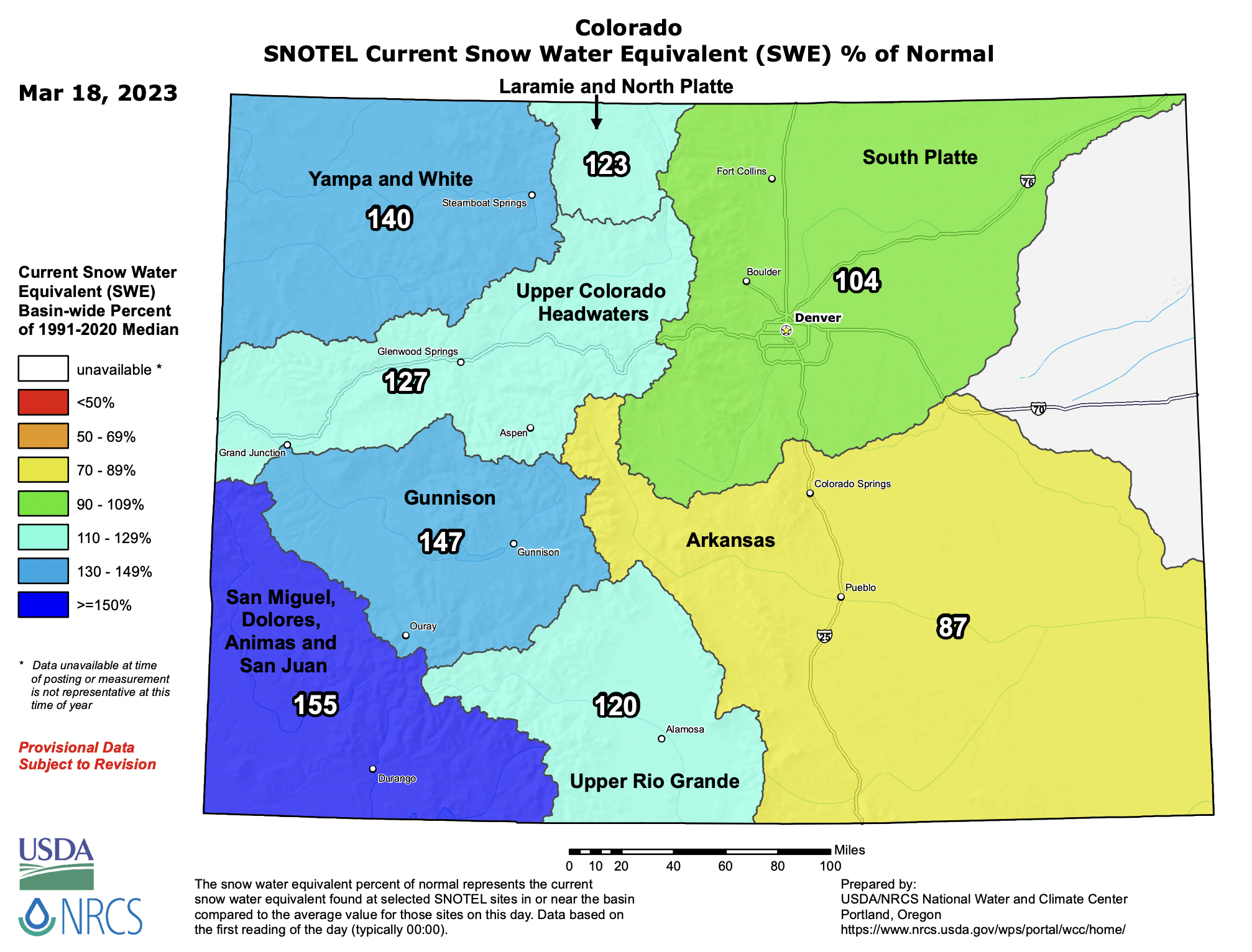 The outlook for the next couple of days doesn't show much promise for this. As we mentioned last week we do have some unsettled weather to contend with on the way, but at this time it doesn't look all that impactful for much of us.
For the remainder of your weekend look for cool, but not cold temperatures with highs in the 40s today along the urban corridor to perhaps the mid 5os on Sunday. Both days are expected to remain dry.
By Monday evening we could see some showers passing through, but we'll have to wait and see if those will amount to anything or not.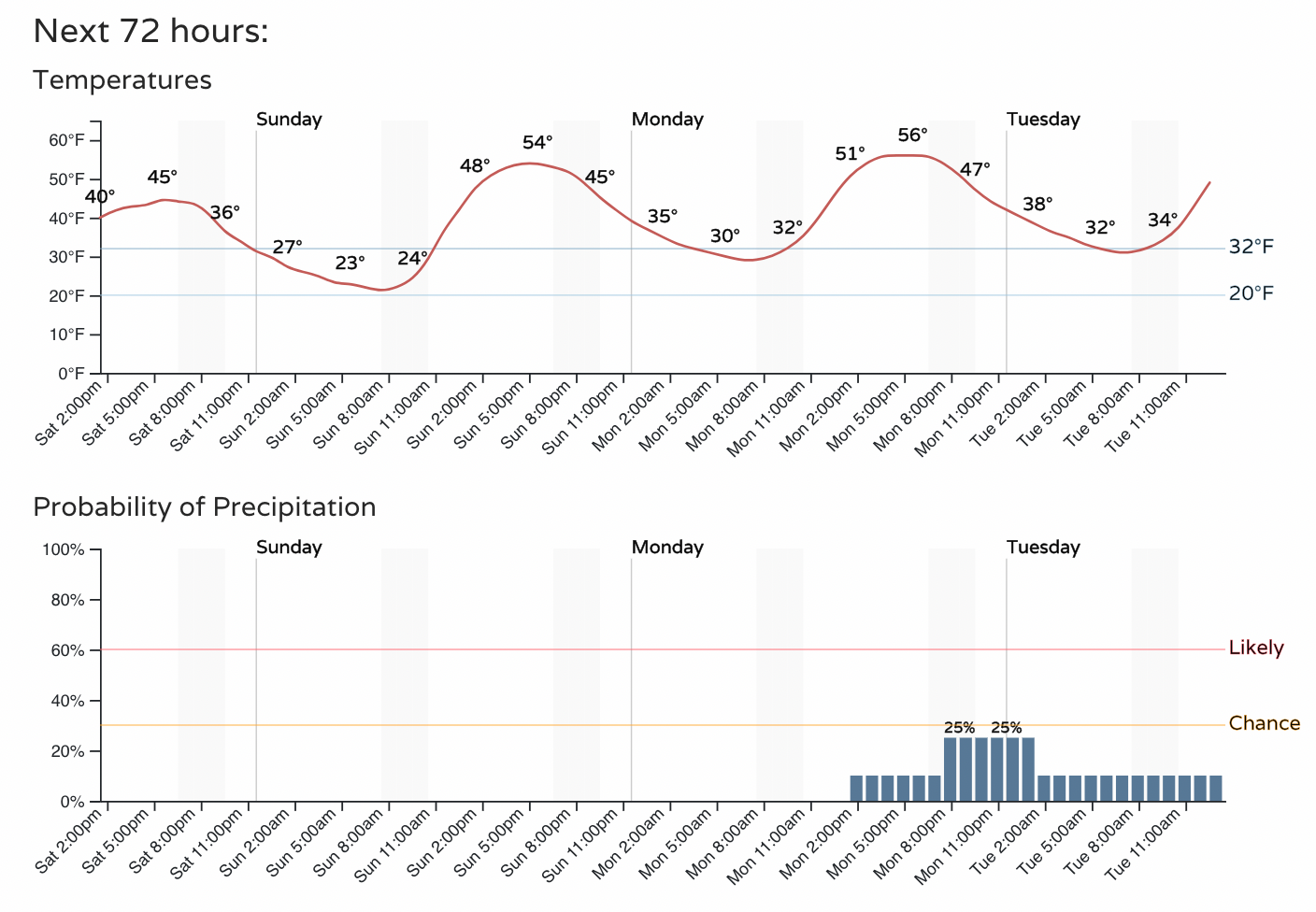 The good news is, that even as we stay quiet, more snow is in the forecast for the mountains... and across the southern mountains a lot of it. The latest blend of models shows upwards of 3 feet for parts of the San Juans through Wednesday morning!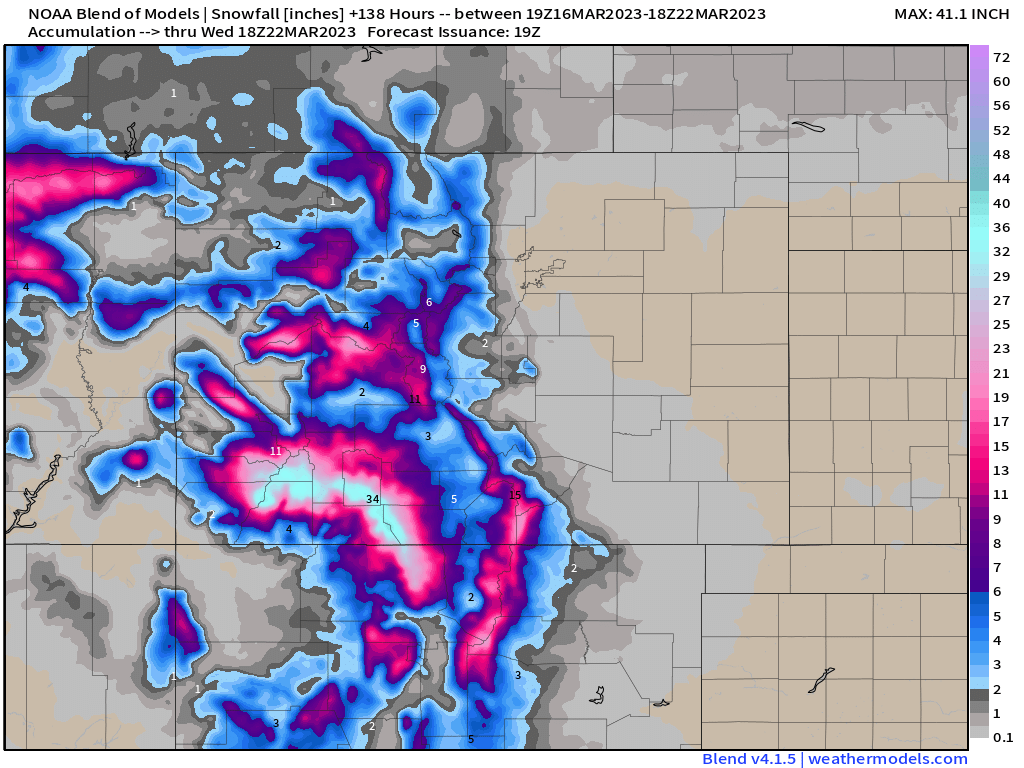 As you can see, the blend not picking up on much east of the hills... but we'll let you know if that changes.
As for something more organized for eastern Colorado? Well... it's just not really showing itself still in the medium range. As we've been saying for a couple of weeks now, the pattern is active, but just not quite right for snow along the urban corridor. Models show another system flying through late in the week, then again next weekend. The GFS is being the GFS and showing a pretty strong weekend storm for Eastern Colorado, while the other global models (and their ensembles) remain quite progressive with it... meaning some snow around and some chilly air, but not a big deal.
All this to say, no big March snowstorm is imminent for the Front Range, but the month's not over yet! Stay tuned!