Well, October 19th, the date of Denver's first average snow has come and gone. Not only that, but it did so in polar (poor word choice?) opposite fashion. The average high this time of year is 62°F in Denver – we've been nowhere near this in recent days. Saturday, the mercury climbed to 82° at Denver International Airport, a summer-like high 20° above average in the second half of October!
Unfortunately, for those eager for snow, or precipitation, or for that matter... fall, the ridging that's been delivering day after day of above normal temperatures to the region will persist awhile longer. In fact, latest forecast guidances suggests highs in Denver will range from 10 to 20° above normal each of the next seven days.
Below is the latest 10 day 500mb forecast from the EURO. The blues indicate stormier weather, while the reds indicate greater heights and generally more tranquil weather. You can see the persistence of the ridge over the middle of the country through the end of the month – this keeps those of us across eastern Colorado in a generally warm and dry pattern for the near future: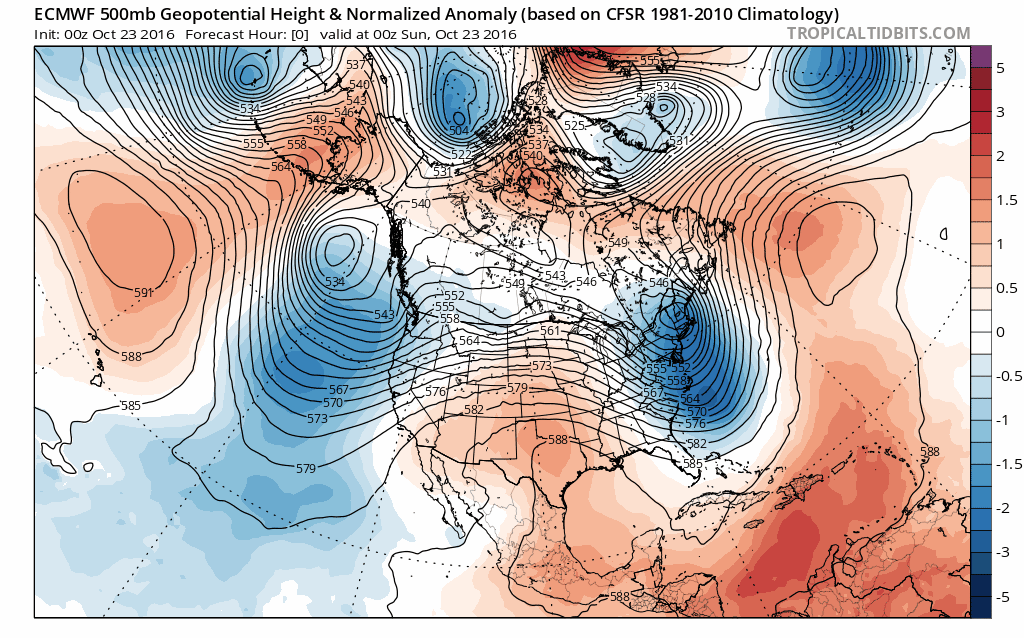 So what's it all mean? Well, for one, it means October is getting set to end much warmer than average (currently 4.1° above average on the month in Denver), and much drier than average (not helping areas of drought that continue to pop along the Front Range).
Related: An Insider look at our initial winter forecast
Does it mean all hope is lost for snow and cold this winter? Not necessarily, but it's not encouraging either. You'll recall from our winter outlook earlier this week that we generally expect warmer than normal temperatures for the next several months across much of Colorado, but that the northern half of the state should begin to see better precipitation as we head into November - January. (Particularly November with a more supportive MJO)
While we'd hoped earlier in the month the switch would come sooner, we're now keeping an eye on that first week of November to see if maybe, just maybe, a trough is able to plow through the ridge and give us our first real taste of winter across the state. It's not a given, but there are indications this may be the case... Until then, enjoy what will no doubt be a beautiful week ahead across Colorado, and what's shaping up to be a continued stretch of prolonged dry weather across much of the state: